Nats' struggling bullpen bound to improve
History, exit velocity data suggest relief unit will see better results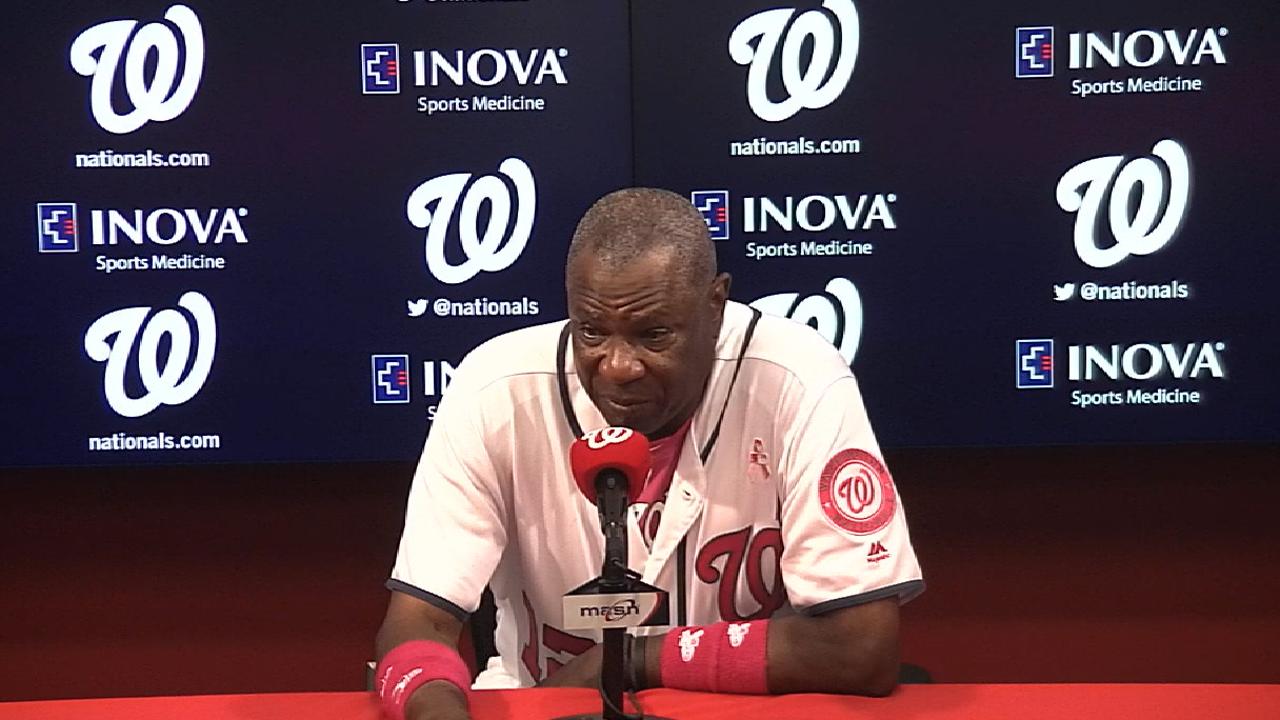 WASHINGTON -- The Nationals own the best record in the National League, and their bullpen has been their only Achilles' heel, an issue manager Dusty Baker said everyone involved is going crazy trying to solve.
Nationals relievers entered Monday with the third-worst ERA (5.33) and third-worst FIP (4.92) in the Majors. In Sunday's doubleheader against the Phillies, they could not hold a two-run lead in the ninth inning in an eventual 4-3 loss in the first game, and then gave back another late lead in the eighth inning of the nightcap before Michael Taylor's two-run homer led the Nats to a 6-5 victory.
"On the real good teams that I've had, when you get to the sixth or seventh inning, we know it and they know that the game is over," Baker said. "And so we just got to go back to the drawing board to try to figure it out. We've used different guys in different places and different guys late in the game."
Most of the struggles for Nats relievers have boiled down to location.
They have thrown the second-most pitches located in the middle-middle (height and width) of the strike zone at 189 (Mets, 194). Meanwhile, they have thrown the fewest pitches on the corners of any bullpen at 124 (Tigers are next-closest with 133).
Looking at the heatmap for Nats relievers and umm, I'm not sure you can get more right down the middle than this pic.twitter.com/3rC710hQTp

— Jamal Collier (@JamalCollier) May 15, 2017
Those mistakes are rarely going unpunished. Washington's relief unit has induced the second-fewest swings outside the strike zone at 222 while serving up the third-most homers per nine innings at 1.72.
"It's all about location," Baker said. "Most of the time, if you throw the ball where you're trying to locate it, they might get a hit, but they're not going to hit it out of the ballpark. I think it's a matter of location."
The Nationals got a lot of attention this offseason for their search for a closer and their ultimate inability to acquire an experienced one after finishing as the runners-up for Mark Melancon and Kenley Jansen. And the lack of a proven closer has been the subject of criticism amid the bullpen's struggles. However, the Nats were counting on the depth of a unit that did finish last season second in ERA in the Majors to make up for the lack of an experienced closer.
So far that has not worked out, and Baker has few reliable relievers to whom he can hand the ball. Shawn Kelley has allowed six home runs in 11 1/3 innings with a 7.15 ERA, Blake Treinen has pitched to an 8.10 ERA and Joe Blanton owns an even worse 9.49 ERA. As general manager Mike Rizzo said last month, they have to pitch better, and their history indicates that eventually they will. Koda Glover has shown flashes of his talent and potential with a 3.38 ERA, even as he has failed to generate strikeouts at his usual rate, with just seven in 10 2/3 innings. Baker's most dependable arms have been right-handers Jacob Turner and Matt Albers, two Minor League invitees who made the team out of Spring Training.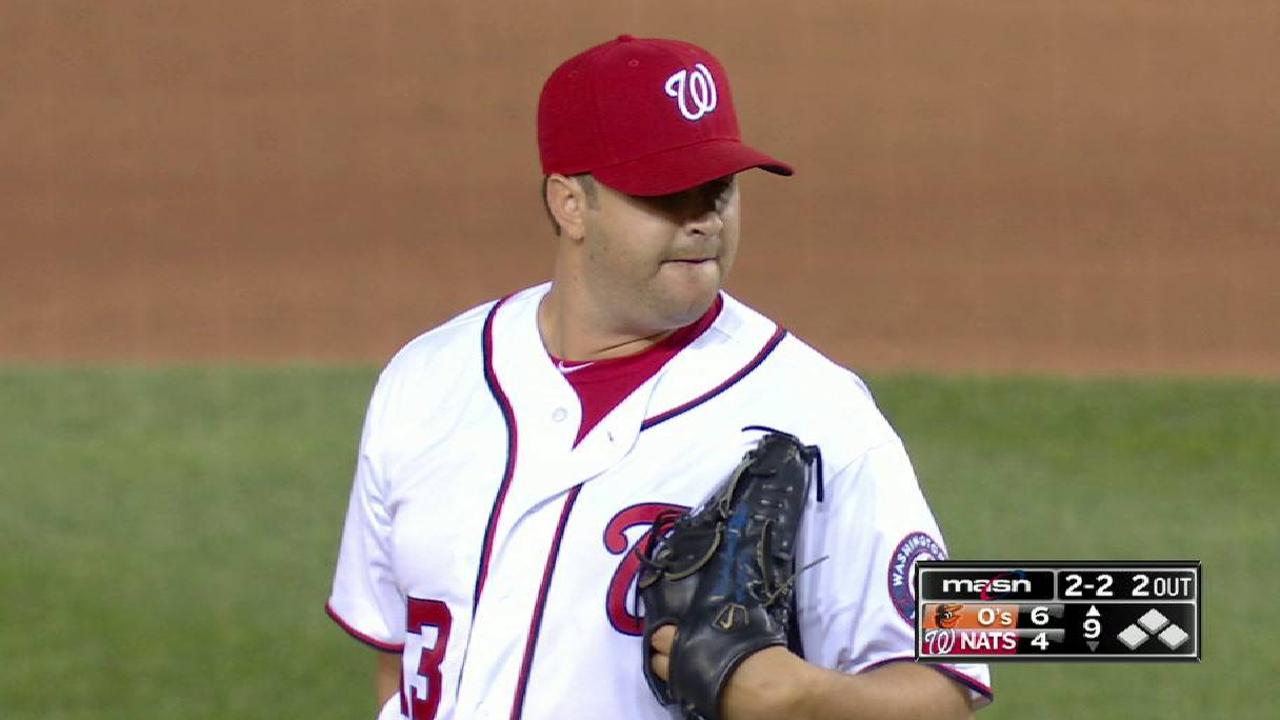 The good news for Nats relievers despite the gaudy ERAs is that they are not consistently giving up hard contact. Their average exit velocity against is 86.9 mph, good for 18th in baseball, and they've allowed 40 barrels and solid contact, tied for 15th in the Majors.
And the Nats have built the luxury of a 7 1/2-game lead in the National League East, as the other four teams are all under .500. So Washington could begin seeing better results if it can get its command sorted out, and it should see enough improvement to at least sustain it until the non-waiver Trade Deadline on July 31 brings in reinforcements.
Jamal Collier covers the Nationals for MLB.com. Follow him on Twitter at @jamalcollier. This story was not subject to the approval of Major League Baseball or its clubs.