Inbox: What's Peralta's role when he returns?
Beat reporter Jenifer Langosch answers Cardinals fans' questions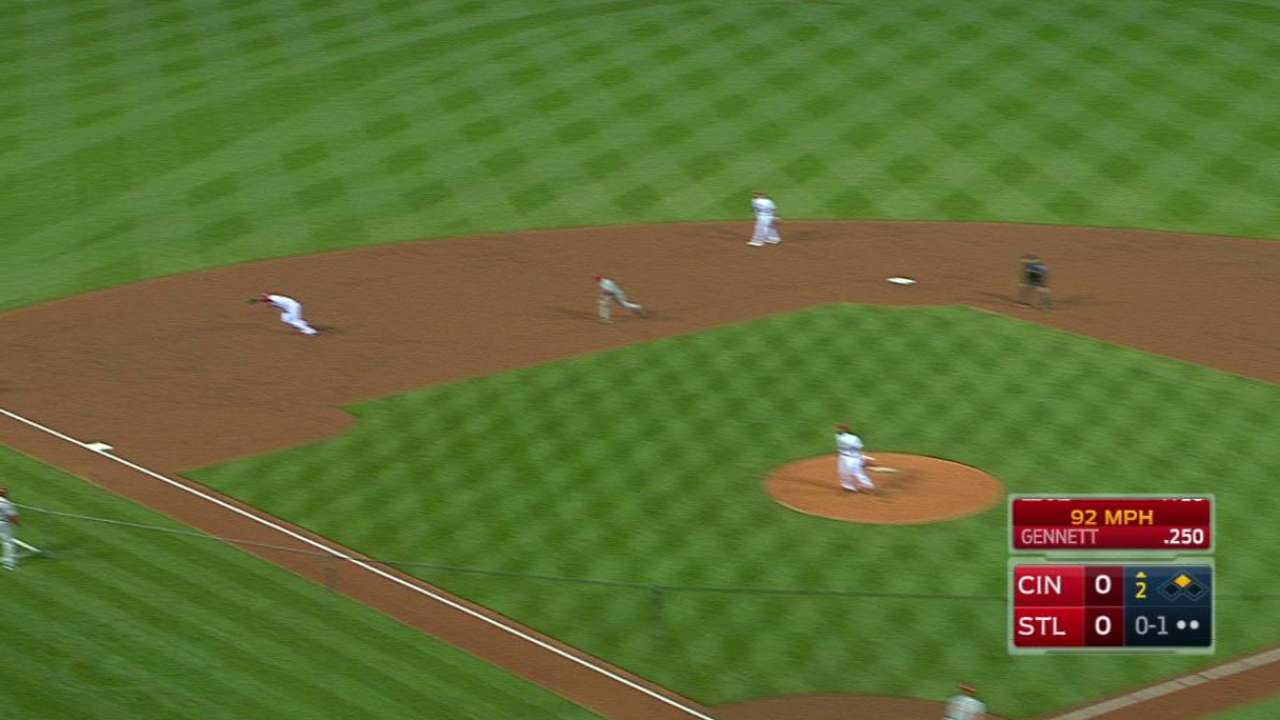 This is the second of four off-days the Cardinals have in a 12-day period, and it seemed like an opportune time to get to some of your latest questions. Remember to include your name and hometown when submitting a question for future inclusion.
With Jedd Gyorko hitting .333 and ranked second on the team with seven home runs, I'm struggling to find a spot on the roster for Jhonny Peralta. It feels like general manager John Mozeliak is still trying to figure out what to do with him, too. Gyorko has firmly planted himself at third base, and I just don't see a starting spot for Peralta on the field. Is there a chance that Mozeliak could designate Peralta for assignment because his starting third-base job is gone?
-- Grant G., Birmingham, Ala.
Peralta's impending return does represent an interesting roster conundrum. On one hand, the Cardinals still believe that what they saw of him in Spring Training wasn't a fluke. And If that's the case, Peralta could still be valuable, even as a bench piece. But there's an obvious logjam of infielders, and Peralta is not about to push any of them out right now.
My guess is still that Peralta will return to the Major League team after he wraps up his rehab, and he will serve as a fill-in infielder and bat off the bench. How he fares upon returning could then determine whether the Cardinals justify keeping Peralta on the roster when other position players get healthy.
• Submit a question to the Cardinals Inbox
What is the plan for the outfield when Stephen Piscotty and Dexter Fowler fully come back? With the way Magneuris Sierra and Tommy Pham have been producing, it will be hard to send them down.
-- Kendall J., Galesburg, Ill.
No doubt the Cardinals have enjoyed a spark from Pham and Sierra, who have combined to hit .373 with 14 runs scored since May 6. But Sierra will be headed back to the Minors once the Cardinals have enough healthy outfielders, and he should benefit from that move. As impressive as he's looked in this taste of the big leagues, Sierra still has room to grow, particularly when it comes to developing an approach at the plate and stealing bases.
Where things get interesting, though, is with Pham. Piscotty could be back with the Cardinals as early as this weekend, which would leave four outfielders -- Pham, Piscotty, Fowler and Randal Grichuk -- jockeying for playing time. Pham will nudge his way into the starting mix if he continues to produce, likely at the expense of Grichuk, who has again been susceptible to streakiness. Piscotty will also need to rebound from his uneven start to the year. Ultimately, production will determine playing time.
Do you think that Piscotty's contract extension will play out favorably for the Cardinals?
-- Alex K., Fullerton, Calif.
Gosh, it's so early to start evaluating the merits of that extension, which, as a refresher, is worth $33.75 million over the next six years. We've seen various results from similar extensions the Cardinals have given pre-arbitration players -- ranging from those who have provided great value (Matt Carpenter) to others who were regrettable (Allen Craig).
My opinion is that years from now, Piscotty will fall much nearer to Carpenter on that spectrum than he will Craig. Despite a slow start to this season, Piscotty has flashed the ability to be an above-average right fielder and a middle-of-the-order bat. His .356 average with runners in scoring position ranks second in the Majors from 2015-17 behind the Rockies' Nolan Arenado. If Piscotty can get his swing feeling right again, there's no reason why he can't overproduce to the value of that deal.
Has there been any word on the young Cuban Luis Robert? And do you think the Cards will pay what it will take to get him?
-- Russ J., Centralia, Ill.
It wouldn't be an Inbox without a question about Robert. The good news for everyone is that the sweepstakes for the Cuban star should be nearing a resolution. Robert will be free to sign beginning on Saturday, and he'll likely do so not long after that date since a handful of interested suitors -- including the A's, Astros, Braves, Cardinals, Nationals, Padres and Reds -- will be limited in their spending once the new international signing period begins on July 2.
Jesse Sanchez, who covers the international market for MLB.com, is especially plugged into what's going on with Robert. He identified five teams -- the White Sox, Padres, Cardinals, Reds and Astros -- as the most likely landing spot for the outfielder. Robert is expected to command a multiyear, multimillion contract, something the Cardinals won't shy away from. Not only is the organization going to be limited in its international spending next season, but it's also seeking ways to find talent outside the MLB Draft. Remember, the Cardinals' first Draft pick this year won't come until 94th overall.
Jenifer Langosch has covered the Cardinals for MLB.com since 2012, and previously covered the Pirates from 2007-11. Follow her on Twitter, like her Facebook page and listen to her podcast. This story was not subject to the approval of Major League Baseball or its clubs.