Even-keeled CarGo starting to find form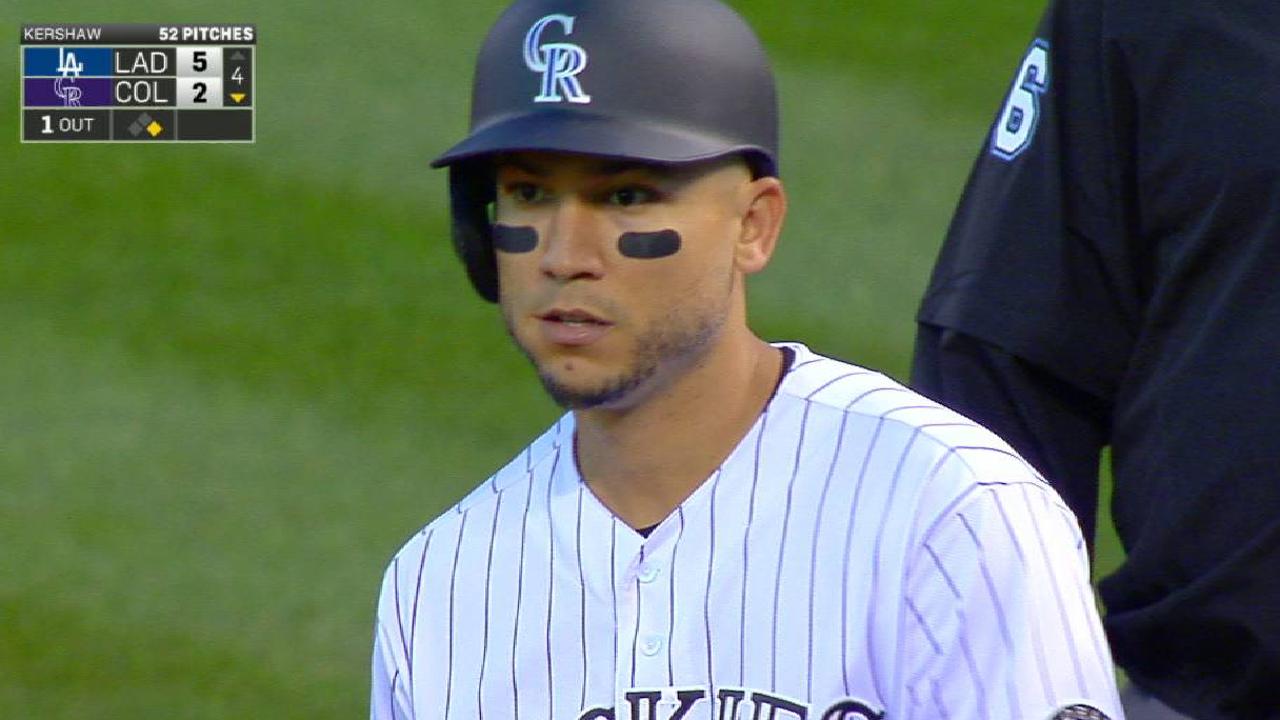 DENVER -- With a constant thirst for broadening his baseball acumen, Nolan Arenado sometimes finds himself drowned in the depths of YouTube, dissecting video of teammate Carlos Gonzalez -- particularly the towering home runs manifested through the slugger's trademark leg kick.
However, through the first month-plus of the season, Arenado's sentiment could almost be referred to as nostalgia. Gonzalez entered the weekend hitting .198 with 28 strikeouts, 12 walks and a .269 on-base percentage through his first 31 games.
But this is not unfamiliar territory for the three-time All-Star. During an eerily similar stretch in 2015, Gonzalez was batting .194 with a .261 OBP after 31 games, and he finished the year with his second Silver Slugger Award and a career-high 40 home runs.
"What the numbers show right now, it doesn't matter," Gonzalez said. "The one number that matters is that we're winning ballgames, and no one can change that."
Gonzalez has rooted his struggles in timing, which manager Bud Black said becomes more revealing due to the windup Gonzalez generates on his powerful swing. The trademark leg kick that propelled Gonzalez to the 2010 National League batting title and appearances in the '12 and '16 Home Run Derby can also come with a caveat. Gonzalez says he trusts his hands "more than anything," and that he feels a correlated effect on them from the leg kick that can have costly repercussions when both aren't in sync.
"That's when you start creating bad habits like chasing bad pitches," said Gonzalez, who is swinging and missing at 15.1 percent of pitches outside the strike zone, the ninth-highest rate in the Majors (minimum 250 pitches seen), according to Statcast™.
"His hitting mechanisms are a little bit more complicated because of the leg kick," Black said. "But when he times up, he's able to generate a tremendous amount of power and bat speed. And he's so gifted athletically. His vision and his hands and his strength in his body allows him to do this."
Even in a slump, Gonzalez -- who had an MLB-high six homers longer than 450 feet in 2016 -- has maintained elite bat speed and shown glimpses of his hard-hitting attributes since returning to the starting lineup on May 7 after missing two games due to a calf injury. In that stretch, he's recorded seven of his 14 hardest batted-ball events -- anything Statcast™ registers as a hit, out or error -- with an average of 109.3 mph among those.
"It's getting there. I'm feeling better at the plate," Gonzalez said. "Hits are going to fall. Sometimes they're going to get caught. What's important is that I'm feeling better at the plate and making solid contact."
Gonzalez also believes he benefited from facing four consecutive left-handed starters against the Dodgers, which has forced him to be more disciplined in waiting on the ball. Against those four, Gonzalez went 5-for-8 with two doubles and two walks. More telling, Black said, is that Gonzalez has driven most his hits toward the middle of the field of late.
"These guys are going to mix it in and out, throw you soft stuff, so you've got to be able to stay in there and trust your hands," Gonzalez said. "I think it helped me [facing lefties]."
Consistent contact over the Rockies' 10-game homestand, Gonzalez believes, was a foreshadowing of positive things to come, and he's not the only one with such convictions.
"It is CarGo. Let's not forget who he is. Let's not forget what he's done," Arenado said.
Daniel Kramer is a reporter for MLB.com based in Denver. Follow him on Twitter at @DKramer_. This story was not subject to the approval of Major League Baseball or its clubs.