Inbox: Does Cozart's start alter Cincy's plans?
Beat reporter Mark Sheldon answers Reds fans' questions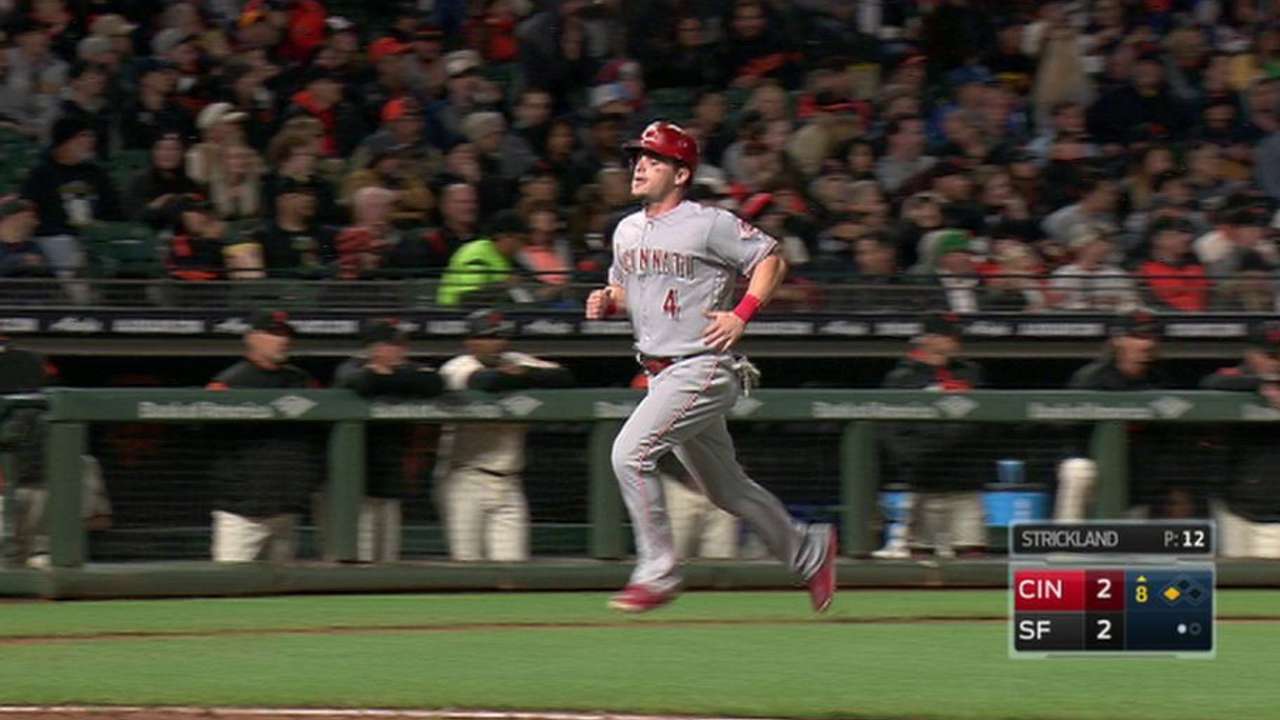 It's an off-day for the Reds on Monday following Mother's Day weekend. I will be rejoining the beat in Chicago, but here are some of your questions for the latest installment of the Reds Inbox.
Do you think the Reds are going to rethink trading Zack Cozart or actively shop him around while he's hot?
-- Garrett J., Virginia Beach, Va.
The buzzword that often comes from the mouth of general manager Dick Williams is "opportunistic." If there is a demand for a shortstop, namely Cozart, the Reds would certainly listen and not be afraid to make a deal. As with Dan Straily being dealt to the Marlins in January, they aren't afraid to maximize a player's value. The reason Cozart wasn't moved in the offseason was there were few clubs in need of a shortstop. In the meantime, as Cincinnati has surprised the league by being more competitive than expected, the club is certainly glad to have him in its lineup and his glove at shortstop.
Another issue is the notion of a Cozart trade was to enable Jose Peraza to play shortstop and Dilson Herrera to play second base. Well, Herrera is batting .231 at Triple-A Louisville. Scooter Gennett could play second base, though.
Of the young starters the Reds have in the system, who do you think they will keep and who do you think will get traded for a needed part?
-- @EricTStauffer2
That's hard to say, because I've heard of no one pursuing any of those pitchers, at this point. The other issue is the club needs to have starting pitcher depth, and it isn't in position to move anyone at this time. Last season, Cincinnati used 15 starting pitchers. Nine starters have already been needed in 2017, and none of them have been veterans Anthony DeSclafani or Homer Bailey.
• Submit a question to the Reds Inbox
Do you think the Reds will try to get Eugenio Suarez one of those four-year, $28 million contracts before he gets too good? Or no, because Nick Senzel will play third?
-- @CurtOU
Suarez is eligible for arbitration this offseason, and signing him to a contract of some sort that covers those three arbitration years -- and any free-agent time -- would bring cost certainty. It could also make him more attractive to other teams that would know how much he's owed if and when Senzel is ready. But at the rate Suarez is playing, he could wind up being underpaid if he signs too soon. Having Suarez and Senzel will be a good problem to have, and if the club keeps both and they can both hit, they could find a place for both players to play.
I realize that Bronson Arroyo is a tremendous story and that he once had great value as an innings eater. If we are truly rebuilding, wouldn't his role be far greater as a coach in the Minors? Seems like a roster spot is being wasted where it should be used to evaluate young pitching talent and get the talent Major League experience.
-- John J., Indianapolis
As mentioned above, nine Reds starters have already been needed. Most of the young starters, save for Amir Garrett, have struggled to get deep into games. Arroyo isn't taking time away from anyone. Someone has to pick up the innings and get deeper into games. That's what Arroyo and Scott Feldman were brought in for. After coming back following 2 1/2 years away with arm injuries, Arroyo is getting closer to getting his arm into shape. As for coaching? No chance, at least on a full-time basis. Arroyo will be the kind of guy who will want to live his life away from baseball, enjoying it to the fullest.
Mark Sheldon has covered the Reds for MLB.com since 2006, and previously covered the Twins from 2001-05. Follow him on Twitter @m_sheldon and Facebook and listen to his podcast. This story was not subject to the approval of Major League Baseball or its clubs.