Cubs need Schwarber to get going from leadoff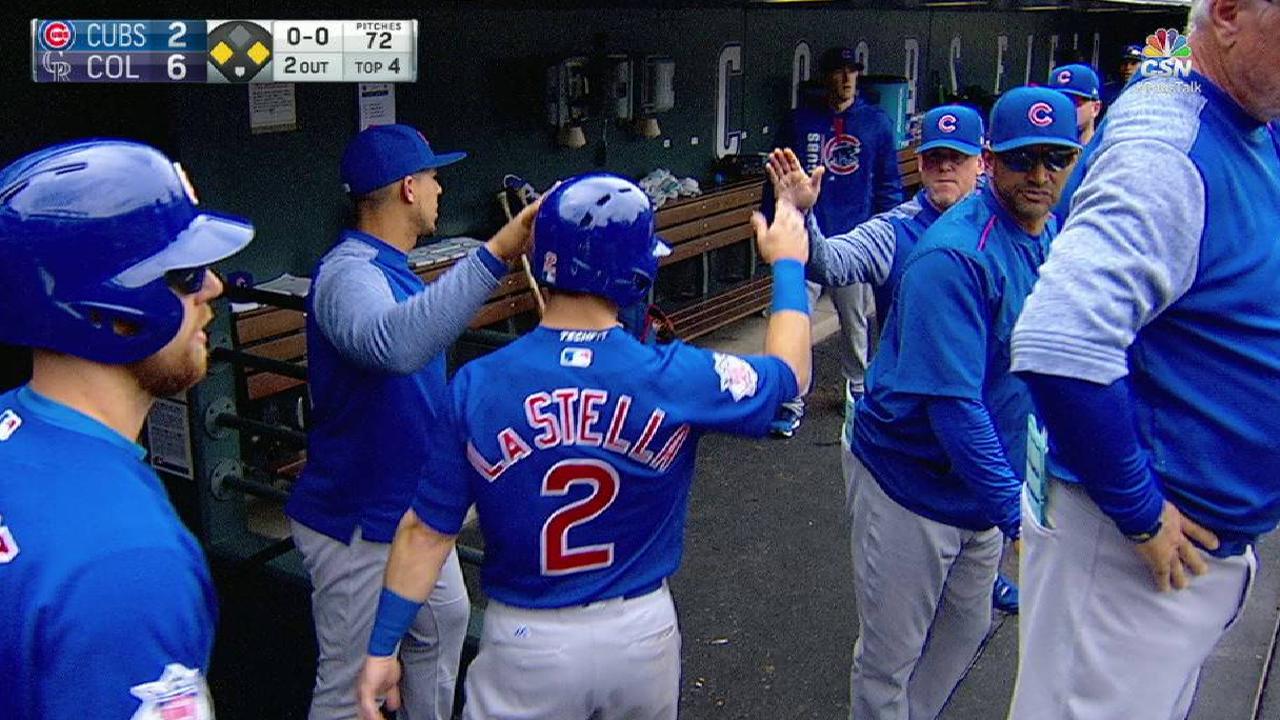 CHICAGO -- Hitting coach John Mallee joked with Kyle Schwarber that if there was a way to come up with a percentage for good at-bats, the Cubs' leadoff man would be among the leaders in the National League. Instead, the numbers say Schwarber is scuffling.
"I guess when it's going bad, it goes bad," said Schwarber, who went 0-for-11 in the Cubs' three-game series against the Cardinals, and is batting .179 overall.
"I feel I've been putting good swings on balls and just not getting the result I want. I've just got to stay with the process. It stinks, but you can't let it bother you. I'm going to keep going about my business and just keep going along with it."
As the leadoff man, Schwarber is batting .188 in 32 games. Dexter Fowler, whom Schwarber replaced, isn't doing much better, hitting .217 for the Cardinals in 28 games.
Has Schwarber changed his approach now that he's batting first?
"Not at all," Schwarber said. "I don't think the leadoff spot had changed what's been going on. I squared some balls up and wasn't able to get a hit or anything like that. It's part of the game, it's baseball, and that's why it's a game of failure and you have to learn from your mistakes and go with the good. It's a crazy game."
The expectations were high for Schwarber, who made a miraculous comeback from two torn ligaments in his left knee, suffered in the third game of the 2016 season, to be the designated hitter in the World Series. He went 7-for-17 with two RBIs and three walks in five games against the Indians.
"What he did in the World Series is kind of unusual," Cubs manager Joe Maddon said. "We all have so much faith in him, and we all know how good he is. Everyone's expecting the world out of him right now. I can't tell you he's pressing. I don't know that. Talking to him, he seems to be fine. He's going through a tough moment, but he's really good. It's one of those things we have to ride."
Schwarber isn't the only Cub struggling lately. Anthony Rizzo went 2-for-16 with five walks on the Cubs' six-game road trip to Denver and St. Louis, and he is batting .213 overall. Addison Russell has been battling a sore right shoulder and has gone 5-for-36 (.139) in 11 May games.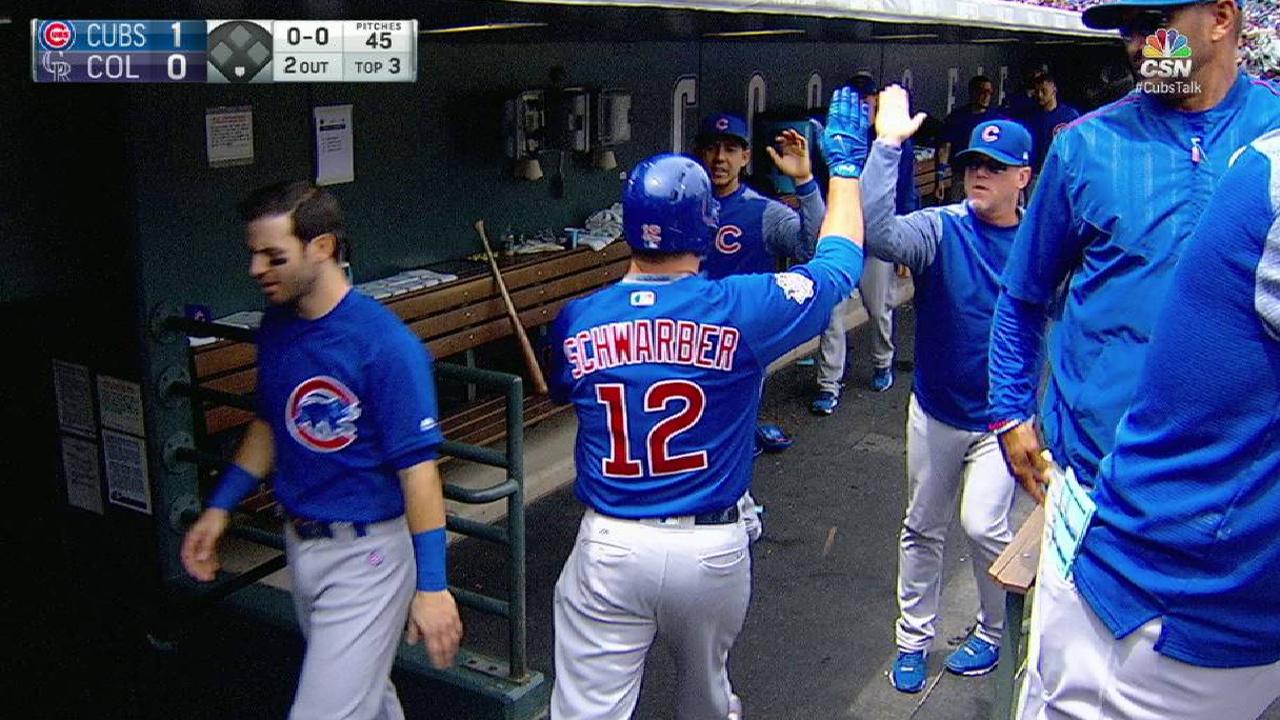 Ian Happ, promoted from Triple-A Iowa on Saturday, was the bright spot offensively, going 3-for-7 with a home run and a double in two games against the Cardinals. He's the first Cub since Jorge Soler to record an extra-base hit in each of his first two games. Happ didn't flinch when inserted into the No. 2 spot, filling in for Kris Bryant, who was sidelined with a stomach virus.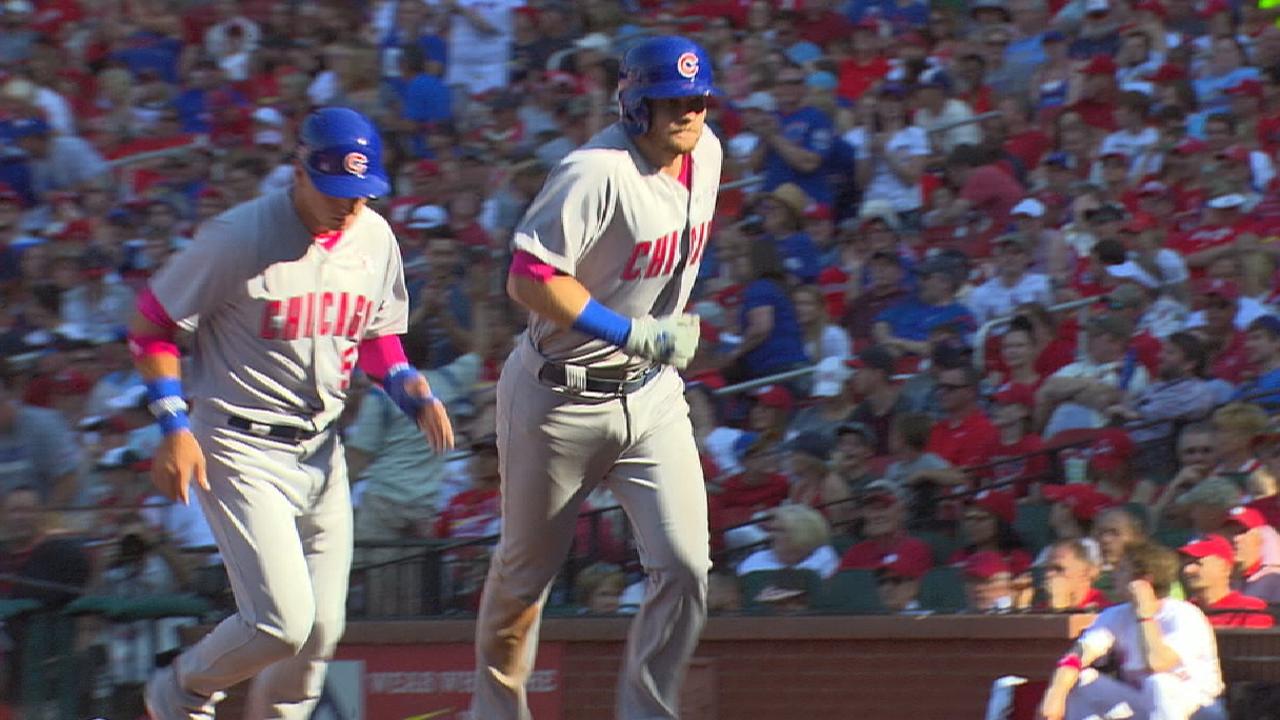 Last year, Maddon's message to Fowler was, "You go, we go." Schwarber hasn't been able to get things going.
"Mentally, it gets frustrating," Schwarber said. "You feel you put a good swing on the ball and you're not getting a good result. I just have to keep going with the approach, stay positive every day. I'm never going up there thinking I'm going to get an out. I'm going to stay with my mind-set and keep approaching what I'm doing."
"I've seen great swings," Maddon said. "He's just a click underneath the baseball."
Carrie Muskat has covered the Cubs since 1987, and for MLB.com since 2001. She writes a blog, Muskat Ramblings. You can follow her on Twitter @CarrieMuskat and listen to her podcast. This story was not subject to the approval of Major League Baseball or its clubs.