Statcast spotlight: Trout combines might, flight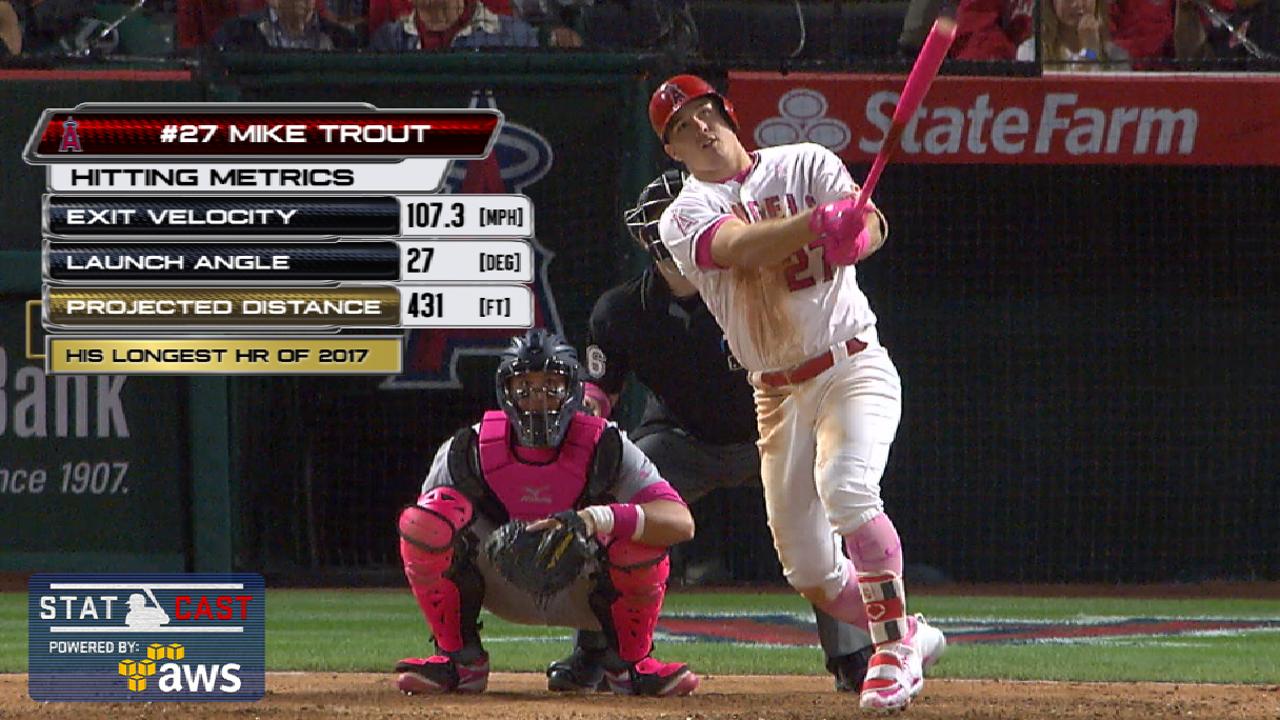 Here's a look at five key Statcast™ storylines for Monday's games.
Angels: Mike Trout (vs. White Sox, 10:07 p.m. ET)
Trout reached double-digit home runs for the season over the weekend, hitting his ninth on Friday and his 10th on Saturday against the Tigers. Friday's homer was Trout's farthest of the year, at 430 feet … until Saturday's traveled a foot farther, 431 feet. With the exception of location -- Trout's first home run went to center, the second to left-center -- both long balls were very similar. Trout now has 17 home runs of 430 feet or more in the Statcast™ Era. He homered again on Sunday, but that one went "only" 410 feet, which happens to be his average home run distance in the Statcast™ Era.
Among players with at least 50 homers in the Statcast™ Era, Trout's average distance of 410 feet is tied for seventh, and he moves up to fifth if you remove players who play their home games at Coors Field.
Trout's home run on Friday
Exit velocity: 106.2 mph
Launch angle: 29 degrees
Projected distance: 430 feet
Height: 96 feet
Trout's home run on Saturday
Exit velocity: 107.3 mph
Launch angle: 27 degrees
Projected distance: 431 feet
Height: 96 feet
Average HR distance, Statcast™ Era (2015-17)
Minimum 50 total homers
1. Carlos Gonzalez: 423 feet
2. Giancarlo Stanton: 422 feet
3. Nelson Cruz: 414 feet
4. Joc Pederson: 413 feet
5. Mark Trumbo: 412 feet
6. Nolan Arenado: 411 feet
7. (tie) Trout: 410 feet
7. (tie) Chris Carter: 410 feet
7. (tie) Mike Napoli: 410 feet
7. (tie) Khris Davis: 410 feet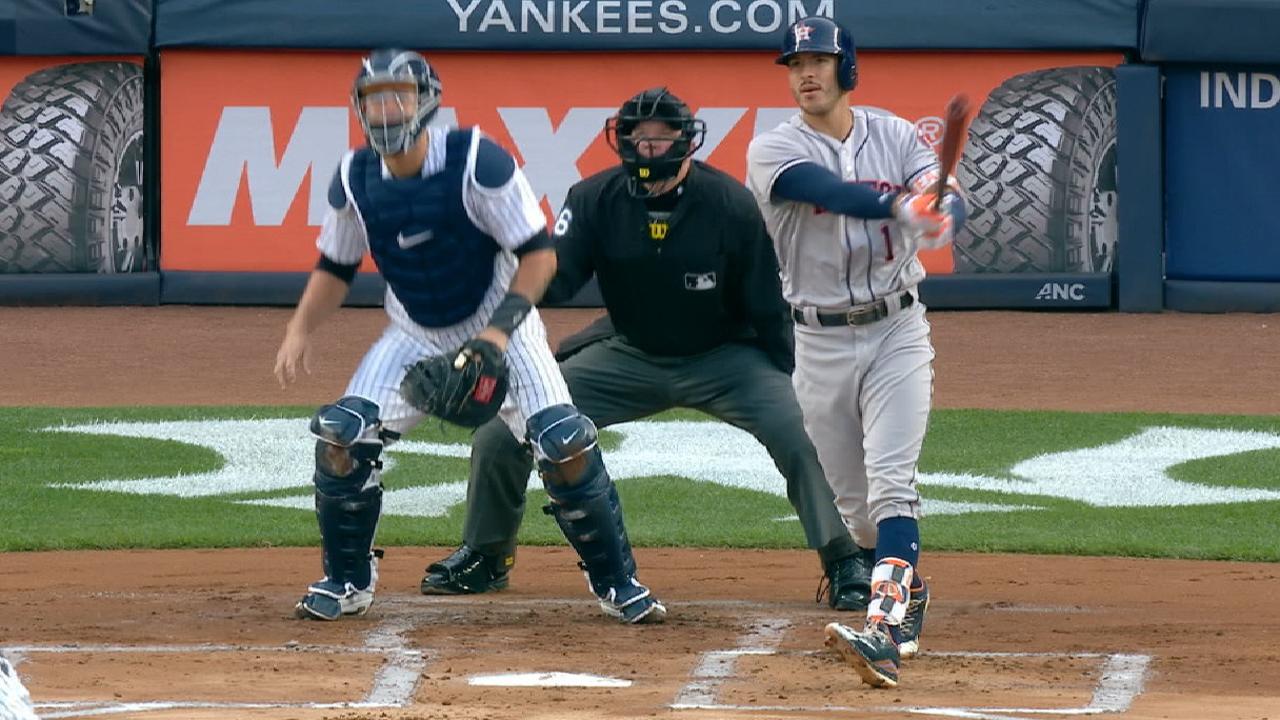 Astros: Carlos Correa (at Marlins, 7:10 p.m. ET)
On April 22, Correa dropped below the Mendoza Line. He was hitting .196/.292/.250 in 15 games and hadn't homered since Opening Day. But since then, he's turned things around. Over his past 18 games, Correa is hitting .363/.463/.663 with four homers, 10 doubles and 19 RBIs. And the Statcast™ data backs up the split. Through April 22, Correa's average exit velocity was 86.3 mph, and he'd barreled only two of his 45 batted balls. But since then, he's averaged a 92.6-mph exit velocity -- a 6.3-mph jump -- with seven barrels on 57 balls in play.
Correa from April 3-22
Average exit velocity: 86.3 mph
Barrels: two
Barrels per batted ball percentage: 4.4 percent
Correa since April 22
Average exit velocity: 92.6 mph
Barrels: seven
Barrels per batted ball percentage: 10.9 percent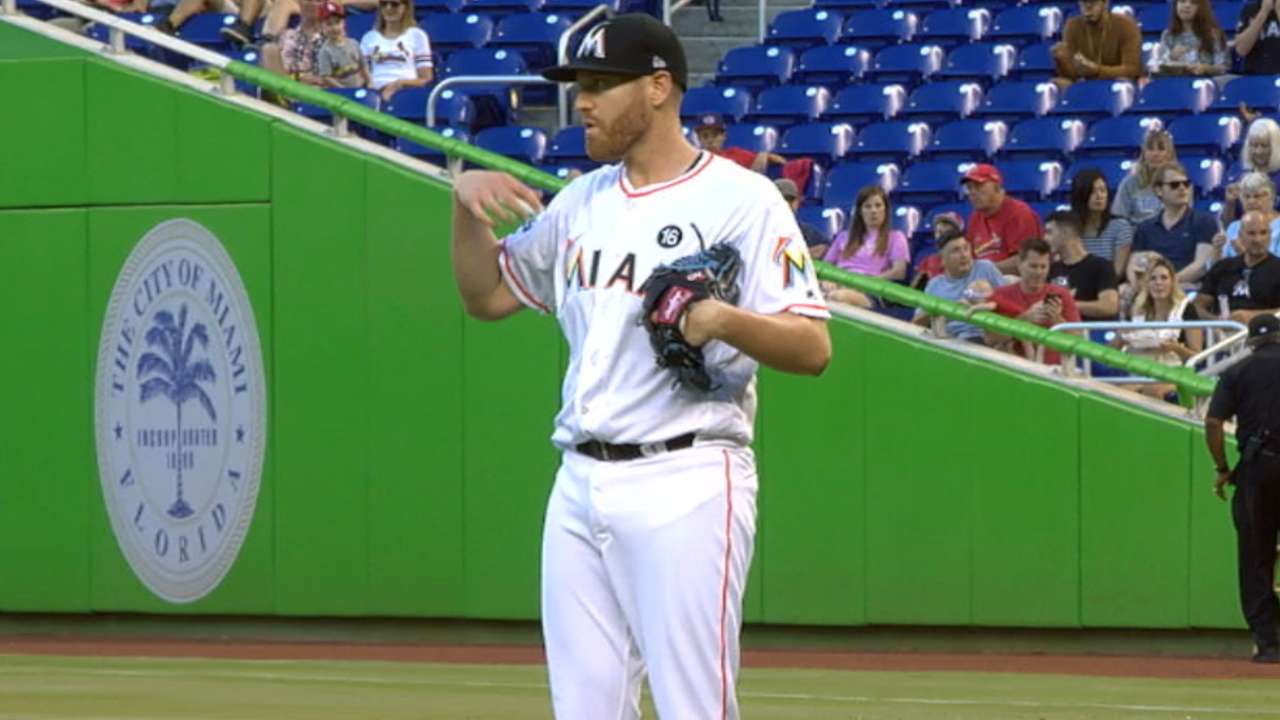 Marlins: Dan Straily (vs. Astros, 7:10 p.m. ET)
Straily's 4.03 ERA this season won't jump out at anyone, but he actually has excelled at getting hitters to produce weak contact. Balls topped into the ground, underhit or otherwise struck poorly, as defined by Statcast™, account for 72.2 percent of the batted balls against Straily this season. That puts him sixth in the Majors and helps explain why his .172 expected batting average allowed -- a figured based on the quality of contact against him -- leads all pitchers with at least 100 at-bats.
Highest poor contact percentage in 2017
Minimum 75 batted balls
1. Joe Biagini: 75.0 percent
2. Kyle Freeland: 73.0 percent
3. Trevor Cahill: 72.8 percent
4. Ervin Santana: 72.7 percent
5. Andrew Triggs: 72.4 percent
6. Straily: 72.2 percent
Lowest xBA in 2017
Minimum 100 at-bats
1. Straily: .172
2. Alex Wood: .173
3. Chris Sale: .174
4. Cahill: .180
5. James Paxton: .185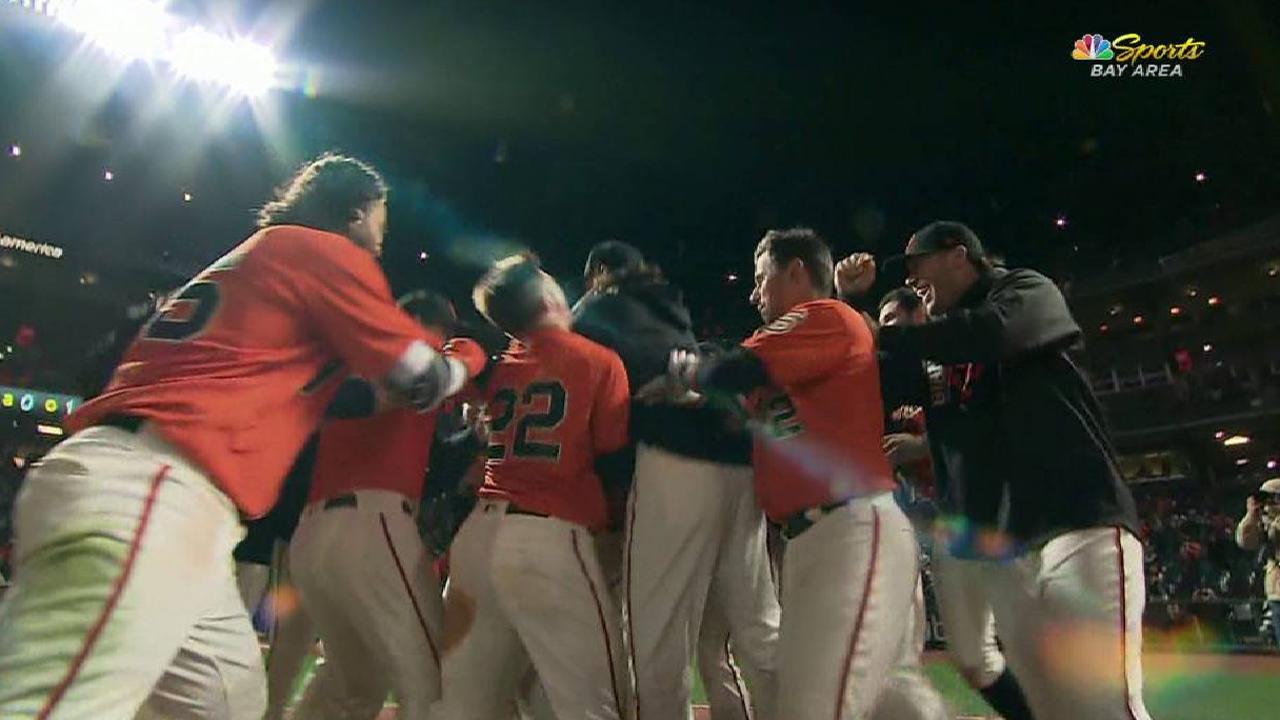 Giants: Buster Posey / Team Offense
The Giants, as a team, have struggled heavily against high-velocity fastballs this season. Entering Friday's marathon 17-inning win over the Reds, when facing pitches of 95 mph or harder in 2017, San Francisco ranked 29th of the 30 MLB teams in batting average, at .172, and it was slugging an MLB-worst .239. But that didn't stop Posey from launching 431-foot walk-off home run on a chest-high fastball that clocked in at 96.1 mph. It was his farthest homer in the Statcast™ Era.
Lowest team batting average vs. pitches of 95-plus mph in 2017
1. Rays: .168
2. Giants: .170
3. D-backs: .181
4. Tigers: .185
5. Twins: .189
Lowest team slugging percentage vs. pitches of 95-plus mph in 2017
1. Giants: .252
2. Tigers: .254
3. Rays: .259
4. Reds: .268
5. Orioles: .299
Buster Posey's walk-off homer vs. Reds on Friday
Pitch velocity (Robert Stephenson): 96.1 mph
Exit velocity: 104.8 mph
Launch angle: 30 degrees
Projected distance: 431 feet
Posey's longest homers in the Statcast™ Era
1. 5/12/17: 431 feet
2. 5/20/15: 427 feet
3. 5/21/16: 423 feet
4. 9/16/16: 422 feet
5. 4/4/16: 420 feet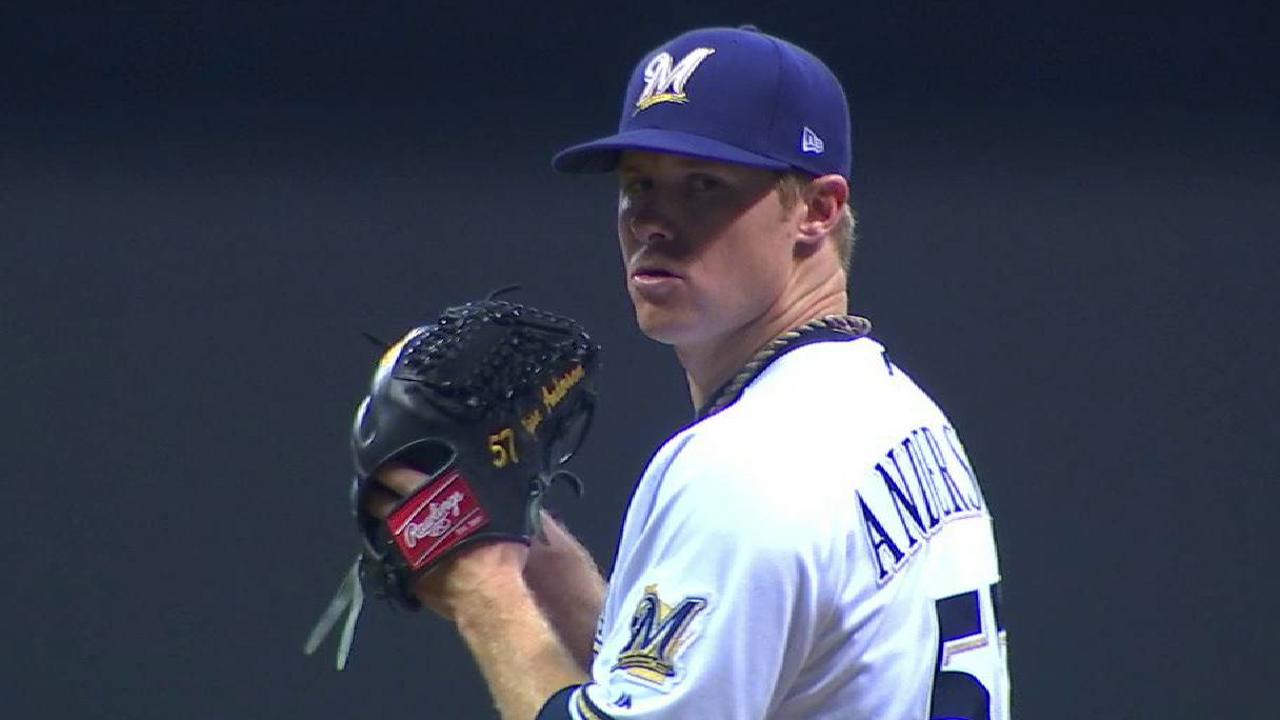 Brewers: Chase Anderson (at Padres, 10:10 p.m. ET)
While Anderson has had some issues getting deep into games in recent starts, he still hasn't allowed very hard contact this season. Hitters have only averaged an exit velocity of 84.6 mph against Anderson, tied for the sixth lowest among 102 MLB pitchers with at least 100 batted balls against them. The two pitchers he ranks alongside? Dallas Keuchel and Jake Arrieta. That's some good company.
Lowest average exit velocity against in 2017
Minimum 100 batted balls against
1. Scott Feldman: 82.7 mph
2. Michael Wacha: 82.9 mph
3. Ervin Santana: 83.2 mph
4. Kenta Maeda: 83.7 mph
5. Tyler Anderson: 84.3 mph
6. (tie) Anderson: 84.6 mph
6. (tie) Keuchel: 84.6 mph
8. (tie) Arrieta: 84.9 mph
8. (tie) Kyle Freeland: 84.9 mph
8. (tie) Ty Blach: 84.9 mph