Inbox: What to do with Gallo?
Beat reporter T.R. Sullivan answers Texas fans' questions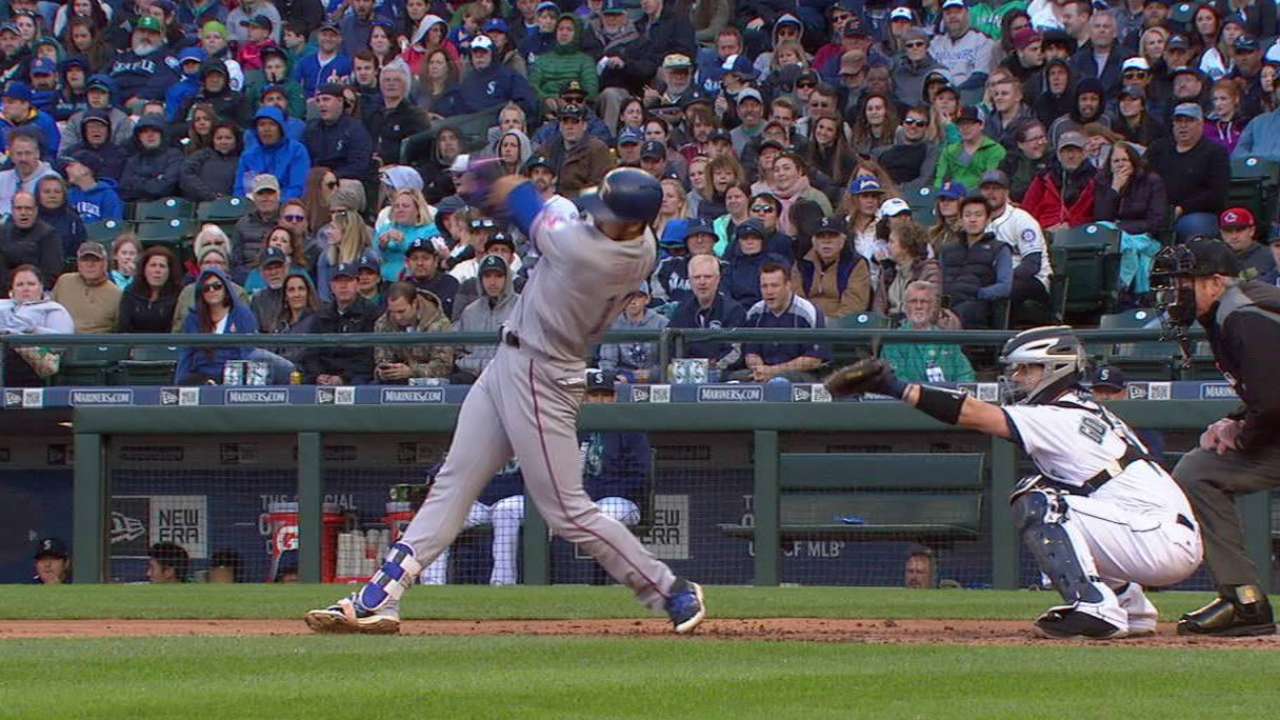 What will happen with Joey Gallo when Adrian Beltre gets back? Does he move to another position or back to Triple-A?
-- Bob O., Arlington
The Rangers have crossed the Rubicon with Gallo and can't afford to go back. He needs to play every day and the best place for him to do it is third base. Who knows who will be healthy when Beltre finally returns -- the idea of a team having too many players and not enough spots in the lineup is often an illusion. Beltre is a Gold Glove defender but at this point they need his right-handed bat in the lineup more than the glove and the designated-hitter spot is sufficient for that purpose.
Gallo is 23, the same age as Mike Schmidt during his first full season with the Phillies in 1973. Schmidt hit .196 that year with 18 home runs, 52 RBI, 136 strikeouts and a .373 slugging percentage in 132 games. Now he is known as the best third baseman in baseball history.
If the season continues to go poorly, do you think the Rangers will trade Yu Darvish for prospects? Given the glut of rent-a-starters available, can they get a decent return?
-- Tom H., Fort Worth, Texas
A six-game winning streak has moved the Rangers from last place to second place in the American League West, and 1 1/2 games out of the Wild Card spot. That's where they stand today -- but tune in next week to see how much that changes. They may be on the buyer/seller fence right up to the non-waiver Trade Deadline on July 31.
There are a couple of issues. The Rangers still don't know how good they will be come July with Beltre, Cole Hamels and Tyson Ross all on the disabled list. There's no doubt the Rangers feel they will be serious contenders if everybody is healthy but getting to that point seems to be an elusive proposition.
Secondly, your observation is astute. There is a strong possibility that the trade market could be flooded with starting pitching with selling clubs looking to cash in for top prospects. It may be a dubious hope that the Rangers will get a windfall for Darvish, who is a free agent after the season.
• Submit a question to the Rangers Inbox
What happened to Andrew Faulkner? Seems like he never got a shot to make team.
-- Bob G., Murrieta, Calif.
Faulkner was progressing nicely through the Rangers system as a starter until the ill-fated decision was made to fast-track him as a reliever. That didn't go well and he was given to the Orioles in early April.
Much has been written about the Rangers' lack of success at developing their own pitching. Injuries and trades have certainly played a role in this. Just a few years ago, it seemed that the Rangers' Drafts targeted shorter pitchers, but this past year's Draft lists pitchers with heights that would make for a great basketball team. How has the Rangers' Draft philosophy changed in the last few years with regard to pitchers, and what steps is the team taking to reverse this trend?
-- Brian T., Midlothian, Texas
The Rangers' favorite scouting tool is not a tape measure but a radar gun. The Rangers, like most organizations, place a high value on power arms and that hasn't changed. The biggest change the Rangers are professing to make is they vow not to rush their pitchers through the system any more.
Why doesn't Ryan Rua get a consistent shot to play every day? He seems like he could be a Rusty Greer-type player.
-- Kelly N., Boynton, Okla.
Right now it comes down to either Rua or Delino DeShields in left. Both deserve a chance to play, but DeShields is a unique talent because of his speed and the Rangers are trying to exploit that.
T.R. Sullivan has covered the Rangers since 1989, and for MLB.com since 2006. Follow him on Twitter @Sullivan_Ranger and listen to his podcast. This story was not subject to the approval of Major League Baseball or its clubs.