Statcast of the Day: Goldy hits 'wow' shot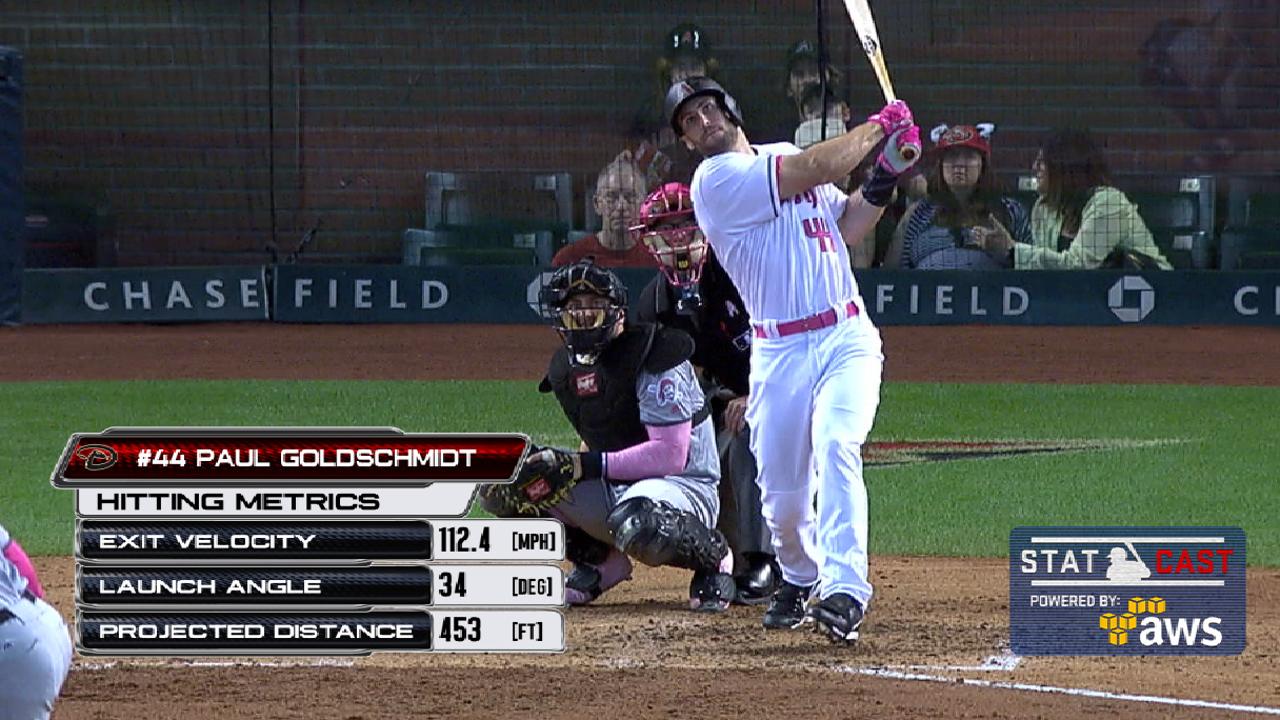 PHOENIX -- It was one of those "wow" moments, said both D-backs manager Torey Lovullo and Pirates pitcher Ivan Nova. They both referred to Paul Goldschmidt's mammoth, 453-foot homer off the videoboard at Chase Field during the fifth inning of Sunday's 6-4 Arizona loss to the Bucs in 10 innings at Chase Field.
Lovullo was in the D-backs dugout watching the massive arc of Goldschmidt's second homer of the game. Nova served up both of them, the epic shot having an exit velocity of 112.4 miles per hour, his hardest-hit homer of the three-year Statcast™ era.
"I said, 'Wow. Wow.' To be honest, you don't want to give up a homer, but once you see that monster homer. He hit it far. Like, wow," Nova said.
"It was a pretty impressive shot," Lovullo said. "In this game you have some 'wow' moments, and for me that was definitely a 'wow' moment. He hit it off the Jumbotron, and that's a long way. I keep saying that nothing he does surprises me. This just adds something to the list."
Here are few other Goldy tidbits:
• The homer was Goldschmidt's second-hardest batted ball of any kind since 2015, behind a 114-mph single in April 2015.
• With a projected distance of 453 feet, Goldschmidt's homer also was his third-longest of the Statcast™ Era and longest since August 2015, when he hit a pair at 466 and 471 feet.
• It was Arizona's second-longest projected homer of the year, behind a 481-foot shot by Jake Lamb on April 29 at Chase that stands as the longest batted ball by any player in 2017. Lamb's shot against Colorado went into the stands to the right and below the video board.
• It was the 11th time in Goldschmidt's career he has had a multi-homer game and the second time this season.
Unlike Nova and Lovullo, Goldschmidt was not impressed.
"It just counts as one," he said.
But seriously now.
"[Nova] threw a couple of curveballs and then he threw a pitch [a 94.1 mph two-seam fastball] that was a little bit down, but probably not as much as he wanted. I was able to hit it hard."
Goldschmidt has been known to underplay these kinds of situations. No difference here even if he did reach the video board.
"Honestly, I don't really care about these kind of things," he said. "I was glad it got out of there. I had a pretty good idea that I had hit it well enough for it get out. I just ran around the bases knowing we got one more run back there and that we needed one more to tie it up."
And his teammates?
"They enjoyed it," Goldschmidt said. "They were happy about it, but it's not like it's anything crazy. A home run is a home run. It really doesn't matter how far it goes."
Oh, yes, it does.
Barry M. Bloom is a national reporter for MLB.com and writes an MLBlog, Boomskie on Baseball. Follow @boomskie on Twitter. This story was not subject to the approval of Major League Baseball or its clubs.