Bucs' bullpen management pays off
Watson pitches two scoreless innings to earn the win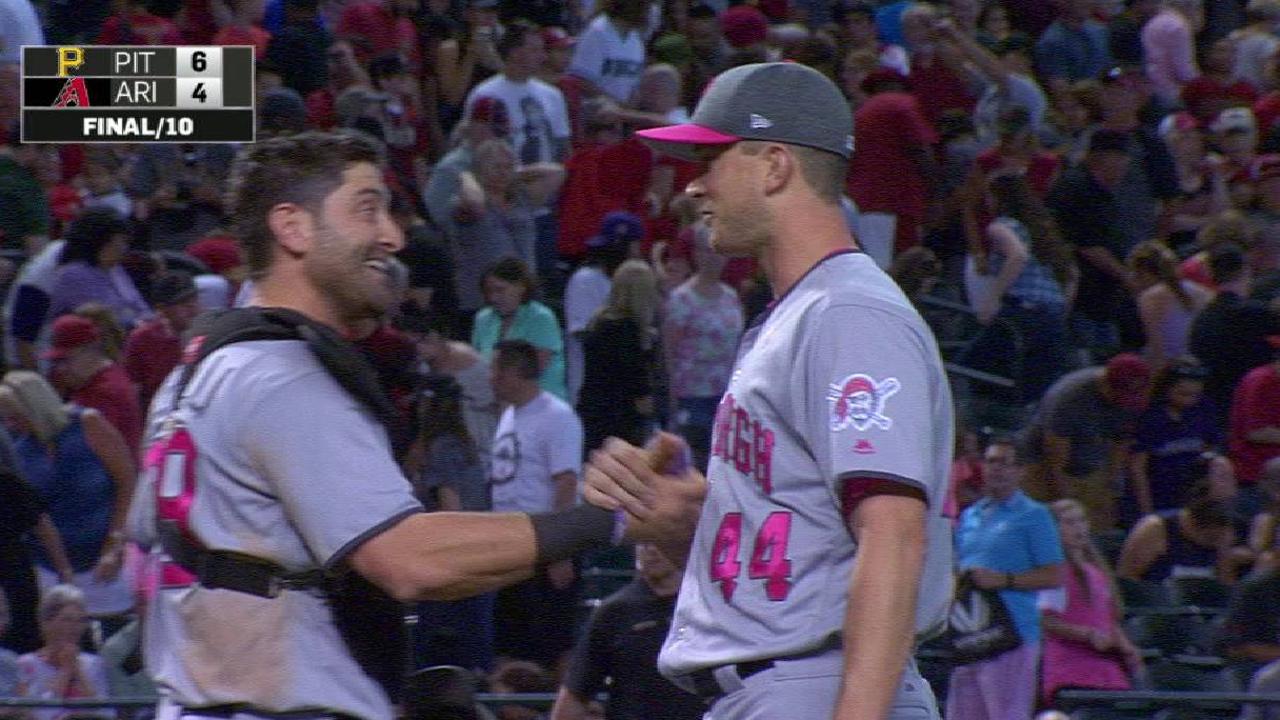 PHOENIX -- Before beginning this four-game series against the D-backs on Thursday, the Pirates had their typical scouting meeting in the visitor's clubhouse at Chase Field. There, manager Clint Hurdle made it clear: The Pirates were not going to let Paul Goldschmidt beat them.
Goldschmidt did his best to wreck that plan by hitting two home runs on Sunday. Still, the Pirates stuck to their strategy in the 10th inning, even if it felt a little risky. The Bucs intentionally walked Goldschmidt to put the tying run on second base, but closer Tony Watson retired Jake Lamb to secure a 6-4 win over the D-backs.
"There's an argument that, well, if he already hit two homers, his chances of hitting a third one aren't very good," Hurdle said. "We weren't going to find out."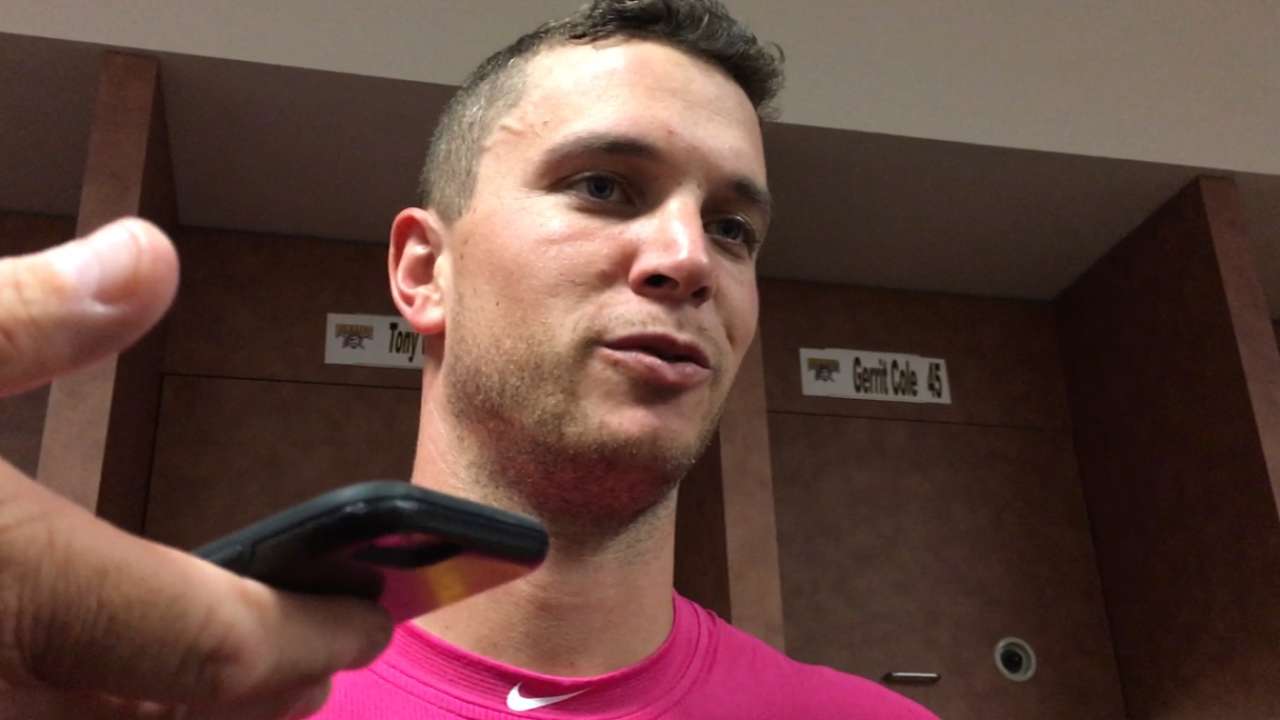 Ideally, Hurdle didn't want to use Watson for more than one inning Sunday. Watson threw 25 pitches and picked up the save in Saturday's 4-3 win. But the bullpen was short-handed with setup man Felipe Rivero unavailable due to a stiff neck.
With a one-run lead and Ivan Nova out of the game, Juan Nicasio pitched a scoreless seventh. Daniel Hudson went out for the eighth, his first appearance since Tuesday. Hudson said he was "a little amped up" facing his former team, and he couldn't find the strike zone. He walked the bases loaded with two outs, and Hurdle called in lefty Wade LeBlanc.
"I'm struggling right now, man. It's just part of it," Hudson said. "I've got to get through it and get better, really. It is what it is."
LeBlanc walked pinch-hitter Jeff Mathis, tying the game, then struck out Goldschmidt. Why not bring in Watson for the four-out save? Hurdle said they ruled that out before the game because of Watson's workload on Saturday.
A pair of singles in the ninth put Watson in a precarious situation. But Chris Herrmann popped up a bunt for the first out. Nick Ahmed quickly grounded into a double play that sent the game to extras.
"It starts with the pitcher getting the ball on the ground," Hurdle said. "Jordy's always been a guy out there that's so dependable and can make an above-average play as well. … Gift Ngoepe may turn the double play better than anybody we've had."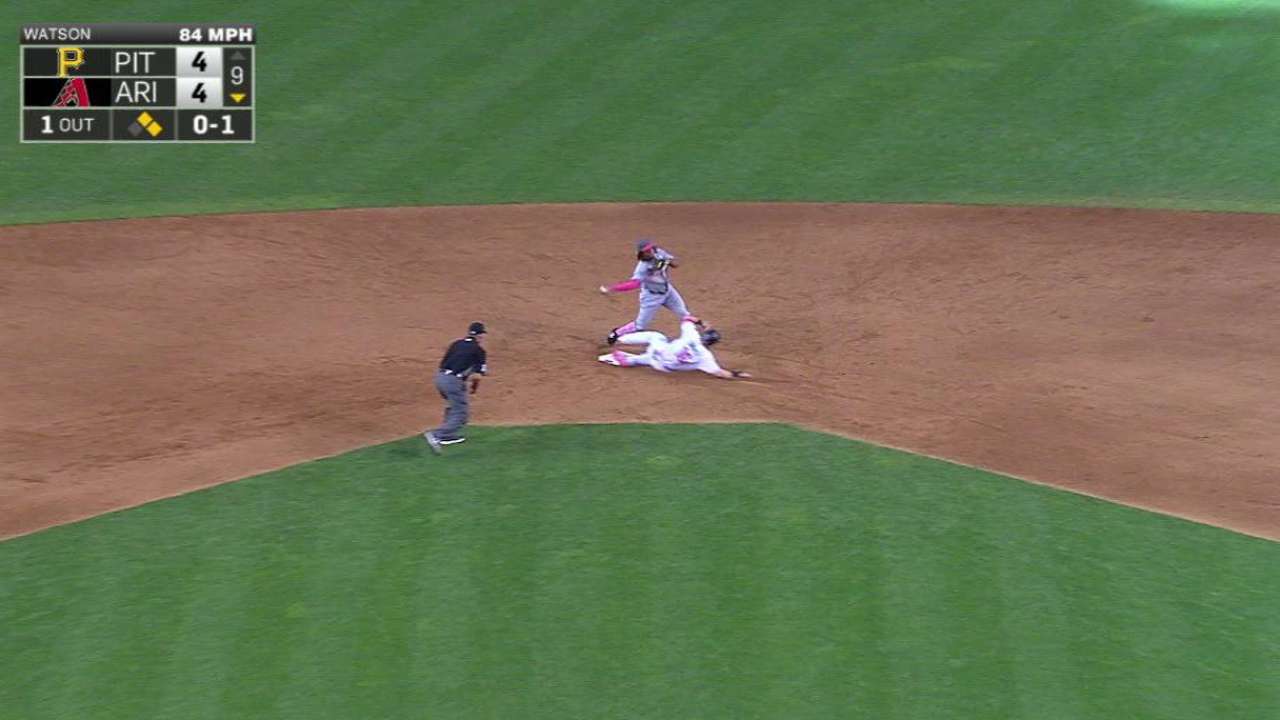 Jose Osuna's 10th-inning homer changed the Pirates' mind about using Watson for another inning. Looking to protect a two-run lead, Hurdle asked Watson if he could go another inning. Watson was up for the challenge.
"There's more adrenaline involved," Hurdle said. "If you're going to take that challenge and push the envelope, I was willing to push it that way."
Watson allowed two one-out singles, and an injury to A.J. Pollock forced the D-backs to send in Zack Greinke as a pinch-runner. Making the sequence even more bizarre, Arizona's short bench thrust pitcher Patrick Corbin into the game as a pinch-hitter.
With Goldschmidt looming on deck, Watson hoped he could get Corbin to hit into a game-ending double play. Corbin didn't comply, striking out instead.
Hurdle quickly signaled to walk Goldschmidt, setting up the lefty-on-lefty matchup with Lamb. The five-pitch battle ended with a groundout to second base, the bases left loaded and a wild win for the Pirates.
"It's just one of those crazy games," Watson said. "It's a little different scenario than I'd like to be in, but everything worked out.
"It was a crazy game. …All that matters is we won."
Adam Berry has covered the Pirates for MLB.com since 2015. Follow him on Twitter and Facebook, read his blog and listen to his podcast. This story was not subject to the approval of Major League Baseball or its clubs.