A's 'pen has weekend to forget vs. Rangers
Texas comes back in all three games to sweep Oakland
ARLINGTON -- If baseball games lasted six-and-a-half innings instead of nine, the A's would have swept the Rangers this weekend. Instead, they lost all three games.
Oakland got quality starts from Jesse Hahn and Sonny Gray, while Kendall Graveman allowed four runs over 6 2/3 in the finale, but three blown saves from three different relievers made those outings moot. The A's led each game heading into the bottom of the seventh inning, including Sunday's 6-4 loss.
When asked whether his bullpen truly got knocked around or just suffered a string of bad luck, A's manager Bob Melvin said, "It's a results-oriented business."
The results were less than ideal for Oakland. The A's bullpen had a combined 19.29 ERA in three games, allowing 10 runs in 4 2/3 innings.
"It is frustrating that for roughly two-thirds of the game we have the upper hand on it, and then we lose it," Melvin said.
Seven of the eight relievers in Oakland's bullpen pitched in the series. Closer Santiago Casilla blew a save and took the loss Friday night when Joey Gallo hit a walk-off homer in the ninth inning, Ryan Dull earned the loss and Liam Hendriks blew a save in the seventh on Saturday, and Ryan Madson was the victim Sunday, when the Rangers scored three runs in the seventh.
"It was just a bad series for our bullpen. … We used all our best guys and couldn't come away with a win," Melvin said.
In the finale, Graveman allowed two runs in the first inning but settled in to pitch five consecutive scoreless frames. He gave up a leadoff single to Carlos Gomez to start the seventh, recorded two outs and then allowed an RBI infield hit to the speedy Delino DeShields. His bouncer down the third-base line was too far across the diamond for Trevor Plouffe to beat DeShields with the throw to first, and Gomez alertly rounded third and scored on the play.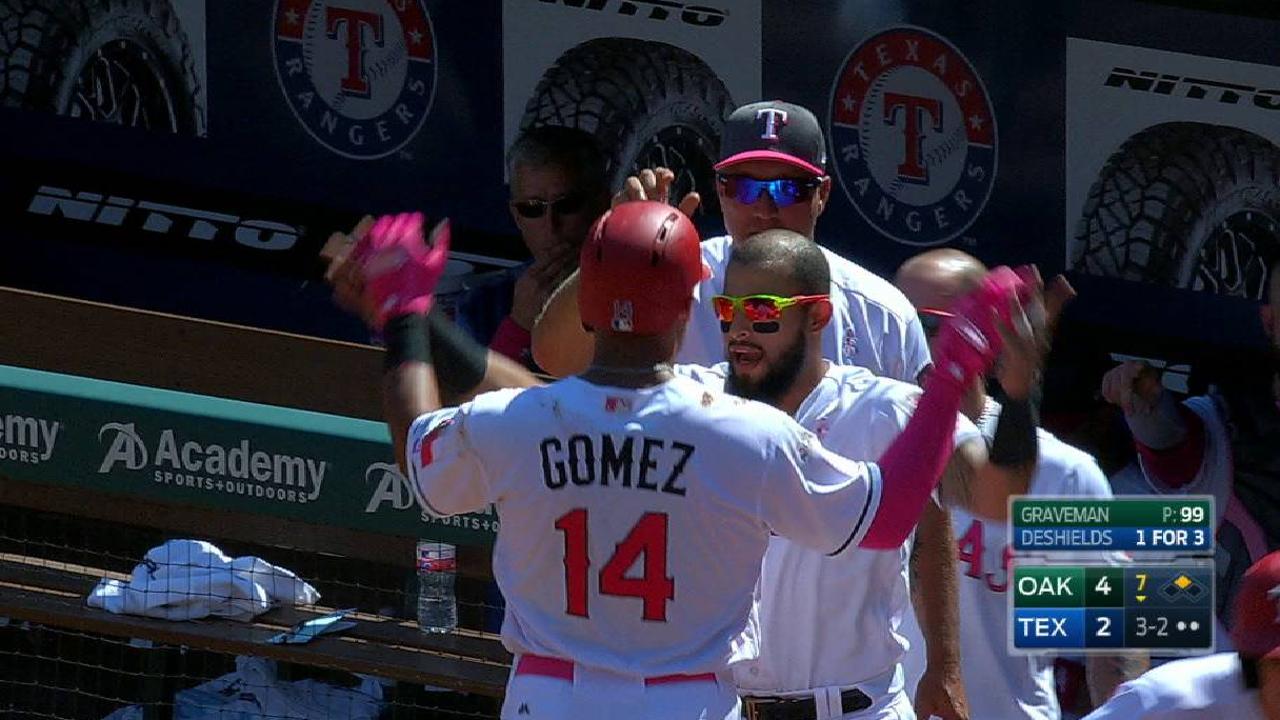 Melvin said after the game DeShields was going to be Graveman's last batter regardless of the outcome. He turned the ball over to Madson to protect a 4-3 lead with two outs, but the veteran right-hander served up a double and a single, as the Rangers took the lead and kept it.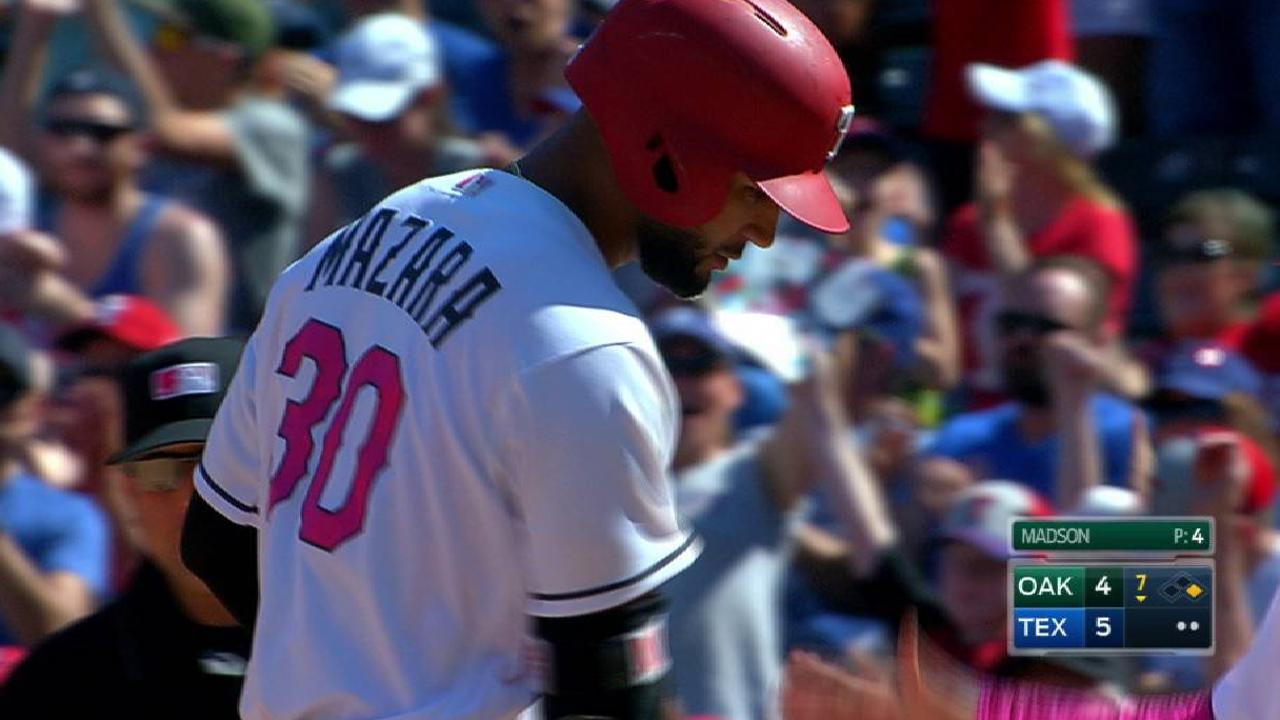 Combined, the A's three starters had a 3.20 ERA in the series, but they leave Arlington with nothing to show for their success.
"There's 162 games this year, there's going to be times where stuff like this happens," Graveman said. "I have full confidence [the relievers] will bounce back. I mean, you make one bad pitch in the bullpen, it feels like a bad outing.
"That's the difference between those guys and being a starter. I gave up two in the first and I was able to go put up zeroes after that. Those guys don't have that luxury to settle into a ballgame. We trust that their stuff's great and the guys we've got there are going to get it done."
Dave Sessions is a contributor to MLB.com based in Texas. This story was not subject to the approval of Major League Baseball or its clubs.