Staked to 5-0 lead, Gausman falters in 4th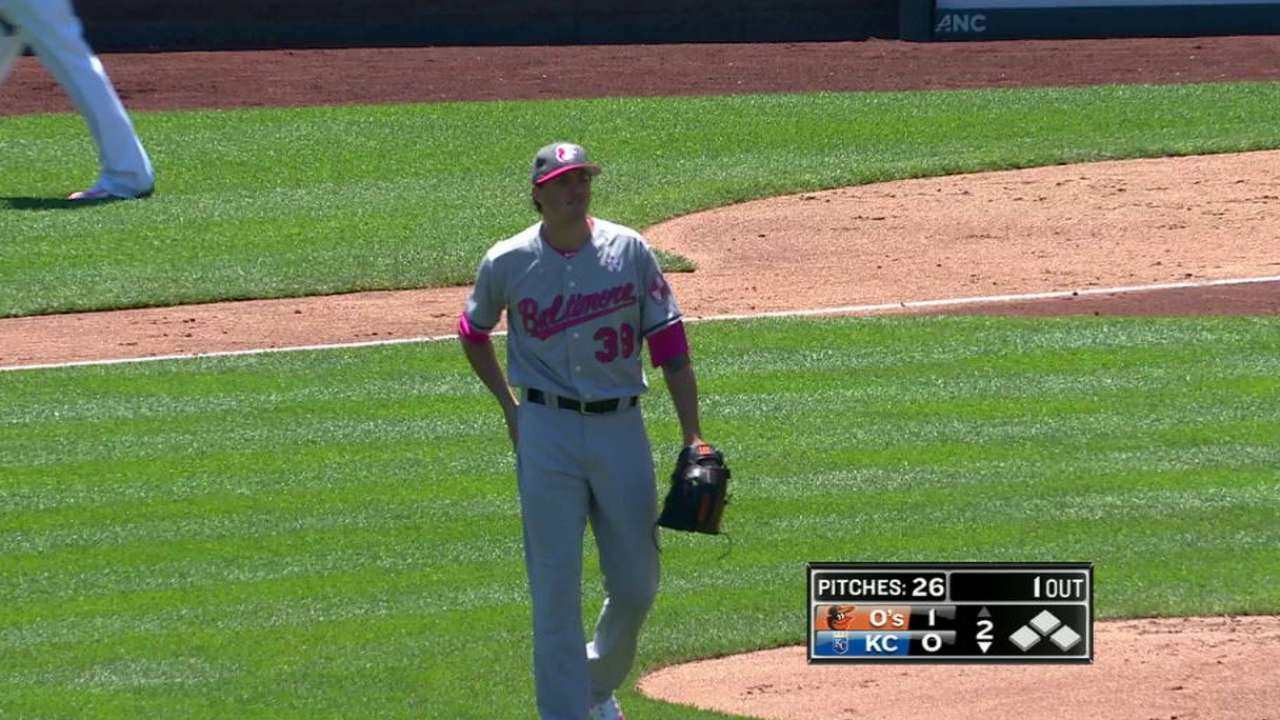 KANSAS CITY -- Kevin Gausman succinctly summed up what he thought of his outing against the Royals on Sunday.
"Unacceptable," Gausman said. "We got five [early runs]. I have to shut the door."
Gausman didn't. Not by a long shot, as the Royals went on to a 9-8 victory. There were cracks in the first three innings when Gausman worked through the traffic created by five baserunners. But the Royals didn't score until after the Orioles had taken a 5-0 lead against spot starter Chris Young, who was filling in for an injured Ian Kennedy. Given that cushion, Gausman went to the mound in the fourth and promptly walked leadoff hitter Brandon Moss.
"Walked the first guy, that's something that he's better than," Orioles manager Buck Showalter said.
From there, it got really bad for the 26-year-old Gausman in a hurry. The Royals chipped away to 5-2 before Mike Moustakas rocked a three-run homer into the right-field bullpen to tie it. Lorenzo Cain singled and, with lefty-hitting Eric Hosmer coming up, Showalter went to just-recalled lefty Richard Bleier.
Gausman left having allowed nine hits in 3 1/3 innings. He retired just one of seven hitters in the fourth, and his ERA ballooned to 7.19.
"They didn't really miss any pitches in the strike zone," Gausman said. "Those are things that happen when you aren't consistent."
Gausman said he lacked fastball command and didn't really have a secondary pitch that could bail him out.
"The biggest thing was that this was a game we needed," Gausman said. "The biggest difference is not being able to throw that fastball higher than high, as we call it. I don't know if it's mechanical, but the ball isn't riding."
The Orioles never really stopped Kansas City after Gausman departed. Although the offense huffed and puffed with a 13-hit attack, Baltimore lost its fourth consecutive one-run game.
Gausman vowed that he'll get back to the form which allowed him to have a 3.61 ERA for the Orioles last year. Right-handed hitters have a .366 average against him, including 7-of-12 on Sunday.
"I will be all right," Gausman said. "I am confident in myself. I'm not the pitcher that the numbers say I am."
Robert Falkoff is contributor to MLB.com based in Kansas City and covered the Orioles on Sunday. This story was not subject to the approval of Major League Baseball or its clubs.