Neck tightness ends Adleman's start early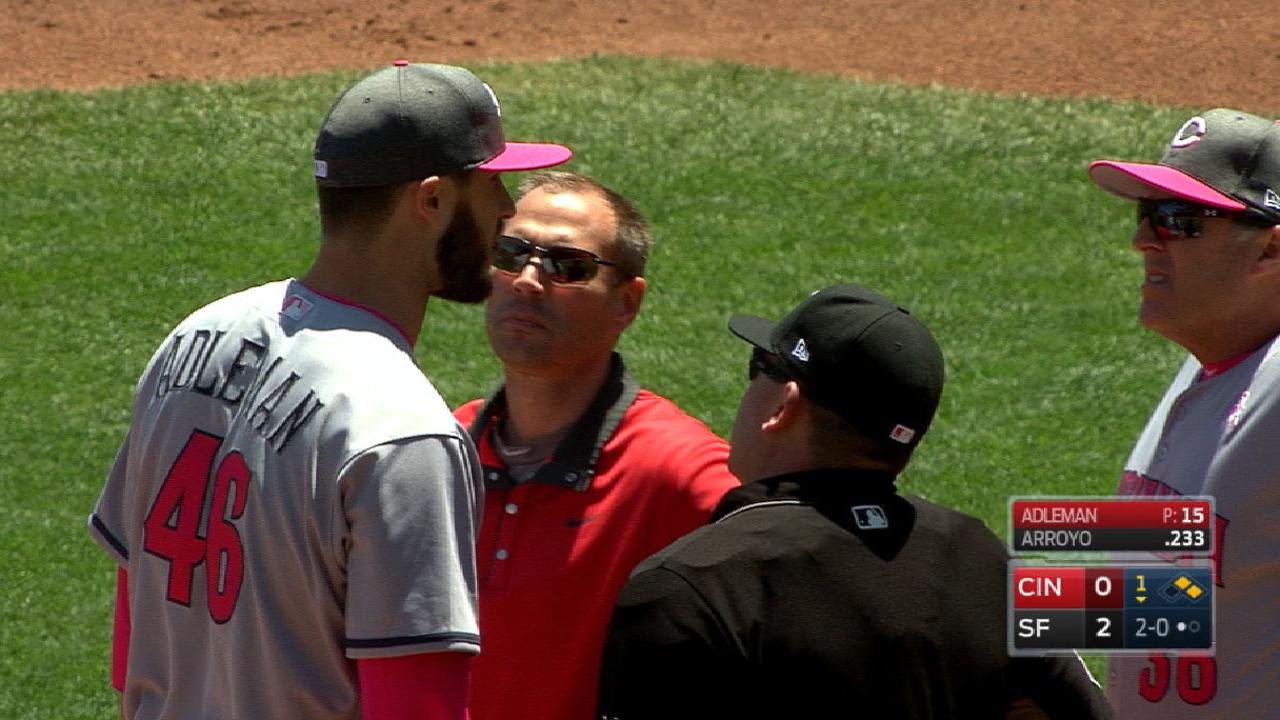 SAN FRANCISCO -- Reds manager Bryan Price is optimistic starter Tim Adleman won't have to miss a start after leaving Sunday's 8-3 loss to the Giants after the first inning with tightness in his neck.
"I do know these neck injuries should not be something that last four or five days between starts, [and] he gets an extra day with the off-day [Monday)]. So it should not be an issue," Price said.
Adlemen motioned like he had trouble extending his throwing arm because the left side of his neck was stiff near his shoulder. The 29-year-old is scheduled to pitch against the Rockies on Friday to kick off Cincinnati's next homestand.
"Looking into the catcher, it more than anything prevents you from having a good clear look at the target," said Price. "And then when you do go to extend, that's probably when you feel it the worst. So it does present quite a few challenges to try to pitch with it. Hopefully we'll get it mended and a lot better place the next time he has to pitch."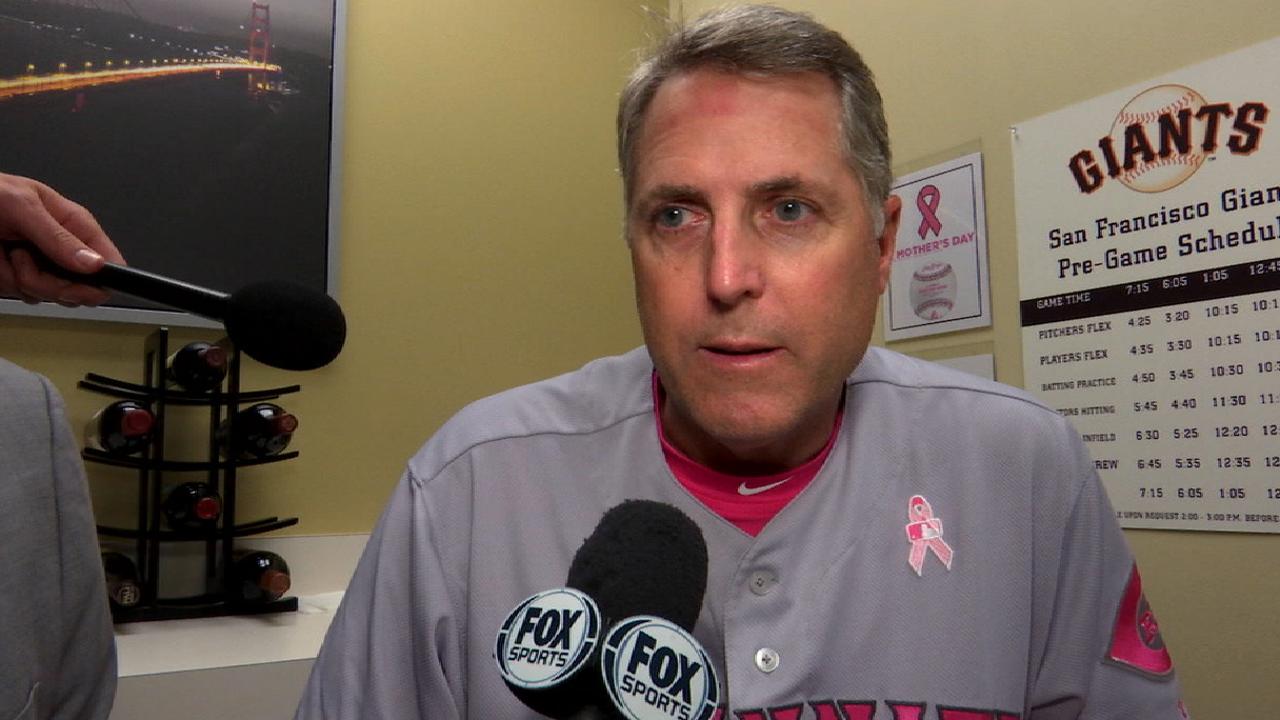 Adleman was visited by head athletic trainer Steve Baumann on the mound after yielding two runs in the opening frame. He finished the inning, allowing two more runs, but was replaced by reliever Barrett Astin to start the second. Astin threw three innings and allowed three runs, putting the Reds in a 7-0 hole as they lost the last three games of the four-game set.
Adleman threw 25 pitches, forcing the bullpen to throw the final seven innings, and lifted his ERA to 5.27. Reds relievers were taxed in Friday's 17-inning loss to the Giants but received the day off Saturday when Lisalverto Bonilla tossed a complete game in his Reds starting debut.
Cincinnati's starting rotation has been banged up, but it plans on getting left-hander Amir Garrett back either for the next series in Chicago or at home against the Rockies this week. Garrett threw two innings for Triple-A Louisville on Friday and struck out all six batters he faced.
Bonilla is scheduled to make his second start Thursday at Chicago. The rotation has been without Homer Bailey, Brandon Finnegan and Anthony DeSclafani for most of the season and came into the weekend series with San Francisco with the worst starters' ERA in the National League.
Despite those struggles, Cincinnati (19-18) remains in the race for the NL Central, sitting 2 1/2 games behind first-place St. Louis after the loss to San Francisco.
"You have to play the cards you're dealt, just go out there and try to win each day with what you got, do the best you can," said catcher Devin Mesoraco, who left the game in the fifth inning with hamstring tightness. "You can't really change the cards that you have."
Bailey is tentatively expected back in June after throwing a 48-pitch bullpen session Friday. DeSclafani has been out all year with with a sprained ulnar collateral ligament and may not be available until later this summer.
"You have to anticipate winning when you take the field in order to win. And we've had some challenges staying healthy with our rotation," said Price. "It hasn't been the strength of the team to this point. However, we've getting more competitive starts and we're scoring runs. Up until this series, we've been pretty, I don't want to say prolific, but we've been doing some damage, we're scoring runs. And this series they were able to limit us to three runs or less every game, and you're not able to win many of those."
Chris Biderman is a contributor to MLB.com and covered the Reds on Sunday. This story was not subject to the approval of Major League Baseball or its clubs.