Dickey doesn't get call, then burned by HR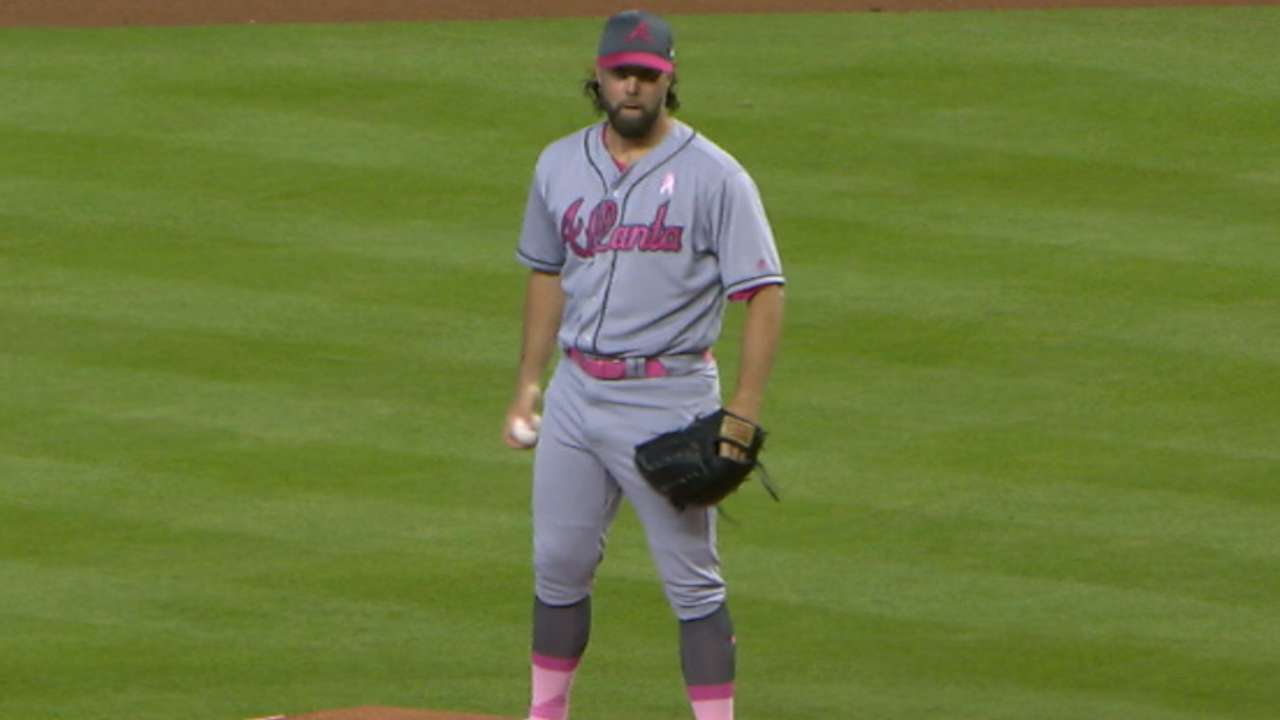 MIAMI -- R.A. Dickey was ultimately undone by the latest pinch-hit home run Tyler Moore has hit off of him. But as the Braves' knuckleballer exited Sunday's 3-1 loss to the Marlins at Marlins Park, he could not help but wonder what might have been had he gotten the call he wanted on a 3-2 pitch to A.J. Ellis in the decisive seventh inning.
"The walk to Ellis was big," Dickey said. "I was going to pitch him carefully to get a forceout for the next guy up. I felt I had controlled the game up until that point."
Dickey allowed just three hits while blanking the Marlins through the first six innings, then allowed Giancarlo Stanton to open the seventh with a double hit against what the pitcher described as a "flat" knuckleball.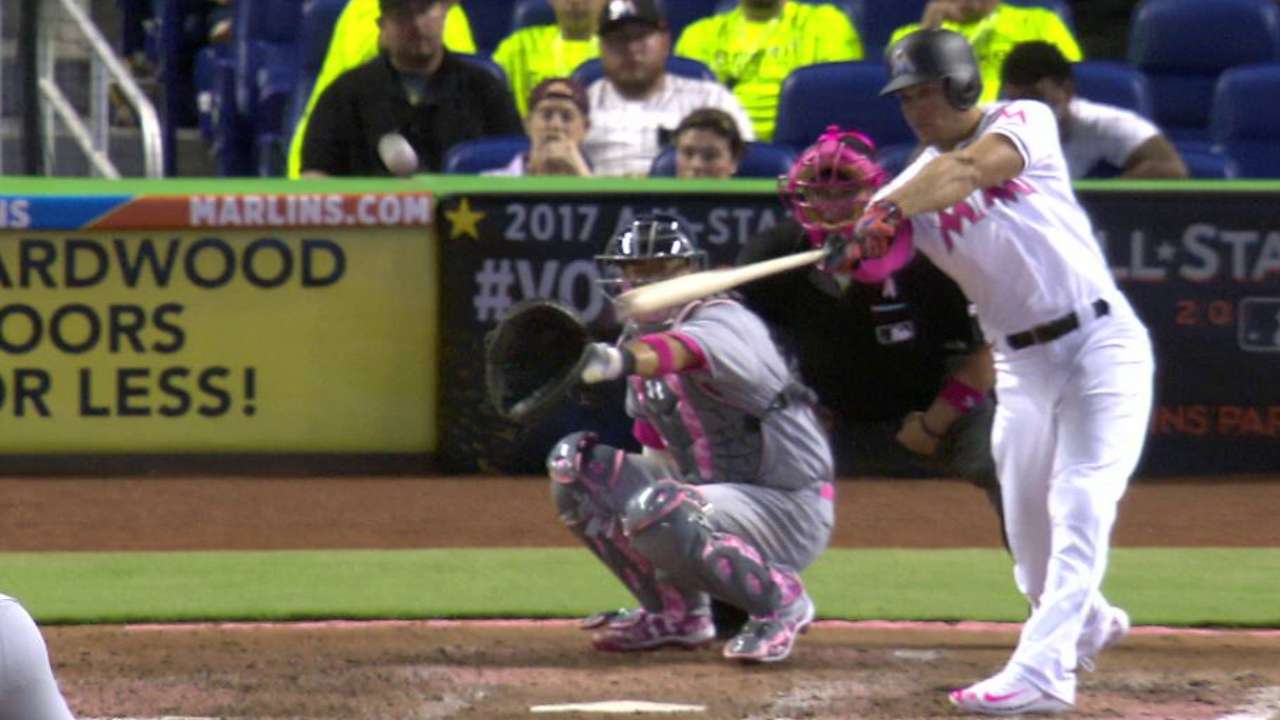 With Stanton on second base and one out, Dickey pitched Ellis carefully knowing he had a base open and could create a forceout or a potential double-play opportunity on a day when he had already induced 11 ground-ball outs. But after recording two straight strikes to get the count to 3-2, he attempted to buzz the top of the strike zone with a knuckler that home-plate umpire Marvin Hudson called a ball.
"A hitter that sees the knuckleball high is much more likely to swing than a guy who sees it low," Dickey said. "There's a prevailing kind of agenda for a hitting coach to tell his players to 'see it high and let it fly.' That's the knuckleball mantra for a hitter. I tried to throw one at the top of the zone. I thought it broke down late. Another day with another guy back there, that was strike three. But everybody has their own unique zones and with Marvin today, that wasn't a strike."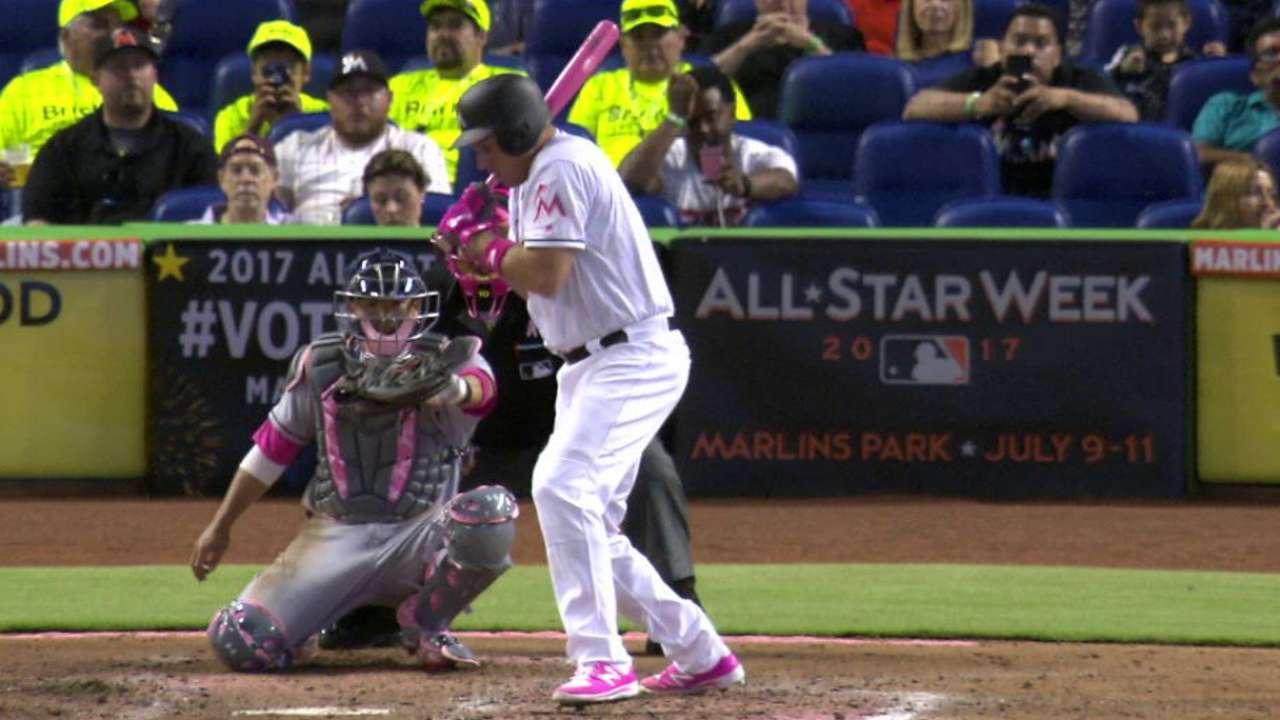 Ellis' one-out walk didn't necessarily hurt the Braves any more than the 12 runners they left on base while attempting to complete a three-game sweep. But it did help extend the inning and provide a chance for Moore to come off the bench to drill his game-winning home run on a first-pitch knuckleball.
Moore, who briefly played in the Braves' system for Triple-A Gwinnett last year, is 4-for-6 with two home runs off Dickey. The previous homer was also hit during a seventh-inning pinch-hit appearance for the Nationals against the Mets on Sept. 11, 2012.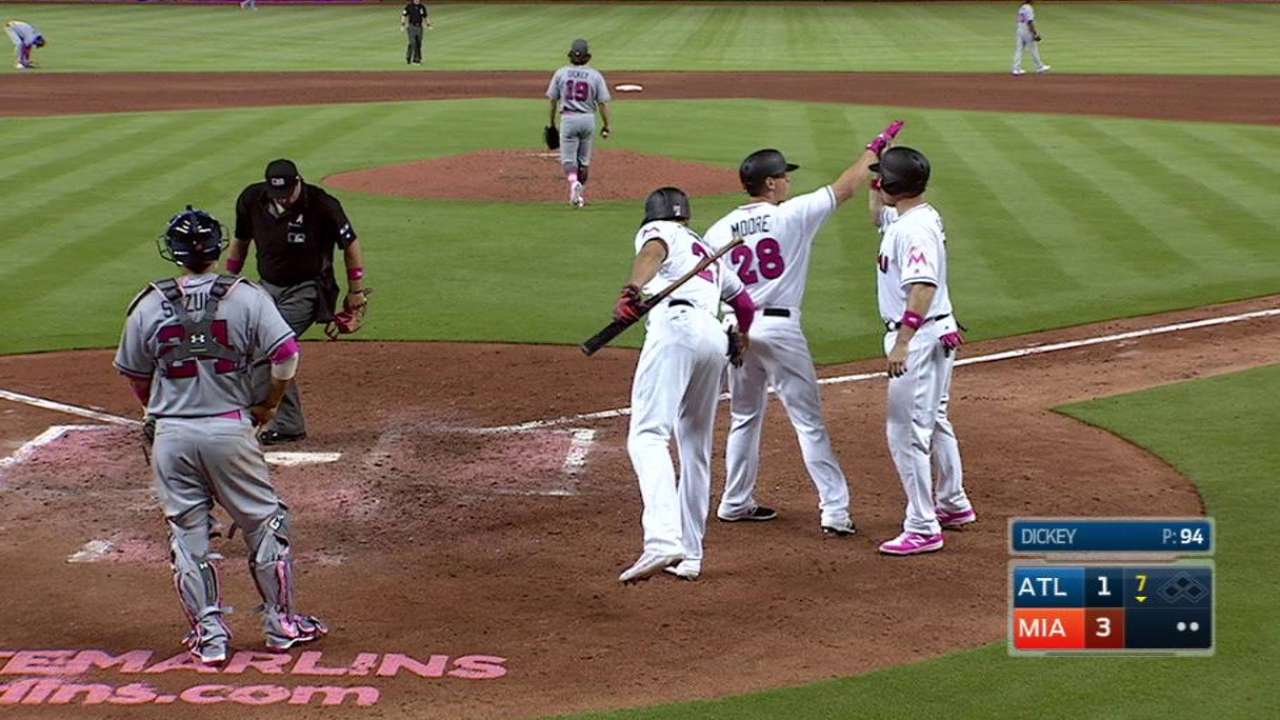 "[Dickey] was cruising and just a couple calls didn't go our way," Braves first baseman Freddie Freeman said. "Then one thing led to another."
Dickey recorded 12 called strikes on knuckleballs -- his second-highest total of the season. He received the call he needed when he froze Stanton on an inside pitch to strand two in the first inning, but his prevailing memories of this game will likely center around the call that didn't go his way.
Mark Bowman has covered the Braves for MLB.com since 2001. This story was not subject to the approval of Major League Baseball or its clubs.