To the wall! Buxton's gem latest in a long line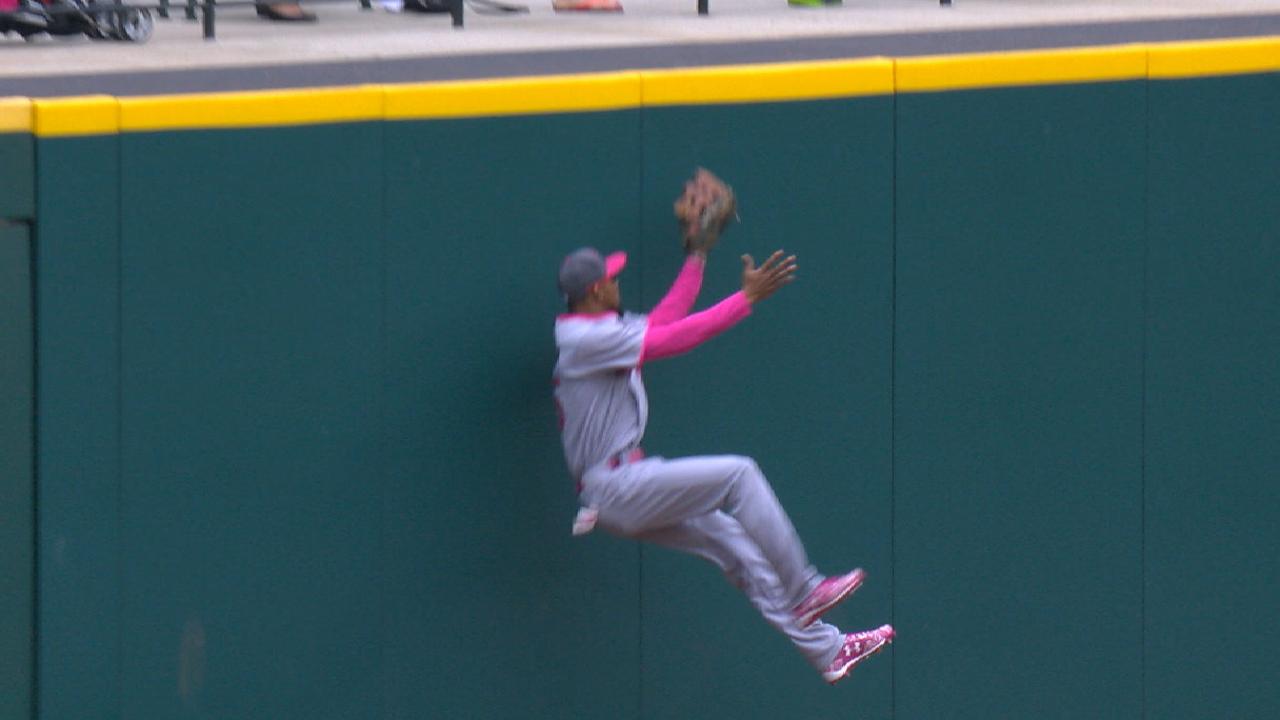 CLEVELAND -- A day after he was unable to make a leaping catch at the wall in center to rob Carlos Santana of an extra-base hit in Saturday's 4-1 win over the Indians, Twins center fielder Byron Buxton had an opportunity to redeem himself during Sunday's game.
With the Twins trailing 8-2 in the sixth inning, Santana again hit a deep fly ball to the wall in center. This time, however, Buxton was ready. Buxton ranged back to the warning track and leaped to snag the fly ball before he crashed into the wall, forcing his sunglasses and hat to fly off as he fell to the ground. As Buxton held up his glove to signal that he made the catch, Santana slammed his batting helmet down to the ground as he rounded first.
Per Statcast™, Buxton's grab had a catch probability of 52 percent and was rated as a three-star catch. Off Santana's bat, the fly ball had an exit velocity of 102 mph with a hit probability of 72 percent. But Buxton traveled 98 feet in 5.2 seconds to make the catch.
"In live action, I don't know how it gets much better than that," Twins manager Paul Molitor said. "You see a lot of tremendous athletes make great plays between distance, speed and collision, but you just don't see catches like that too often no matter how many highlight reels you are watching."
Buxton raised his glove after he leaped at the wall in Saturday's game as well, but the center fielder quickly realized that the ball did not stick in the webbing of his glove, resulting in a triple for Santana.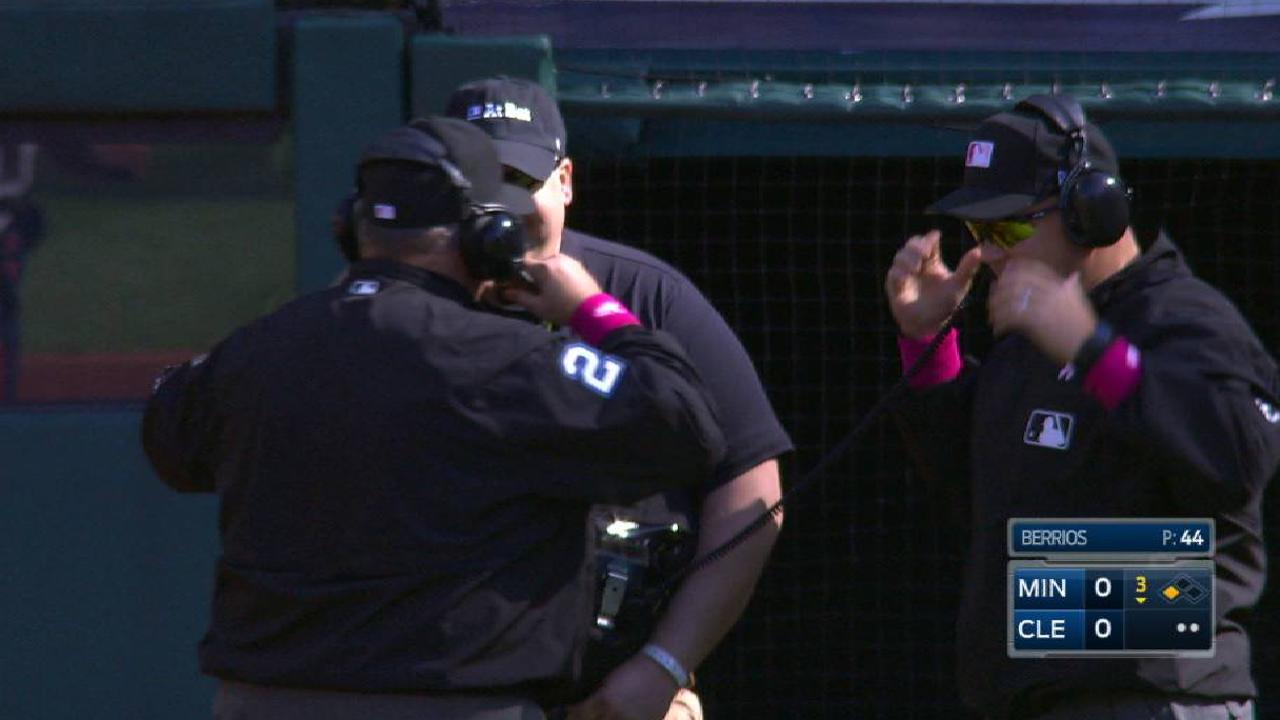 "I did feel it in my glove," Buxton said. "I thought I had it in the web. As I'm coming down, I'm like, 'Yeah, I've got the ball.' But then I started squeezing my glove and I'm like, 'I do not feel this ball in my glove.' So I'm looking around and I saw it in front of me and I was like, "You have got to be kidding me.'"
Although he was not able to make that play on Saturday, Buxton has made several great catches in the series with the Indians, in addition to Sunday's unbelievable catch. He ran down a deep fly ball in the gap in right-center field to take a hit away from Abraham Almonte during Saturday's game.
"We better not hit it to center field. That kid's impressive," Indians manager Terry Francona said after Saturday's game. "I don't mean we start aiming the ball, but he almost caught Santana's. And Abe looked to me like he should have had a good day, a productive day, and comes out of it empty. That kid goes left and right as good as you're going to see."
The center fielder got a great jump on the ball off the bat of Almonte -- which had an exit velocity of 101 mph, per Statcast™ -- and made the play look like a routine flyout. According to Statcast™, the play had a catch probability of 44 percent, making it a four-star catch. This came only a day after he made another four-star catch in the left-center-field gap on Friday.
"The balls he ran down in the gaps, off the bat, they don't look like they're going to get caught, to be honest with you," Molitor said of Buxton. "Too much space, too much velocity on the exit speed. He just finds a way to get there."
Going into play on Sunday, Buxton leads the league in four-star catches, going 8-for-8 on four-star catch attempts this season.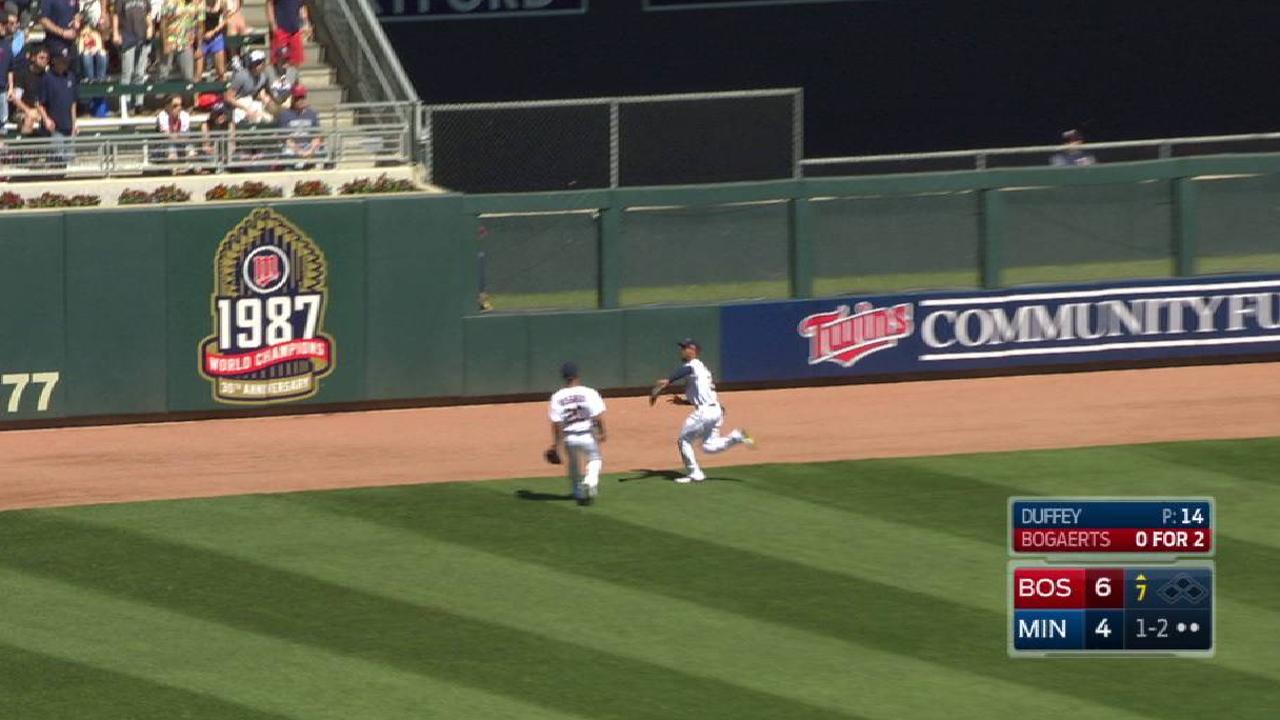 "I just go out there and I want to take away as many hits as I can to help our pitchers out and to keep their pitch counts down. Any way I can help us get back in there to swing the bats and put runs up on the board, I'm willing to do."
While hitting the balls into the gap is normally a good thing for any opposing hitter, they are not always guaranteed a hit with Buxton looming in center.
"He's awesome," Indians shortstop Francisco Lindor said. "He's as advertised. You hit a ball up in the air, you better hope it's nowhere near him, because he's going to get it. If it's somewhere far away from him, he has a chance at catching the ball."
William Kosileski is a reporter for MLB.com based in Cleveland who covered the Twins on Sunday. This story was not subject to the approval of Major League Baseball or its clubs.