Mariners battle injuries, but Cano near return
2nd baseman dealing with right quad strain while 5 Seattle starting pitchers on DL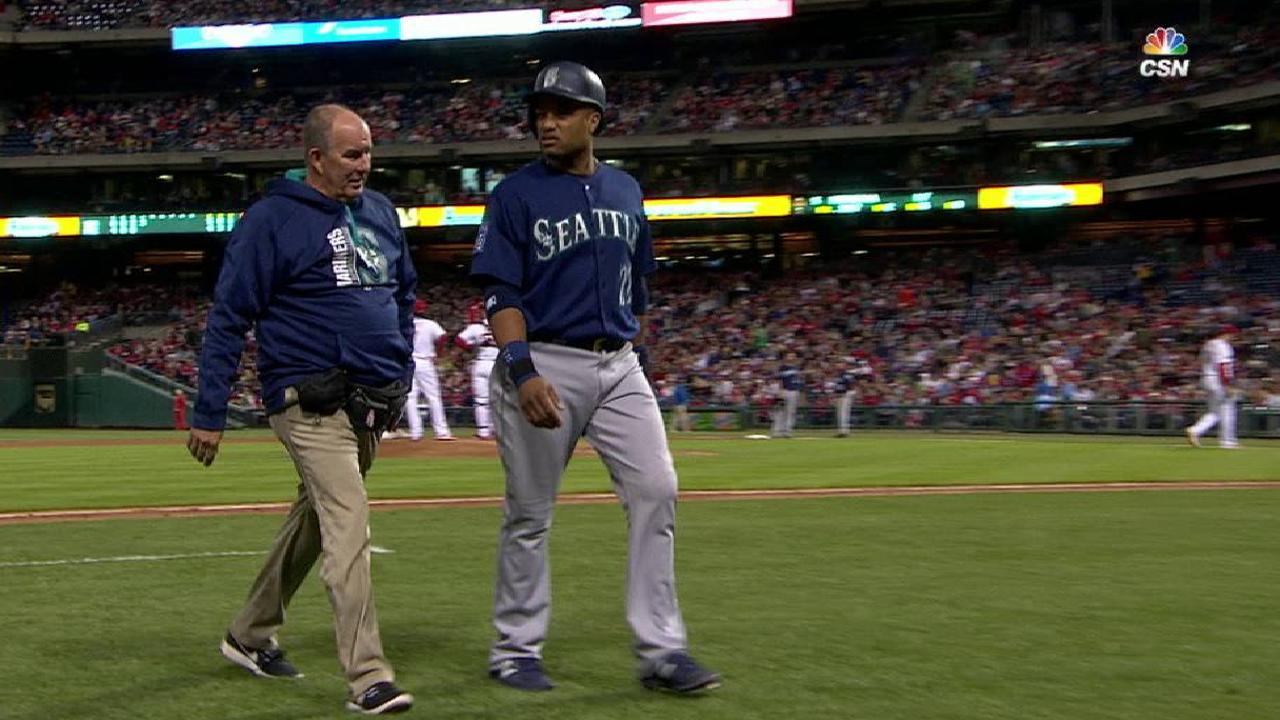 TORONTO -- Robinson Cano was sidelined by a strained right quad for a fourth straight game Sunday as the Mariners continued dealing with an assortment of injuries that has now landed five starting pitchers on the disabled list.
The good news is Cano is expected back soon, possibly for Monday's game against the A's when the Mariners return to Seattle to open a seven-game homestand. The bad news is the Mariners continue scrambling to fill a rotation that now is without Felix Hernandez, James Paxton, Hisashi Iwakuma, Drew Smyly and fill-in starter Ryan Weber after he landed on the 10-day DL Sunday with a strained right biceps.
Seattle has made 64 roster transactions in the 42 days since setting its Opening Day roster, including 11 during its current six-day road trip.
"That's mind-boggling," manager Scott Servais said. "You kind of feel like the old Rocky movies, where he's just getting pummeled by Apollo Creed. And at some point, you kind of just have to swing back and hope you land a blow. That's kind of where we're at right now.
"I like our club. I believe in our guys, and we will swing back. Just a few days ago, we were on a four-game winning streak. That's how quickly it can go back and forth in this game. You have stay even-keeled."
Servais said there doesn't seem to be one underlying cause of the injuries that have hit his pitchers. Smyly went down late in Spring Training with a left elbow issue, and he is on the 60-day DL. Hernandez has bursitis in his right shoulder, Paxton strained his left forearm, Iwakuma is dealing with inflammation in his right shoulder and Weber felt pain in his right biceps in the fourth inning of his first start with the club on Saturday.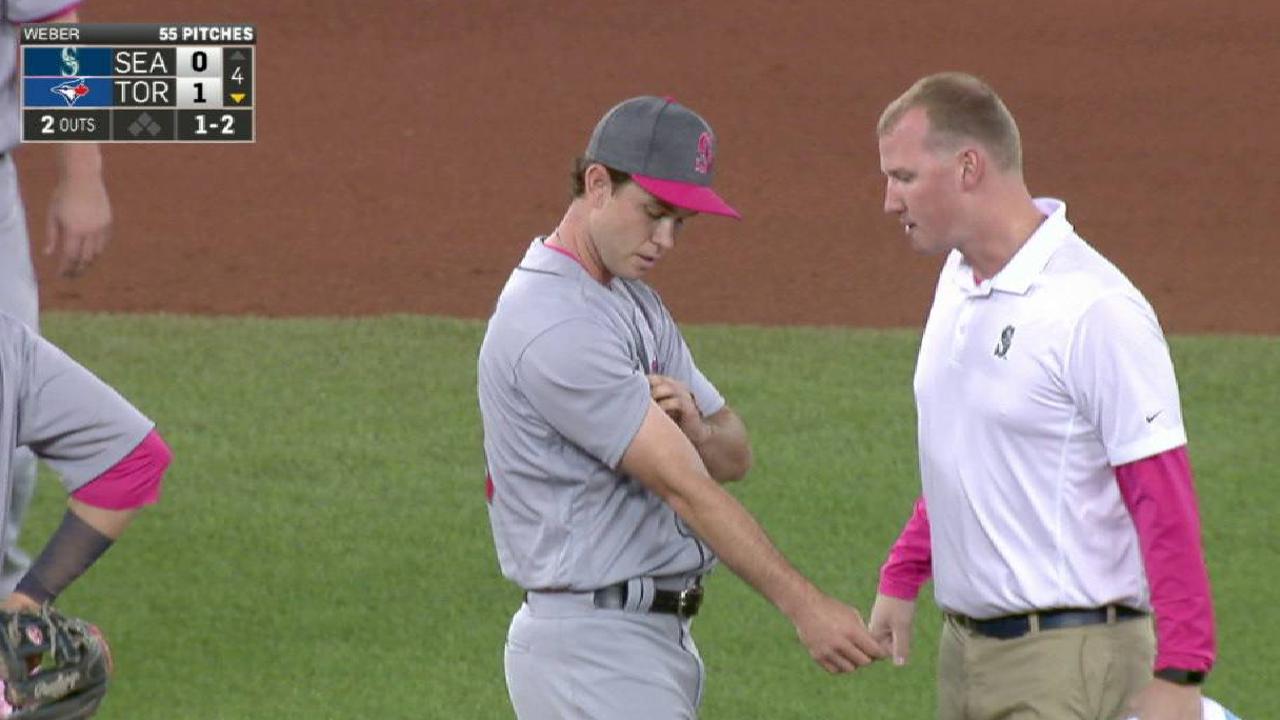 "It's not only happened to us," Servais said. "There are other teams in the league that have been bit by it as well, and they've struggled for a time and then get it going again. I wish there was one thing we could point to. There isn't for me. It's been a number of different scenarios. Some of the guys are veteran guys, some are younger. It's been crazy how it's all come together at one time."
Paxton is the closest to returning from that rotation group, with a possible late May arrival. Hernandez and Iwakuma are likely back in June, and Smyly in July. In the meantime, the Mariners will rely on Ariel Miranda, Yovani Gallardo, rookie Chase De Jong and recently-promoted Christian Bergman to start, along with a yet-to-be determined fill-in this Thursday when Weber's turn comes up.
Lefty Dillon Overton and right-hander Sam Gaviglio are on the roster as long relievers and could take that spot.
Worth noting
• Reliever Steve Cishek threw a scoreless, one-hit inning on Saturday for Triple-A Tacoma, and he could be set to come off the disabled list Monday as he returns from October hip surgery.
• The Mariners have used 13 rookies this season, and they have nine on their current active roster. Both numbers are tied for the most in the Majors. Current rookies are Guillermo Heredia, James Pazos, Mike Freeman, Ben Gamel, Tony Zych, Dan Altavilla, Overton, De Jong and Gaviglio.
• Veteran right-handed reliever Jean Machi cleared waivers on Sunday and was outrighted to Triple-A Tacoma. Machi was designated for assignment on Saturday to open a roster spot for spot starter Ryan Weber. He went 1-0 with a 1.17 ERA in five appearances for Seattle, and he remains in the organization, though no longer on the 40-man roster.
Greg Johns has covered the Mariners since 1997, and for MLB.com since 2011. Follow him on Twitter @GregJohnsMLB. This story was not subject to the approval of Major League Baseball or its clubs.