Cosart back from DL; Quackenbush optioned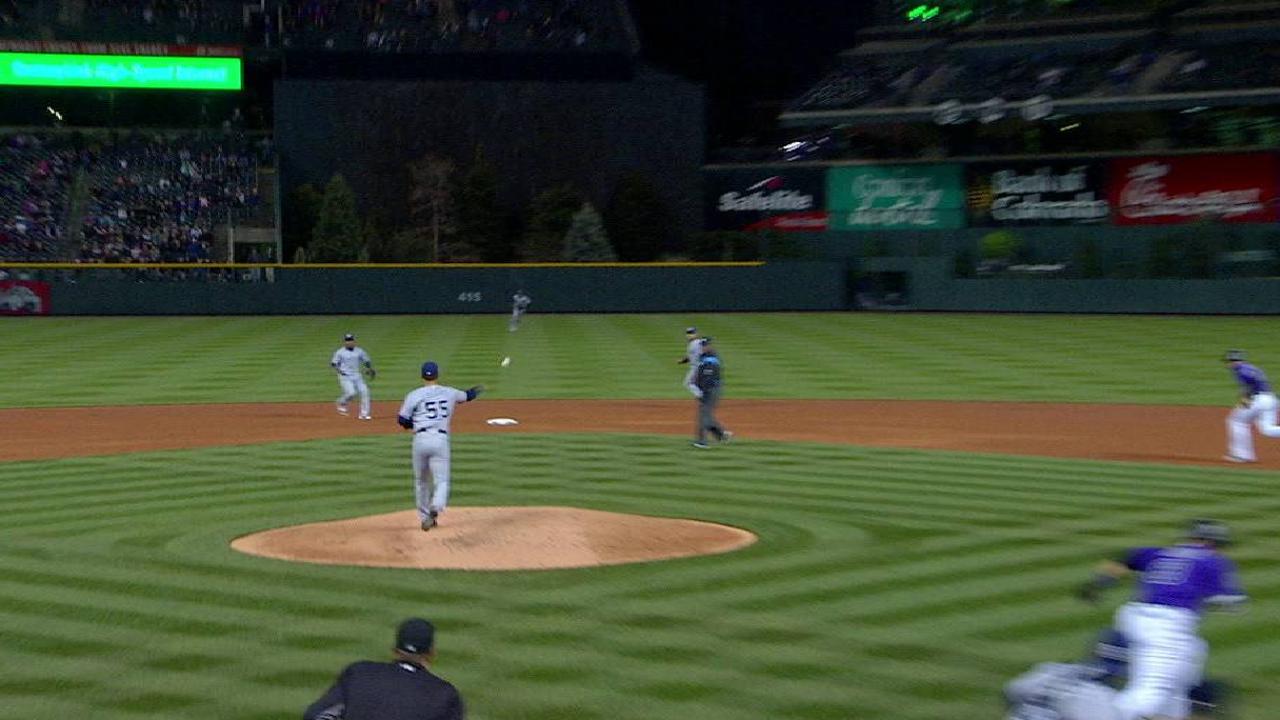 CHICAGO -- The Padres activated right-handed pitcher Jarred Cosart from the 10-day disabled list before Sunday's game against the White Sox and optioned righty reliever Kevin Quackenbush to Triple-A El Paso.
Cosart will be in a long-relief role, manager Andy Green said. Cosart went on the DL with a right hamstring strain on April 19, and he made two rehab appearances -- allowing a run in two innings at Class A Advanced Lake Elsinore and throwing four scoreless innings at El Paso. He was 0-1 with a 3.24 ERA in three games, including two starts, with San Diego.
"[We] gave him some clearance from his last start, so making sure he was healthy and ready to go before we sent Quack down," Green said. "Jarred slides back into that [long-relief] role and hopefully maintains health throughout the rest of the season. [There's a] possibility he starts at some point in time again."
Quackenbush was 0-0 with a 3.68 ERA in six appearances. This marks the fourth time he has been optioned to Triple-A since March 29. He is on the move again because he has Minor League options.
"Every organization has guys that are in that boat," Green said. "It's not the most desired role whatsoever for a player. They want to be on the Major League club, and they want to be with the team consistently, but those guys that go up and down throughout the course of the season are very, very instrumental in having successful baseball seasons, so it's a hugely important role.
"I'm sure it's tiring at times going back and forth, and I know Quack desires to be with us and we think he's pitched well when he's been with us. I have every expectation we'll see him again sometime soon."
Extra bases
• Infielder Allen Cordoba was out of the Padres starting lineup Sunday due to hamstring tenderness and the team playing a day game after a night game, but he is available to play, Green said. "We took the cautious route with him today," Green said. "Otherwise, he would've been back in the lineup for sure."
• Right-hander Kyle Lloyd threw the Padres organization's first no-hitter since 2014 on Saturday for Double-A San Antonio. The lone baserunners were via a walk in the second inning and a wild pitch on a strikeout in the fifth inning. "He's a guy I've heard a lot about over the last year or so, a guy who really knows how to pitch, executes well, and it's not overpowering velocity but can flat pitch," Green said. "It's an exciting thing."
Sarah Trotto is a contributor to MLB.com based in Chicago. This story was not subject to the approval of Major League Baseball or its clubs.