Tigers thrilled to have J.D.'s bat back
Right fielder homers twice in second game back from DL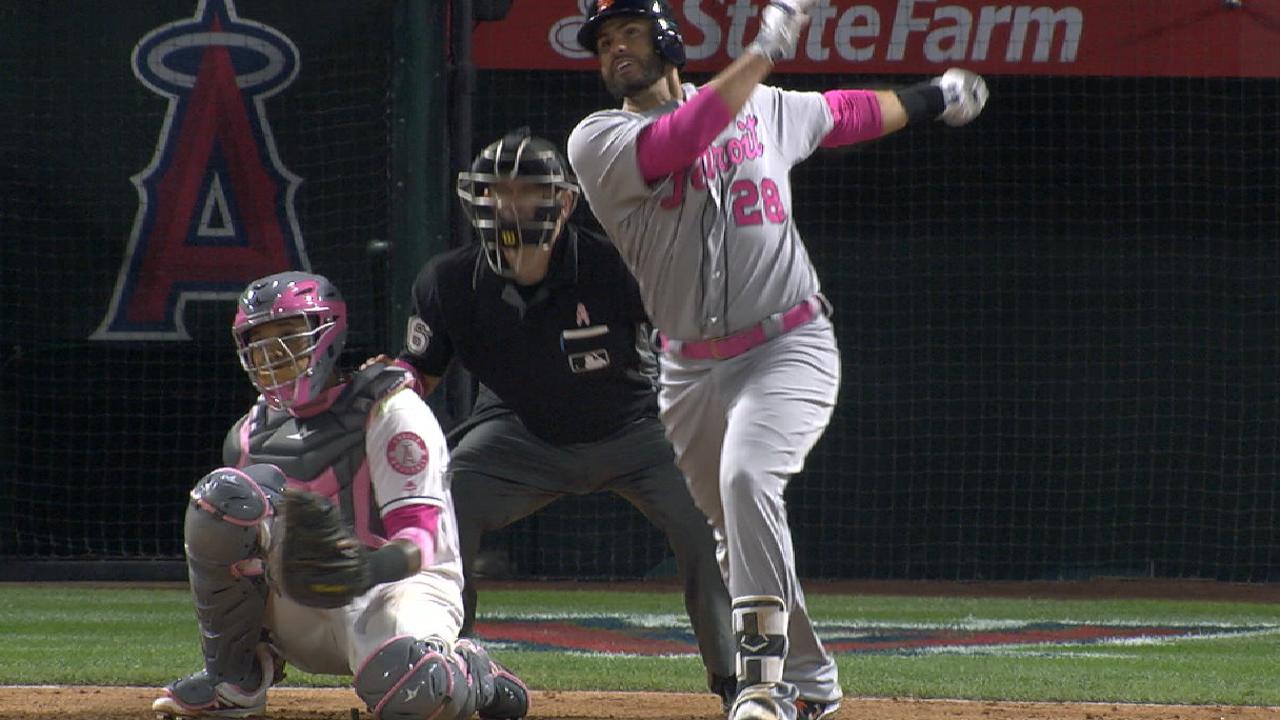 ANAHEIM -- J.D. Martinez is prepared to play through soreness in his right foot throughout the remainder of the season. That's good news for the Tigers, who are thrilled to have the outfielder back in their lineup.
Martinez hit two home runs, including a go-ahead solo shot in the ninth inning, and drove in three runs to lead the Tigers past the Angels, 4-3, on Saturday night. It was a huge night offensively for Martinez, who came off the disabled list Friday to make his season debut.
"It's awesome," said Martinez, who is playing through soreness in his foot because of a painful Lisfranc sprain. "I'm just happy I was able to contribute in the win today. I've been down there just watching the team, wishing I could do something, and every time we lose it's one of those frustrating things, so just happy to be back and be able to help us win a game."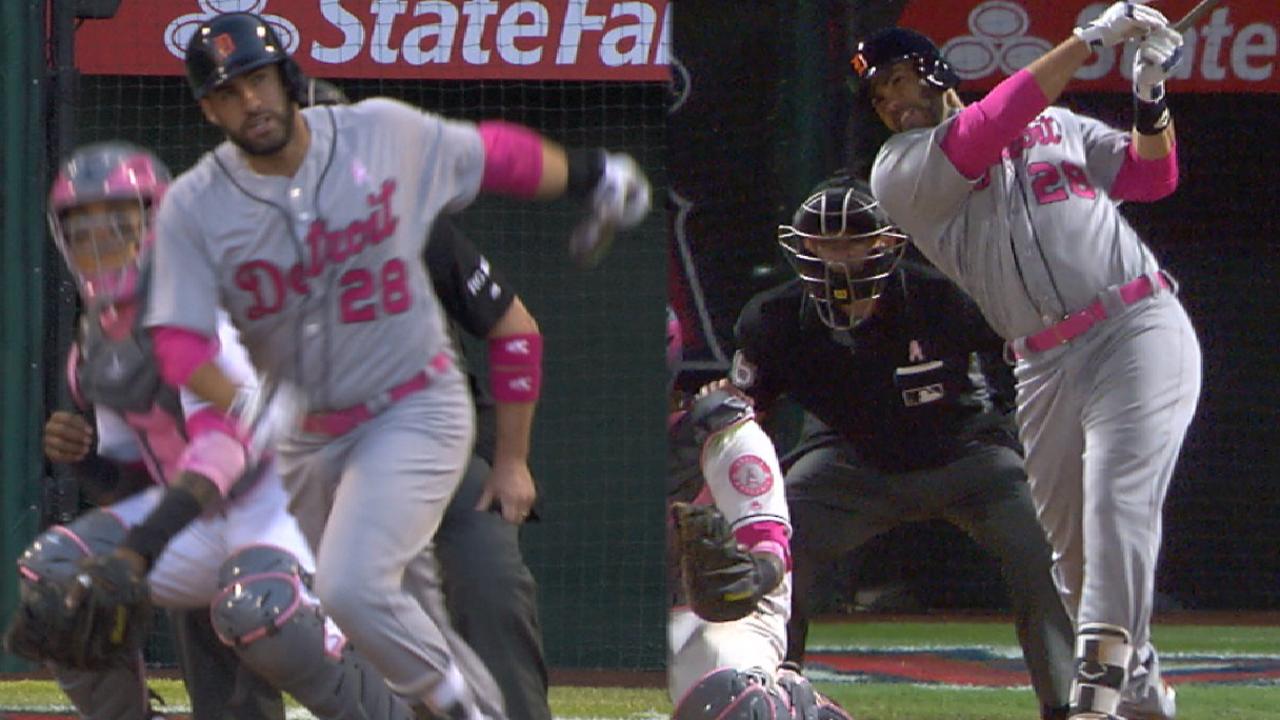 Tigers manager Brad Ausmus will have an easier time filling out his lineup card moving forward with Martinez back in the mix.
"You can tell how much we've missed him, just from this one game," Ausmus said. "You're talking about a guy who can hit close to .300, drive in 100, hit 30-40 homers. That's a lot of production for one spot."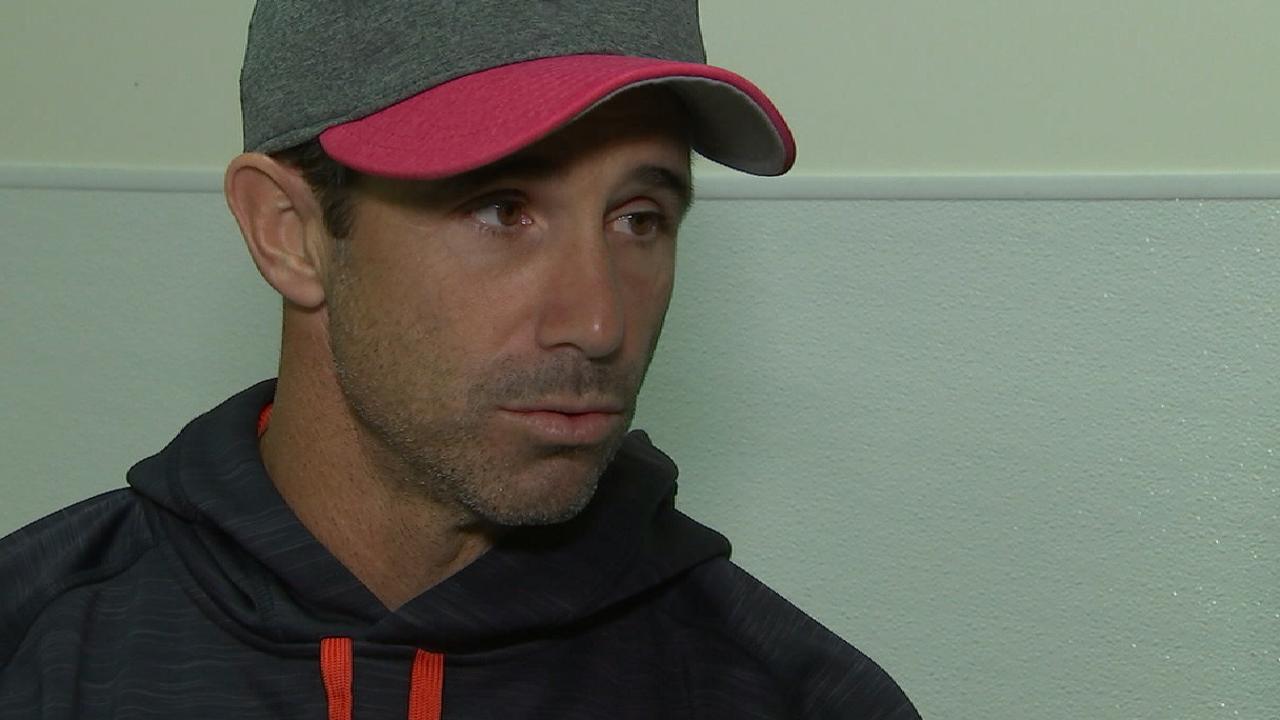 Martinez spotted the Tigers an early 2-0 lead with a two-run homer into the Angels' bullpen in left field. He turned on a 0-1 fastball from Angels starter Ricky Nolasco and sent it a projected 406 feet, according to Statcast™. The ball had a launch angle of 22 degrees and an exit velocity of 112 mph, making it Martinez's second hardest hit homer of the Statcast™ era (since 2015).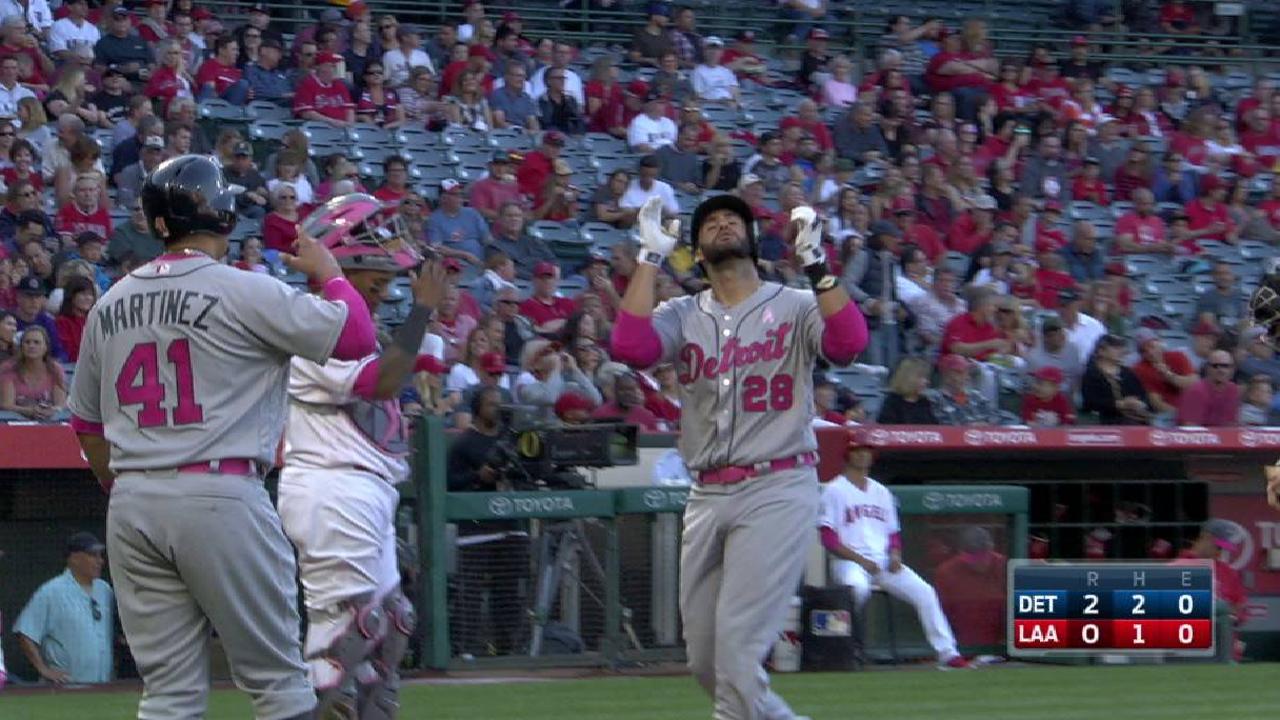 In the ninth, Martinez put Detroit in front with a solo shot off Bud Norris that just cleared the scoreboard in right field. That homer traveled a projected 386 feet, with an exit velocity of 103 mph and a launch angle of 22 degrees, per Statcast™.
Martinez got a hanging slider and didn't miss it. However, both he and Ausmus said they weren't sure if the ball had enough to reach the seats. It did, and Martinez pumped his first as he rounded first base.
"Just didn't really execute my pitch right there and a good hitter -- a hot hitter -- put a good swing on it," said Norris, a former teammate of Martinez's with the Astros.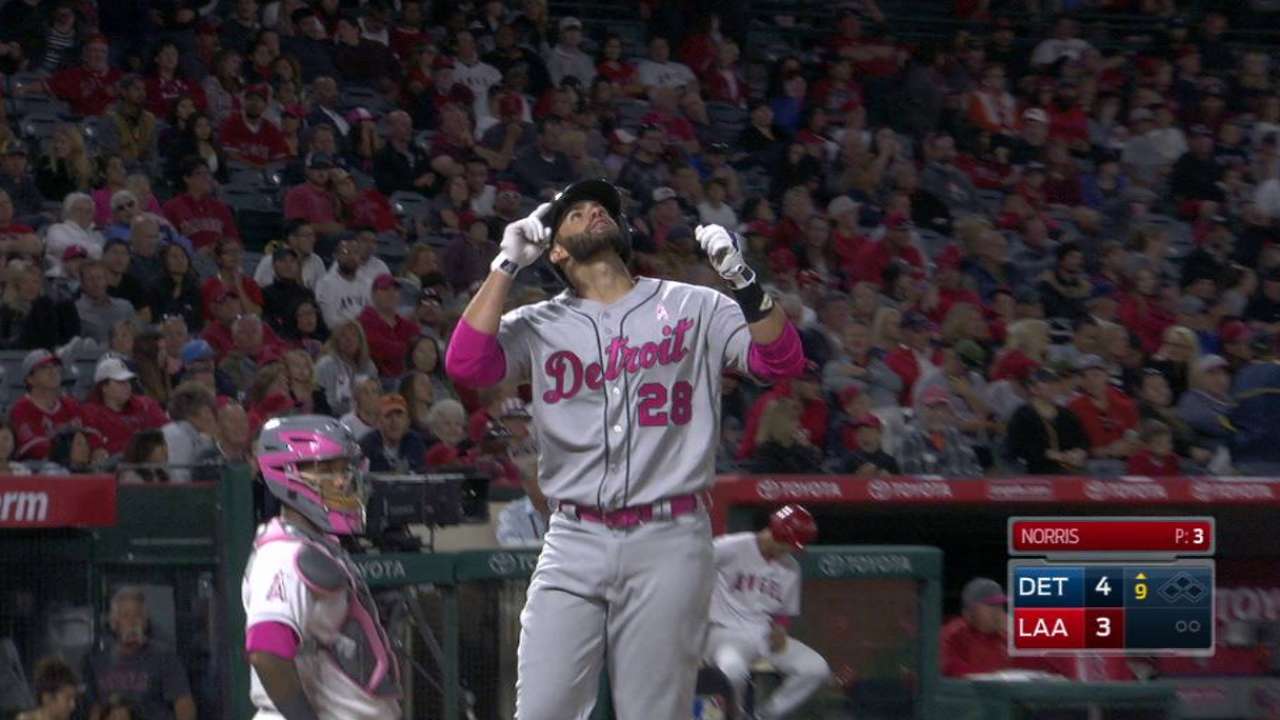 The homers bookended a single in the fourth inning. It was Martinez's second career multi-homer game.
"He's got tremendous power to all fields, as he showed tonight going in both directions," Ausmus said. "It's good to have him back in the lineup. It lengthens out our lineup and it obviously makes it more potent."
While the numbers don't support the notion, Martinez said he's still trying to find himself at the plate after missing 33 games to open the season.
"I still feel like I'm trying to feel it out right now, still," he said. "It's just one of those things, you run into a couple balls today."
Martinez said his foot will be sore all year. Fortunately, doctors have assured him soreness is normal and there's no risk of further damage to his foot. Rest is the only way to ease the pain, but that doesn't interest Martinez.
"We have a season to play," Martinez said. "We don't have time to rest."
Austin Laymance is a reporter for MLB.com based in Los Angeles. He covered the Tigers on Saturday. This story was not subject to the approval of Major League Baseball or its clubs.