Valbuena's bat bolstering Angels' lineup
Scioscia not ready yet to play infielder at second base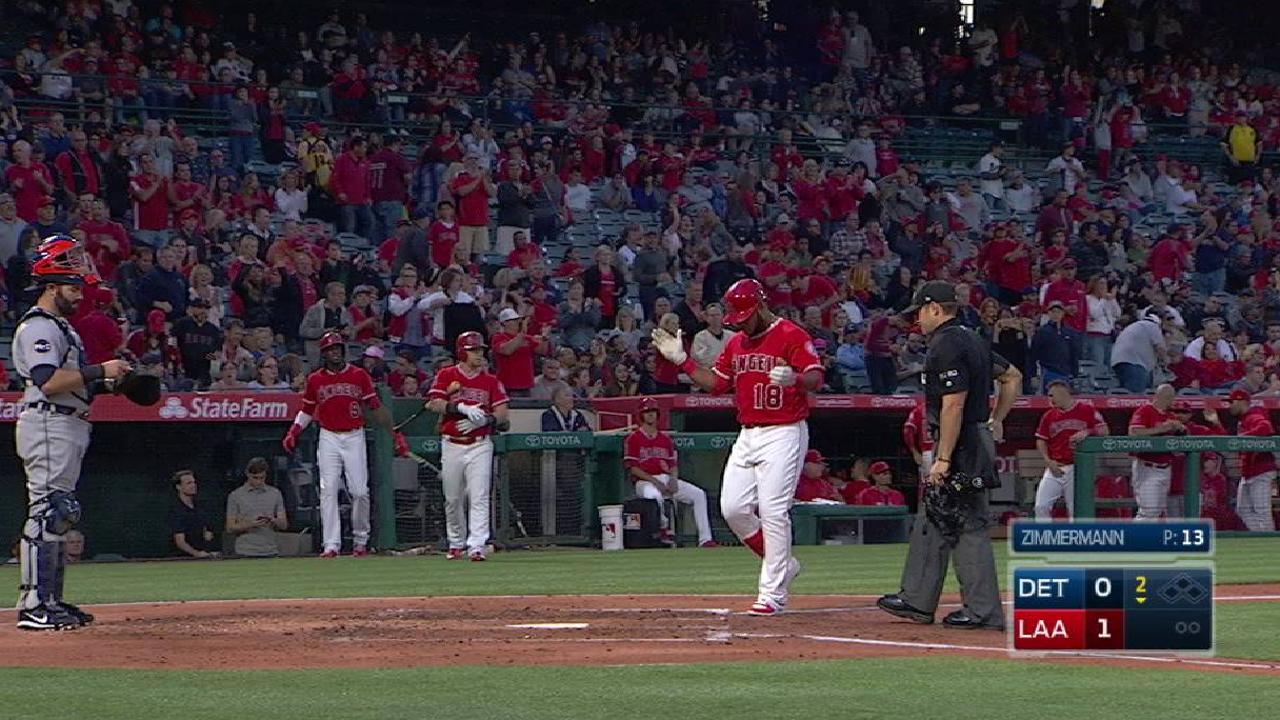 ANAHEIM -- When the Angels added free-agent infielder Luis Valbuena in January, they knew they were introducing a versatile piece to their lineup.
While Valbuena missed the Angels' first 27 games this season with a hamstring injury, he's proved to be a key fixture in the Halos' lineup since making his season debut on May 2. Entering Saturday night, he's batting .290 with nine hits, two homers and four RBIs in 31 at-bats through 10 games.
The native Venezuelan put together his best night at the dish this season in the Angels' 7-0 win over the Tigers on Friday, going 3-for-5, including a solo home run in his first at-bat.
"I feel comfortable," Valbuena said after the performance. "I'm not the kind of guy that needs a lot of time."
While the left-handed-hitting Valbuena was replaced by Jefry Marte at first base for Saturday's matchup against Detroit as the Tigers sent left-hander Daniel Norris to the mound, manager Mike Scioscia said Valbuena has taken good at-bats since his return from the disabled list.
"As he's gotten at-bats, you're seeing the good eye, you're seeing when he gets a good pitch, he's driving the ball," Scioscia said, "especially against right-handed pitching."
Performances like Friday's showing beg the question as to whether Valbuena -- who's appeared in 239 career games at second base -- can fill the position to bolster the batting order, particularly in the wake of Danny Espinosa's 0-for-34 slump.
"I can play all the positions," Valbuena said after Friday's win. "I can play third, first base, second base. I have to be ready [for] whatever [Scioscia] wants, whatever the position."
Scioscia wasn't bullish on the idea of the 31-year-old manning second in the near future, noting the hamstring injury could limit his movement.
"We have talked about it," Scioscia said. "I think that we'll continue to explore it. But we like it where he's swinging the bat at first and playing third, and if second base evolves, we'll consider it. But it's not a move we're considering [right now]."
Nonetheless, Valbuena's bat makes him an indispensable member of the Angels' order, which enters Saturday night batting a pedestrian .238.
"He's an important part of our lineup," Scioscia said.
Worth noting
• Angels general manager Billy Eppler said Friday that the franchise sees right-handed pitcher Parker Bridwell -- acquired on April 17 from the Orioles -- as a starting pitcher. In six appearances (four starts) at the Triple-A level for the Orioles and Angels this season, Bridwell has a 1-1 record with a 5.00 ERA. He's yielded 10 earned runs on 21 hits, with 20 strikeouts and three walks through 18 innings. In his lone start with Angels' Triple-A affiliate in Salt Lake City, Bridwell -- the Angels' No. 12 prospect, according to MLBPipeline.com -- tossed five shutout innings, allowing two hits and a walk, while striking out seven.
Eppler also noted that left-hander Manny Banuelos, who began the season in the Triple-A rotation, is now working out of the bullpen. Banuelos had logged a 6.75 ERA in his first six starts of the season with Salt Lake.
Kaelen Jones is a reporter for MLB.com based in Los Angeles. This story was not subject to the approval of Major League Baseball or its clubs.