Mercer confident stat line will turn around
Pirates shortstop grinding through slow start to 2017
PHOENIX -- Jordy Mercer's batting average sits about 100 points south of how he thinks he's hitting. The toughest part of the Pirates shortstop's slow start? He wouldn't change much, other than the results.
Mercer entered Saturday's game at Chase Field batting .207/.308/.284. The series of disappointing numbers doesn't match up with the way Mercer feels at the plate, something he recently related to manager Clint Hurdle.
"I feel good. You're not supposed to say this, but I could easily be hitting .300 right now and everything would be fine," Mercer said. "But I'm not. That's just the way it is ... which is fine. That's part of the game. The hardest part is to continue to stay with it and not try to change things.
"That's what makes this game hard. When things don't go your way or something happens, you immediately try to change things. That's sometimes not a good idea. If you stick with it, eventually it's going to find some green grass and you're going to take off."
The underlying numbers back up Mercer's belief to an extent. His .237 batting average on balls in play is well below the MLB average and his career .290 mark. His walk rate (12.8 percent) is the highest of his career. His line-drive (22.6 percent) and fly-ball (32.3 percent) rates are up, and his ground-ball rate (45.2 percent) is down.
"After you hit it, you wish you could get a controller and control it. But you can't. Just continue to square it up, continue to take your walks," Mercer said. "I've been in this situation before. I've been worse than I am now, and I came out pretty good on the other side of that, too. It's a long year. You've just got to stick with it."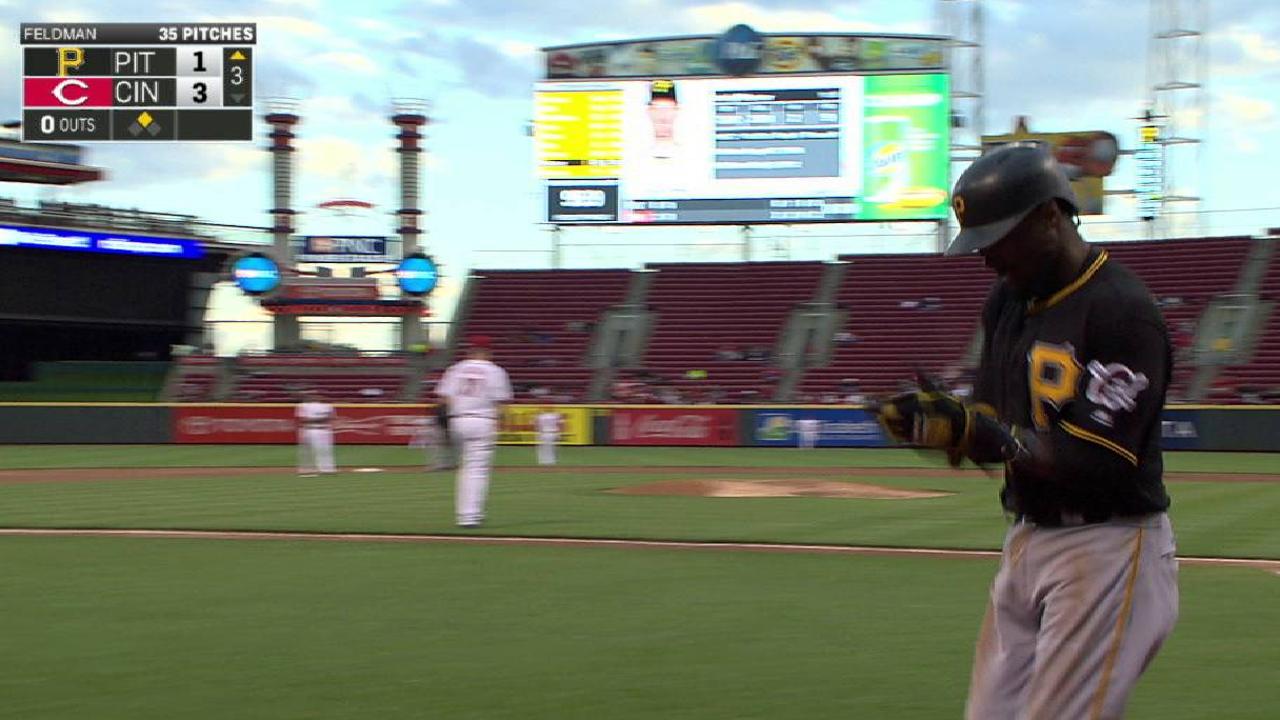 After hitting 11 home runs and 22 doubles last year, Mercer has only five extra-base hits in 35 games: two homers and three doubles. A career .294/.363/.463 hitter against left-handers, Mercer is just 4-for-36 off southpaws this year.
According to Statcast™, Mercer's expected batting average -- based on a combination of launch angle and exit velocity data -- was 38 points higher than his actual average before Saturday's game. His expected wOBA of .316 was 40 points higher than his .276 wOBA, the biggest difference among Pirates hitters.
"You realize you've still got about 500 at-bats left. It's not going to continue to stay like this," Mercer said. "It's going to change. It's just the way it is. You can't go at this the whole year. Just stay with it and trust it, knowing it's going to come. Eventually you're going to take off and the rest is going to be behind you."
Mercer is not the only Pittsburgh hitter fighting that battle. Andrew McCutchen also feels better than his numbers look, and Francisco Cervelli and Josh Bell have each gone through spells of bad batted-ball luck.
"More often than not, I share with them what they're in control of and what they're not. Once the ball leaves the bat, they're out of control," Hurdle said. "They're in control of their preparation. They're in control of their time in the box. They're in control of their thoughts. ... It's really an opportunity to show how much of a pro you've become and just keep playing, to play through it."
Adam Berry has covered the Pirates for MLB.com since 2015. Follow him on Twitter and Facebook, read his blog and listen to his podcast. This story was not subject to the approval of Major League Baseball or its clubs.