Statcast of the Day: Dyson flashes speed
Mariners outfielder makes 5-Star catch, goes 2-for-2 with RBI, run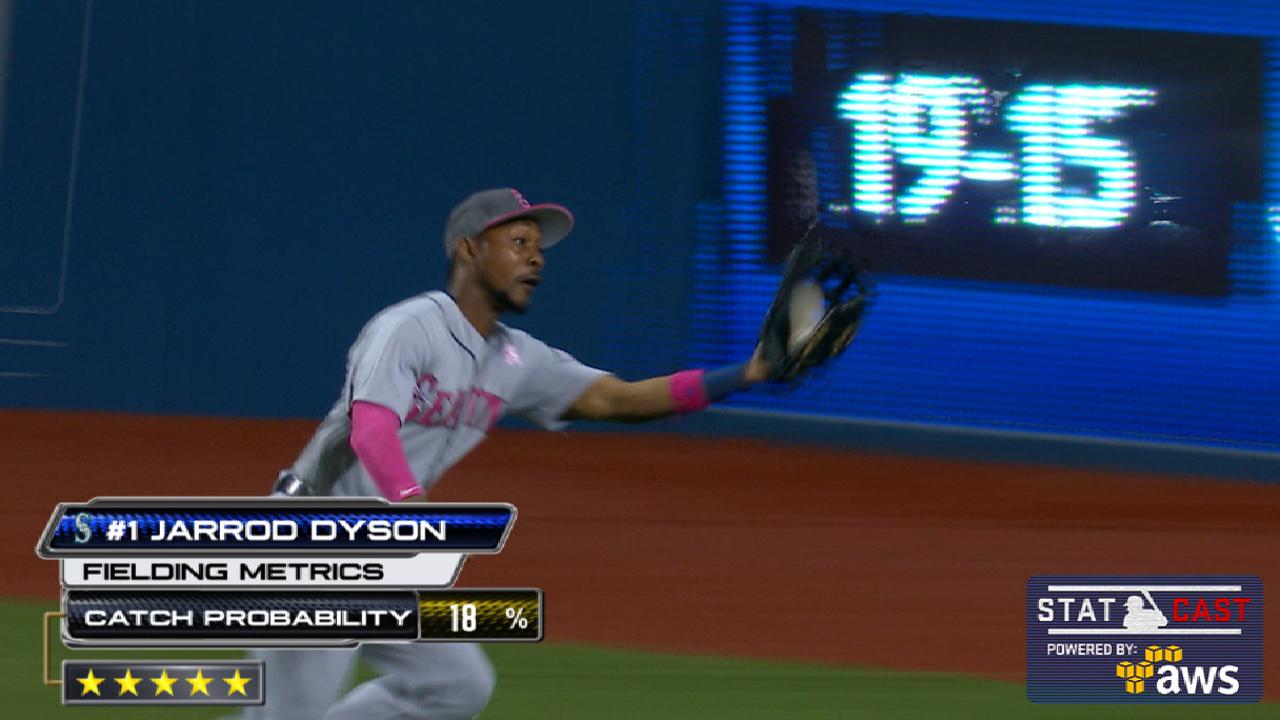 TORONTO -- Not everything has gone according to plan this season for the Mariners, given their battle with injuries and attrition. But the search for speed and defense, particularly in the outfield, continues to pay dividends, and Jarrod Dyson showed why again in Saturday's 7-2 loss to the Blue Jays.
Dyson made several outstanding running catches in center field, including his first "5-Star" play of the year, the highest ranking given in Statcast™'s defensive system, as well as two 4-Star plays, the next-highest level of difficulty. And the fleet-footed 32-year-old also legged out an infield single, stole second and scored the Mariners' first run in the fifth, and then singled in the second run in the sixth, as he went 2-for-2 with a pair of walks.
Only three times since the Statcast™ Era began in 2015 has an outfielder made at least two 4-star catches and a 5-star catch in the same game: the Dodgers' Joc Pederson on June 14, 2015, the Indians' Lonnie Chisenhall on Sept. 10, 2015, and Dyson on Saturday.
"I'm just out there trying to make plays," Dyson said. "We've got some young pitchers, young guys out on the bump, and you just want to make every play for them. That's the way I play the game."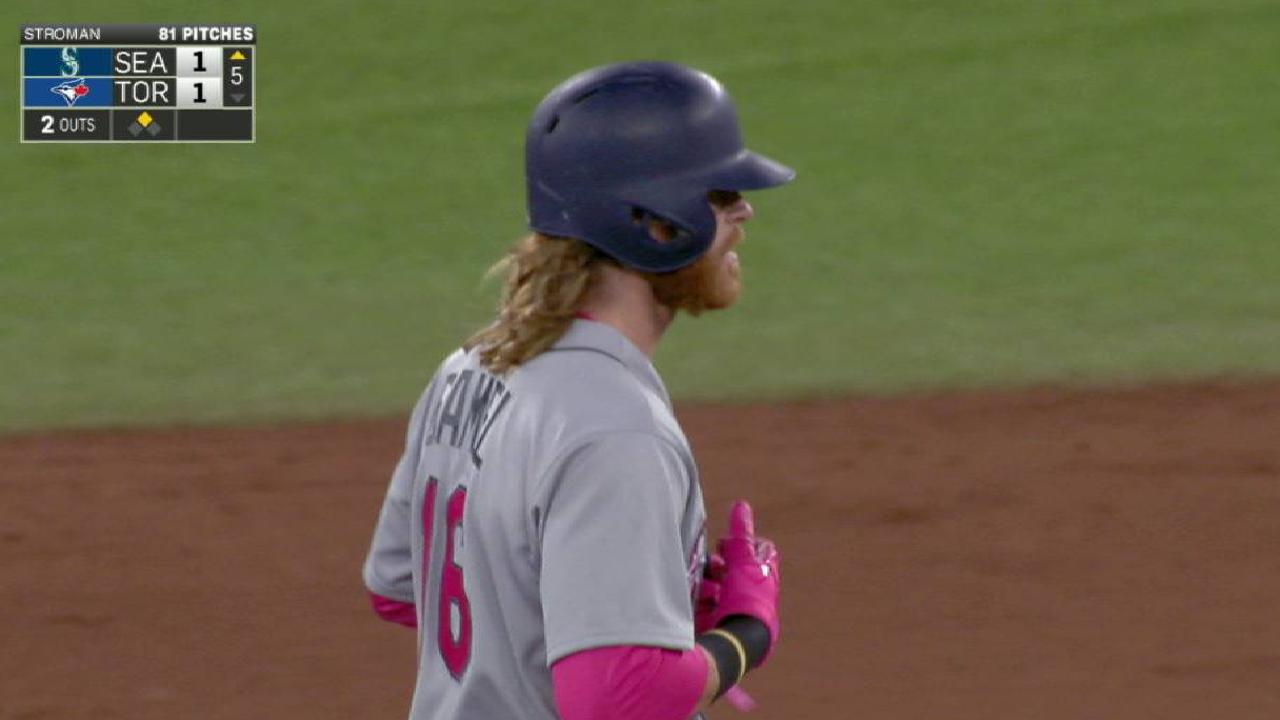 Dyson's 5-Star catch was his first of the year, as he sprinted into the right-center gap to run down a drive by Darwin Barney on a ball with just an 18-percent catch probability per Statcast™, covering 92 feet while reaching a top speed of 31.4/feet per second (anything above 30/feet per second is regarded as elite top-end speed).
Barney couldn't catch a break with Dyson in center. Dyson robbed him again to end the fourth on a similar ball to right-center field. With a sprint speed of 29.4 feet per second, he had no problem covering the required 77 feet to make a grab that had a catch probability of 29 percent. That was Dyson's third 4+ Star catch of the game.
The first came in the opening inning, when Dyson ranged 76 feet to his right to haul in a drive by Ezequiel Carrera on a play that fell into Statcast™'s "4-Star" category, on a ball with a 46-percent catch probability. Dyson was moving even before Carrera made contact, taking full advantage of his window of opportunity to make the play.
In other words, Dyson was making plays most center fielders don't get to, and that's not unusual, as he's now 6-for-8 on 4-Star opportunities this year -- second most in the Majors behind the Twins' Byron Buxton's seven -- and 13-for-16 over the past two seasons, which puts him with Kevin Kiermaier of the Rays and Billy Hamilton of the Reds as the only outfielders to convert more than 67 percent of 4-Star opportunities each of the past two years.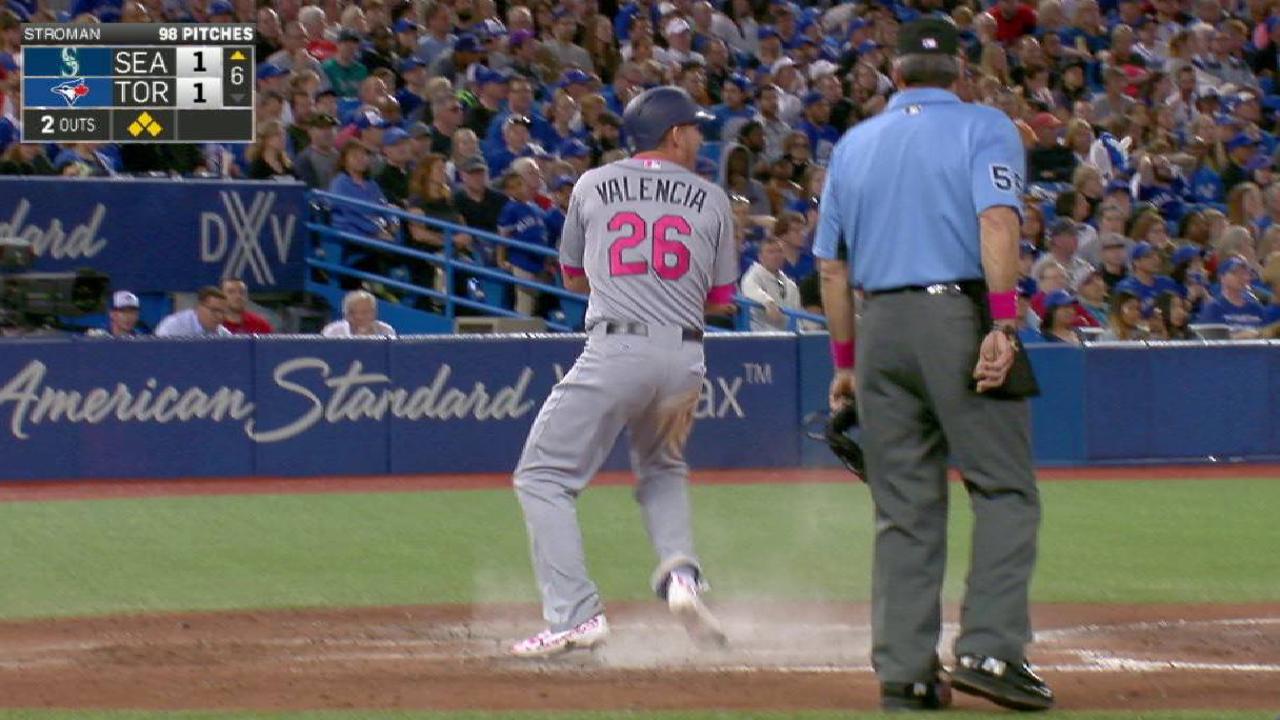 "Dyson played a great center field today," manager Scott Servais said. "I think you really saw the difference he can make out there. The ground he covered was pretty amazing."
While Dyson is hitting just .219, he's finding ways to contribute, including a team-leading 10 stolen bases, which also ranks him among the AL leaders.
"When he's on base, he's electric, what he can do on the bases to disrupt the other team," Servais said. "It was nice to have him out there today. I was joking with him before that we hadn't seen him out there in a while. He did have a nice ballgame. It's just unfortunate it wasn't enough."
Dyson, who played on two World Series teams with the Royals before being acquired last winter by the Mariners, said the club needs to just keep pushing forward despite the rash of injuries to a pitching staff that lost its fifth starter on Saturday when Ryan Weber was pulled with a shoulder injury in the fourth.
"We just keep playing the game," Dyson said. "We know it's a long season and guys get hurt all the way through the year. I've never seen anything like this, but the next guy in line has to step up and the offense has to continue putting points on the board and give the pitchers some cushion. That's a tough bunch. We go out there and play hard every day."
Greg Johns has covered the Mariners since 1997, and for MLB.com since 2011. Follow him on Twitter @GregJohnsMLB. This story was not subject to the approval of Major League Baseball or its clubs.