Bonilla goes distance in impressive outing
In first Major League start since 2014, right-hander notches first hit, gives bullpen a breather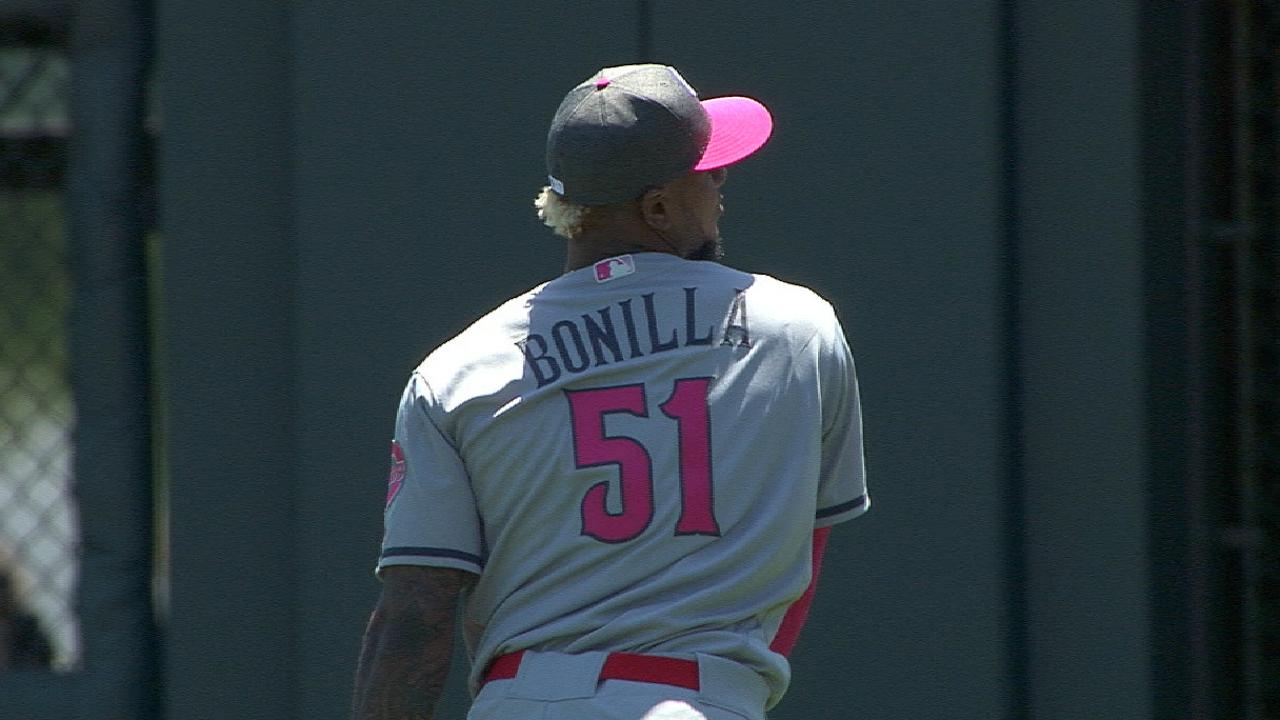 SAN FRANCISCO -- The Reds sorely needed starter Lisalverto Bonilla to eat up innings Saturday after their 17-inning affair on Friday night, when manager Bryan Price used six of his eight relievers in the loss to the Giants.
Bonilla, who hadn't made a Major League start since 2014 with the Rangers, gave the bullpen a welcomed spell, throwing all eight innings in the 3-1 loss and allowing three runs on six hits. He had five strikeouts on 98 pitches.
It was an encouraging showing for the 26-year-old right-hander, who compiled a 5.61 ERA in five starts with Triple-A Louisville before getting his shot in Cincinnati's maligned starting rotation.
"Bonilla, beyond a couple of solo homers, really was spectacular," Price said. "Strikes with three pitches, kept them off-balance with the changeup, did the things that allowed him to stay in the game for eight innings. It was step up in every way. We got one pitcher warm [in the bullpen] that was asked, he got up and got loose, and that was it. So we should at least be a lot closer to having good health in that bullpen by this time tomorrow."
Bonilla took the place of Rookie Davis, who was sent down earlier this week to address command issues while Reds starters entered the weekend with the worst ERA in the National League. In the fourth inning, Bonilla also got his first Major League hit, a single to right field.
On the mound, Bonilla spread out his mistakes, but the Giants were able to capitalize on them. San Francisco's first two runs came via solo homers from Brandon Belt and Justin Ruggiano, though it managed just three hits across Bonilla's economical first six innings, in which he threw just 62 pitches.
In the seventh inning, Bonilla allowed a leadoff single to Michael Morse, who was replaced by pinch-runner Gorkys Hernandez, who stole second and later scored on a two-out grounder from Kelby Tomlinson that wasn't fielded cleanly by shortstop Jose Peraza. Tomlinson beat the throw by a half-step, and the play was ruled an infield single.
"He was great, he did all we could have asked for, and probably even more," catcher Devin Mesoraco said. "He had a really good changeup going, it was good for righties and lefties. They never really seemed to make an adjustment on it. ... It was a darn impressive start for him."
Cincinnati's offense struggled to get runners home, leaving nine men on base against Matt Moore over the first six frames, preventing Bonilla from getting his first win since Sept. 24, 2014, when he was a late-season addition to Texas' rotation. The Reds left 11 runners on and outhit the Giants eight to six.
Bonilla notched his first loss of the season, but he also lowered his ERA to 4.85. He allowed four earned runs in a five-inning relief appearance against the Cubs in April.
Chris Biderman is a contributor to MLB.com based in the Bay Area who covered the Reds on Saturday. This story was not subject to the approval of Major League Baseball or its clubs.