Zimmermann not shaken by rough outing
Tigers starter feels good, despite giving up five runs in 5 1/3 vs. Halos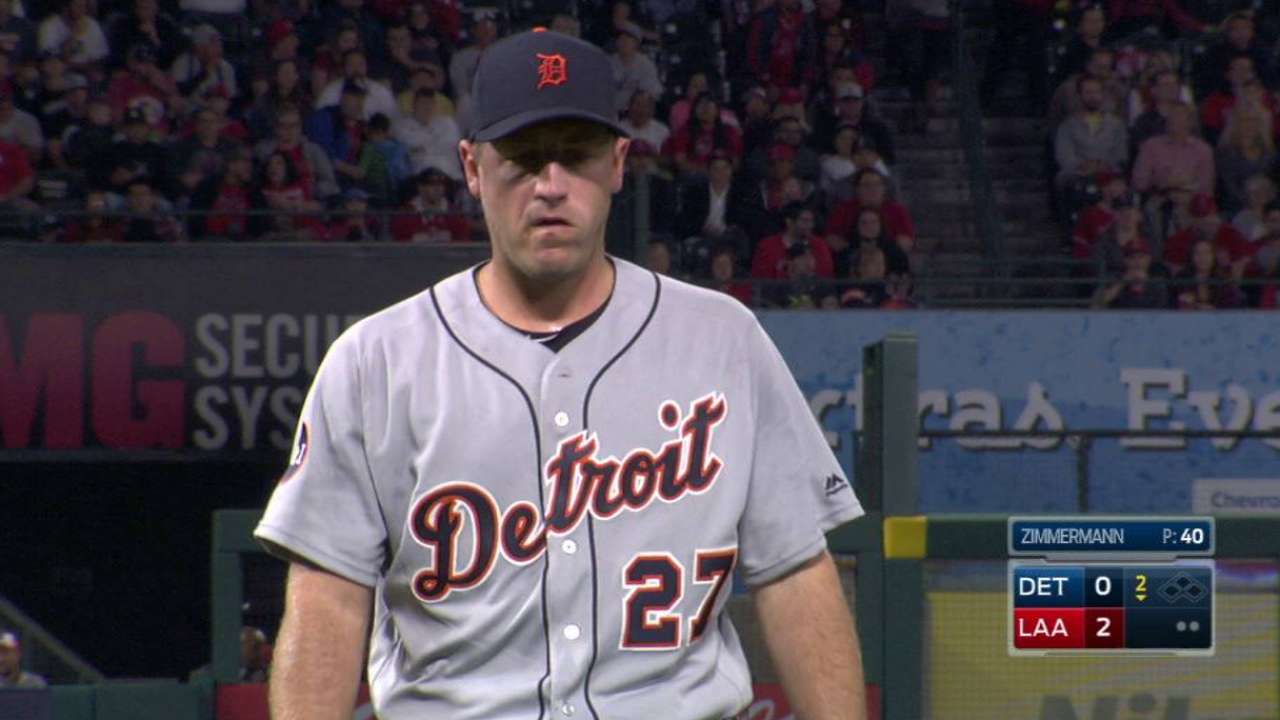 ANAHEIM -- Though the box score may not reflect it, Jordan Zimmermann believes his stuff in Friday's 7-0 loss to the Angels was among the best he's had all season.
Zimmermann was tagged for five runs (four earned) on 10 hits and three walks through 5 1/3 innings at Angel Stadium. It marked the fourth time in seven starts that he's yielded five runs. The right-hander's stat line doesn't, however, take into account a number of tough-luck plays that plagued him throughout.
"This is the best I've felt all year. Last three or four starts, it's been getting better and better and better," Zimmermann said. "I'm still making mistakes, don't get me wrong, but I'm getting a little unlucky too along the way. Some of these hard-hit balls [have] got to go at guys. Hopefully that changes next time out."
Three of the five runs the Angels put up against him were scored on a bloop double down the right-field line, a high chopper over the mound and a misplayed ball in right field. And while he was hit hard, three of the 10 knocks he surrendered had a hit probability of less than 50 percent, according to Statcast™.
"Ultimately the numbers kind of look the same every game," manager Brad Ausmus said. "Today, I think there was misfortune involved."
After a clean first frame, Angels first baseman Luis Valbuena opened the scoring with a solo homer in the second. Valbuena's home run was the eighth Zimmermann has surrendered on a four-seam fastball this season, the most among Major League pitchers.
"I threw a fastball right where I wanted to, up and in to the guy, and he hits a home run," Zimmermann said. "You gotta tip your cap there."
Zimmermann's velocity is right in line with where it was last season -- his four-seam fastball averaged 92.7 mph and topped out at 94.3 mph Friday -- and now it's just about finding consistency with his command. Zimmermann said he hopes to start getting ahead of hitters early, avoiding 1-0 and 2-0 counts and allowing him to more easily put away batters.
The nine-year veteran's confidence hasn't been shaken by his recent struggles. With a little bit of luck and improved control, he should start seeing better results.
"I feel good out there, the ball is finally coming out good," Zimmermann said. "I've been around long enough [to know] you've got to stay positive in this game and know you're good enough to be up here. ... I just have to keep battling and keep grinding and it's going to change."
Chad Thornburg is a reporter for MLB.com based in Los Angeles. This story was not subject to the approval of Major League Baseball or its clubs.