Maybin catches up with former teammates
Angels outfielder faces Tigers this weekend for first time since trade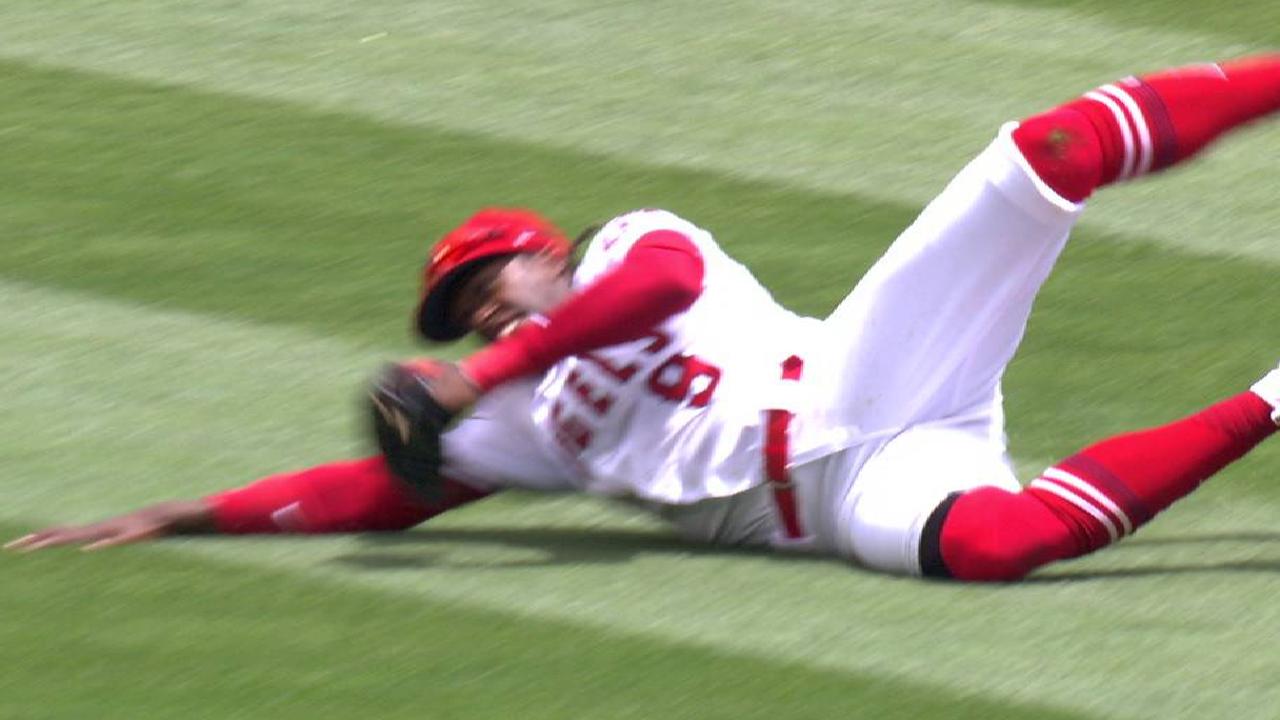 ANAHEIM -- Before the Angels and Tigers played their series opener Thursday at Angel Stadium, left fielder Cameron Maybin took a moment during pregame warmups to chat with many of his former teammates, including Jose Iglesias and Victor Martinez.
It marked Maybin's first time facing the Tigers since they traded him to the Angels in November, and he admitted that it was still strange to see his old friends from the opposite side of the field.
"It's different," Maybin said Friday. "Just this last year I was over there, but it's always fun to see friends and fellow teammates. I still keep in touch with a lot of those guys. It's fun to be on the field with them, seeing them again. … I got a chance to talk to them yesterday, which was cool, but I'm a competitor, so it's always between the lines for me right now. This is my team now, these are my brothers now, so I don't spend too much time talking to [the Tigers]."
Maybin's ties to Detroit run deep, as he was the Tigers' first-round Draft pick in 2005 and broke into the Majors with them in 2007. He subsequently had stints with the Marlins, Padres and Braves before returning to the Tigers in 2016. Maybin enjoyed the best season of his career in his second tour with Detroit, batting .315 with an .801 OPS, four home runs and 43 RBIs.
Maybin, 30, credited veteran players Ian Kinsler, Miguel Cabrera and Martinez for helping him flourish in Detroit. He hit in the batting cage with Cabrera every day last season and said he tried to carry some of those lessons with him to Anaheim.
"That was a huge help, just watching him do his routine," Maybin said. "And just having those guys talk to you about playing through the ups and downs and weathering the storm and playing through injury, aches and pains. I learned a lot from those guys. … I really enjoyed my time there. I've got nothing bad to say about that organization."
Maybin wasn't able to secure bragging rights after Thursday's series opener, as the Tigers cruised to a 7-1 victory, but he's hoping the tide will turn in the Angels' favor over the weekend.
"Hopefully we can turn the momentum around and finish this series strong," Maybin said before Friday's game.
Lineup shuffle
Runs have been hard to come by for the Angels, who have been limited to three runs or fewer in 10 of their last 17 games. In an effort to spark the offense, manager Mike Scioscia shuffled the Halos' lineup for Friday nights' game, moving Mike Trout into the No. 2 spot and dropping Kole Calhoun to fifth in the order. The full lineup was as follows: Yunel Escobar, Trout, Albert Pujols, Luis Valbuena, Calhoun, Maybin, Andrelton Simmons, Martin Maldonado and Cliff Pennington.
While the new lineup is not ideal in terms of the lefty-righty balance, Scioscia said he hopes stacking Escobar and Trout -- the club's most consistent hitters -- at the top will help create more scoring opportunities for the middle of the order.
"With some guys not swinging the bat to their capability, there are some gaps you try to bridge," Scioscia explained. "Today's lineup is just kind of a bottle shock look and trying to see if we can change the neighborhood with some guys and see if we can try to get some situations where we want them. We're just going to take it one step at a time."
Maria Guardado covers the Angels for MLB.com. This story was not subject to the approval of Major League Baseball or its clubs.