MLB.com Columnist
Terence Moore
Harrison evolving into super utility man
Veteran has played six positions for Pirates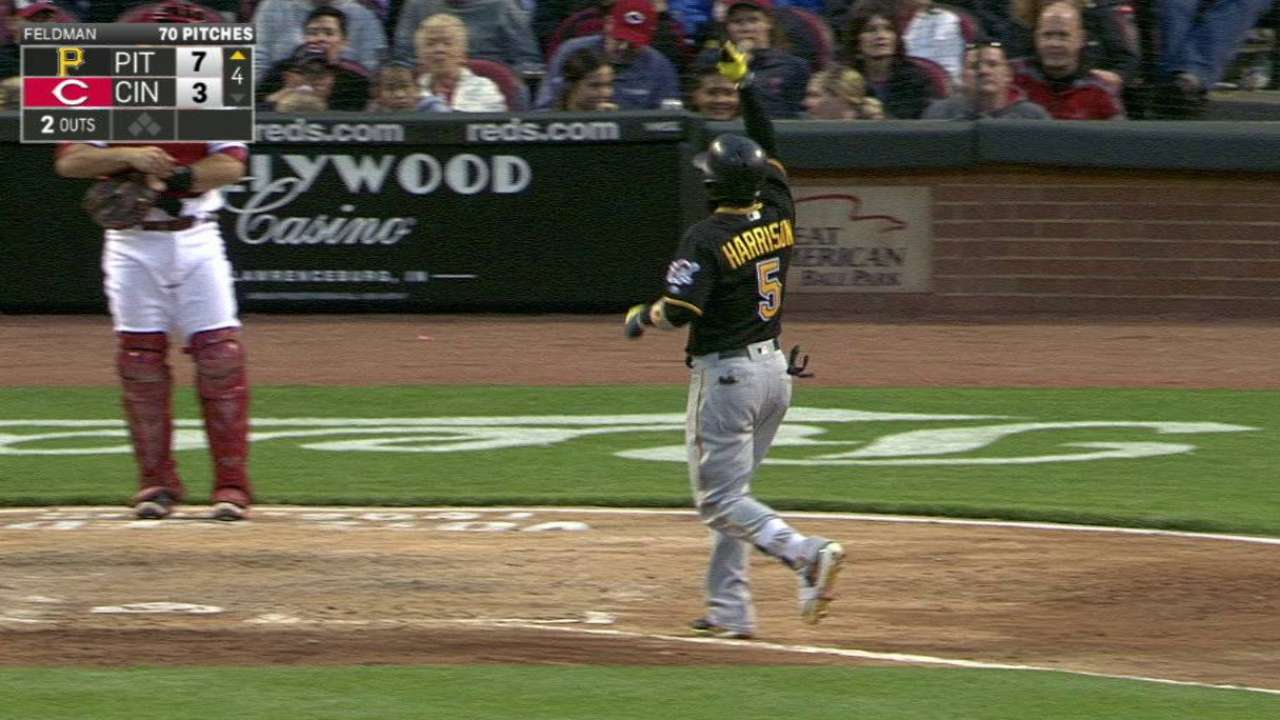 If Josh Harrison isn't my favorite Major League Baseball player, he's either 1b or 1c, and I say this for several reasons.
Harrison is full of energy during every Pirates game. For verification, watch him in the middle of a "pickle." He's durable, since he barely flinched after getting plunked by pitches earlier this season on four consecutive at-bats.
Harrison is the consummate clubhouse leader, and here's all you need to know about that: You ask him a question, and he'll give you his straightforward answer.
Harrison is also efficient at the plate, especially this season. Entering Friday night's road game against the D-backs, he continued as one of baseball's premier leadoff hitters by topping the team in batting average (.292), home runs (five), hits (35) and on-base percentage (.358). Harrison's 12 RBIs and 12 runs trailed only the 15 of Andrew McCutchen for Pittsburgh's lead in both categories.
Then you had Harrison's game-winning single last Saturday night in the bottom of the 10th against the Brewers.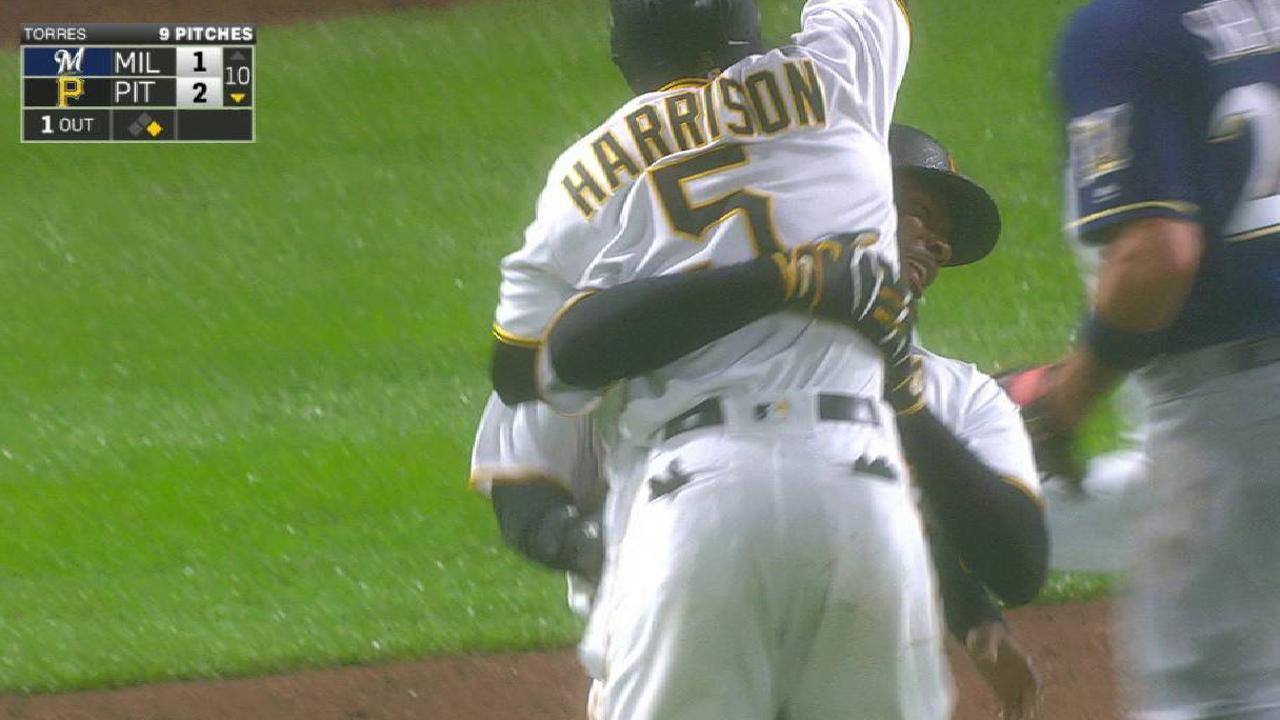 The week before, Harrison was in his hometown of Cincinnati, where he ripped two homers during one game and a three-run blast the following night.
The more I think about it, I'm a charter member of Harrison's fan club, mostly because of this -- second base, third base, shortstop, left field and right field. Those are all of the positions he has played for the Bucs during his seven seasons in the Major Leagues, and I didn't even mention that he once took the mound to help the team in a pinch.
"I definitely like it this way, man," Harrison said, always accommodating, referring to the splendid truth, which is that his solid frame of 5-foot-8 and 180 pounds is ready to move without hesitation on defense for Pirates manager Clint Hurdle during a given season, month, week, game or even inning. "You know, I was blessed and fortunate to be able to have an impact by being able to play all of these different positions."
Take this year, for instance. Harrison has played 22 games at third, 14 at second and two in left. Despite all of that shifting, he has committed just three errors overall. This is after Harrison spent the bulk of 2016 at second base, where he became one of the top fielders at that position when the Bucs traded previous starter Neil Walker to the Mets before the season.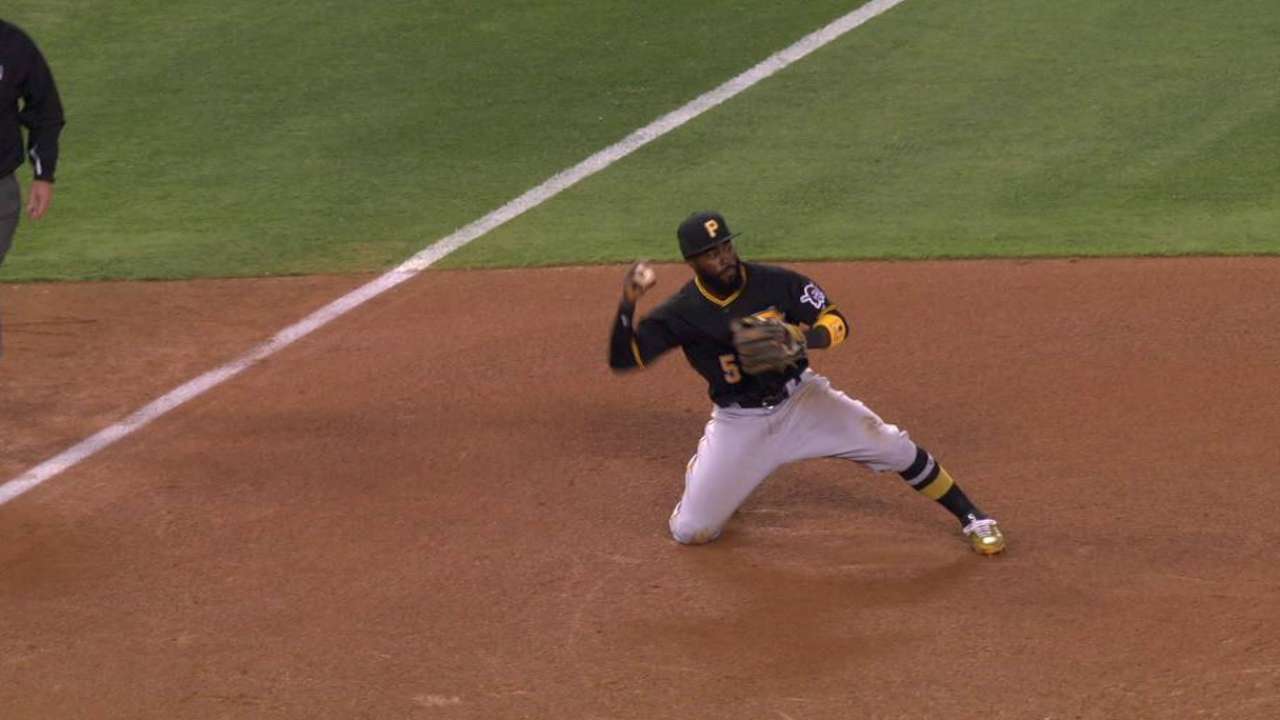 That said, Harrison is a second baseman. I think. His expertise at that position goes back to his co-Player of the Year Award days in the Big East Conference at the University of Cincinnati, not far from where he was born and raised.
Then again, Harrison also played shortstop, third and outfield for the Bearcats, and he was a shortstop when he starred for his high school team in Cincinnati. Actually, he spent his sophomore year in high school at second, before switching to the left side of the infield the rest of the way.
"Bouncing around is fun, but at the end of the day, I like it a lot better just focusing on one position, so you're getting some consistency," Harrison said. "It's not that I don't like playing the other positions. When I first came up [in 2011 to the Major Leagues], I primarily played third base, but then I started to play everywhere else in a kind of 'get in where you fit in' role. Anybody would want to play one position every day, but I don't mind switching."
I see, and I love it. In case you're wondering, Harrison has one glove for all of his infield positions, and one for either left or right. He does have backup gloves for both of his main ones "just in case the webbing breaks or something, but when it comes to gloves, I'm comfortable with what I got," Harrison said.
"The only position that would require me to use a different glove than the ones I have would be first base. That is, if I'm ever asked to play that position."
Stay tuned. Chances are, Harrison at first for the Pirates is coming, and who's to say he couldn't catch or play center.
Which makes you wonder: Why did coaches during his youth and managers throughout his professional career decide he had the physical and mental skills to become an everyman on defense? Harrison paused, and then he paused some more.
"Uh, to tell you the truth, I don't know why it started," Harrison said. "I guess we were short in other areas for the teams I've played for through the years, and I'm probably the one that they felt was the best equipped to play a new position during those times. So that always helped me to play right away, like when I went to college. Everybody's coming from high school, where they were the starting shortstop or the starting center fielder. When you get to college, you've got to be able to contribute, and since I played different positions, it helped me to be able to contribute every night."
The same thing happened for Harrison in the pros. He was drafted as a second baseman by the Cubs during the MLB Draft in 2008, and then he was traded to the Bucs organization the next season.
Two years later, after eventually playing all over the place during the Minor Leagues, he made his Major League debut as a third baseman in Pittsburgh, but that lasted barely a season before he evolved into the game's ultimate utility man.
"Yeah, when I first came to the Pirates, they told me they wanted to keep me in the infield, and that's when I just played second and third for the team," Harrison said, easing into a laugh. "But when I got here, they looked at my past, and they saw I could play the outfield, so they threw that back in there, too. I don't know what the Pirates or other teams were viewing me as being. I was a guy who could hit and play a few different positions, so I guess they just said, 'We'll fit him in at whatever is available at that time.' I mean, at the end of the day, what could I say? I was playing."
Harrison did so well in 2014 that he made his first trip to the All-Star Game despite operating without a position. That's because he had a bunch of them (second, third, shortstop, left and right). He finished that season with career highs in batting average (.315), runs scored (77) and homers (13).
Now, Harrison is on pace to pass many of those numbers.
"In 2014, I did well, because that was the first time I was able to get a substantial amount of playing time," Harrison said. "It took me back to my college days, when I was getting a chance to play my ball. I had to wait three years at the big league level, but I was finally getting my turn. So here's the way I look at things. It doesn't matter how it comes to you, because each year, something is changing, and something is different."
Especially if you're Joshua Isaiah Harrison.
Terence Moore is a columnist for MLB.com. This story was not subject to the approval of Major League Baseball or its clubs.