Brewers place Braun on DL with calf strain
Move retroactive to Thursday; Sogard summoned from Triple-A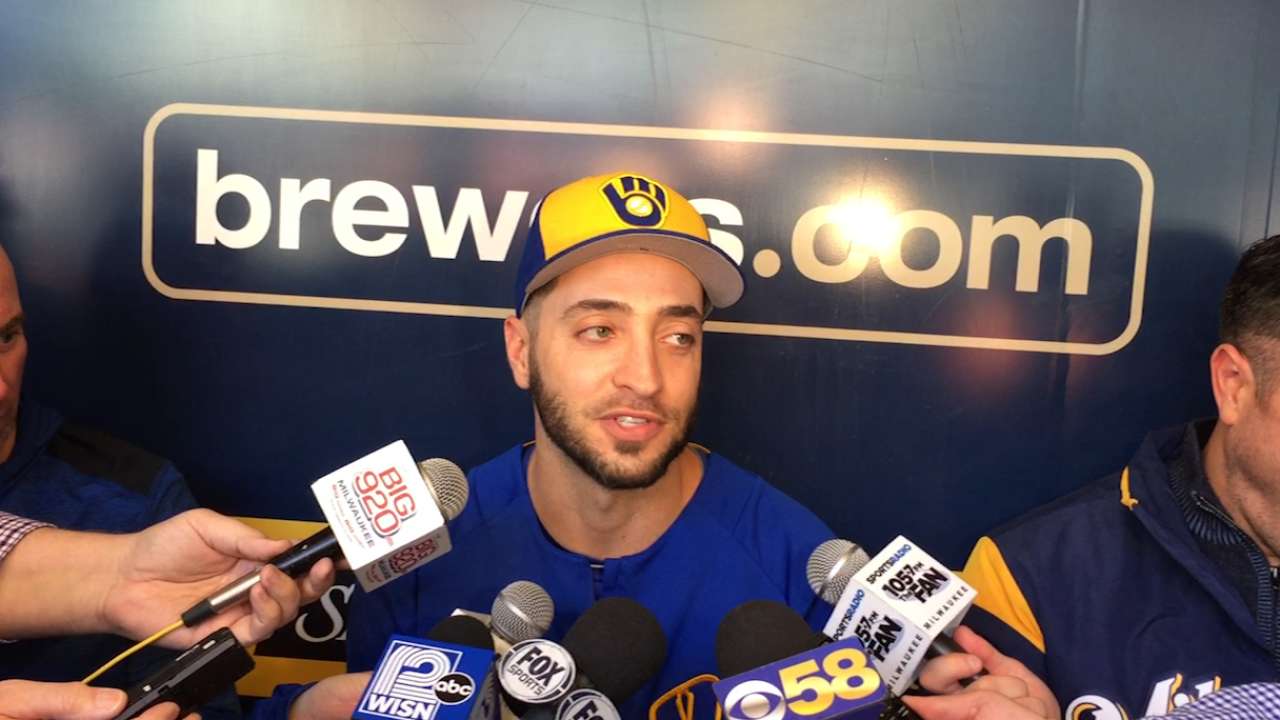 MILWAUKEE -- Brewers outfielder Ryan Braun was placed on the 10-day disabled list Friday but was hopeful his Grade 1 left calf strain will require a minimal absence.
"The fact that this is a 10-day DL instead of a 15-day makes these decisions a little easier, so ideally, I'd be back after 10 days," Braun said. "That's the goal at this point, but nothing is set in stone until we start doing baseball activities."
Braun is anticipating traveling with the team on its upcoming road trip to San Diego and Chicago. Because his DL assignment was retroactive to Thursday, he will be eligible to return May 21, during the Brewers' series at Wrigley Field against the Cubs.
Milwaukee announced it selected the contract of infielder Eric Sogard from Triple-A Colorado Springs in a corresponding move. Hernan Perez started in left field in place of Braun in Friday's series opener with the Mets, but manager Craig Counsell plans to rotate multiple players into the position, including Nick Franklin and Eric Thames.
"I will never play Perez at one position every day. That goes against everything I believe in," Counsell joked.
General manager David Stearns added, "Every time somebody's been nicked up, [Perez] is the guy we turn to, and that's going to be the case the entire year. He's going to get some extended playing time in left field. He's certainly very comfortable out there."
The Brewers' confidence in Perez, coupled with the relatively minor nature of Braun's injury, was ultimately why they did not call up their top prospect, outfielder Lewis Brinson, from Triple-A Colorado Springs, Stearns said.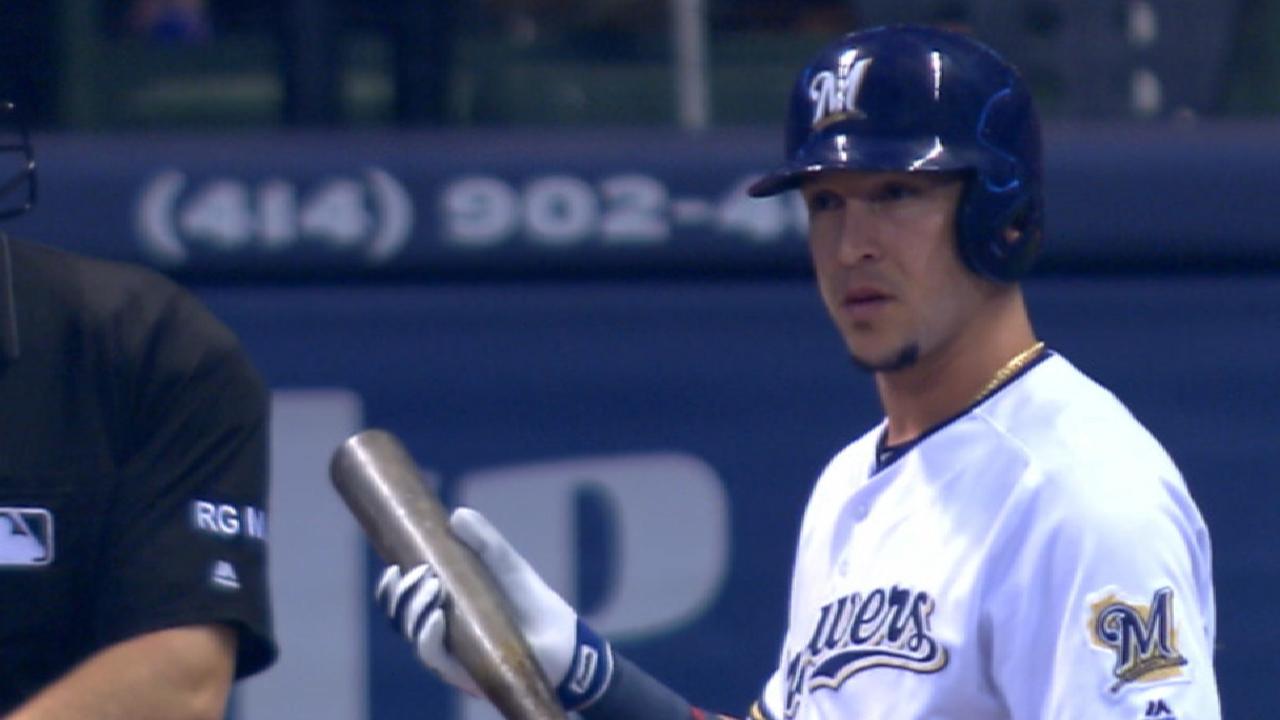 "We talked about every possibility, as we always do whenever we have to make a roster move," Stearns said. "In this case, we knew 'HP' was going to get the majority of the ABs that were left with Ryan going on the DL, so it didn't make sense for us at this point to bring up one of our top prospects when there wasn't going to be consistent playing time."
The Brewers were considering a few different options for Braun, but ultimately decided the DL would allow for the smoothest recovery possible for the six-time All-Star, who also underwent an MRI last weekend for a flexor muscle strain in his right elbow.
Braun, who missed five games with the elbow injury, returned to the Brewers' lineup for Tuesday and Wednesday against the Red Sox, but he appeared to be limited.
"I played on Tuesday and Wednesday, and I wasn't able to throw anywhere near full strength. In order to give the team a chance to be able to perform and contribute, ideally, I'd be playing at 80 or 90 percent, and I wasn't anywhere close to that, arm strength-wise," Braun said of his right elbow.
The 33-year-old said he felt his calf start to tighten up Tuesday, and it worsened in the first few innings Wednesday before he was forced to leave the game in the bottom of the fifth inning.
Braun is hitting .287 with seven home runs and 18 RBIs in 27 games for the Brewers this season.
Before he started at shortstop Friday, Sogard hadn't appeared in a Major League game since 2015, when he batted .247 with one homer and 37 RBIs in 120 games for the Athletics. The 30-year-old spent parts of six seasons with Oakland, and he was hitting .330 with three home runs and 17 RBIs in 24 games for the Sky Sox.
Fantasy spin | Fred Zinkie (@FredZinkieMLB)
While fantasy owners can feel comfortable knowing Braun should spend a relatively short amount of time on the disabled list, further health problems are certainly in play for the outfielder. After all, he has dealt with nagging injuries in recent seasons and last played more than 140 games back in '12. Shallow-league owners in need of a replacement for Braun can check waivers for Keon Broxton, Kevin Pillar or Scott Schebler, while those in deeper leagues can take a look at Domingo Santana or Shin-Soo Choo.
Carson Mason is an associate reporter for MLB.com based in Milwaukee. This story was not subject to the approval of Major League Baseball or its clubs.