Girardi: Nothing is wrong with Chapman
For second straight appearance, closer removed mid-inning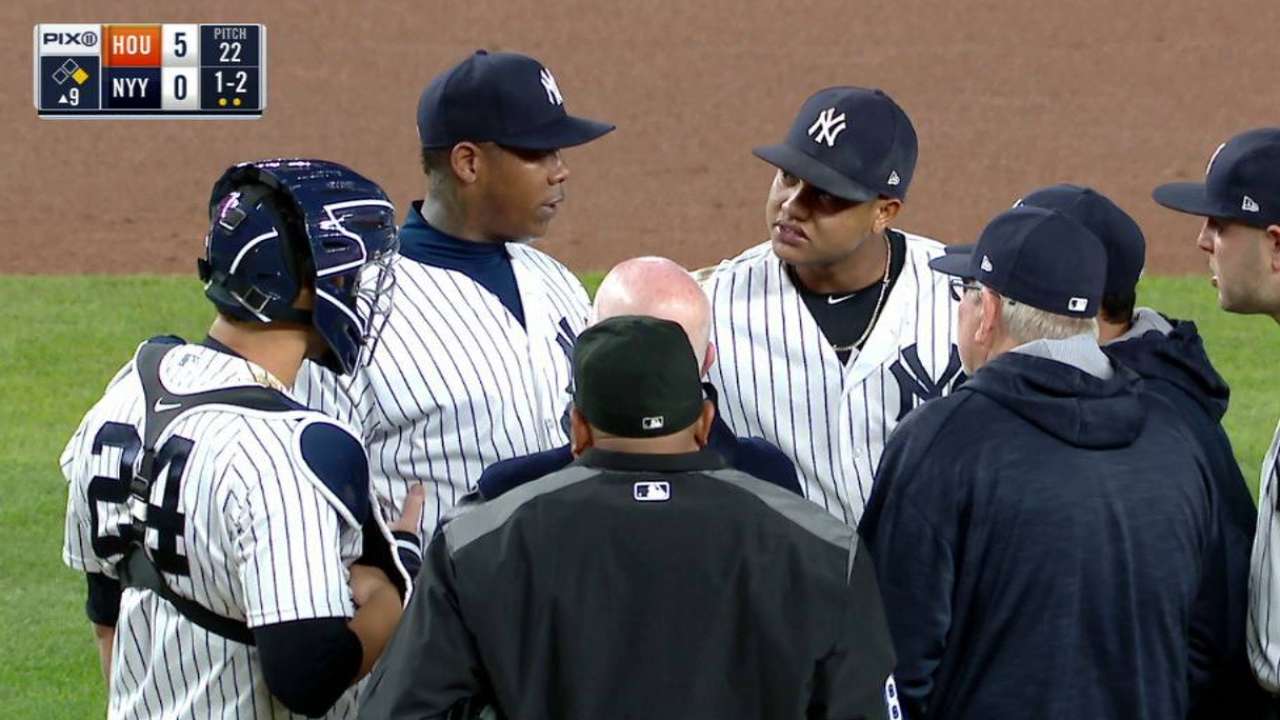 NEW YORK -- The game's hardest fastball still sizzles with upper-echelon velocity, but for the second time in Aroldis Chapman's last seven appearances, questions have been prompted about the left-hander's health.
Head athletic trainer Steve Donohue and pitching coach Larry Rothschild hurried to the mound in the ninth inning of the Yankees' 5-1 loss to the Astros on Friday after Chapman was seen shaking his pitching arm after an offering to Jose Altuve.
"That's why I sent [Donohue] out there. I saw it, too," Yankees manager Joe Girardi said. "He said he was fine. Nothing, no pain, nothing. I don't know if it's because it's a colder night, windy, I'm not really sure. That was my concern, that's why I sent him out there, but he said nothing."
Chapman was not available to speak to reporters after the game.
The Yankees had Chapman enter trailing by four runs to get in some work, having not thrown since his blown save on Sunday against the Cubs in Chicago -- an outing in which he permitted three runs, forcing the teams to play an 18-inning affair.
For the second consecutive outing, Chapman was removed mid-inning, needing 24 pitches to record two outs against Houston. Josh Reddick drove home the Astros' fifth run with a single, and Chapman was removed after Altuve singled through the hole at second base.
Chapman's actions on the mound appeared similar to his behavior following an April 26 save against the Red Sox at Fenway Park. Upon being congratulated by catcher Austin Romine, Chapman appeared to wince and reach for his pitching elbow, but said that he was "fine" when quizzed in the clubhouse postgame.
Chapman didn't allow a run in his next four outings, converting two saves. There has only been a slight dip in Chapman's fastball velocity this season, according to Statcast™ -- for the season, his average is 99.4 mph after averaging 101.1 mph last year.
Girardi said that he is not concerned about a potential dip in Chapman's effectiveness.
"No, tonight's a night that he's usually not in the game, but he hasn't thrown in a while," Girardi said. "I could have left him out there, but I didn't want him to throw too many pitches. I thought that would be silly."
Bryan Hoch has covered the Yankees for MLB.com since 2007. Follow him on Twitter @bryanhoch and on Facebook. This story was not subject to the approval of Major League Baseball or its clubs.