New crop of sluggers head HR leaderboard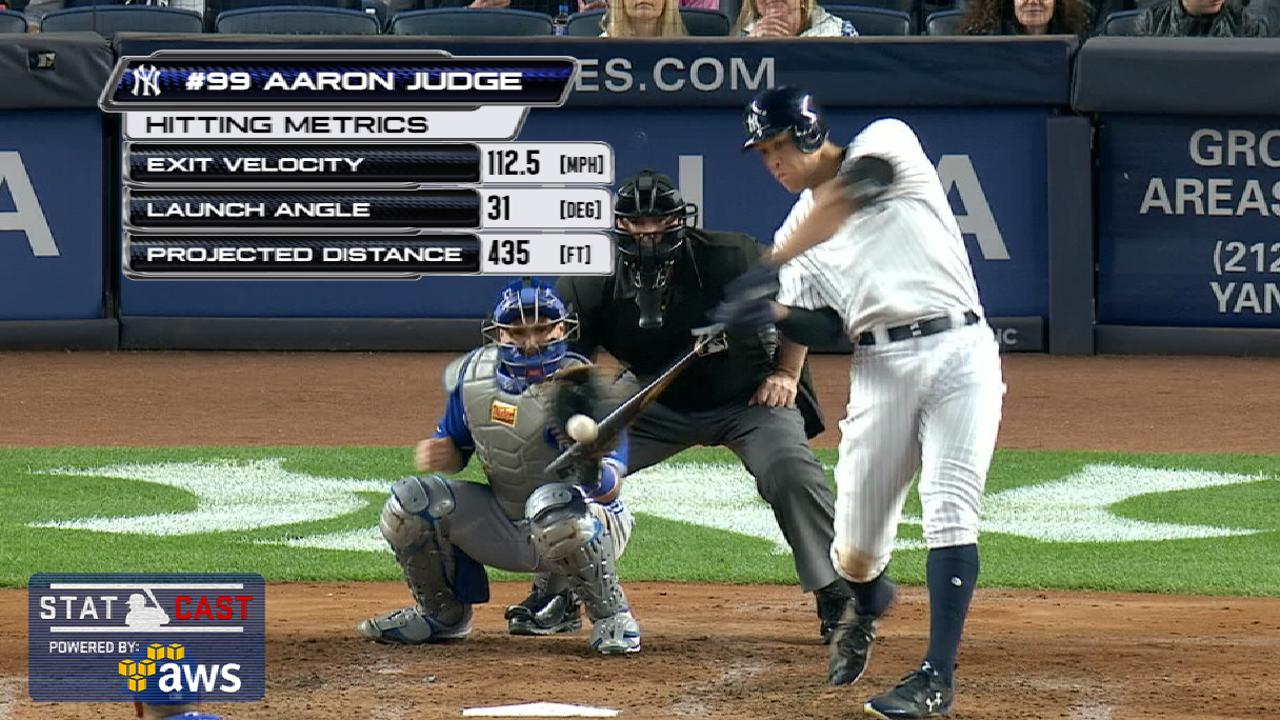 Look at the top of this year's home run leaderboard and you won't find just the same old names. Instead, a fresh group of sluggers is making its presence felt early in 2017.
Nine players have gone deep at least 11 times this year, including Freddie Freeman of the Braves (12), and Giancarlo Stanton and Marcell Ozuna of the Marlins (11 each). The other six stand out for just how far they have come in a year, whether they are young players breaking out or resurgent veterans making crucial adjustments.
The Yankees' Aaron Judge, the Brewers' Eric Thames, the Nationals' Ryan Zimmerman, the Rockies' Mark Reynolds, the Athletics' Yonder Alonso and the Rangers' Joey Gallo combined to hit just 41 Major League homers in 2016. Through less than one-fourth of the '17 schedule, they have combined to launch 73.
Here is a look at how far each has come:
Judge
2017 HRs: 13
2016 HRs: four in 27 games
What changed: Opportunity is important, but it doesn't tell the whole story. Yes, Judge spent most of 2016 at Triple-A Scranton/Wilkes-Barre, but during his cup of coffee in the Majors, he batted .179/.263/.345 and struck out in 44 percent of his plate appearances.
When you're 6-foot-7, 282 pounds and strong as an ox, the formula is simple to understand, but difficult to execute. If you swing at hittable pitches and make solid contact with a bit of loft, the ball is going to travel far. This season, Judge has slashed his chase rate on out-of-zone pitches. When he has swung at pitches in the zone, he has put the ball in play roughly 40 percent of the time, up from 31.4 percent. Those factors have helped Judge make the most of his prodigious power.
Statcast™ says: At 119.4 mph, Judge's rocket over the center-field wall at Yankee Stadium on April 28 was the hardest home run of the Statcast™ Era and the hardest this year by more than three mph.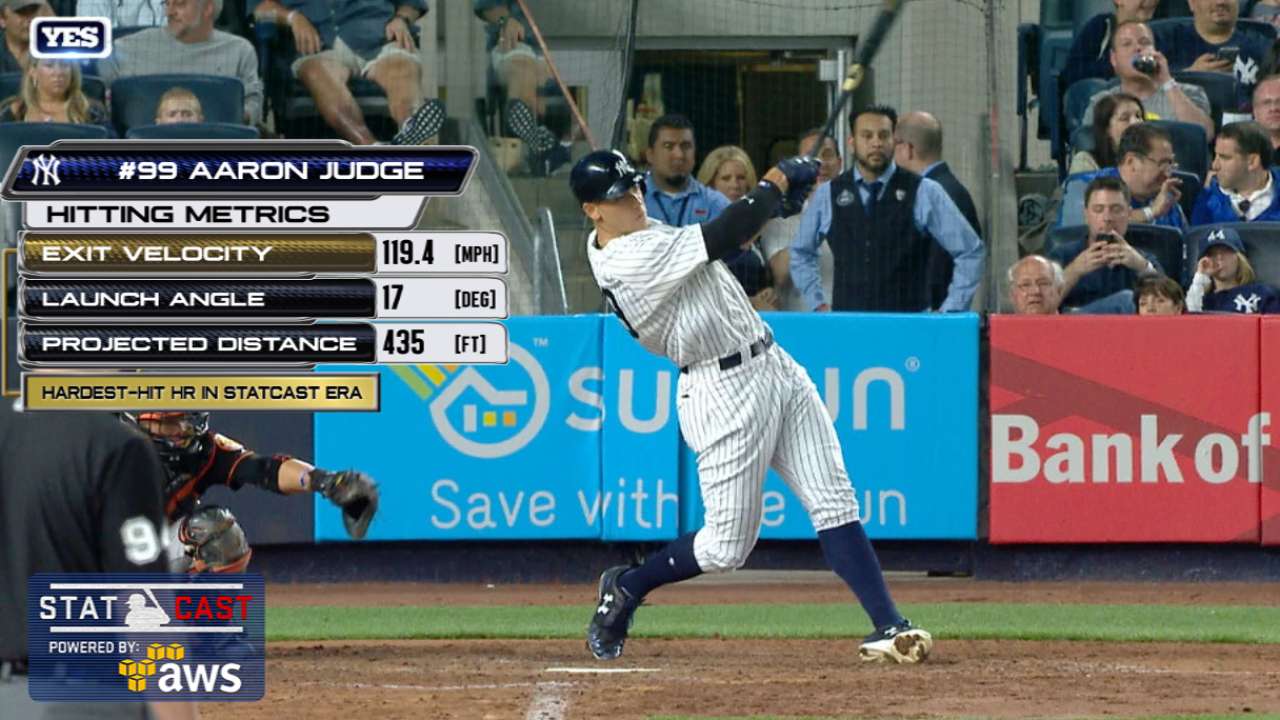 Thames
2017 HRs: 13
2016 HRs: He didn't play in MLB
What changed: Thames signed a three-year deal with the Brewers in the offseason, returning to the Majors for the first time since 2012 after a homer-happy stint in South Korea. In two previous MLB seasons, the left-handed batter hit just .250/.296/.431 with 21 homers in 181 games.
But Thames' time abroad refined his game. He ranks near the top this year with an 18 percent chase rate on out-of-zone pitches, roughly half of what he posted from 2011-12. Meanwhile, when a pitcher does come into the strike zone, Thames is slugging better than .950, a mark that trails only Freeman.
Statcast™ says: Thames is the only player this season to homer five times on pitches 94 mph or faster.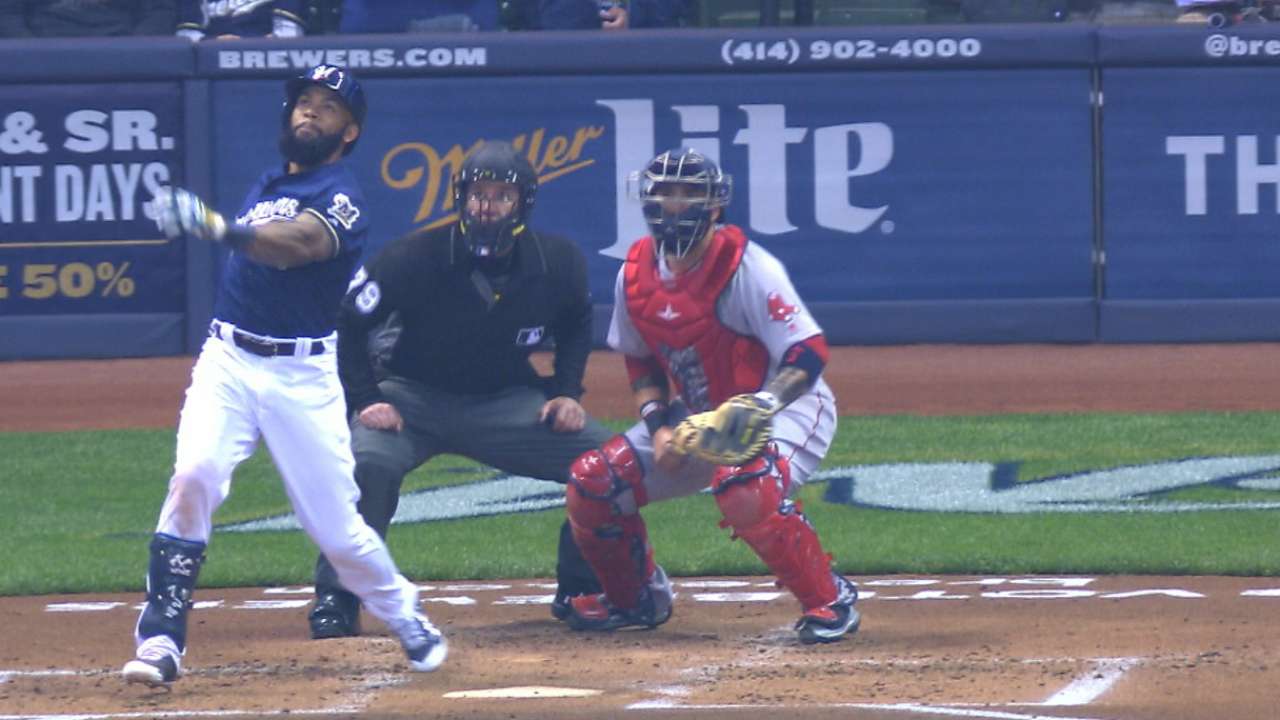 Zimmerman
2017 HRs: 13
2016 HRs: 15 in 115 games
What changed: Bombarded by injuries in recent years, Zimmerman had seen his production tail off to the point that he posted just a .642 OPS in 2016. Yet at the same time, Zimmerman's 92.3-mph exit velocity put him among the MLB leaders.
Zimmerman is hitting the ball even harder this year (93.6 mph), but perhaps more importantly, he has followed teammate Daniel Murphy's lead in generating more lift. On batted balls 95 mph or harder, Zimmerman's average launch angle is up from 9.4 degrees to 14.2 degrees, and he already has more homers of 30-plus degrees (six) than in 2015-16 combined (five).
Statcast™ says: Zimmerman's 470-foot blast at Nationals Park on April 29 was the longest at that ballpark in the Statcast™ Era and the third longest by any Nats player during that time.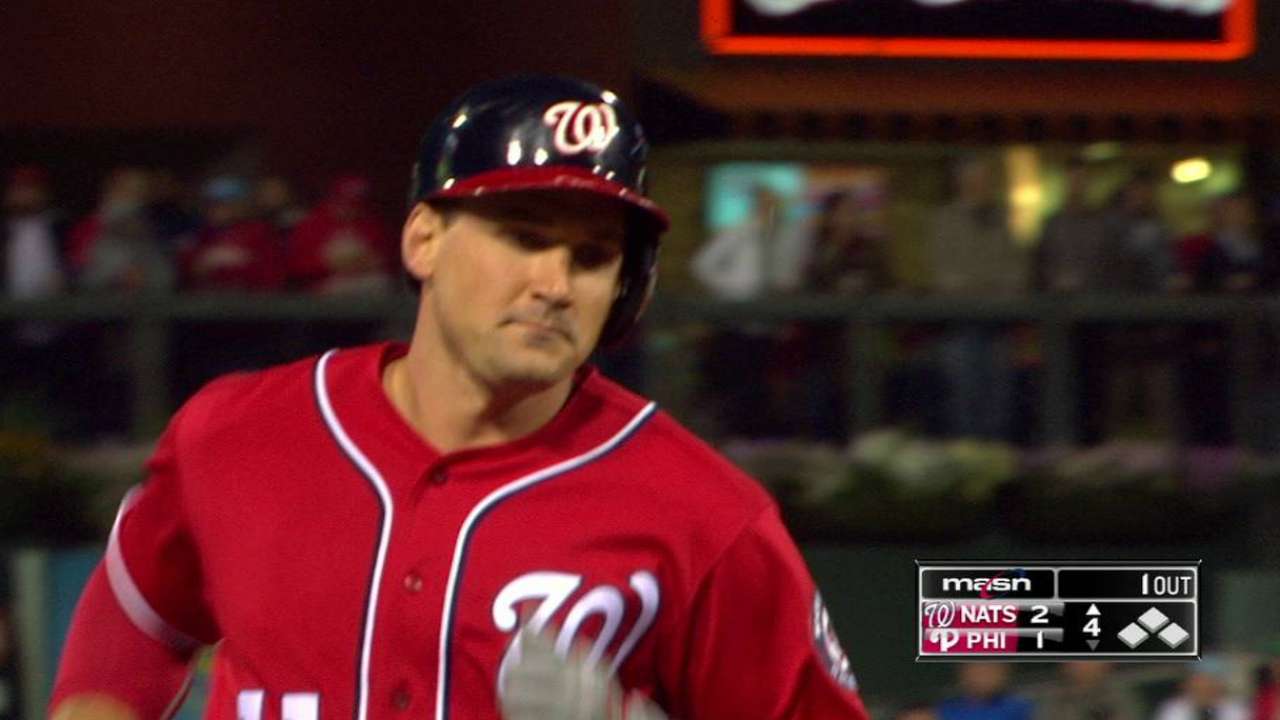 Reynolds
2017 HRs: 12
2016 HRs: 14 in 118 games
What changed: Reynolds had to settle for re-signing with the Rockies on a Minor League contract this offseason, then he took advantage when an errant pitch broke Ian Desmond's left hand in a Spring Training game, opening up Colorado's first-base job. Once an all-or-nothing thumper who hit 44 homers while also setting the single-season strikeout record (223) in 2009, Reynolds batted a career-best .282 for the Rockies last year, but he put up a career-low .168 Isolated Power (ISO) for the second straight season.
This year, Reynolds has chased bad pitches less often and made contact more often when he has swung. More importantly, it's quality contact, as his rate of barrels per batted ball is up from 6.0 percent to 10.5 percent
Statcast™ says: Out of 159 batters with at least 100 at-bats through Wednesday, Reynolds had the largest gap between his actual Weighted On-Base Average (wOBA) of .457 and his expected wOBA of .359 -- a figure based on the exit velocities and launch angles of his batted balls. Still, even that expected wOBA ranked a solid 40th in MLB.
Alonso
2017 HRs: 11
2016 HRs: seven in 156 games
What changed: Alonso entered this season with 39 career homers -- or 20 fewer than any other primary first baseman with at least 2,000 plate appearances from 2010-16. But this offseason, Alonso told FanGraphs that he had made a conscious decision to tweak his mechanics and approach with the goal of hitting the ball in the air more.
Mission accomplished. When Alonso swings, he is missing about 23 percent of the time, up from 17.7 percent. But the trade-off has been worth it, to say the least, with his average launch angle more than doubling from 10.3 to 21.6 degrees -- 11th highest in MLB.
Statcast™ says: Alonso's average home run distance also is up, from 394 feet in the first two years of the Statcast™ Era, to 407 feet in '17.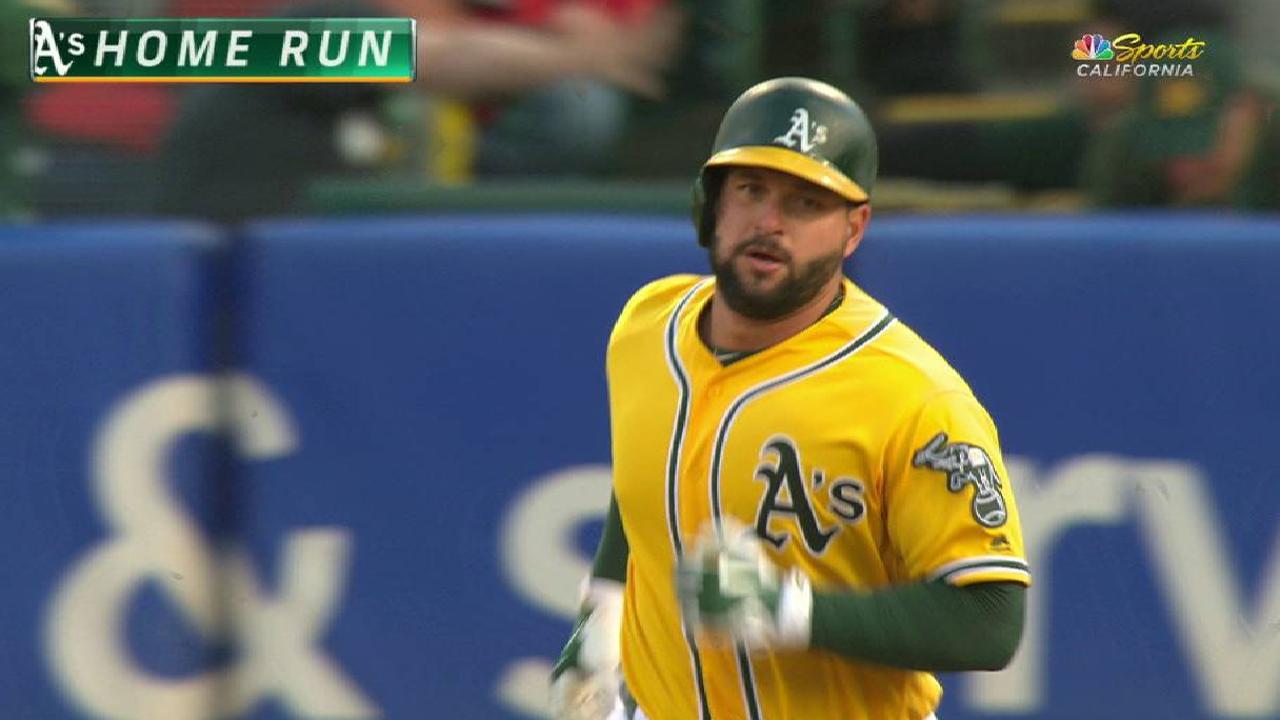 Gallo
2017 HRs: 11
2016 HRs: one in 17 games
What changed: After spending most of last season at Triple-A Round Rock -- where he slugged 26 homers in 105 games -- Gallo has served as Texas' regular third baseman with Adrian Beltre on the disabled list. Despite his prodigious power, Gallo had struggled at the big league level previously, batting .173/.281/.368 with seven homers and 76 strikeouts in 153 plate appearances.
Well, Gallo still has MLB's highest strikeout rate (40.9 percent) this year. But when he swings at a pitch in the zone, he is putting it in play about 30 percent of the time, up from about 21 percent in 2015-16. When Gallo does so, he is batting .434 and slugging 1.170, third highest in the Majors behind Freeman and Thames.
Statcast™ says: Gallo leads all hitters with seven home runs of 420 feet or longer, including a 462-foot bomb on April 21 at Globe Life Park.
Andrew Simon is a research analyst for MLB.com. Follow him on Twitter @AndrewSimonMLB. This story was not subject to the approval of Major League Baseball or its clubs.