Greinke's slider fuels no-hit stuff in 1-hit start
Ace uses breaking ball to help notch 11 strikeouts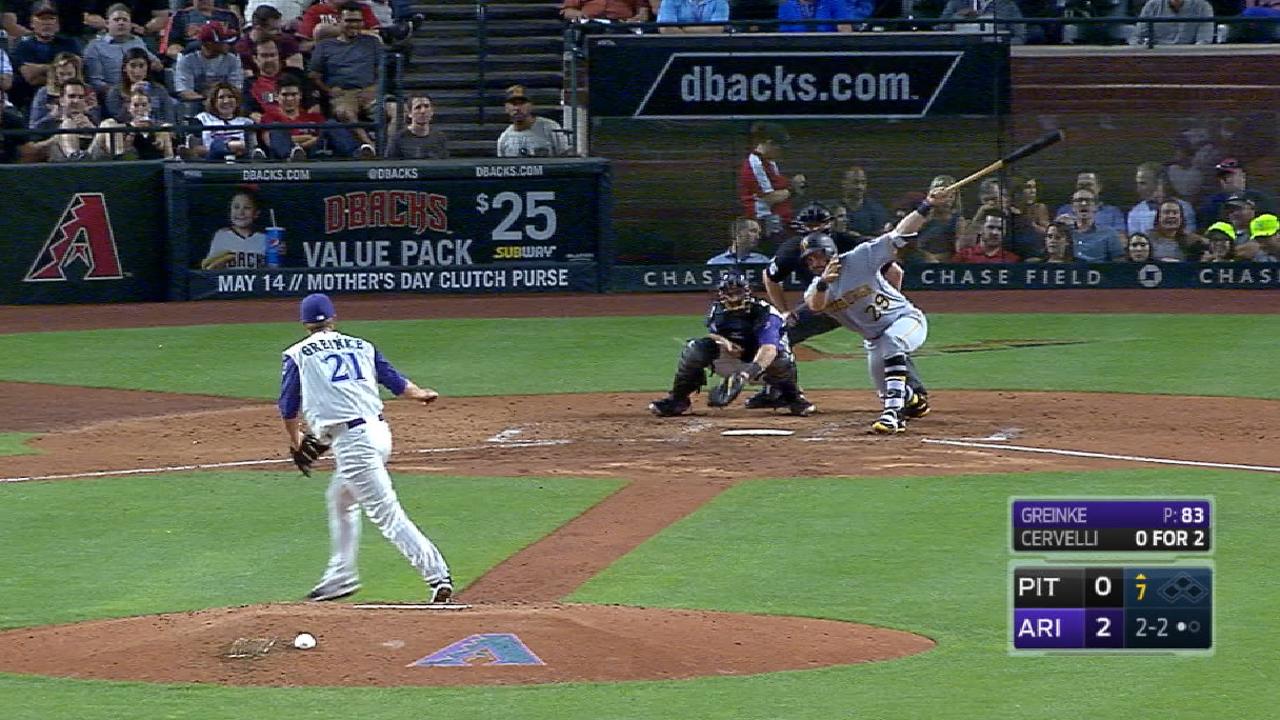 PHOENIX -- After watching Zack Greinke cruise through five innings without allowing a hit in Thursday's 2-1 win over the Pirates, D-backs manager Torey Lovullo started looking ahead.
"He was in total command of every inning," Lovullo said. "I turned to [pitching coach] Mike Butcher in the fifth inning and I said, 'He's got no-hit stuff, what's your absolute max pitch number tonight for Zack?'"
Lovullo didn't reveal the exact number the pair came up with, but he hinted that it was around 120. As it turned out, Greinke threw 107 pitches while allowing one hit over eight innings.
It took Greinke about an inning longer than Lovullo to start thinking about the no-hitter, which would have been the first of his career.
"I usually don't get very close," Greinke said. "Around the sixth inning, I started paying attention to it a little bit."
For whatever reason, Greinke was extra amped up and agitated in the early innings. He was visibly frustrated by some calls from home-plate umpire Tom Woodring, which led to him apologizing to Woodring when he came to bat in the fifth.
"I was from the beginning, and then had to apologize to the umpire," Greinke said of being agitated. "Because I don't know what was going on, but I was snapping at him on pitches he wasn't even missing. I don't know what the reason was for that."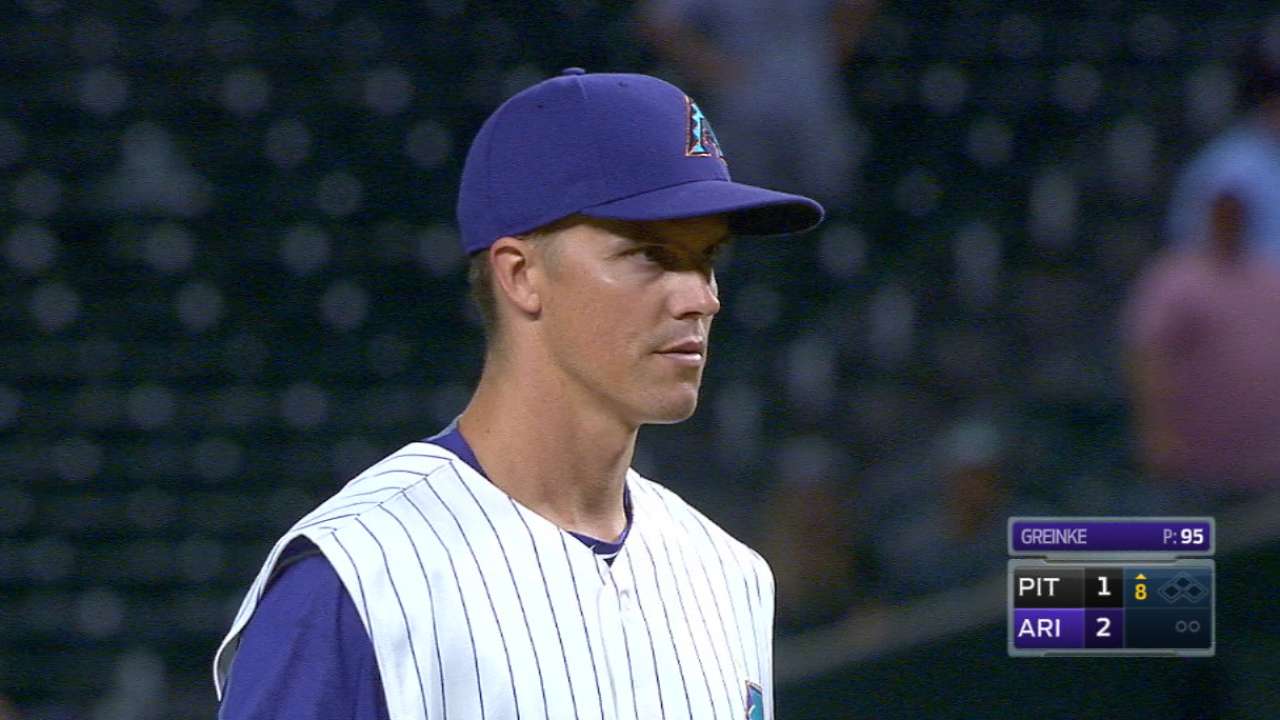 For his second straight start, Greinke's slider was his best pitch. Per Statcast™, he threw 40 sliders -- 37 percent of his total -- and got 14 swinging strikes with it. That was the most swinging strikes he got on a slider in a single game in his career.
Of Greinke's 11 strikeouts, eight came on sliders.
"Just felt like the slider was good again today," Greinke said.
The only baserunner Greinke allowed through seven innings was a walk to Jordy Mercer to lead off the third. Mercer was promptly thrown out trying to steal second, so Greinke faced the minimum through seven.
Gregory Polanco led off the eighth, and hit a 1-0 pitch down the right-field line that went over the fence, but hooked foul.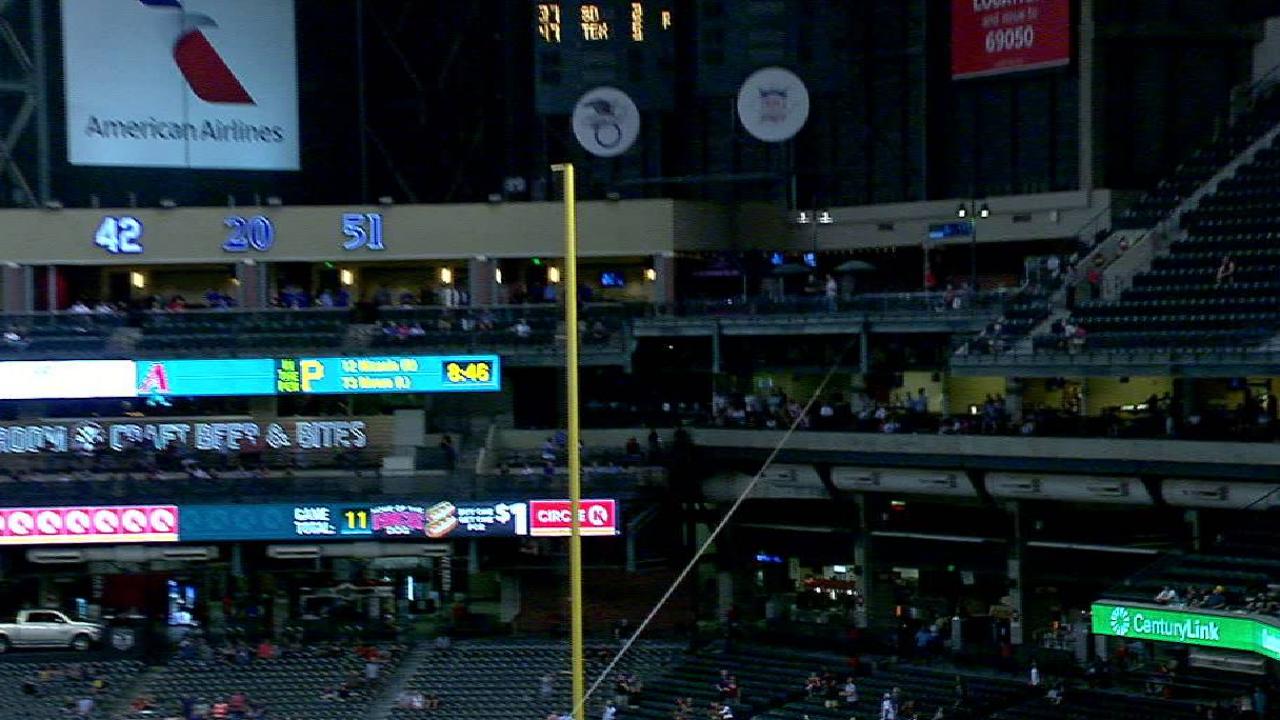 "You have to make an adjustment," Polanco said. "The whole game, he was throwing me inside -- inside cutter, slider, fastball. All his pitches and the breaking ball, he was throwing inside. You have to make an adjustment."
Polanco did just that, and hit a 2-2 inside pitch down the right-field line again, but this one stayed fair for a homer.
"I didn't know it was foul, but I knew it had a chance of being foul," D-backs catcher Jeff Mathis said of the first ball Polanco hit. "The next one didn't."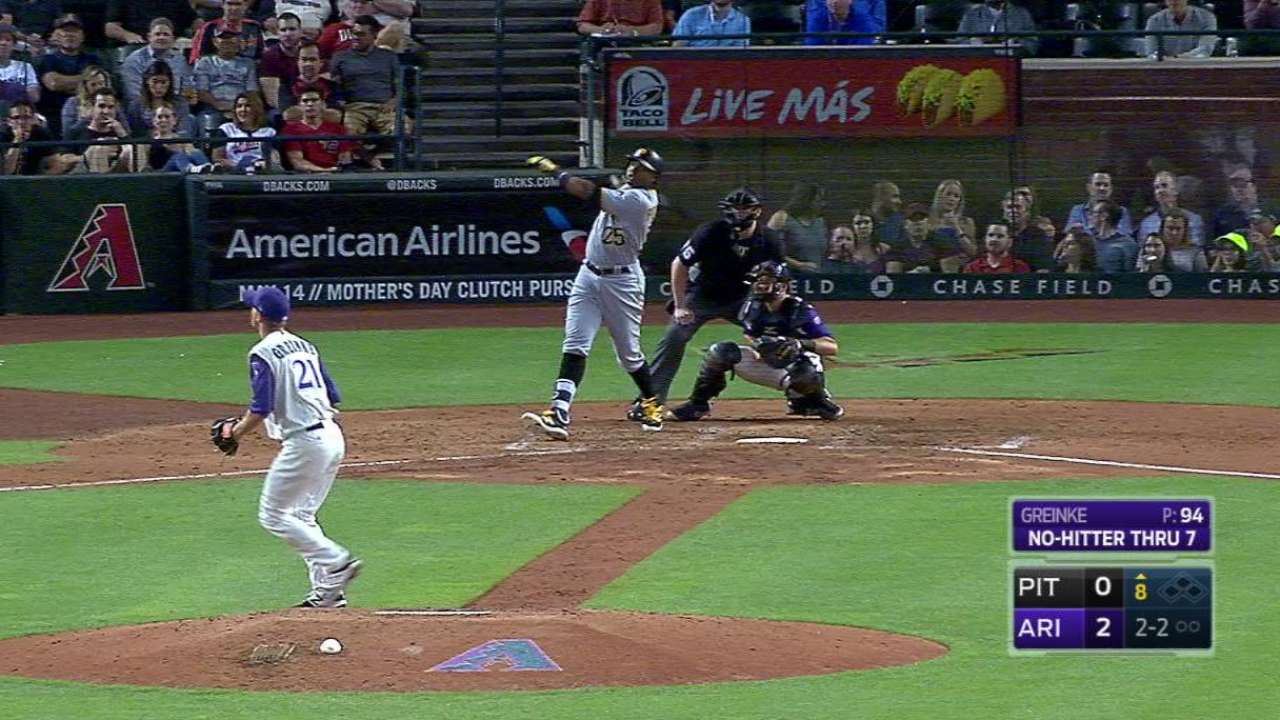 Greinke retired the next three Pirates hitters in order before turning the game over to closer Fernando Rodney, who pitched a hitless ninth for the save.
Steve Gilbert has covered the D-backs for MLB.com since 2001. Follow him on Twitter @SteveGilbertMLB. This story was not subject to the approval of Major League Baseball or its clubs.