McCutchen looks to 'simplify' amid slow start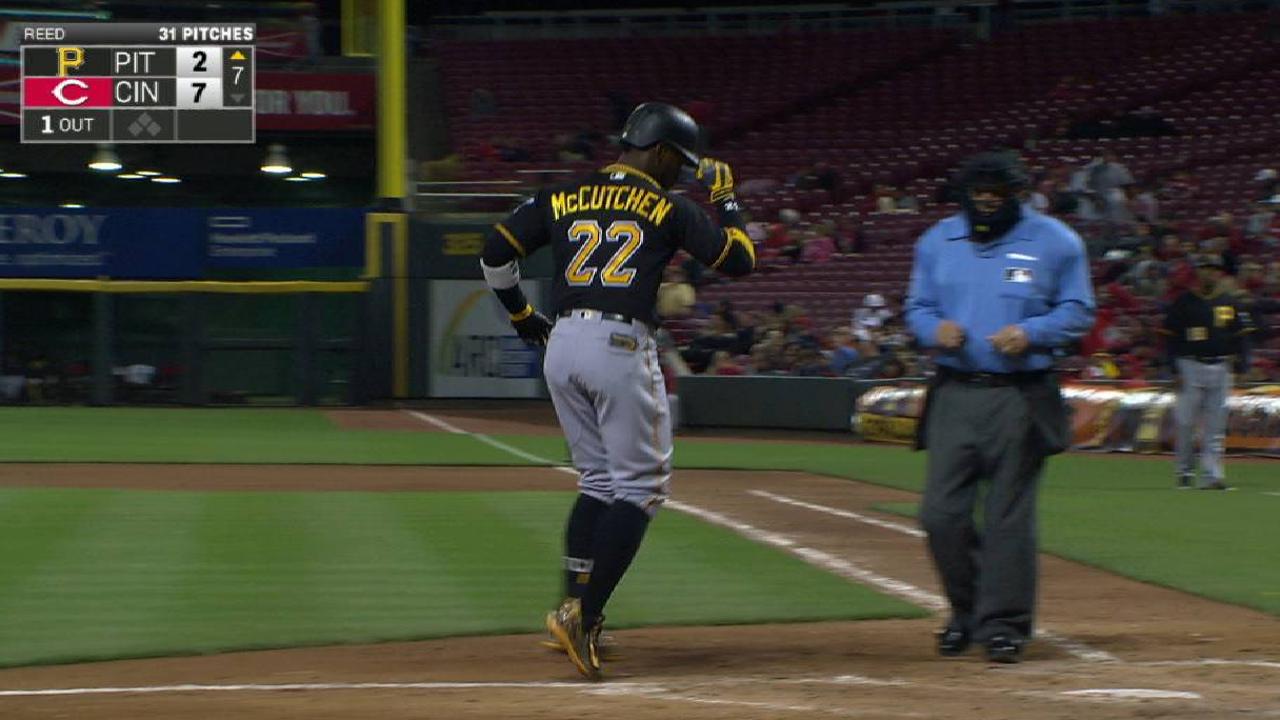 PHOENIX -- If Pirates outfielder Andrew McCutchen learned anything during the worst offensive season of his career in 2016, it's this: Don't overthink it. So McCutchen isn't diving too deeply into his sluggish start this year.
After Thursday's 2-1 loss to the D-backs at Chase Field, McCutchen is batting .210 with a .675 OPS, five home runs and 15 RBIs. But the Pirates believe their center fielder is in a better place than he was a year ago, when he hit .256 in 153 games, and they think better results will follow.
"I feel like I've been having good at-bats. It's just making contact and the ball finding a hole," McCutchen said. "That's all I'm trying to do. I'm not trying to over-assess it. I'm just trying to continue to have good at-bats. When I'm swinging, be able to make solid contact. That's where I'm at."
There are some reasons for optimism. McCutchen entered Thursday with a .226 average on balls in play, well below the league average of .293, so perhaps he's endured worse batted-ball luck than usual. He is swinging at fewer pitches outside the strike zone, and making more contact in the zone. He's not swinging and missing as often as he did last year.
"You feel for Andrew, because the outcomes aren't where we thought they would be given some of the indicators," general manager Neal Huntington said Sunday. "At the same time, this is a results-driven game. … We'll get Andrew to get a bloop here and a bleeder there, then the next thing you know, he'll be Andrew McCutchen again."
McCutchen has hit left-handers well, batting .343 with a 1.182 OPS against them. He has struggled against right-handers, who have held him to a .157 average and .472 OPS after Thursday's 0-for-3 night against Zack Greinke.
McCutchen has hit four-seam fastballs well, but off-speed stuff has given him trouble. Entering Thursday, McCutchen had seen 73 sliders this season, according to Statcast™; he's whiffed at 12 and hit three -- all of them for home runs. He had seen 53 changeups, recording one single against them.
Rather than rework his swing or approach, McCutchen is streamlining his thought process.
"You need to simplify, man," McCutchen said. "When things are going well, you ain't thinking about crap except hitting the ball -- hitting the crap out of the ball, that's about it. They always say, 'When you're 'in the zone,' what are you thinking about?' Like, nothing. That's what it's supposed to be.
"When you're in a rut, it gets hard, when you're not getting the hits, not getting the results, looking up there and you're hitting .215. You can tend sometimes to overthink it. I just try my best to not let that seep in, not get in my dome."
Last year, McCutchen said he fell victim to that mindset. He thought too much about what was going wrong. Asked for details, McCutchen replied that he's not thinking about that anymore, either.
"You've got a computer with the trash can. I just drag it to the trash, all of last year," McCutchen said. "Take the good out of it, but all the bad stuff, I try to throw that away.
"Hopefully, a month from now, I won't be sitting here still at .215. I'll be here, hard contact, hitting the ball hard, taking my walks, stealing my bags, scoring my runs and going from there. I'm looking forward to finishing strong."
Adam Berry has covered the Pirates for MLB.com since 2015. Follow him on Twitter and Facebook, read his blog and listen to his podcast. This story was not subject to the approval of Major League Baseball or its clubs.