Maeda lands on the DL with a tight hamstring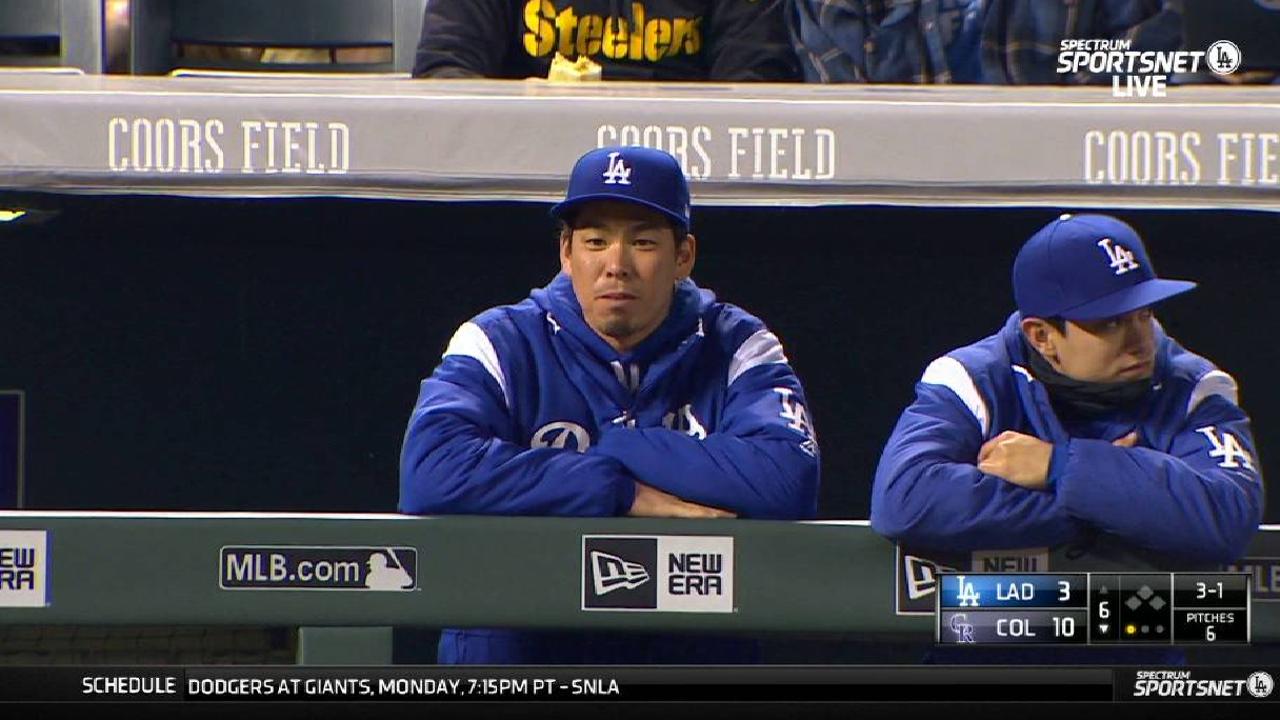 DENVER -- In a surprise move Thursday, the Dodgers placed starting pitcher Kenta Maeda on the 10-day disabled list with left hamstring tightness and reinstated Hyun-Jin Ryu, who got the start Thursday night in the opening game of a four-day set with the Rockies at Coors Field.
Maeda pitched 8 1/3 innings Wednesday night, holding the Pirates to two runs on five hits. It was a career high for innings pitched, and the 104-pitch effort was arguably his best of the season, with no evident health issue during the game.
"Actually there was a hamstring incident a few weeks ago," manager Dave Roberts said. "We talked about putting him on the disabled list a few weeks ago, but he assured us that he could continue to make starts, which he did, and pitched well.
"We made that decision last night after we saw [Rich Hill's rehab] outing. We've talked about our starting pitching depth for a long time, to act on it, to be prudent, and that's kind of what made that ultimate decision."
The Dodgers have used seven starting pitchers this season, and Maeda is the fourth to go on the DL. Ryu was on the DL for 10 days with a left hip contusion, Hill was on for 10 days with a blister on his left middle finger and has been on for a second time since April 17, and Brandon McCarthy went on May 8 with left shoulder soreness.
"Can Kenta make his next start?" Roberts asked. "He probably can."
But why push it when the Dodgers have the depth to draw from seven or eight starters? With the new 10-day disabled list, starting pitchers can go on the DL and miss only one start, rather than the two they would have missed before the rule was enacted. The Dodgers can use their depth and take no chances with aches and pains while giving pitchers extra rest.
"It's a long season," Roberts said. "The days of starters making, in a vacuum, 32 starts, it's hard to do these days. If we as an organization see a potential injury, whether it be a shoulder or a glute or a hamstring, and we can get ahead of it and potentially shorten the season and also get them back to 100 percent as much as possible, then we're going to do that."
Roberts added that using the 10-day DL for issues that pitchers may not have missed time for in the past was a potential "new normal" for his club -- a way to keep arms fresh and healthy throughout the season -- as long as they have an abundance of available arms waiting.
"If something happens and we can address it and try to nip it, then obviously that's what we're going to do," Roberts said. "If you have the depth that we have, then you feel like you can go eight starters deep and make sure guys shorten their season, stay strong through September.
"With the guys that we have, one through eight, I can see it for the duration of the season."
Roberts expects Hill to be activated in time to make Maeda's next scheduled start in San Francisco next week. Hill pitched five no-hit innings for Class A Rancho Cucamonga on Wednesday.
"He dominated the Cal League," Roberts said. "I think he graduated."
Owen Perkins is a contributor to MLB.com based in Denver. This story was not subject to the approval of Major League Baseball or its clubs.