Braves' pitching prospects flourishing in Minors
Allard, Soroka, Anderson, Wentz taken in first round of past two MLB Drafts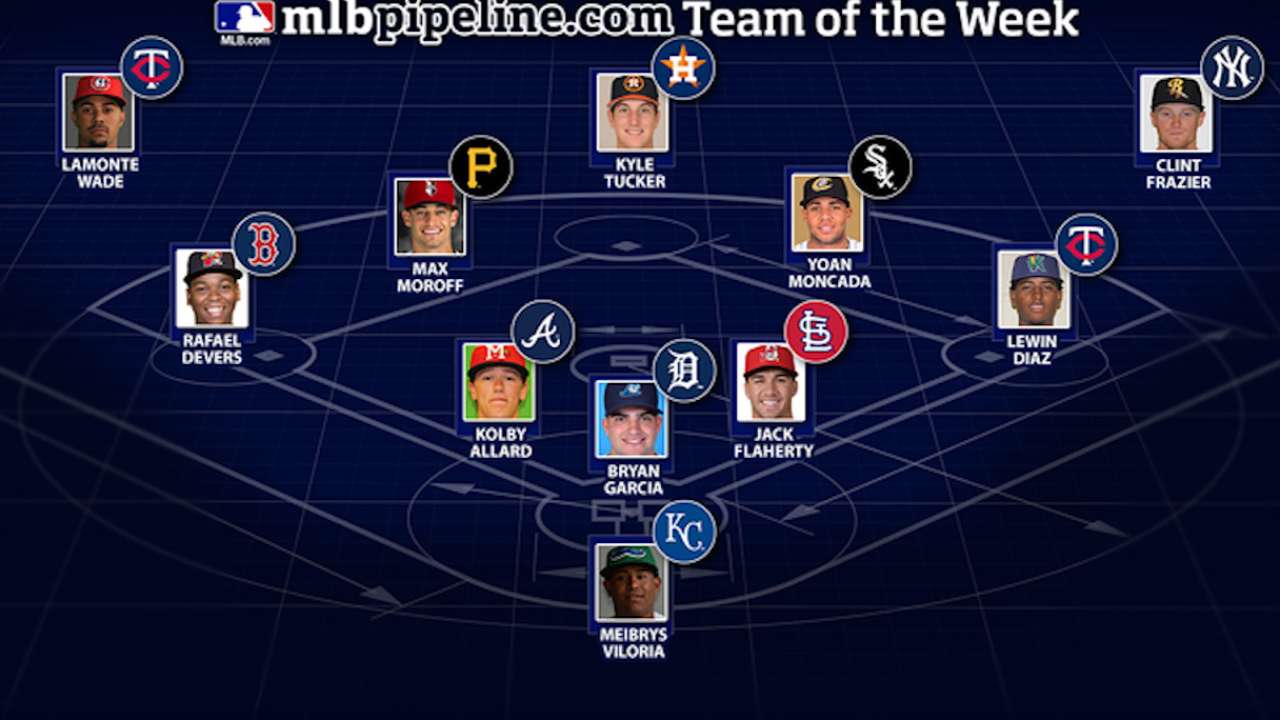 ATLANTA -- As Kolby Allard has established himself as one of Minor League Baseball's most-hyped prospects early in the 2017 season, he has further highlighted the success the Braves have had while taking four high-upside starting pitchers in the first round of the past two MLB Drafts.
Three of these pitchers -- Allard, Mike Soroka and Ian Anderson -- already rank among MLBPipeline.com's Top 100 Prospects and the fourth -- Joey Wentz -- has provided a glimpse of why he drew comparisons to Cole Hamels when he was selected 40th overall in the 2016 Draft.
With this year's Draft set for June 12-14, here is a look at what these four pitchers have done during the early portion of their respective careers.
Allard
Drafted: 14th overall pick in 2015
Prospect rank: 46th overall and 3rd in the Braves' system
Had a back injury not prevented Allard from pitching during most of his senior year of high school, he likely wouldn't have been available for the Braves. After being brought along slowly while combining to make 16 starts for Rookie-level Danville and Class A Rome in 2016, the 19-year-old California native was catapulted to Double-A Mississippi this year with 93 2/3 pro innings under his belt.
Unfazed by the jump or the fact he entered this season as the Southern League's youngest player (Soroka is nine days younger), Allard has produced a 1.38 ERA through his first seven starts for Mississippi. Opponents have hit .200 and produced a .248 on-base percentage, and Allard has recorded 31 strikeouts and issued just nine walks over 39 innings.
The next two pitchers taken in that year's Draft were James Kaprielian (16th overall, Yankees) and Brady Aiken (17th overall, Indians). Kaprielian has totaled just seven appearances at the professional level, and he underwent Tommy John surgery in April. Aiken, whom the Astros took with the first overall pick in 2015, has fashioned a 4.66 ERA through six starts at the Class A level this year.
Soroka
Drafted: 28th overall pick in 2015
Prospect rank: 69th overall and 4th in the Braves' system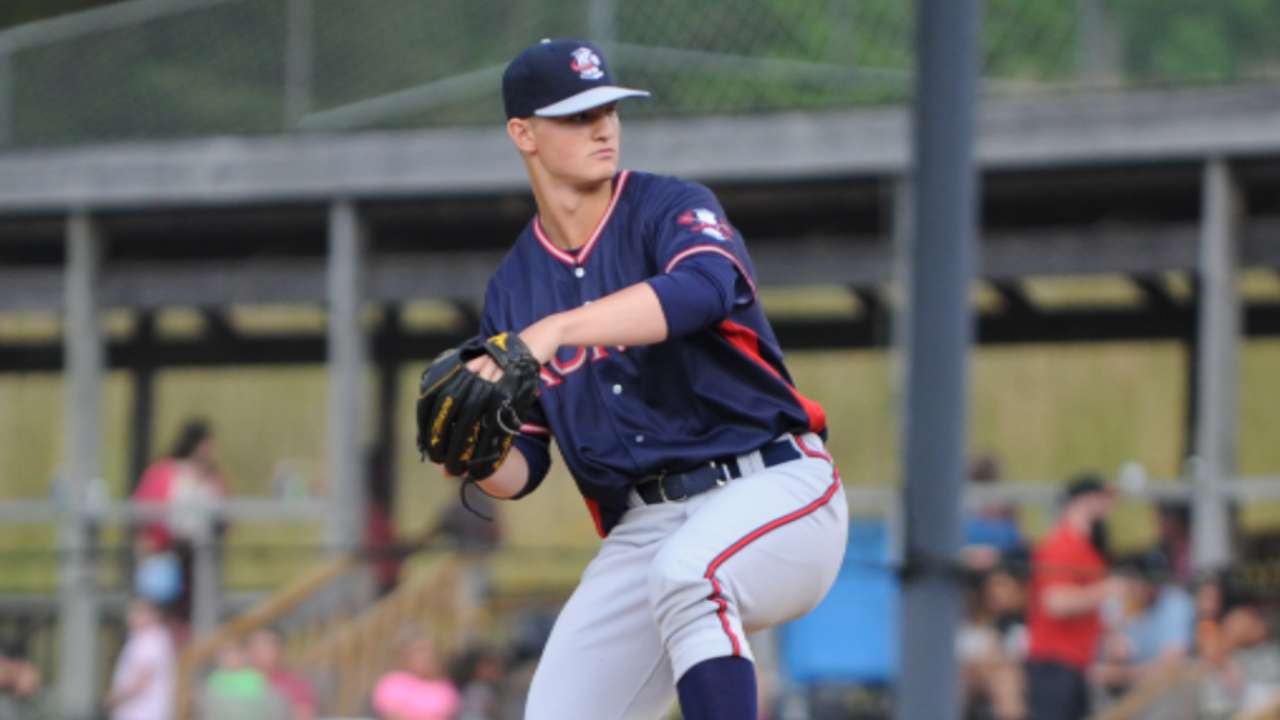 This polished Canadian right-hander has produced 8.3 strikeouts per nine innings and 1.9 walks per nine with a 3.11 ERA through his first 208 1/3 innings as a pro. Like Allard, he has not seemed to be affected by the fact he skipped the Class A Advanced level. The 19-year-old has used his effective sinker to compile a 3.45 ERA through his first six starts for Mississippi.
After the Braves took Soroka, the Blue Jays immediately followed by taking Jon Harris with the 29th overall selection. Harris, 23, has compiled a 5.94 ERA in six starts for Double-A New Hampshire this year.
Anderson
Drafted: 3rd overall selection in 2016
Prospect rank: 78th overall and 6th in the Braves' system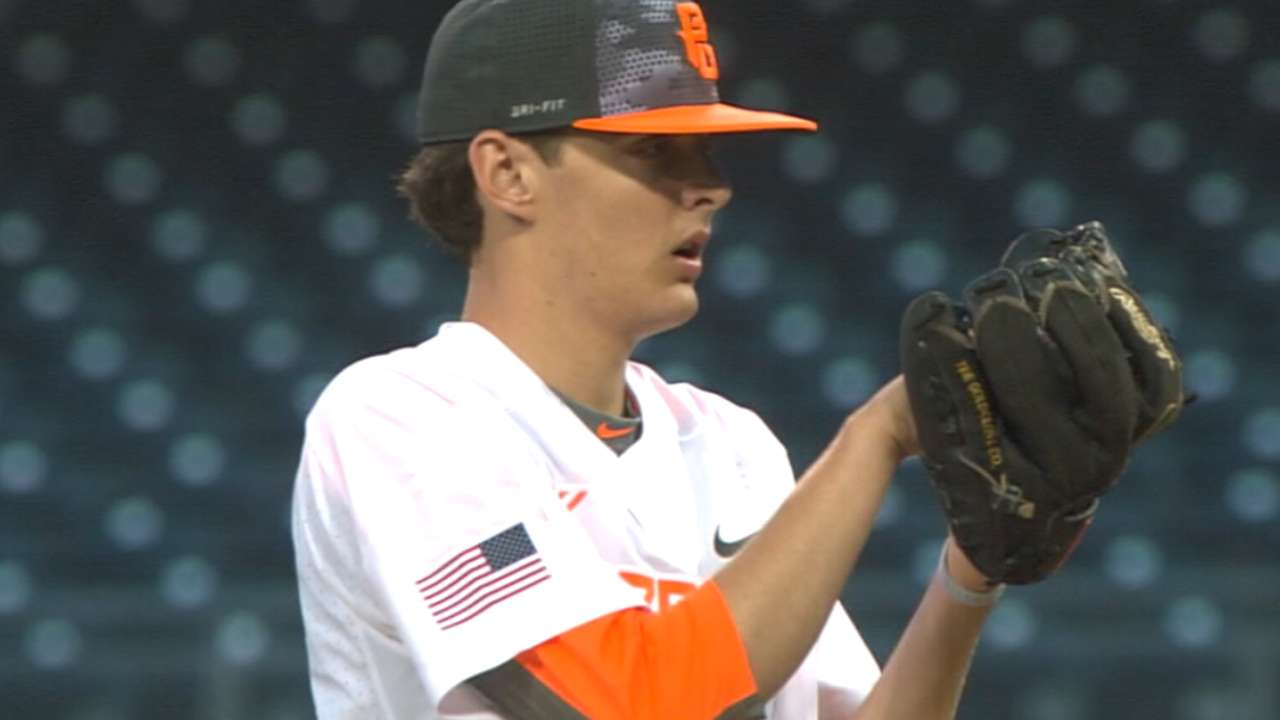 While college hitter Nick Senzel might have piqued their interest, the Braves knew early on they would almost certainly take Anderson with what was their earliest pick since taking Mike Kelly with the second overall pick in 1991. Anderson, an 18-year-old right-hander from upstate New York, has not disappointed, with a 3.21 ERA, 37 strikeouts and 17 walks through 28 innings (six starts) for Rome this year.
There was a lot of hype surrounding Riley Pint, whom the Rockies took with the fourth overall selection in 2016. While also pitching in the South Atlantic League this year, Pint has produced a 2.29 ERA. But through five starts, his strikeout rate (6.4 K/9) resembles his walk rate (6.9 BB/9). The other two high school pitchers taken within last year's first 10 selections were Braxton Garrett, who just made his pro debut with the Marlins this week, and Matt Manning, whom the Tigers have kept at extended spring camp to further the development he lost while splitting his high school focus between baseball and basketball.
Wentz
Drafted: 40th overall in 2016
Prospect rank: 13th in the Braves' system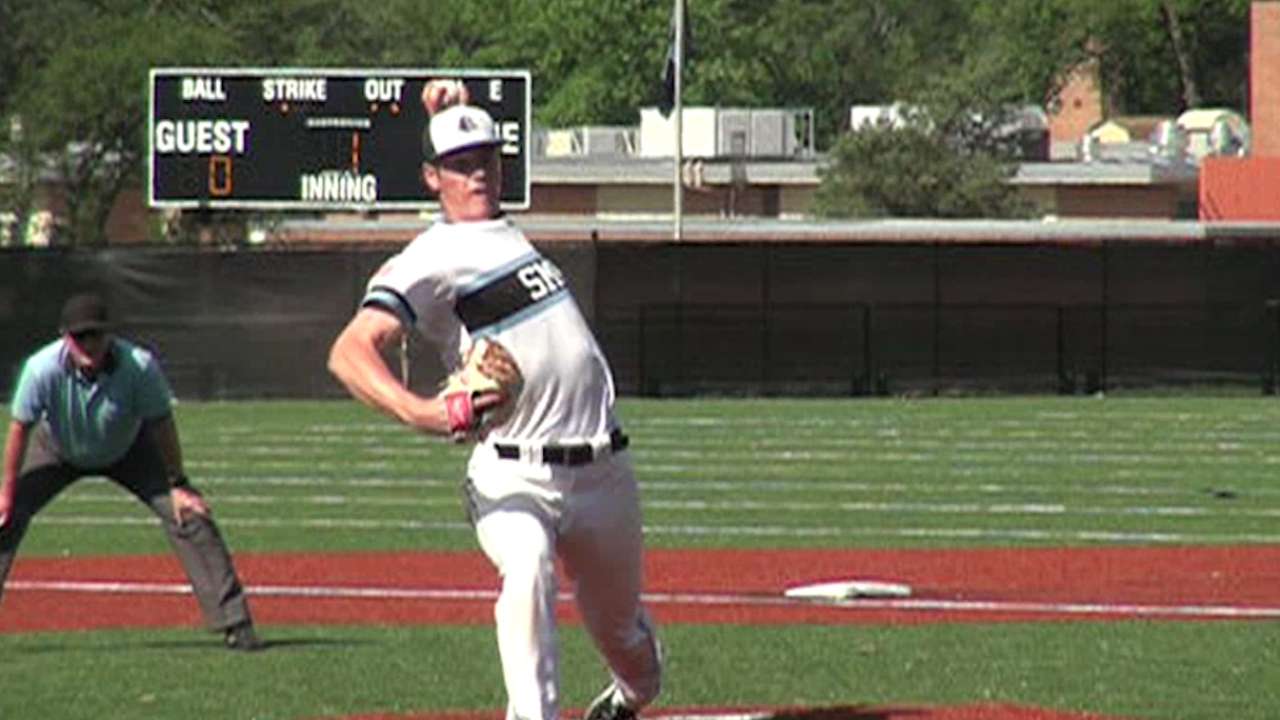 After signing Anderson for $2.5 million below slot value, the Braves were able to give Wentz approximately $1.4 million over slot with the $3.05 million signing bonus he agreed to in June. The left-hander from Kansas has fashioned a 4.03 ERA through his first six starts for Rome. He's surrendered 33 hits over 29 innings, but he has shown great potential while recording 30 strikeouts and issuing seven walks. Wentz hasn't shown the same power stuff that was seen during his high school career, but he creates good arm-side run with his 6-foot-5 frame, and he seems to have an advanced feel for his changeup, which currently stands as his best offspeed pitch.
The only other pitcher taken after Wentz during the first round of 2016 was Nick Lodolo, who turned down the Pirates' $1.75 million offer to attend TCU.
Mark Bowman has covered the Braves for MLB.com since 2001. This story was not subject to the approval of Major League Baseball or its clubs.