Salazar focused on '1st' order of business
Righty believes opening-inning woes could be product of warmup routine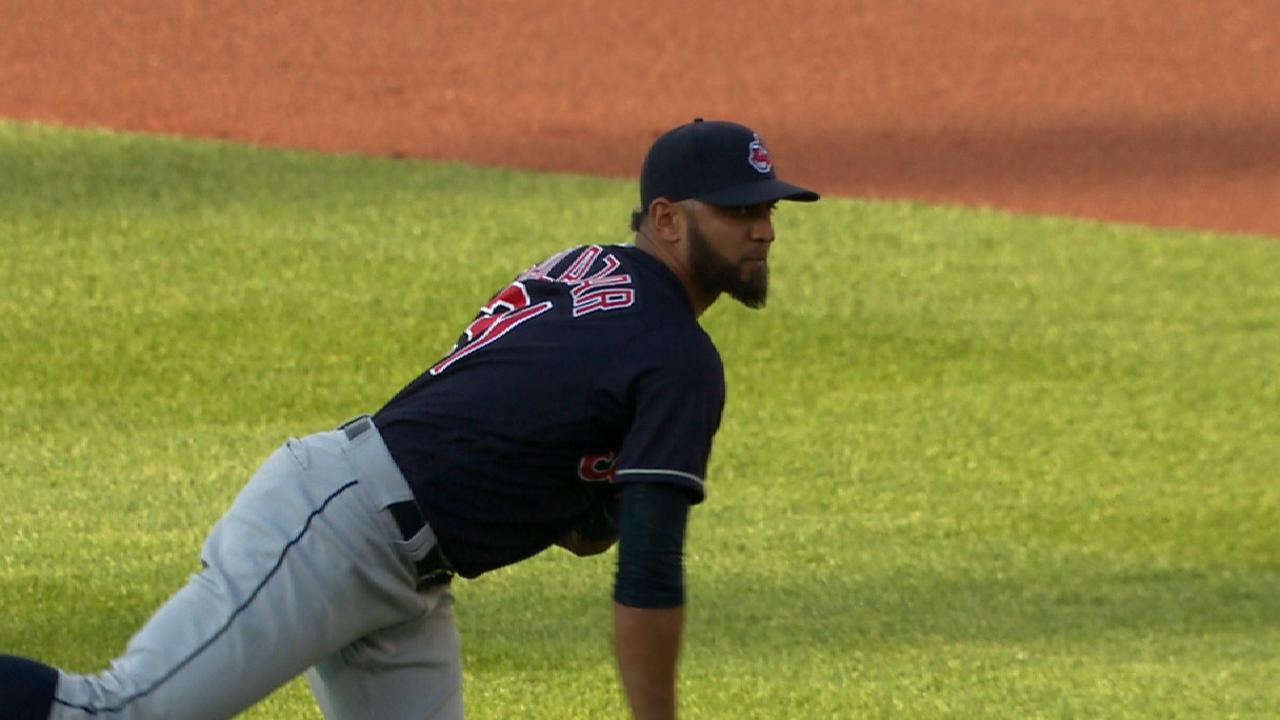 CLEVELAND -- The plan was to stay away. For five pitches, Danny Salazar had been successful in that regard against Blue Jays slugger Jose Bautista on Wednesday night. On the sixth pitch, Salazar's first-inning problems this year were on full display once again.
The two-seamer that was intended for the outside corner ran back over the plate, and then shot off Bautista's bat at 113 mph, according to Statcast™, for a three-run home run down the left-field line. With 11 earned runs allowed in seven first innings this season, Salazar is searching for answers, because there have been too many mistakes like the one to Bautista.
"I'll figure it out. I'll figure it out. I'll keep working," Salazar said. "I think what I'm doing right now, it's good. I just need to maybe make some adjustments."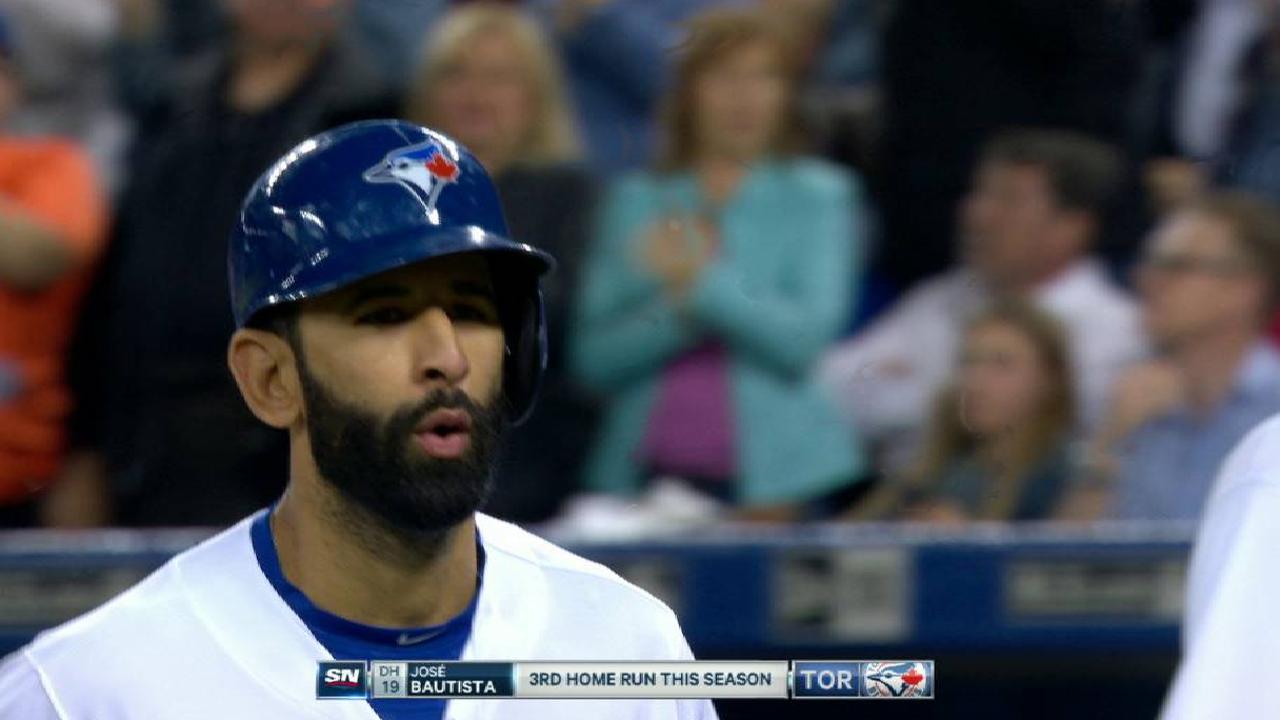 The adjustments Salazar wants to explore and discuss with pitching coach Mickey Callaway involve the pitcher's pregame routine. The right-hander's command has been sporadic in the first inning, and his pitch velocity has been below his usual level in the opening frame, and Salazar believes there could be something within his warmup program throwing him off.
In the immediate wake of Wednesday's 8-7 loss to Toronto, Salazar's working theory was that his use of weighted balls might be playing a negative role. Since the All-Star break last year, when the pitcher was dealing with some arm troubles, he adopted a weighted-ball routine.
In the 68 innings he has pitched after adding that to his program, Salazar has posted a 6.35 ERA. Before using weighted balls on a daily basis last year, Salazar went 10-3 with a 2.75 ERA and made his first career All-Star team. Salazar said he may look into reducing the number of days he uses weighted balls, or perhaps he will scrap the program entirely.
Told of Salazar's theory, Callaway said it's something worth exploring.
"Maybe. It could be. I mean, he wasn't doing those when he made the All-Star team," Callaway said. "So I think maybe he needs to go re-evaluate the things that he's doing overall to try to get back to where he was before."
Salazar's average fastball velocity is 94.9 mph in 1st inning and 95.5 mph in 2nd. Exit velo on FB first 3 IP: 96 mph, 91.1 mph, 85.8 mph. pic.twitter.com/mbZzQ9cEVP

— Jordan Bastian (@MLBastian) May 11, 2017
Prior to using weighted balls, Salazar said it would take him 20-25 throws before his arm felt loose. After adding them to his routine, the pitcher said his arm felt ready to go for a start after only a handful of throws. Salazar thinks, however, that the rest of his body might not be aligned with how his arm feels when he takes the mound for the first inning.
"I just think my upper body, it gets loose too quick, and my lower body is not there yet," Salazar said. "It's a rhythm. Every time you pitch, there's a rhythm. If something is separated, if you're not working in one movement to throw the ball, it's going to be off."
Through seven starts, Salazar has allowed a .429 average and a .829 slugging percentage in the first inning. Per Statcast™, hitters have put balls in play with an average exit velocity of 95 mph against him in the first, too. In all other innings combined (10 earned runs in 29 1/3 innings), Salazar has held batters to a .226 average, a .311 slugging percentage and an 85.9-mph exit velocity.
Both Salazar and Callaway pointed to command as the main culprit.
"I want to throw it down and away ... and it's just up." -- Salazar, on his fastball in 1st inning. Here's 2-strike fastballs this year... pic.twitter.com/18iSgxAxud

— Jordan Bastian (@MLBastian) May 11, 2017
In the first inning, Salazar has struggled to control his fastball, especially when ahead in the count. Much like the pitch to Bautista, Salazar is misfiring to a dangerous degree in the opening inning, and with less velocity on his pitches. That has led to some crooked numbers before Salazar has found his in-game rhythm.
"Overall, he just needs to go out there and throw strikes," Callaway said. "If you look at what he's done since the All-Star break last year, I think he's got three wins and a 6.00 ERA, and five walks per nine. So I think he's just got to do a better job of throwing the ball over the plate and competing, first and foremost."
Jordan Bastian has covered the Indians for MLB.com since 2011, and previously covered the Blue Jays from 2006-10. Read his blog, Major League Bastian, follow him on Twitter @MLBastian and listen to his podcast. This story was not subject to the approval of Major League Baseball or its clubs.