Fowler proves invaluable in a pinch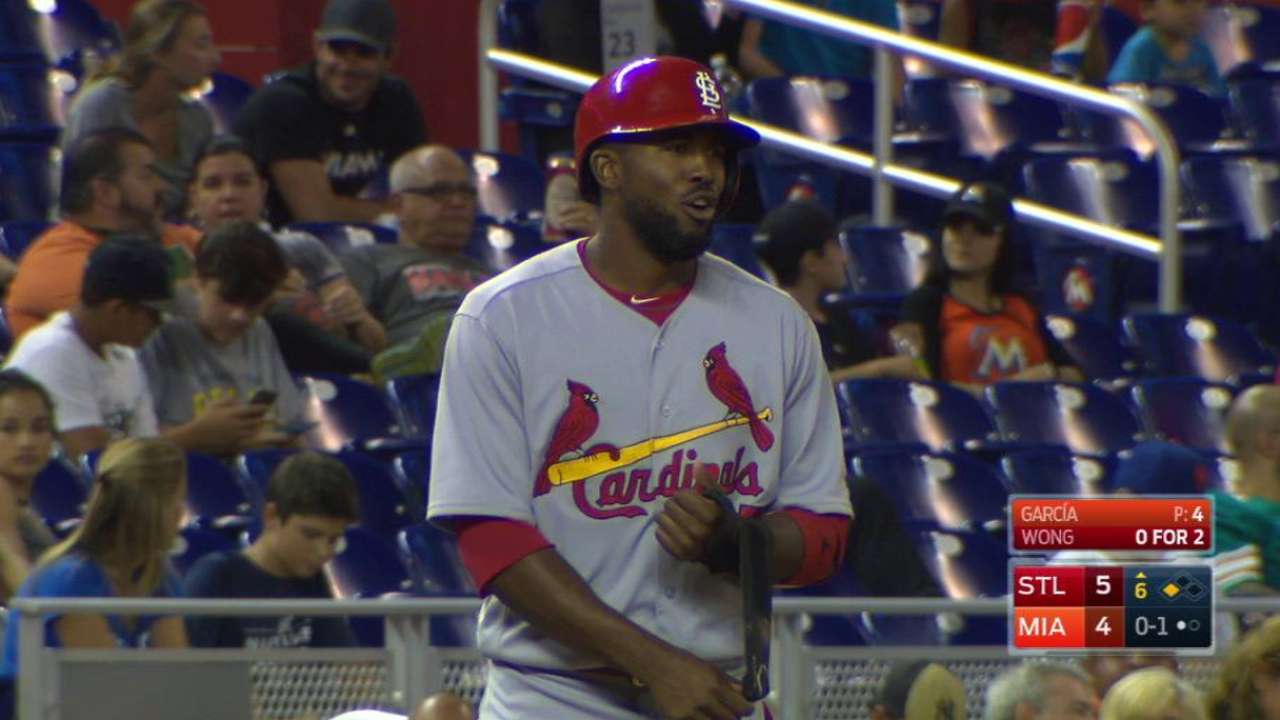 MIAMI -- It was a combined effort between pitchers and pinch-hitters, most effectively from Dexter Fowler, that led to a 6-for-13 showing at the plate from the No. 9 spot in the batting order during the Cardinals' three-game sweep of Miami at Marlins Park.
Fowler came through again on Wednesday with a pinch-hit two-run triple in a three-run sixth that erased an early four-run deficit. Fowler later scored on a Kolten Wong sacrifice fly, and the Cardinals went on to a 7-5 win in the series finale to extend their winning streak to six games.
For Fowler, it was his second key pinch-hit in as many days. The Cardinals' center fielder hasn't started since diving for a fly ball on Thursday and has been relegated to pinch-hit duty since, but he doesn't plan on making a career of coming off the bench.
"It's not my new job. I formally resign," Fowler said with a smile after going 2-for-2 as a pinch-hitter in the series. "I'll end it on a high note."
Still, he's as good as it gets coming off the bench to contribute when needed most.
"What a bench player," manager Mike Matheny said. "Comes through again in a big situation. I imagine we're going to be able to see him back in action on Friday."
Entering the game, the Cardinals led the National League in pinch-hitting with a .432 team batting average. Fowler's triple makes 20 pinch-hits already for the Cards this season. Matt Adams, who contributed a key pinch-hit on Tuesday, leads the team in pinch-hits, with six.
"You've got to go in and do what you've got to do," Fowler said. "It's a pretty important at-bat in the game. Obviously, there was a little more game left, but you've got to take what they give to you."
With plenty of time throughout the game to observe, Fowler said he was mentally prepared for the situation.
"When you're on the bench, you kind of watch what guys are doing and how they're doing it," he said. "I got in the box and took the first pitch, a good changeup. Then the next one, he threw it right there."
The ninth spot was truly a productive one in the series, even for pitchers. Monday's starter, Carlos Martinez, drove in four runs to help his cause.
Glenn Sattell is a contributor to MLB.com based in Florida. This story was not subject to the approval of Major League Baseball or its clubs.