Turning Points: Werth's persistence pays off
Homer sets stage for Nats' win; Pence, Carrera deliver key hits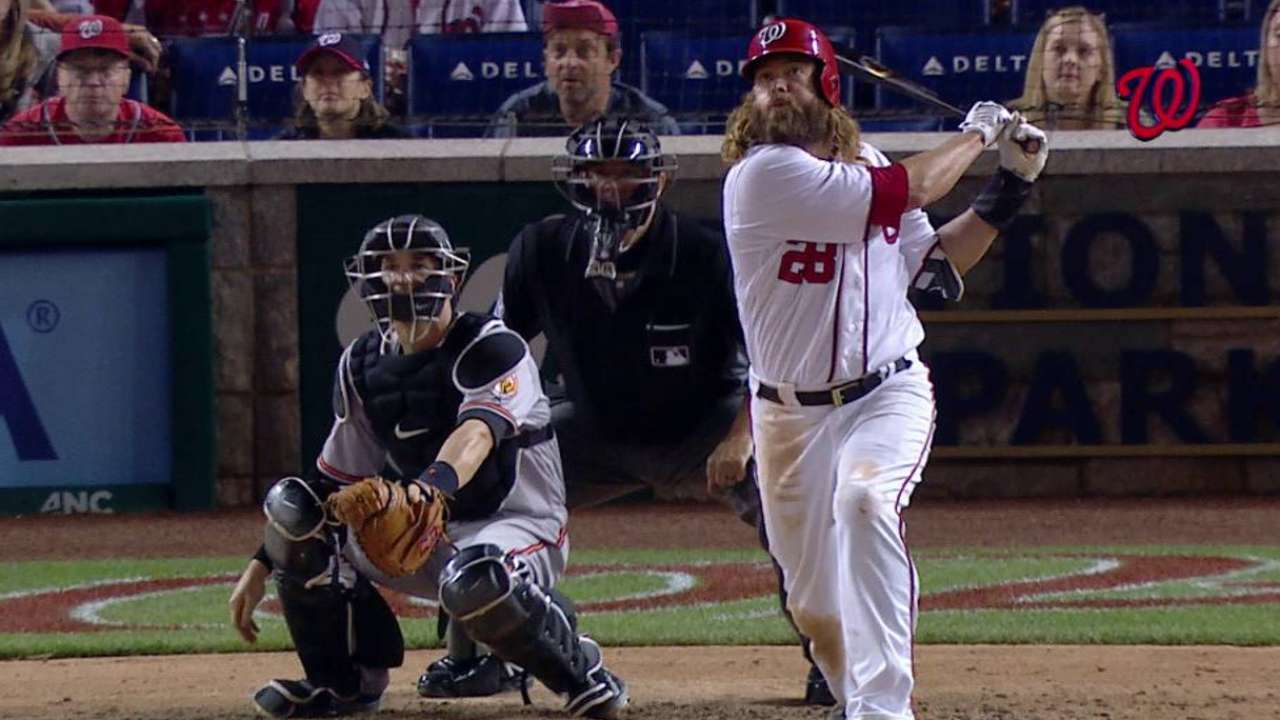 Every game has a turning point, where one team takes a big leap toward victory, whether it's a towering home run, a squeeze bunt, a bases-loaded strikeout or a run-saving catch.
Thanks to a metric called win expectancy, we can attach numbers to these swings in fortune. Win expectancy, expressed as a percentage, shows a team's chances of victory at a particular point in time. This is based on historical data showing how clubs have fared in different situations, based on factors such as the score, the inning, how many outs there are and which bases are occupied.
Using win expectancy as a guide, here is a look at three plays that served as turning points in Wednesday's games:
Nationals strike back
Game: Orioles at Nationals
Situation: After the Orioles took the first two games of the Beltways Series in Baltimore, it was up to the Nationals to protect home turf. But Baltimore appeared to be on its way to a seventh straight win when Mark Trumbo walloped a two-run homer in the top of the fifth and Manny Machado followed with a solo shot in the seventh to push the O's lead to 6-2.
That's when the Nationals began clawing back. Michael Taylor hit a two-run homer -- his first of the season -- in the bottom of the eighth to cut the lead to two. Reliever Matt Albers followed with a clean top of the ninth, and Jayson Werth dug in to lead off Washington's last turn at bat against Orioles reliever Brad Brach.
Result: Werth led all Major League hitters by seeing 4.6 pitches per plate appearance last season, and has built a reputation for getting stronger as he sees more pitches in an at-bat. Werth's ninth-inning plate appearance was a vintage example, as he fouled off six pitches from Brach until barreling the 11th pitch of the at-bat over the right-center-field wall for a solo homer.
Werth's teammates fed off his persistence. Bryce Harper doubled, Daniel Murphy was intentionally walked and Anthony Rendon singled, loading the bases for former Oriole Matt Wieters' walk-off hit.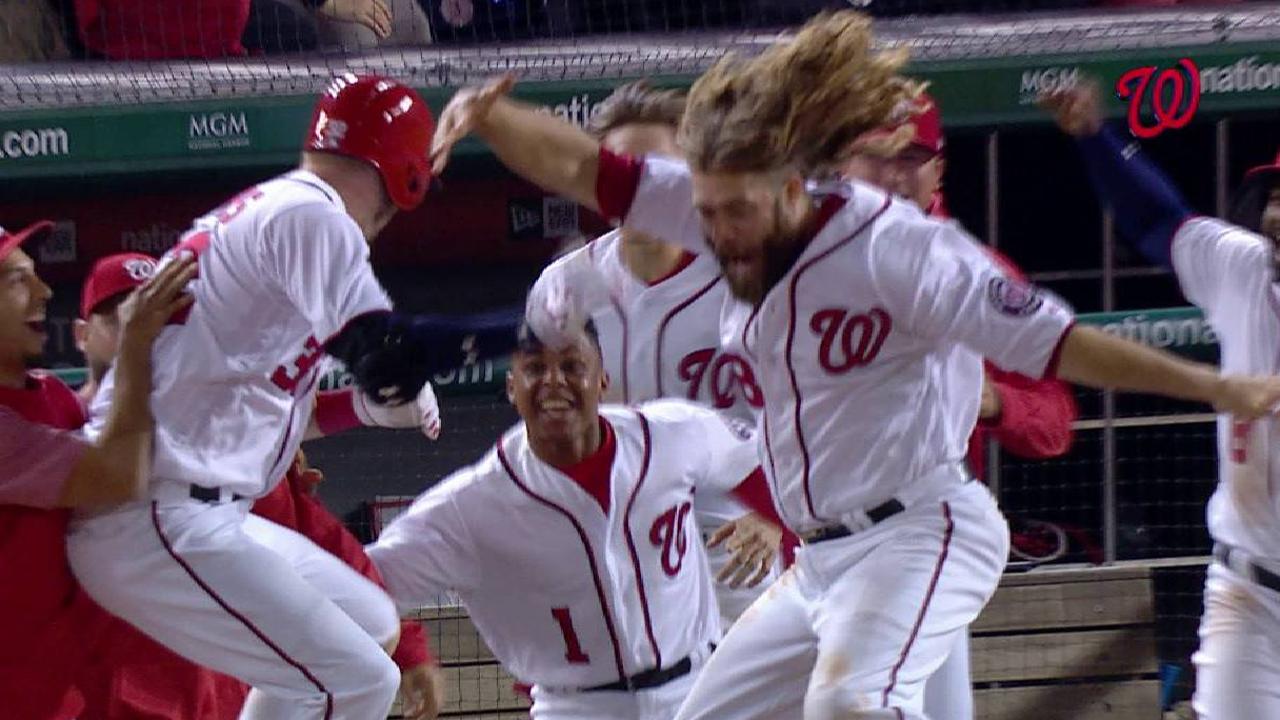 Win expectancy for Nationals: +11.0 percentage points (9.2% to 20.2%)
Facts to know:
• Brach has been terrific filling in for injured closer Zach Britton, having held batters to a .139 average (5-for-36) against his four-seam fastball coming into Wednesday's game. But Werth found a way to connect with Brach's four-seamer for his tide-turning home run.
• Wieters recorded eight walk-off hits as a member of the Orioles before getting a small measure of revenge Wednesday night. Baltimore chose not to re-sign the veteran catcher when he was a free agent this past offseason.
They said it: Orioles manager Buck Showalter on Werth's home run: "Werth put a really good at-bat on [Brach]. He made some good pitches, [and Werth] finally got a ball he could do something with."
Giants get off the mat
Game: Giants at Mets
Situation: The Giants, who came into Wednesday with the Majors' worst record at 11-23, had already dropped their first two games in Queens and trailed 3-2 in the top of the ninth with Mets closer Jeurys Familia on the mound. But the Giants showed signs of life when Joe Panik drew a walk and Eduardo Nunez reached on an error by Wilmer Flores. Hunter Pence, who came in 4-for-5 in his career against Familia, came up with two on and one out.
Result: Pence laid off a pair of sinkers before smacking a grounder under the glove of a diving Jose Reyes at third. Panik came home to score the tying run, setting the stage for Christian Arroyo's bases-clearing three-run double. Derek Law gave up a pair of runs in the bottom half but survived to give San Francisco a much-needed 6-5 victory.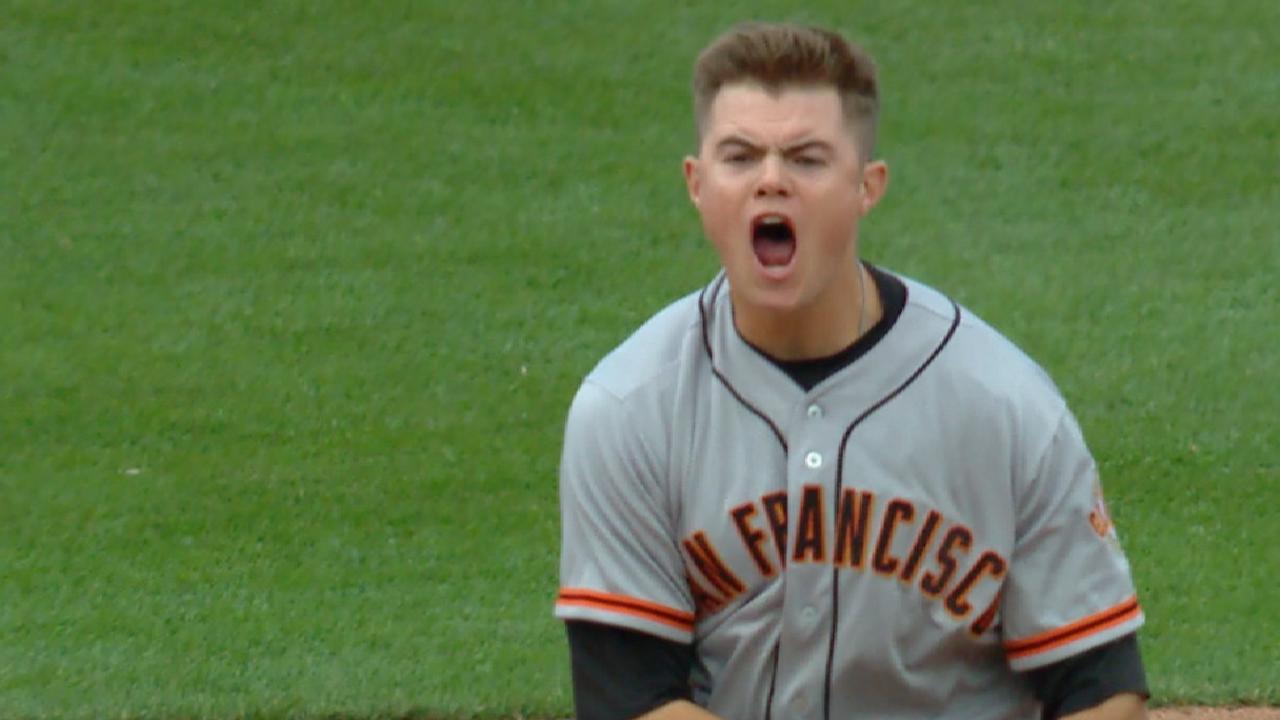 Win expectancy for Giants: +31 percentage points (27.2% to 58.2%)
Facts to know:
• It had been two years to the day since San Francisco had won a game in which it trailed after the first eight innings. The Giants were winless in their last 133 such games before their ninth-inning rally Wednesday at Citi Field.
• Entering play Wednesday, the Giants owned the Majors' worst slugging percentage (.222) and second-worst batting average (.159) against pitches of at least 95 mph. Per Statcast™, San Francisco also had posted the highest rate of "poor contact" on balls in play (75 percent) against those 95-plus mph pitches. The fastballs Pence and Arroyo hit off Familia registered at 96.4 and 95.4 mph, respectively.
They said it: Giants reliever George Kontos on the rally: "That's that never-give-in, never-quit attitude that we pride ourselves in having. Hopefully we can find a little bit more of that moving forward."
Carrera goes yard
Game: Indians at Blue Jays
Situation: This game was turned over to the bullpens early. Blue Jays starter Francisco Liriano gave up seven runs in two-plus innings, while the Indians' Danny Salazar lasted only two outs longer after allowing five. Cleveland held a 7-5 lead in the bottom of the fourth when Ezequiel Carrera came to the plate with a man on second.
Result: The Indians' bullpen entered the game with a Major League-best 1.75 ERA, but that figure took a dent Wednesday at Rogers Centre. Carrera swung at the second pitch he saw from Dan Otero and belted a line-drive home run to right field to tie the game at 7. The teams remained knotted up until the bottom of the ninth, when Ryan Goins hit a single against Cody Allen to bring home Carrera with the winning run.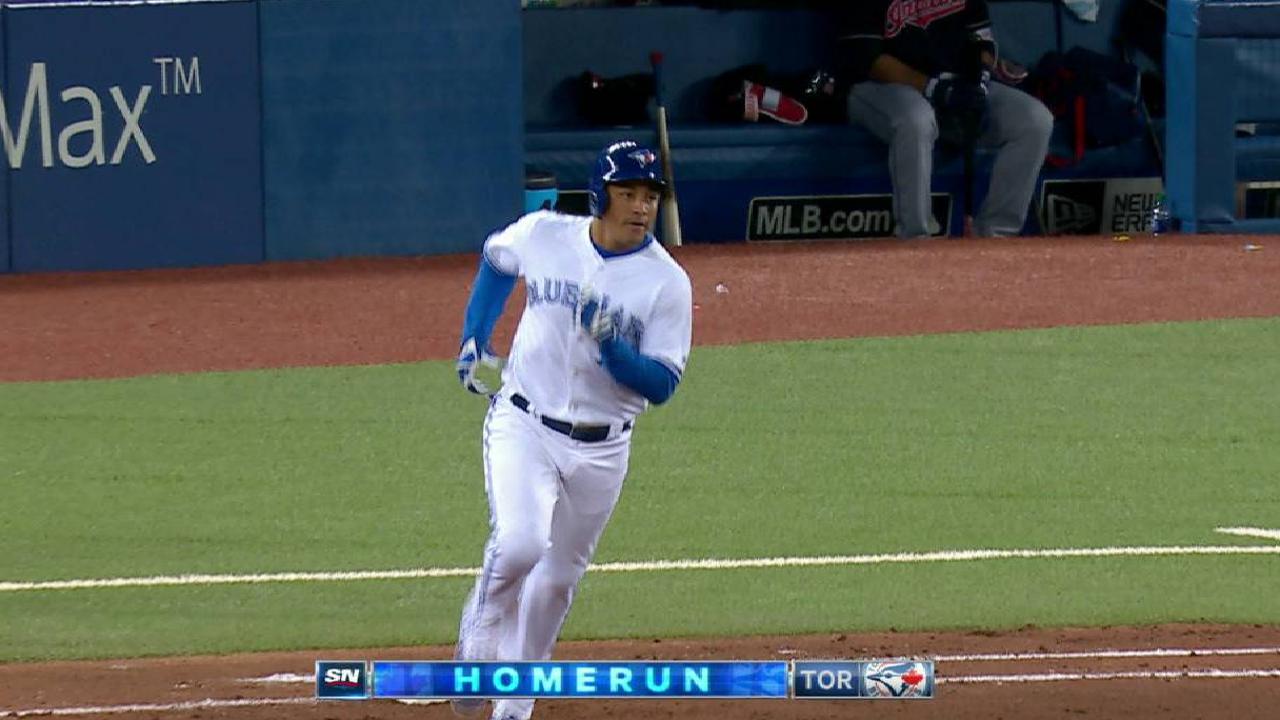 Win expectancy for Blue Jays: +22 percentage points (29.4% to 51.4%)
Facts to know:
• Carrera's big blast left his bat with an exit velocity of 104.9 mph, marking his second-hardest-hit home run since Statcast™ began tracking exit velocity in 2015. Carrera has already hit half as many homers this season (three) as he had all last year.
• Carrera's home run was also just the third allowed by Indians relievers this season, and the first since April 18.
They said it: Indians manager Terry Francona on Carrera's home run: "We get to Otero and he throws the one pitch probably that Carrera [can hit out]. The two-seamer that ran back, and kind of right into his swing. And then, when you're on the road, you're always a pitch or a hit away from what happened."
Matt Kelly is a reporter for MLB.com based in New York. Follow him on Twitter at @mattkellyMLB. This story was not subject to the approval of Major League Baseball or its clubs.