Scoring chances slip from Marlins' grasp
Miami leaves 11 on base in series-ending loss to Cardinals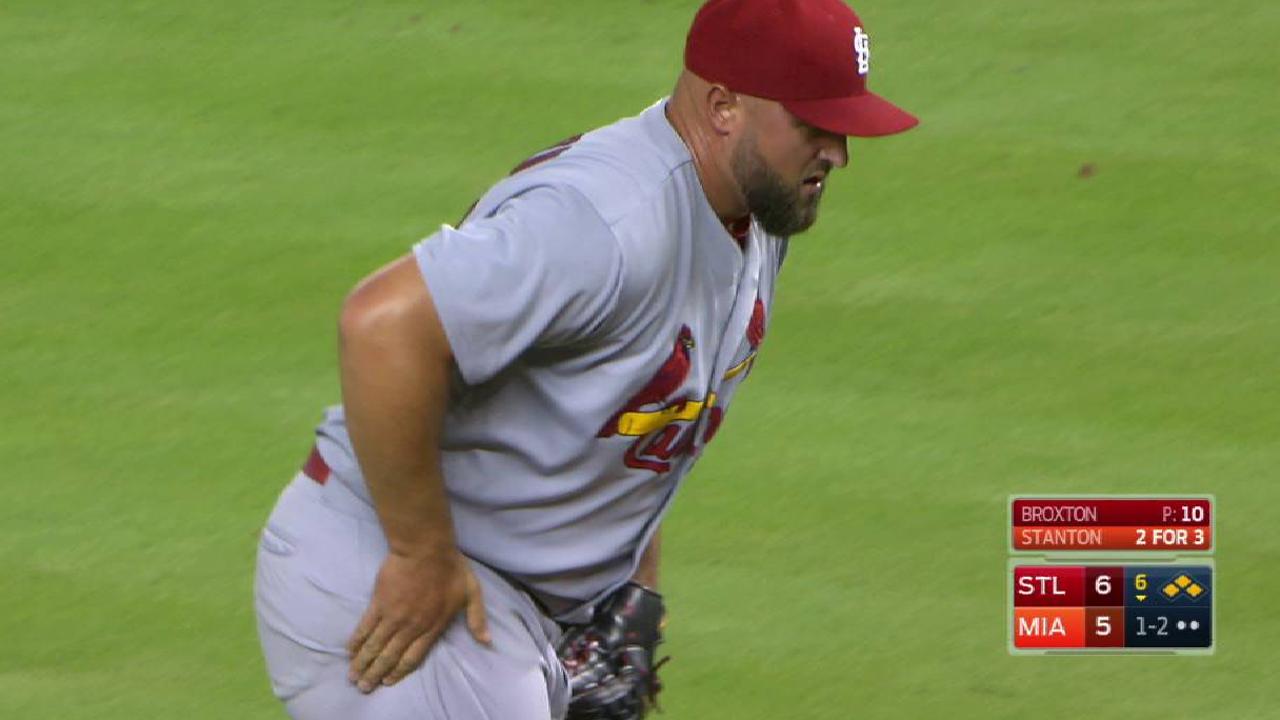 MIAMI -- They watched a four-run lead slip away and still had some chances to rally late, with the middle of their order at the plate. They even had the matchups they wanted, with Giancarlo Stanton twice at bat with runners in scoring position.
But the big hit eluded the Marlins. Even a liner down the right-field line off the bat off Steve Lombardozzi, which would have tied the score in the ninth inning, fell a few feet foul. It was that kind of night for Miami on Wednesday in a 7-5 loss to the Cardinals at Marlins Park.
The Marlins lost their third straight to the Cardinals and have won just three of their last 15 games, even though the opportunities have been there.
"You can still look at our guys and say these guys are capable of scoring runs," manager Don Mattingly said.
They did just that on Wednesday, scoring four in the first inning, when Christian Yelich homered and Justin Bour blasted a three-run homer off Lance Lynn.
Yelich's drive, per Statcast™, was projected at 442 feet. It was his longest homer of the season, and third farthest since 2015.
Miami knocked at the door in the late innings. But in the sixth, with two outs, the bases full and the count 1-2, Cardinals reliever Jonathan Broxton retired Stanton on a 96.6-mph fastball that resulted in a groundout.
In the ninth, with the Marlins down by two and facing closer Seung Hwan Oh, Yelich doubled and Marcell Ozuna drew a walk, capping an eight-pitch at-bat.
Stanton stepped up with the tying runs on but grounded into a 6-4-3 double play.
"We're capable," Mattingly said. "One thing we have to remember, as a group, is we're capable of putting some wins together and still playing pretty good baseball."
With Yelich on third, Bour was intentionally walked, and Lombardozzi nearly became an unlikely hero.
In his first big league game since 2015, the switch-hitting second baseman lined a pitch just foul to right. Had the ball stayed fair, two runs would have scored. Instead he ended up grounding back to Oh, who tossed to first for the final out.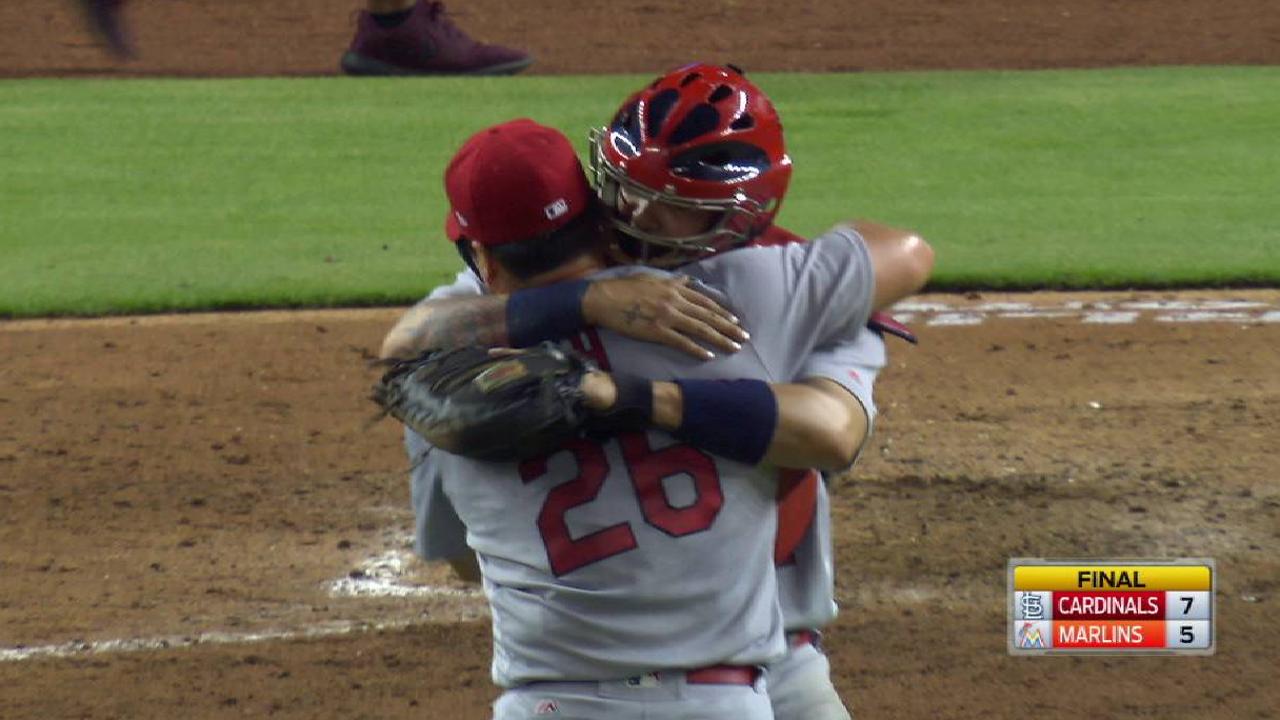 "Off the bat, it seemed like it had a chance to remain fair," Lombardozzi said. "But it seemed like right at the end, it kept going."
Lombardozzi got the start because J.T. Riddle was scratched due to a bruised right finger.
"You never want to see a guy get hurt," Lombardozzi said. "Hopefully, Riddle is OK. You've got to be ready when your name is called. I was happy to get in there. I wish I could have helped us get the W. It was a good game, overall, though."
Joe Frisaro has covered the Marlins for MLB.com since 2002. Follow him on Twitter @JoeFrisaro and listen to his podcast. This story was not subject to the approval of Major League Baseball or its clubs.