Mark it down: Archer delivers against Royals
Rays right-hander notches 8 shutout frames, 11 strikeouts
ST. PETERSBURG -- Chris Archer did what top-of-the-rotation pitchers are supposed to do: He stopped the losing.
The Rays snapped a three-game skid with Wednesday night's 12-1 win over the Royals, who had taken the first two in this four-game set. Somebody needed to step up. And while the offense did its part, the right-hander took care of business, shutting down a Royals offense that had scored 14 runs in its previous two games against the Rays with eight scoreless innings and 11 strikeouts to earn his third win of the season.
"First and foremost, the fact that we put 12 runs on the board, that's going to help us get a team win pretty much every night," Archer said. "That was huge. The defense made some sound plays, they made some tough plays look routine, which helped me out. So it wasn't all me. We made some plays back there and [catcher Derek Norris] put down some great fingers, and I followed his lead, and we put up a lot of runs."
Rays manager Kevin Cash couldn't say enough positive things about Archer.
"Archer came out and, you know, we really needed a quality outing and he provided that for us," Cash said. "He was just tremendous. He's been on a nice little run here. Getting deep into the ballgames. Limiting his pitch count. Obviously his punchouts. Giving us every opportunity to win the game."
The Rays needed eight pitchers to get through Tuesday night's extra-innings loss, so they not only needed Archer to pitch well, they needed him to go deep.
"We really needed that from a bullpen standpoint and it's nice to see him step up and provide that," Cash said. "We came into the game knowing, we felt we had the right guy on the mound to kind of clean up the bullpen. Get some guys some rest and that's what took place. Definitely expressed that to Arch. He knew how bad we needed it. But it never hurts to hear it."
Archer exorcised some personal demons, too, as the Royals had a history of having their way with him, hanging four losses and a 5.63 ERA on the ace in five previous starts.
"He was exceptionally tough, a really, really, really good slider, a good fastball, good changeup," Royals manager Ned Yost said. "That slider, he located it. He can throw it backdoor for a strike when he wanted to or backfoot to our lefties when he wanted to, and it was just sharp."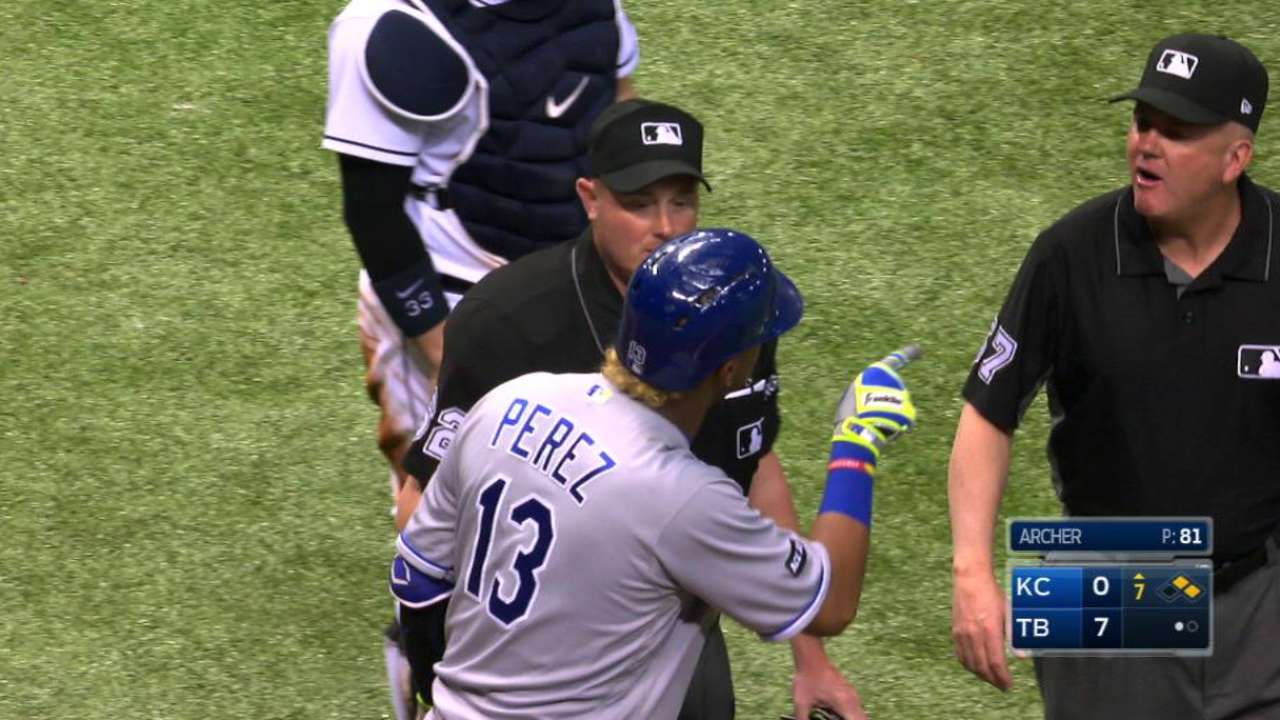 Archer was extremely efficient. Of his 101 pitches, 73 were for strikes. Of course that proficiency added suspicion about intent when he hit Salvador Perez in the seventh inning. That prompted Perez to begin jawing at Archer, who jawed back.
Both teams went on high alert momentarily, then Archer got back to business, unfazed by the incident.
"Dino [Norris] and I were on the same page all night," Archer said. "He threw some things down there that I shook off and he put it back down. Ended up going with it and we got a positive outcome, so when you're on the same page with a catcher like that, you're capable of special things."
Archer was asked if this was the best he's been all season.
"Honestly, I've been feeling pretty good," Archer said. "I think this was the game that I've executed at the highest level. But I've been feeling pretty good all season."
Bill Chastain has covered the Rays for MLB.com since 2005. This story was not subject to the approval of Major League Baseball or its clubs.