Pirates don special wristbands for Taillon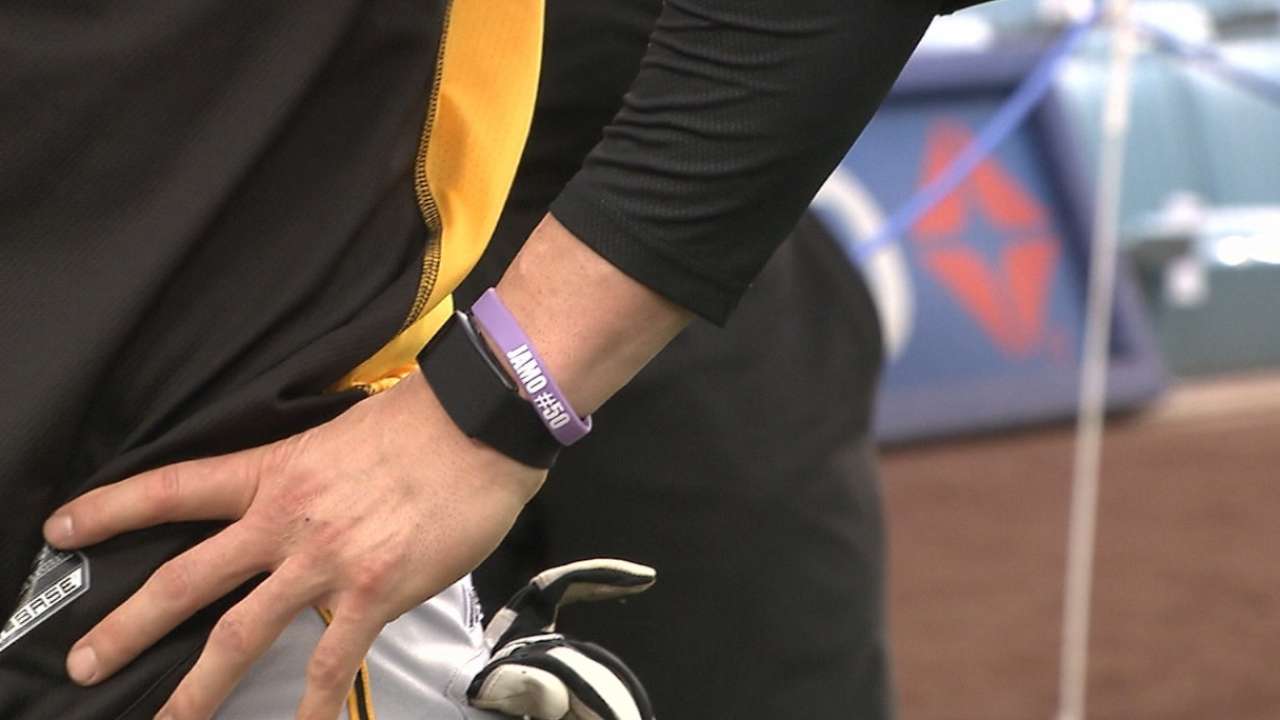 LOS ANGELES -- He is almost 2,500 miles away, but the Pirates wanted right-hander Jameson Taillon to know he was still with them.
Taillon is the Pirates' highly regarded 25-year-old pitcher who Monday had surgery in Pittsburgh for suspected testicular cancer.
On Wednesday, the Pirates unveiled light purple wristbands for their team and traveling party with his nickname and number written on them: Jamo #50. Players were all wearing them prior to their series finale against the Dodgers.
• Taillon has surgery for testicular cancer
Tonight all Pirates players and coaches received Jamo #50 wristbands in support of Jameson Taillon. pic.twitter.com/RN0yjrKkZw

— Pirates (@Pirates) May 10, 2017
Manager Clint Hurdle said it was simply a way for Taillon to know his team and organization had him in their thoughts.
"I think it is," Hurdle said. "I'm not sure how far-reaching it will end up being. I'm sure there will be a lot of people who ask about it. We received them today.
"It's one way that we can let him know we're thinking about him all the time."
Team head trainer Todd Tomczyk said the team had no update on Taillon's condition.
"There's nothing new to report at this time," Tomczyk said. "Unbelievable man, unbelievable human being. Jameson and I speak frequently about life. He's in a good spot mentally, but there's nothing new to report."
• Teammates have faith in Taillon's resilience
#JamoStrong pic.twitter.com/BZpUXGDM3z

— Daniel Hudson (@DHuddy41) May 10, 2017
Taillon was the Pirates' No.1 pick (second overall) in 2010, but missed the 2014 and '15 seasons following Tommy John surgery and a subsequent hernia. He returned last season at Triple-A Indianapolis before getting his call to the Pirates, going 5-4 with a 3.38 ERA in 18 starts.
He was 2-1 with a 3.31 ERA in six starts this season before his unexpected surgery.
"It's unfortunate, obviously, but Jamo is an extremely strong willed, mentally strong guy," said fellow pitcher Tyler Glasnow. "If it had to happen to anyone, he would definitely take it the best.
"What I've heard lately, it's been good news. As of now, it hasn't spread or anything. We're all glad to hear that."
Glasnow was also a teammate of Taillon's last season at Indianapolis.
"I'm not sure when we're going to see him next," Glasnow said, "but I'm excited to see him and chat it up with him."
"We're wearing these bracelets to let him know we're thinking about him, hoping he has a quick recovery and is back out pitching for us."
Steve Dilbeck is a contributor to MLB.com based in Los Angeles. He covered the Pirates on Wednesday. This story was not subject to the approval of Major League Baseball or its clubs.