MLB.com Columnist
Tracy Ringolsby
More #ASGWorthy: Arenado or Bryant?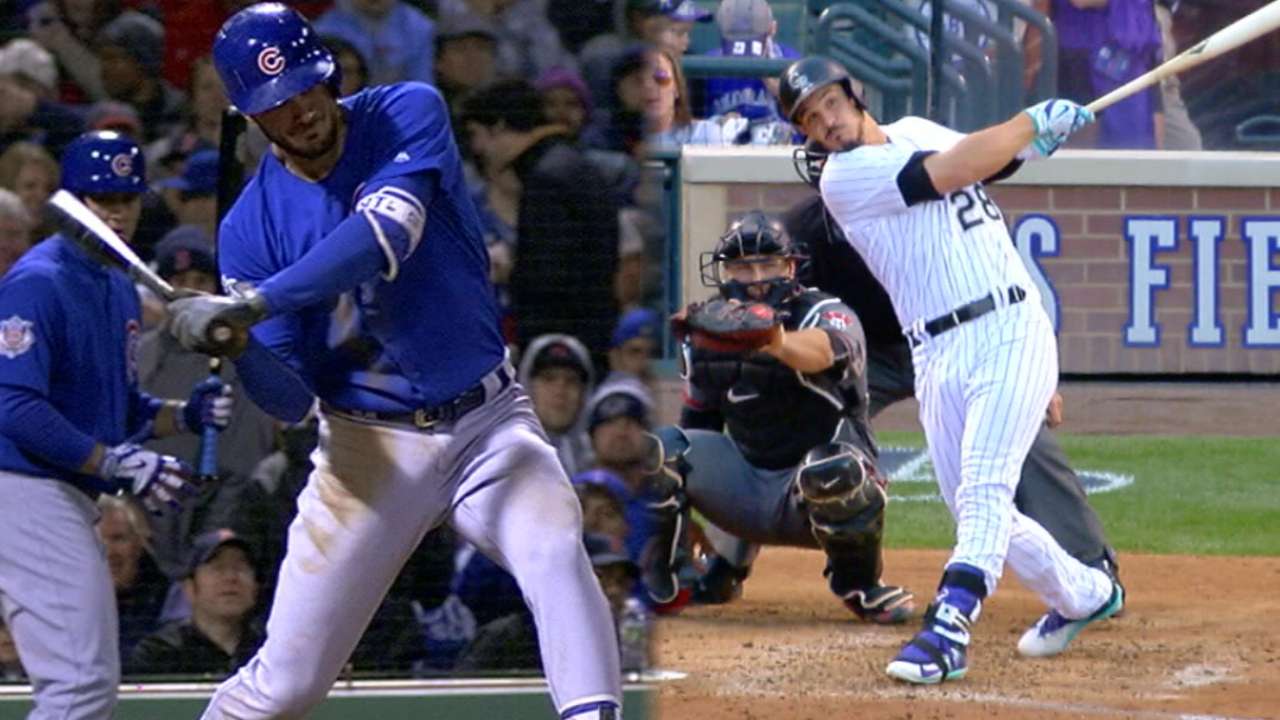 DENVER -- Cubs third baseman Kris Bryant won the National League Rookie of the Year Award in 2015 and the NL MVP Award in 2016, selected by members of the Baseball Writers' Association of America.
Rockies third baseman Nolan Arenado has won the NL Gold Glove Award each of his four years in the big leagues, and the past two years he has earned the NL Silver Slugger Award, coaches and managers voting him the best at the position in both categories.
They both have been added to the NL All-Star team the past two seasons, including Bryant being selected to start a year ago.
And to think, they were almost teammates.
• Cast your Esurance All-Star ballot for Bryant, Arenado and other #ASGWorthy players
Bryant was selected by Chicago with the second pick in the 2013 Draft, just ahead of Colorado taking right-handed pitcher Jon Gray third overall.
The pre-Draft speculation was that the Cubs were debating Bryant and Gray, with a strong feeling they felt pitching was a bigger need. Rockies scouting director Bill Schmidt was comfortable either way.
With Arenado in place, that would have meant Bryant would have been most likely a right fielder.
"Coming into the Draft, not many people expected me to stay at third," admitted Bryant. "I mean, in college I wasn't that great of a third baseman, but I feel I've made a lot of strides in that area. Just the reps and playing 162 games makes it a little easier, too."
A lot of strides? Bryant has made enough strides that one of the ongoing debates in baseball is Bryant vs. Arenado, who is the best at third base?
That is, debates among baseball media, fans and even managers, coaches and players.
Players other than Arenado and Bryant, that is. They have respect, not envy, for each other.
"As a competitor you want to be the best player you can be, the best third baseman you can be and the best third baseman in the game," said Arenado.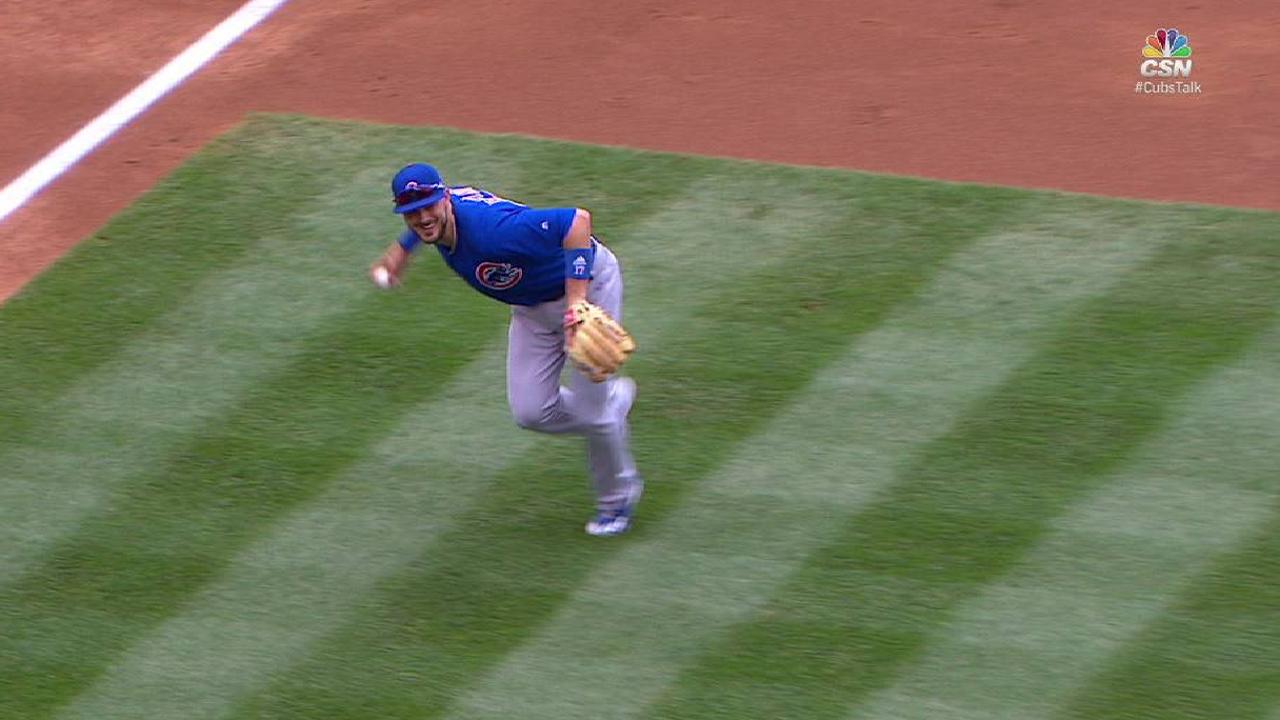 As for Bryant ...
"I like watching him play," said Arenado. "I respect his game, for sure, but I don't sit here and compare and contrast. I think that's more for other people. But he brings a lot of things to the table that are really fun to watch, and I believe I bring certain things to the table."
One thing Arenado brings is an uncanny ability to make defensive plays that seem unmakeable.
"I can learn a lot from him, just watching him and how he goes about it," Bryant said. "Something I noticed is he likes to throw the ball on the run, which takes a lot of skill. Obviously he is one of the best. Stuff like that I have picked up on taking ground balls with him at All-Star Games."
It might seem like simple reactions for Arenado, but it's not. It's his focus that has allowed him to excel on defense.
"The things that happen in the game, I take pride in doing them," said Arenado. "I work hard on those plays, the barehand pickup, throwing on the run. In between pitches, I'm thinking. Like [last weekend against Arizona], A.J. Pollock pulls the ball hard and I felt if he hit it to me, I was going to tag third and go to second.
"I ended up tagging third but going to first. But I had that play figured out in my mind, before the ball was hit. I want to make sure I was ready to do it. I don't like to be surprised on the field. I want to make sure I have those things planned in my head."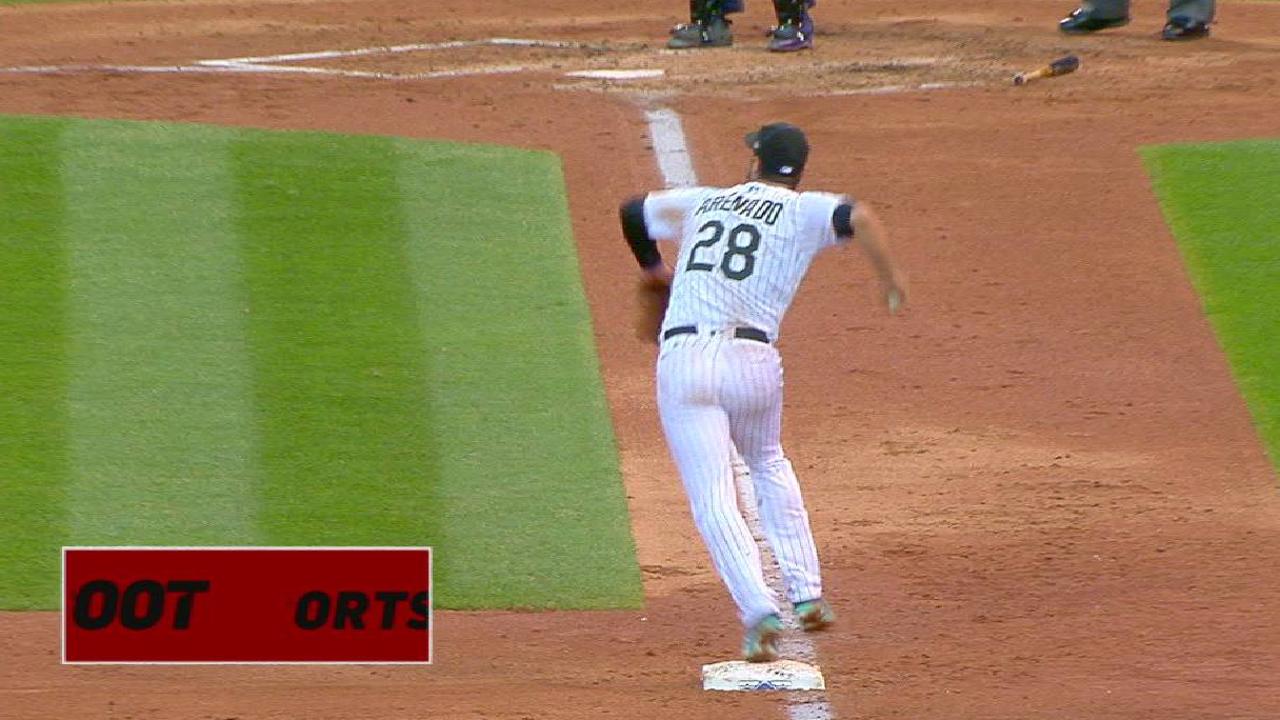 So who's the best?
"You can't go wrong with anyone," Bryant said. "Third base is one of the better positions in baseball [now]. You have [Josh] Donaldson, and obviously Arenado has been a killer over there and then [Manny] Machado. The names go on and on."
It could well be the Golden Age of Third Basemen.
"I love watching Adrian Beltre," said Arenado. "Machado is obviously a lot of fun. I think Martin Prado's done pretty darn well, too, and don't forget Justin Turner."
But in the NL the talk about third base comes down to Arenado and Bryant, neither of whom had big-time third-base pedigrees as amateurs but both of whom have made their presence felt in the big leagues.
Arenado was a shortstop in high school who even had a shot at catching, knowing he did not necessarily have that big league quickness to play short. And Bryant moved around, even when he was in college, playing first base and the outfield as well as third base.
"Coming into the Draft, not many people expected me to stay at third, so that was something I took to heart," said Bryant. "I love hearing those 'You can't do this' from people."
Bryant doesn't hear that much anymore.
Tracy Ringolsby is a national columnist for MLB.com. This story was not subject to the approval of Major League Baseball or its clubs.