Lonely hugs: Another solo shot for Freeman
Braves not giving slugger chance to plate more runs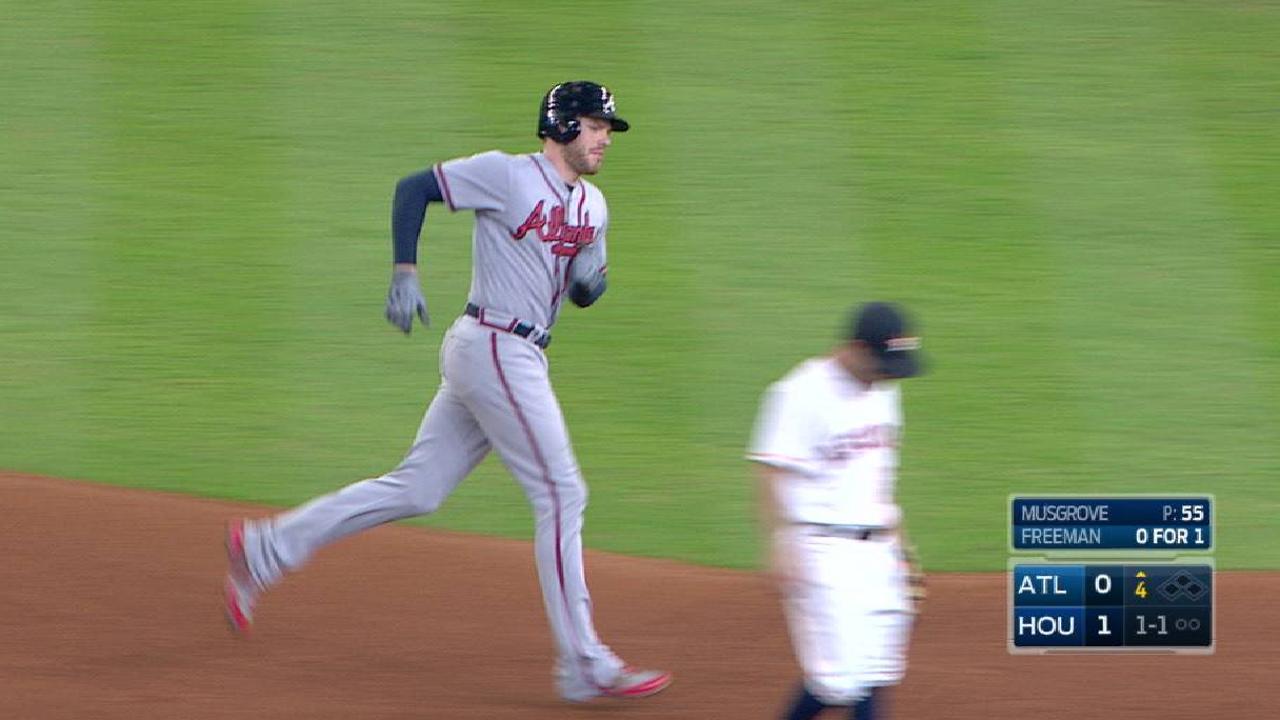 Even with Matt Kemp's potent bat lurking in the on-deck circle, the Astros were willing to pitch around Freddie Freeman and load the bases while holding a two-run lead with two outs in the eighth inning of Wednesday afternoon's 4-2 win over the Braves at Minute Maid Park.
There's no way around the likelihood opponents will be continue taking gambles similar to this one, which proved fruitful when Kemp struck out against Will Harris. But the Braves can't afford to see the top of their lineup continue to deny Freeman the chance to maximize the value of his MVP-caliber production.
• Cast your Esurance All-Star ballot for Freddie and other #ASGWorthy players
"That's something that we're trying to rectify," Braves manager Brian Snitker said. "It's been good in spurts but not real consistent. I wish it was an easy fix. It's the way it happens sometimes. But [Freeman has] been phenomenal all year."
As the Braves lost their sixth straight and for the eighth time in their last nine games, Freeman got them rolling in the fourth inning, when he drilled an opposite-field home run off Astros starter Joe Musgrove. It was the first baseman's 12th home run of the season and MLB-high ninth of the solo variety.
If Freeman were to maintain this pace, he would finish this season with 62 homers, 47 of which would be hit with nobody on base. This would better the MLB-record 46 solo shots Barry Bonds hit during his historic 73-homer season in 2001.
But the Braves' problems extend beyond the fact Freeman has far too often not had any company during his home run trots. The 27-year-old two-time All-Star has hit .336 and generated a 1.200 OPS thus far while manning the lineup's third spot in each of Atlanta's first 31 games. Yet, he has tallied just 13 at-bats with runners in scoring position and ranks sixth on the team with 44 plate appearances with runners on base.
When Dansby Swanson struggled in the second spot of the order, the Braves moved him down and filled that spot with Brandon Phillips, who has since hit .214 and produced a .214 on-base percentage. Leadoff man Ender Inciarte has hit .348 with a .423 on-base percentage over his past 11 games, but the .308 OBP he has generated over the course of the entire season provides a better indication as to why Freeman has had so few run-producing opportunities.
After Freeman hit a game-tying solo homer in eighth inning of Sunday's loss to the Cardinals, the Braves squandered prime scoring opportunities in each of the first three extra innings. Their struggles in these situations extended to Wednesday, when Inciarte struck out with two on and less than two outs in both the third and eighth innings.
"That's tough, just getting a hit, putting the ball in play, whatever," Snitker said. "It's a rough go right now in everything. We just got to keep grinding and working, and eventually you handle something like this and good things will happen on the other end of it."
Mark Bowman has covered the Braves for MLB.com since 2001. This story was not subject to the approval of Major League Baseball or its clubs.