Perdomo solid again, but can't get first '17 win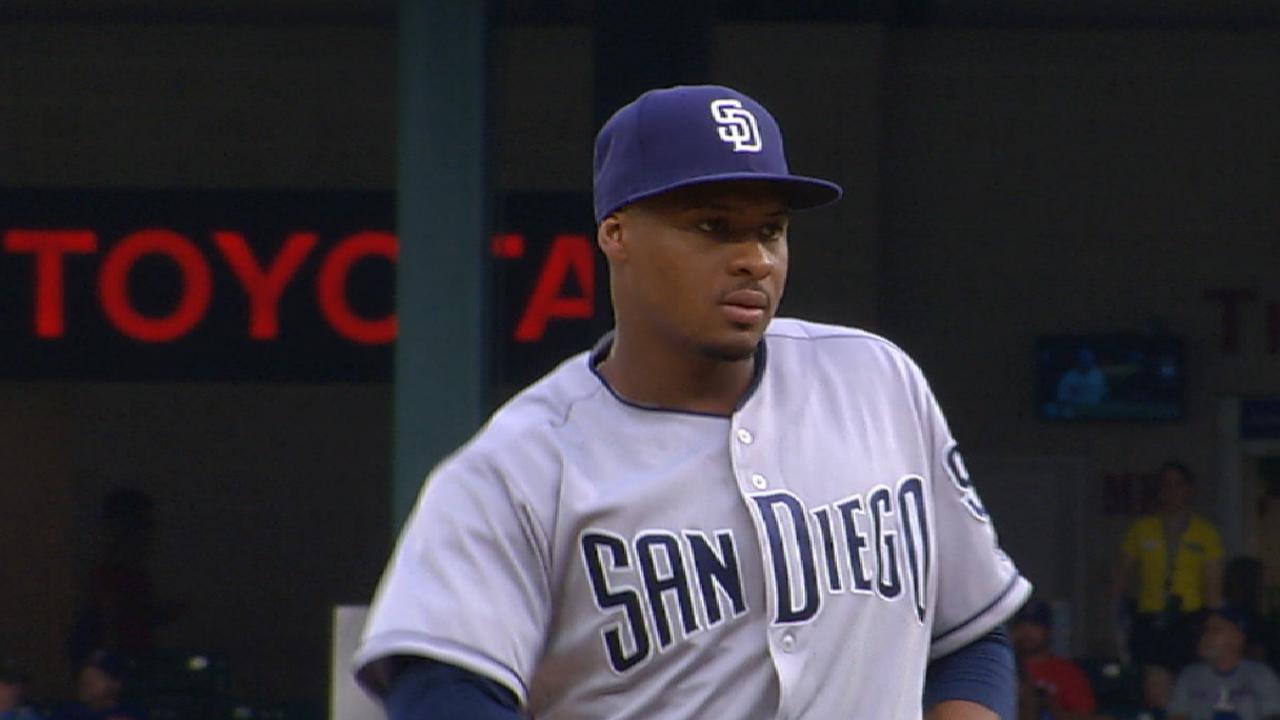 ARLINGTON -- Padres right-hander Luis Perdomo has held up his end of the bargain lately with three consecutive quality starts, but he's still waiting for his first victory of the season after Wednesday's 4-3 loss to the Rangers.
Perdomo walked four Rangers, one intentionally, struck out seven and allowed seven hits. He left after six innings with the game tied 3-3, and manager Andy Green said his hard-luck starter deserved more help from the offense, which scored all three of its runs in the first two innings off Rangers starter Yu Darvish.
"Perdomo was good today -- good enough to win a baseball game," Green said. "I think he threw the ball well, but those walks hurt him and we didn't take them on [our] side."
Like Perdomo, Darvish also fanned seven batters, but he didn't walk anybody.
"I feel like we kind of let them off the hook a bit chasing pitches, myself included," said first baseman Wil Myers, whose solo homer in the first gave the Padres a brief lead. "With a guy like [Darvish], with how good his stuff is, if you don't zone him up, he can take advantage of you and take advantage of your aggressiveness. With this young team, we've got to continue to work on that."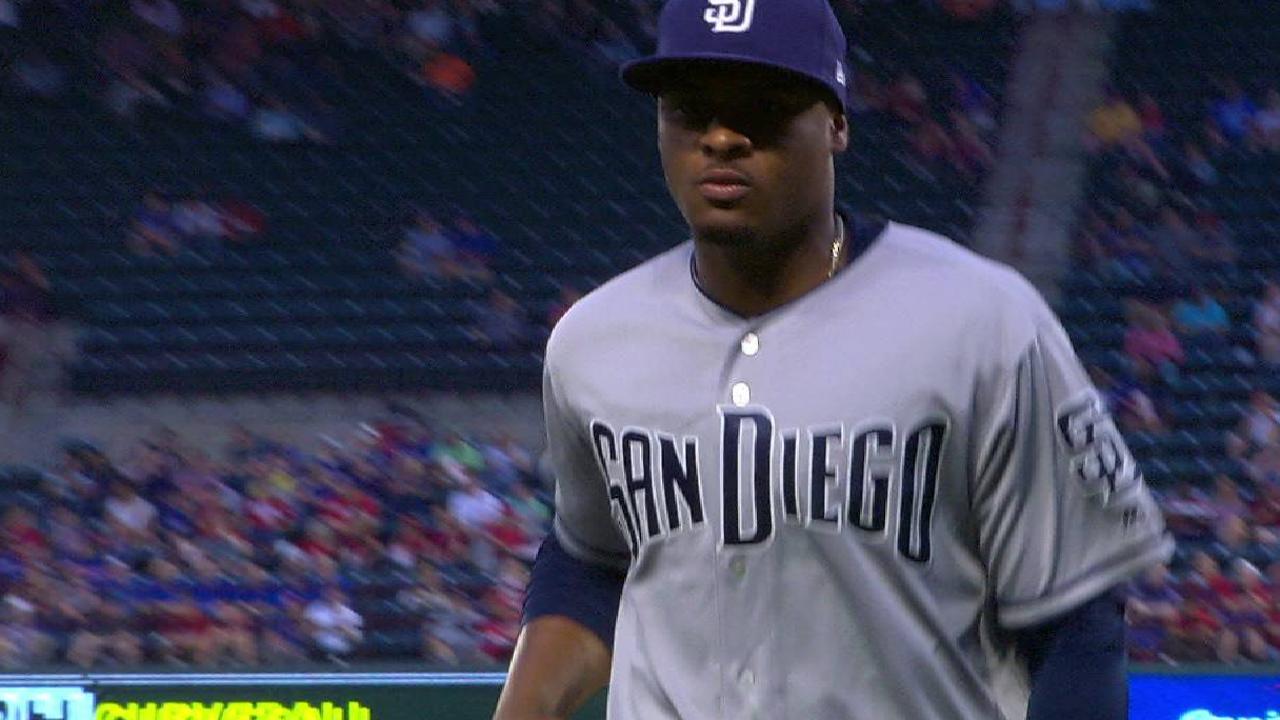 Perdomo, meanwhile, has allowed only eight earned runs in his past 23 innings over four starts, a 3.13 ERA, but has nothing to show for it -- the Padres have lost all of those games. Perdomo has five no-decisions in five starts this season.
"We had plenty of pitching to win the game today. It's just offensively, we don't have enough battle at-bats," Green said. "Watching it over and over, day after day, it's time for that to start to change. Where guys fight for their at-bats and guys refuse to take 'auto-swings' 2-0 and 3-1 -- they actually see the pitch. We didn't do that, we didn't do it again today, and we haven't done it repetitively throughout the year."
After the Rangers' first hitter of the game scored to tie the game, 1-1, Perdomo tossed three scoreless innings, but walks caught up with him in the fifth. Against the bottom third of the Texas order, Perdomo walked the first two batters and then, after a fielder's choice and an RBI single, balked home the tying run with two outs.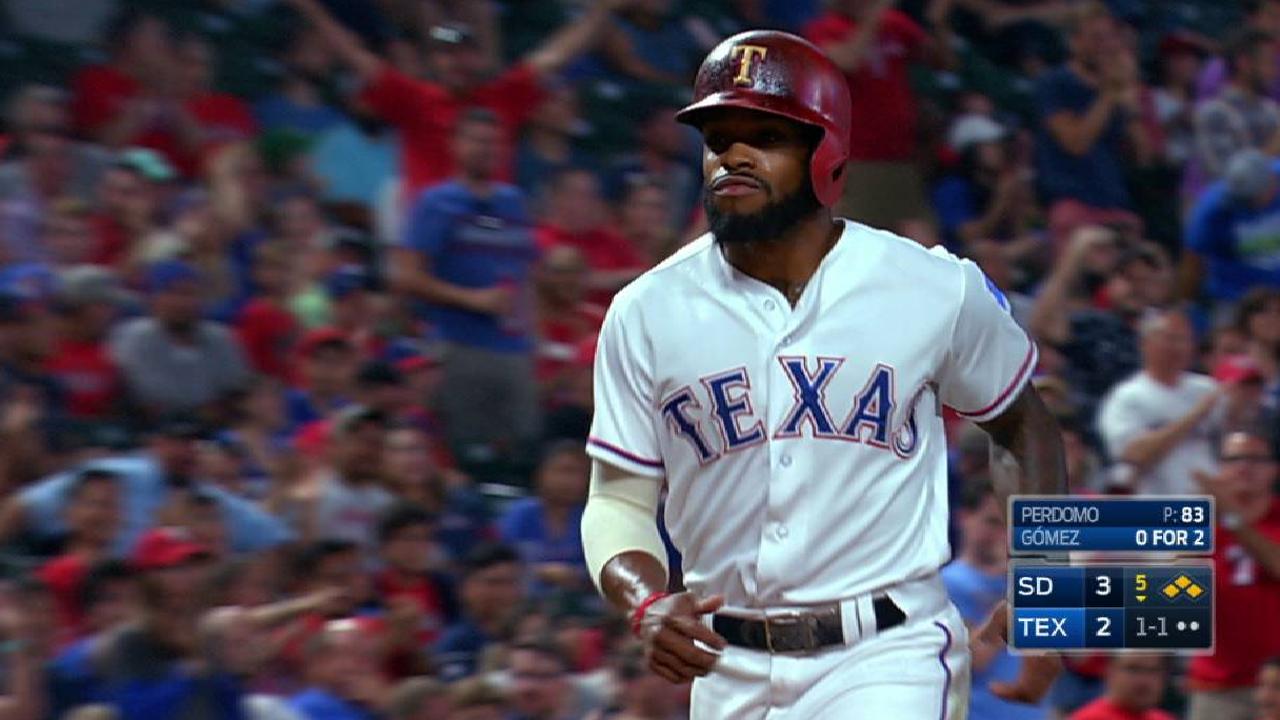 "If he wants to go from the windup in that situation, he's got to settle himself and realize the guy's not going to run 90 feet straight down the line," Green said. "You just look him off, slow him down, let him step back to third and go on with your delivery."
Perdomo breezed through a quick sixth thanks to a sensational diving stop by second baseman Yangervis Solarte and a double play by shortstop Erick Aybar and Solarte. The starter didn't return, however, having thrown 96 pitches, his highest total this season.
Tasked with protecting the tie, Padres reliever Brad Hand instead surrendered the game-winning run without allowing a hit thanks to back-to-back walks and an error on a would-be, inning-ending double play.
Dave Sessions is a contributor to MLB.com based in Texas. This story was not subject to the approval of Major League Baseball or its clubs.