Turning Point: Hardy fights off Romero heat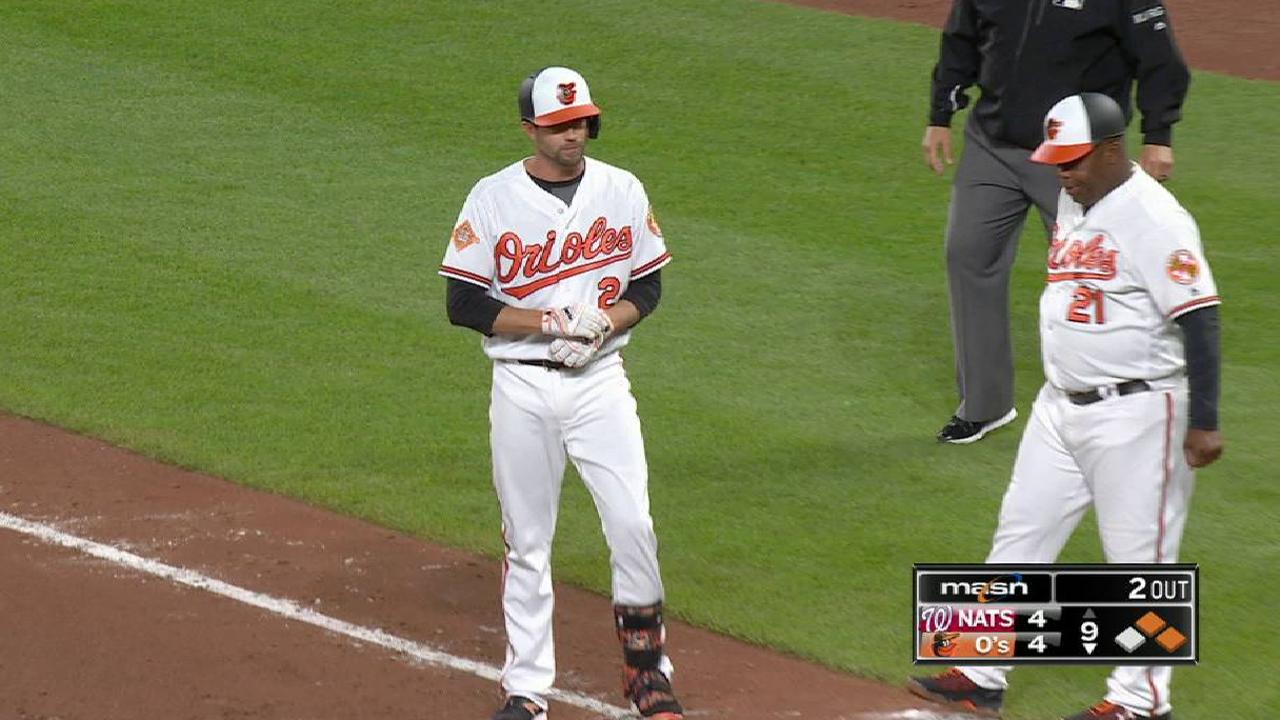 Every game has a turning point, where one team takes a big leap toward victory, whether it's a towering home run, a squeeze bunt, a bases-loaded strikeout or a run-saving catch.
Thanks to a metric called win expectancy, we can attach numbers to these swings in fortune. Win expectancy, expressed as a percentage, shows a team's chances of victory at a particular point in time. This is based on historical data showing how clubs have fared in different situations, based on factors such as the score, the inning, how many outs there are and which bases are occupied.
Using win expectancy as a guide, here is a look at three plays that served as turning points in Tuesday's games:
Hardy fights one off
Game: Orioles at Nationals
Situation: Pride was on the line at Oriole Park at Camden Yards as the Nationals looked primed to even the Beltways Series at one game apiece. Max Scherzer twirled 11 strikeouts over the first eight innings and Adam Lind crushed a tie-breaking, three-run homer in the top of the eighth to give Washington a 4-1 lead.
But the Orioles were far from finished. Adam Jones got a run back with a solo homer off Scherzer in the bottom of the eighth, cutting the Nats' lead to two. In the bottom of the ninth, Mark Trumbo reached on a fielder's choice and advanced to second on a balk by Enny Romero. Jonathan Schoop promptly doubled to right field to drive in Trumbo, sending J.J. Hardy to the plate with two outs and the tying run on second.
Result: Hardy worked Romero to a 2-0 count, then fought off a blazing fastball for a ground ball up the middle that just sneaked under second baseman Daniel Murphy's glove. Pinch-runner Craig Gentry wheeled around to score the tying run and send it to extras, where the O's eventually prevailed in the 12th on Trumbo's walk-off single.
Win expectancy for Orioles: +41.9 percentage points (14.7% to 56.6%).
Facts to know:
• Romero's pitch to Hardy registered at 99.7 mph, per Statcast™, tying for the 11th-fastest pitch turned into a base hit this season. Hardy has only hit one faster pitch for a base hit in the Statcast™ Era -- a 99.8 mph heater from then-Tigers reliever Bruce Rondon on July 18, 2015.
• Baltimore's win expectancy stood at just 9.7 percent when Chris Davis stepped in to lead off the ninth.
They said it: Trumbo on the importance of Tuesday's victory: "This is a big game [with] a great pitcher on the mound for them [in Scherzer]. We knew we're really going to have to fight, and this is definitely a good win."
Devo puts out the fire
Game: Braves at Astros
Situation: Houston ambushed Bartolo Colon for five runs in the first inning and tacked on another when Josh Reddick blasted a solo homer off Colon in the fifth. But shortstop Carlos Correa bobbled two consecutive grounders to begin the top of the sixth, opening the floodgates for Atlanta. Matt Kemp and Nick Markakis each hit RBI singles, and Dansby Swanson later drew a bases-loaded walk to cut the Astros' lead to three. With two outs and the bases still jammed, Astros manager A.J. Hinch replaced starter Charlie Morton with super reliever Chris Devenski to try to escape the inning.
Result: Devenski has fully embraced his "fireman" role for Houston this season, and he came through again Tuesday night. After starting off with two balls to Danny Santana, Devenski battled back to a full count before getting Santana to miss a 96 mph fastball down and away for strike three. Inning over, threat extinguished.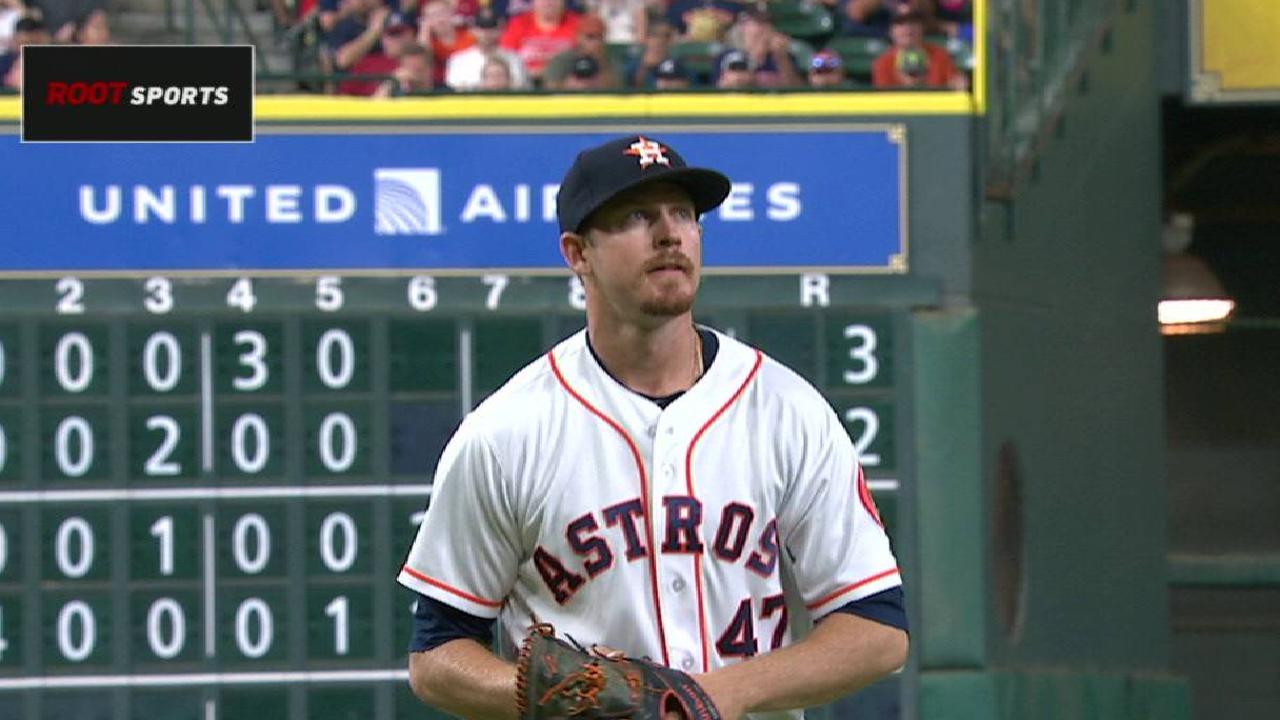 Emboldened by their escape, the Astros tacked on another two runs in the bottom half to extend their lead to 8-3. Devenski came back out for the seventh and collected two more swinging strikeouts -- including one on Freddie Freeman -- as part of a shutdown inning. Luke Gregerson and Michael Feliz put up zeros in the eighth and ninth to preserve the victory.
Win expectancy for Astros: +8.1 percentage points (83.6% to 91.7%)
Facts to know:
• Devenski has faced 77 batters this season, and only 13 of them have reached base safely.
• Devenski is one of the Majors' elite pitchers when it comes to finishing off hitters when he has the chance. Entering Tuesday, he had gotten opposing hitters to whiff on 47.6 percent of their swings with two strikes in the count -- the fourth-highest rate among qualified pitchers.
They said it: Hinch on Devenski's clutch performance: ""He's been remarkable. I'm trying not to pitch him too much. He's a guy that will always take the ball, he's a guy I can put in any situation and he's ready from the start to the finish of the game. He never ceases to amaze."
Gamel guns it home
Game: Phillies at Mariners
Situation: These two clubs rarely see each other, but they staged one of the wildest games of the young season in Tuesday's series opener. A game that featured a combined 27 hits, five homers and three lead changes was perhaps altered most by a defensive play at the plate.
Seattle and Philadelphia were tied at 9 in the bottom of the eighth when Daniel Nava singled and Aaron Altherr doubled to put runners on second and third. The Mariners intentionally walked Odubel Herrera to bring up Maikel Franco with the bases loaded and one out.
Result: Franco attacked the first pitch from reliever Nick Vincent and lifted a fly ball to shallow right field. Mariners outfielder Ben Gamel jogged in, corraled the ball and fired home in one fluid motion. Nava, tagging up from third, had no chance against the missile delivered by Gamel, which landed in catcher Tuffy Gosewisch's glove without a hop. Gosewisch was able to tag out Nava easily for an inning-ending double play, and the Mariners went on to win, 10-9, thanks to Taylor Motter's RBI double in the next half-inning.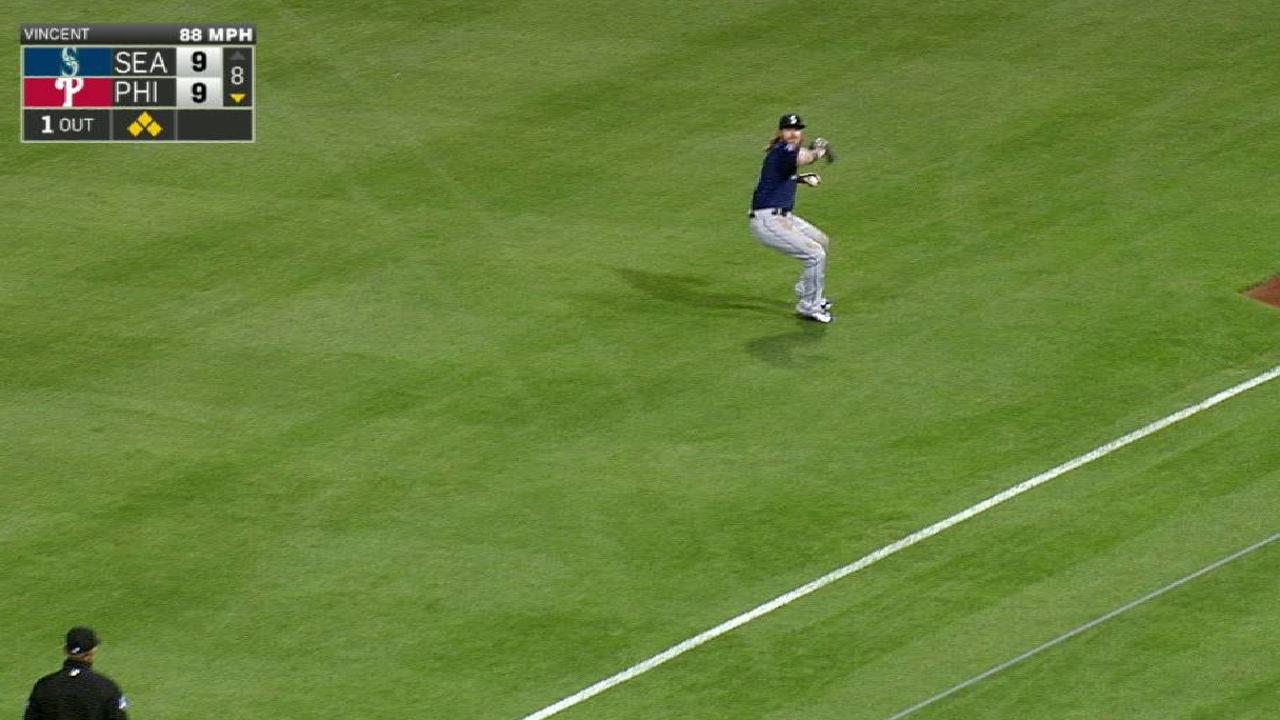 Win expectancy for Mariners: +27.5 percentage points (22.5% to 50.0%)
Facts to know:
• Gamel, who was called up late last month to fill in for the sidelined Mitch Haniger, finished Tuesday's game with a career-high four hits and four RBIs -- including a three-run homer in the fourth inning.
• Seattle came back twice from four-run deficits to win the opener at Citizens Bank Park. The Mariners trailed 4-0 after the first and 9-5 after the fourth.
They said it: Mariners manager Scott Servais: "Awesome win. The guys did not quit at any point in that game. We just kept grinding an at-bat at a time and kept the line moving. They did it tonight. That was fun."
Matt Kelly is a reporter for MLB.com based in New York. Follow him on Twitter at @mattkellyMLB. This story was not subject to the approval of Major League Baseball or its clubs.