Cotton's uneven outing mirrors season
A's righty could be on rotation bubble as Manaea nears return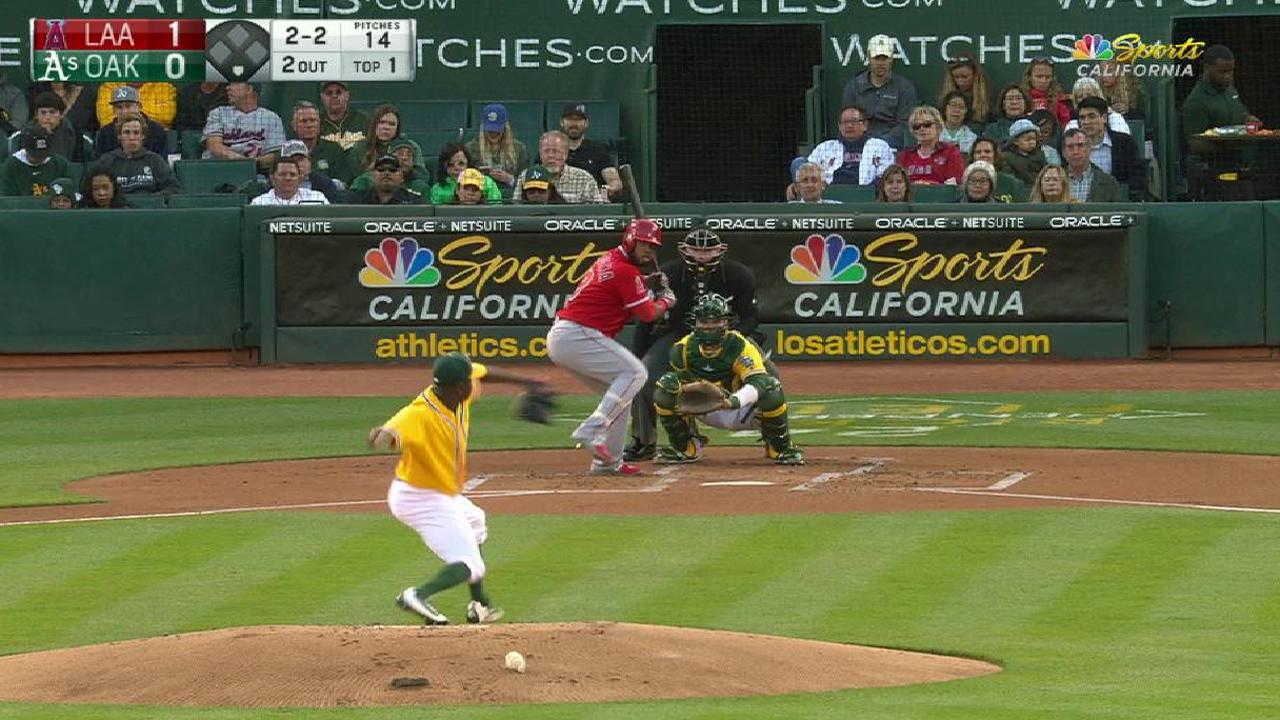 OAKLAND -- The A's No. 4 starter could be out of the rotation soon.
Right-hander Jharel Cotton is presumably on the bubble, following his seven-run outing against the Angels in Tuesday's 7-3 loss that saw him surrender three home runs across five innings.
Cotton, who offered up two-out homers to Albert Pujols, Ben Revere and Yunel Escobar, yielded five other hits, walking one and striking out seven in an uneven outing that largely mirrored his season.
Only in May, though, has the long ball been an issue. Cotton (3-4) has allowed a total of five homers in his last two starts, after giving up just one in his first five outings combined.
"I had everything today, it was just keeping my two-strike pitches down," Cotton said. "I guess they were looking for my changeup, and I just left it over the plate. They got two homers out of that, and the one to Revere, I thought I made a good pitch inside, he just got to it. Just gotta focus more on finishing my pitches down."
The A's will soon have a decision to make, with lefty Sean Manaea expected back from a shoulder injury next week, and the odd man out figures to be Cotton or Jesse Hahn.
Inconsistencies have plagued Cotton's season. The 25-year-old has alternated between strong and shaky starts, with an erratic display of runs allowed in his seven outings: five, zero, five, two, six, three, seven.
"I joke with the guys, saying, I get good start, bad start, good start, bad start, so I just gotta keep working," said Cotton, who was 2-0 with a 3.07 ERA in five September starts last year. "I mean, I won't stop working no matter what. Just go out there to get better every day."
"Sometimes for younger guys, it takes a little while, especially after last year being up for a period of time, having success, starting this year, having good games, having bad games," A's manager Bob Melvin said. "Sometimes it takes a little while to get consistent. He will."
Manaea, who is on the disabled list with a shoulder strain, made a rehab start for Triple-A Nashville on Tuesday, allowing two runs (one earned) and four hits in four innings, walking one and striking out five in the 72-pitch showing.
Jane Lee has covered the A's for MLB.com since 2010. This story was not subject to the approval of Major League Baseball or its clubs.