Felix, Paxton begin working toward returns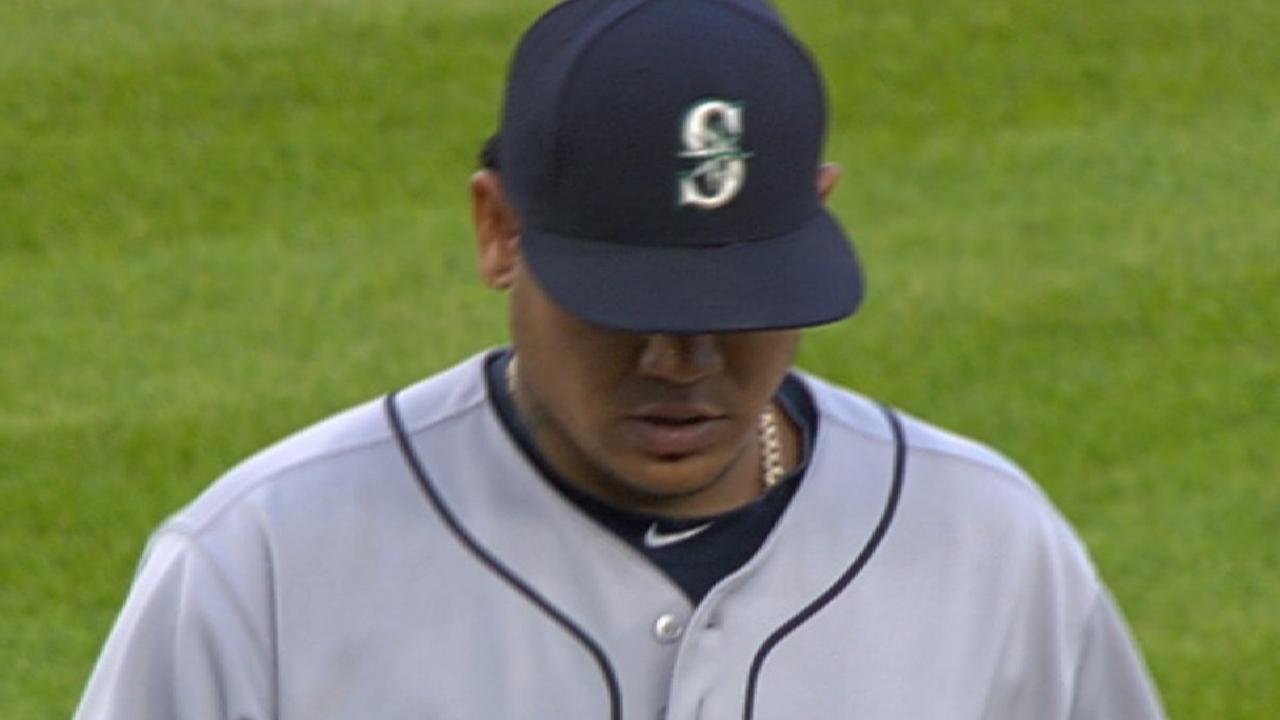 PHILADELPHIA -- Felix Hernandez played light catch at Safeco Field on Monday and manager Scott Servais said James Paxton will begin the same process in the next few days as the two injured Mariners starters begin working toward rejoining the rotation.
Hernandez has been sidelined since April 25 with bursitis in his right shoulder. Paxton joined him on the 10-day disabled list on Friday after being diagnosed with a left forearm strain. Neither accompanied the Mariners on their six-game road trip through Philadelphia and Toronto, but both could be knocking on the door to returning at some point in the next homestand, a seven-game stretch that begins Monday.
"Felix didn't get after it or anything," Servais said. "It was more just putting the ball in his hand and it was positive there. And Pax should start playing catch later this week. Again, the reports from the doctor have been positive. He's testing out with normal strength and everything, so that's moving in the right direction there."
Paxton will likely only have missed two or three starts when he returns, but Hernandez will have been out for five stats or more, and may need a Minor League rehab outing to tune up.
"We'll see," Servais said. "My guess would be yes. But I don't want to get ahead of ourselves. He's got to get out to playing catch at an extended distance and then a couple bullpens and see where we're at."
Other injury updates:
• Rookie outfielder Mitch Haniger is "progressing well" in his rehab on a strained oblique in his right side, Servais said, though he's not yet begun baseball activities and is a little behind Hernandez and Paxton on the return timetable.
"Probably not on the next homestand. You're probably looking at some point in the next road trip before he'd be available," Servais said. "He's going to have to get out and play three or four games before he joins us. He feels totally comfortable and is working his tail off in the pool and the treatments and stuff like that, but he has not picked up a bat yet."
• Reliever Steve Cishek threw 25 pitches in a simulated game on Monday and will head now to Triple-A Tacoma to begin another Minor League rehab stint as he returns from October hip surgery. Cishek threw four games for Double-A Arkansas and one for Tacoma before taking last week off to work with Mariners pitching coach Mel Stottlemyre Jr. during the Mariners' homestand.
• Hisashi Iwakuma's sore left knee was feeling better Tuesday and Servais said the plan remains for him to start Thursday's series opener in Toronto. Iwakuma originally was scheduled to pitch Tuesday, but that start was pushed back after he took a line drive off his leg in his last outing against the Angels.
• Utility infielder Shawn O'Malley had arthroscopic surgery to clean up an issue in his right shoulder on Monday and Servais said it would probably be several months before he's back playing baseball. O'Malley opened the year on the 10-day DL after undergoing an appendectomy late in Spring Training, then was moved to the 60-day DL when a lingering shoulder problem didn't clear up.
• Servais said Saturday's starter in Toronto is still to be determined. Dillon Overton started Sunday in that slot in Paxton's place, with Christian Bergman coming in for long relief after Overton lasted just 3 1/3 innings.
Both are still on the roster and would be the likely choices, though the club could also promote someone. Andrew Moore is making his Triple-A debut on Tuesday for Tacoma and would be in line to pitch again Saturday if the club wants to go that direction with its No. 4-rated prospect, per MLBPipeline.com.
Greg Johns has covered the Mariners since 1997, and for MLB.com since 2011. Follow him on Twitter @GregJohnsMLB. This story was not subject to the approval of Major League Baseball or its clubs.