Inbox: Who should Astros slot in No. 5 spot?
Beat reporter Brian McTaggart answers questions from fans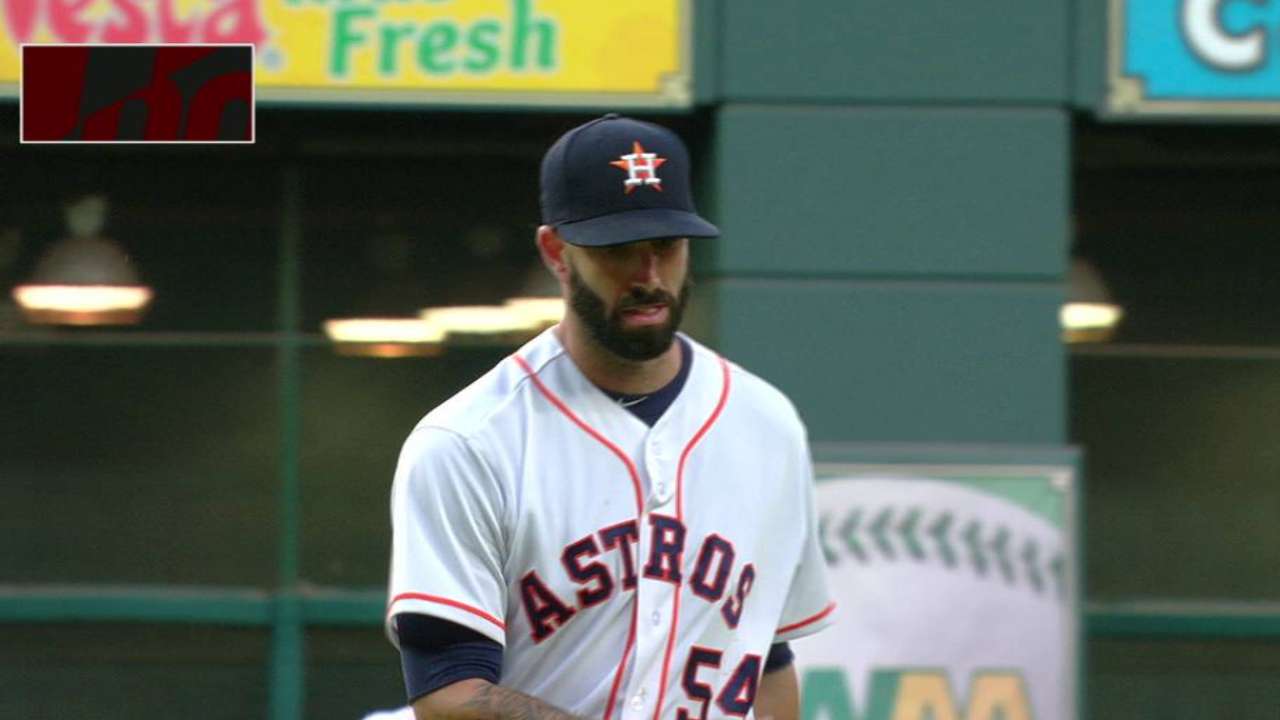 Who should be our fifth starter: Mike Fiers or Chris Devenski?
-- Mike W., Houston
If I'm choosing between those two, it's Fiers. Sure, Fiers has had trouble keeping the ball in the park this year, but Devenski has proven to be way too valuable in a relief role the last two years. He throws a tad harder as a reliever and manager A.J. Hinch can use him three or four times every 10 days as opposed to only twice. Devenski can impact more games positively from the bullpen.
• Submit a question to the Astros Inbox
What's the first realistic big move for the Astros?
-- Jordan H., Houston
That would depend on your definition of big. Right now, it doesn't look like they'll have a prospect ready to come up from the Minor Leagues and impact the club like Carlos Correa and Lance McCullers Jr. did in 2015 or Devenski and Alex Bregman did in '16. Top pitching prospect Francis Martes needs more seasoning at Triple-A Fresno, and top position-player prospect Kyle Tucker is only at Class A Advanced Buies Creek, though a promotion might be warranted.
Thus, the first "big" move will likely come via trade. There's no secret the Astros would like to acquire another starting pitcher before the end of July, if not sooner. The market won't heat up until June, and Houston might have to part with Martes or Tucker to swing a deal for an impact starter. After missing on Cole Hamels last year, the Astros will be aggressive.
How many callups are coming for pitching? Collin McHugh, where are you?
-- Thomas W, Corsicana, Texas
There's really not any notable starting pitching help currently at Fresno, especially with Brady Rodgers out for the season following Tommy John surgery. He likely would have been the first starter called up if there was a need, and that distinction probably goes now to Mike Hauschild, who's back with the team after the Rangers took him in the Rule 5 Draft and offered him back.
Martes threw 76 pitches in 3 2/3 innings Monday, allowing four runs and three walks while striking out five batters, and he still isn't ready. As far as McHugh is concerned, he's just started to play light catch after being shut down in early April, so he's probably six weeks away from impacting the big league club, barring no setbacks.
Why does Hinch love Jake Marisnick so much?
-- Stacy W., Dickinson, Texas
It's not only Hinch who has an affinity for the fast outfielder. The front office also values Marisnick's defense, which is the best on the team in the outfield. His ability to come into the game as a defensive replacement or as a pinch-runner can be a real weapon for the Astros, and he's actually swinging an OK bat so far this year.
When he doesn't start, Marisnick typically comes into the game as a defensive replacement in center field, with Josh Reddick moving from right to left and George Springer moving from center to right. Show me a better defensive outfield than that.
Why can't Evan Gattis play more? He's been really productive when he's in the game.
-- Jerry B., Katy, Texas
Gattis was the player Hinch admitted would have his at-bats affected the most with the additions of designated hitter Carlos Beltran and catcher Brian McCann, the two positions Gattis plays. He has 69 at-bats -- 11th most on the team -- but he ranks fourth on the club in RBIs and on-base percentage. He's also hitting lefties (.308) and righties (.304) pretty evenly.
Still, Beltran and McCann are going to play every day, which means at-bats will still be harder for Gattis to come by. Gattis isn't nearly as good of a defensive catcher as the veteran McCann, and Beltran will get plenty of starts as a switch-hitter. Plus, having Gattis' power on the bench is enticing late in games.
Brian McTaggart has covered the Astros since 2004, and for MLB.com since 2009. Follow @brianmctaggart on Twitter and listen to his podcast. This story was not subject to the approval of Major League Baseball or its clubs.