MLB.com Columnist
Alyson Footer
Reds surprise, rise in Power Rankings
Nats maintain hold on top spot with Yanks on their heels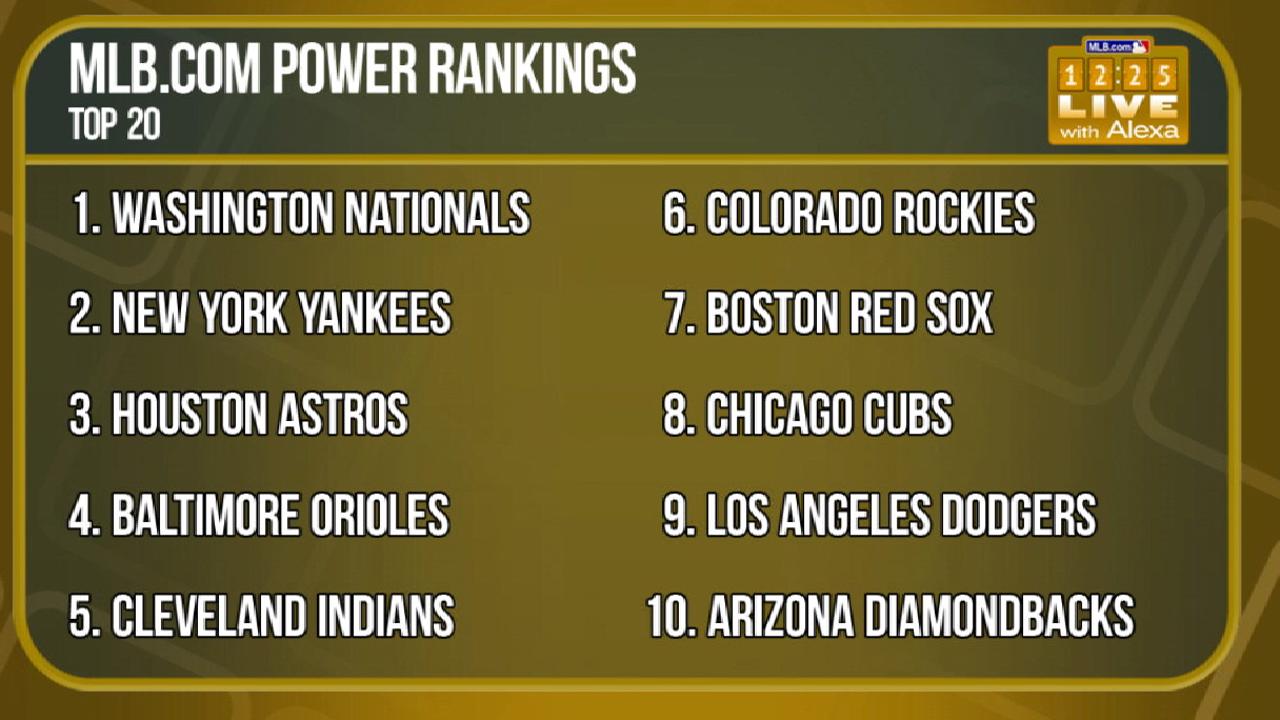 Show of hands: Who thought, six weeks into the season, the Rockies would be in first place, the Reds and Twins in second place and the Giants and Rangers in last place in their respective divisions?
A most interesting season keeps adding more intrigue, with the Rockies truly looking like a legitimate contender and the Reds showing signs they may be a little ahead of schedule in their rebuilding efforts. Meanwhile, at the top of the heap, the Yankees, Nationals and Astros are quickly establishing themselves as true powerhouses.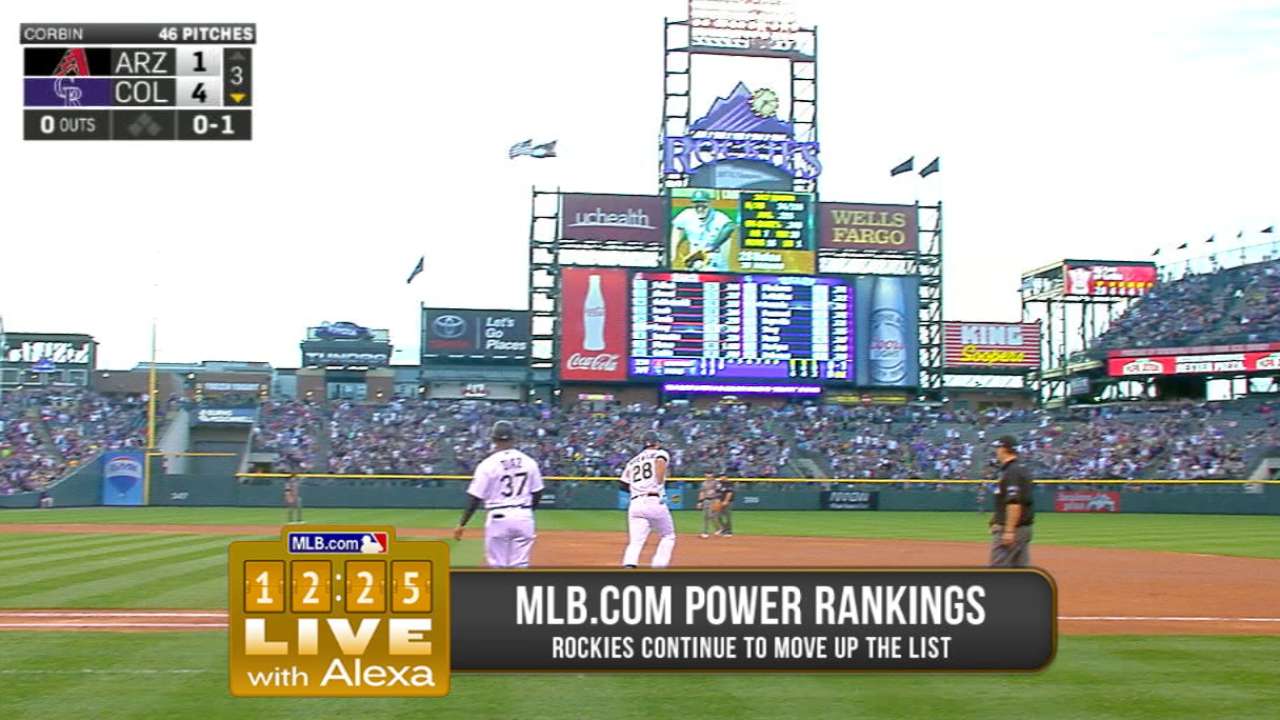 Biggest jump: Perhaps no team has been a bigger surprise than the Reds, who were not ranked last week and come in this week at No. 13. This is supposed to be -- and in the end, maybe will be -- a year designed to serve as a bridge to more fruitful times in seasons to come. But 32 games in, Cincinnati is near the top of the National League Central. The Reds are second in the NL only to the Nationals in two strong offensive categories: slugging (.468) and OPS (.797). Their .267 team batting average is also second-highest in the NL.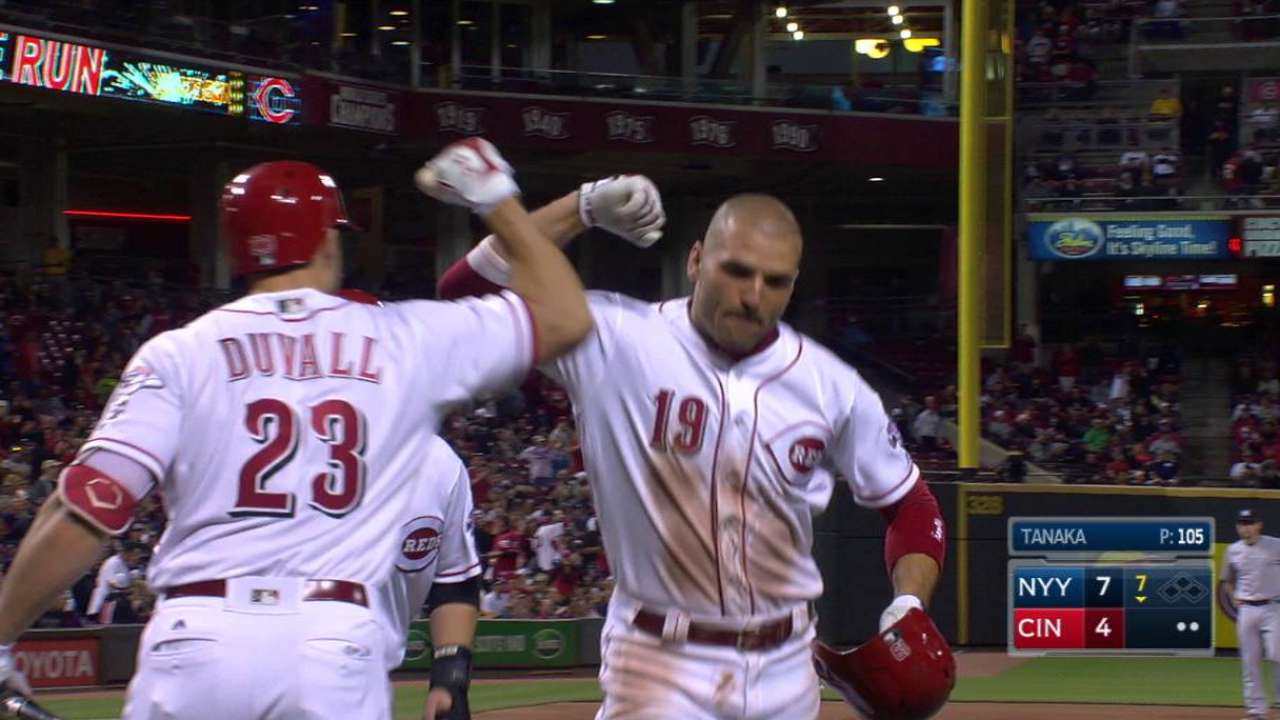 Biggest drop: It's a long way to the finish line, but the Cubs, so far, are not playing like a team poised to run away with the NL Central title. A 16-15 record is perfectly acceptable, especially with so much of the season remaining. But for now, one game over .500 translates to third place in the NL Central, and it drops the defending World Series champs from No. 3 to No. 8 in our rankings.
Power Rankings Top 5
1. Nationals (1 last week)
Even in losses, the Nats' relentless offense makes opponents uncomfortable through all 27 outs. They lead the NL in all categories except homers -- they're second, behind Eric Thames' Brewers. Individually, Ryan Zimmerman and Bryce Harper are in the top five pretty much everywhere.
2. Yankees (4 last week)
The Bombers could have just as easily landed at No. 1 this week, and if they keep this up, they could find themselves there sooner than later. Everything is going right for the Yankees, including a recent three-game sweep of the Cubs at Wrigley Field, featuring Sunday's 18-inning win that was their fifth victory in a row. They added a sixth the on Monday night in Cincinnati. Sleep? They don't need no stinkin' sleep.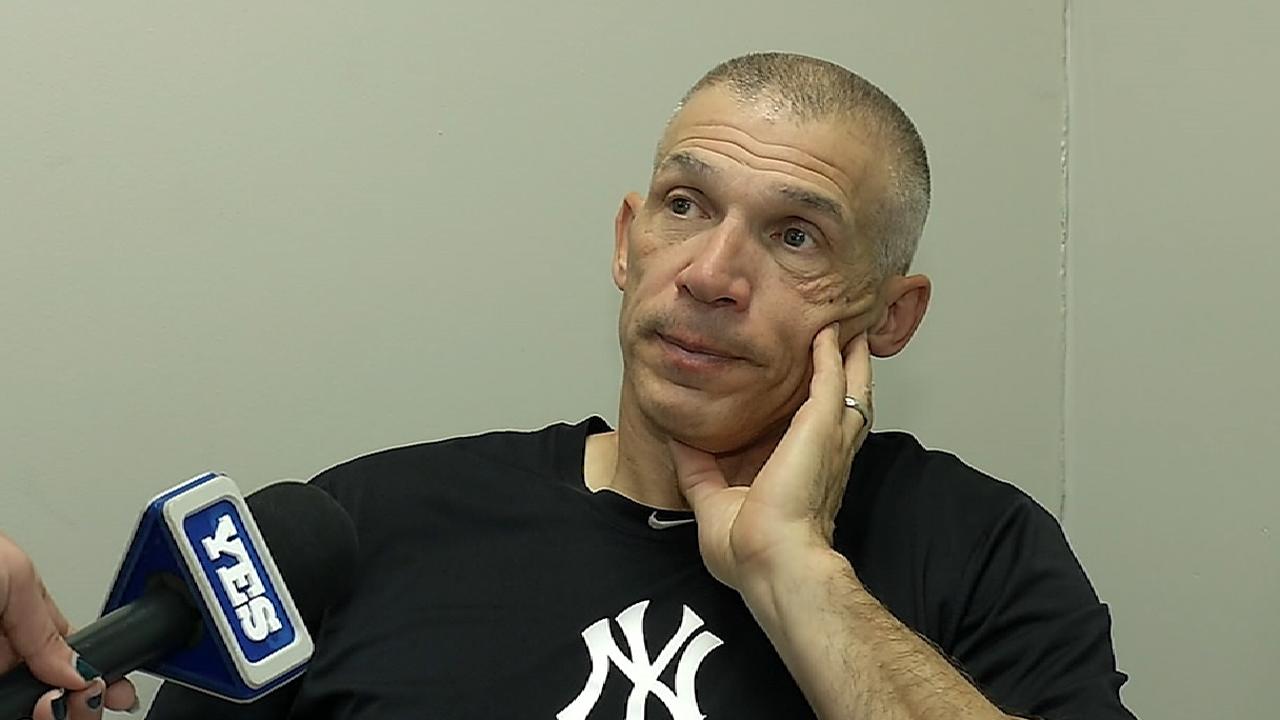 3. Astros (2 last week)
Houston is steamrolling its way through the American League West. The Astros recently took three of four from the Rangers and two of three in Anaheim and are 17-6 against teams in their division -- hence, the six-game lead. Moreover, Houston is the only team in the AL West with a winning record. Dallas Keuchel looks like the AL Cy Young Award winner he was two years ago, and few teams have been able to hold down Houston's offense.
4. Orioles (6 last week)
The Orioles have so far used their home park to their advantage, going 12-3 at home as opposed to 9-7 on the road. They're also 15-9 in their division, which has allowed them to keep pace with the Yankees, who have an identical home record and are 11-6 against the AL East.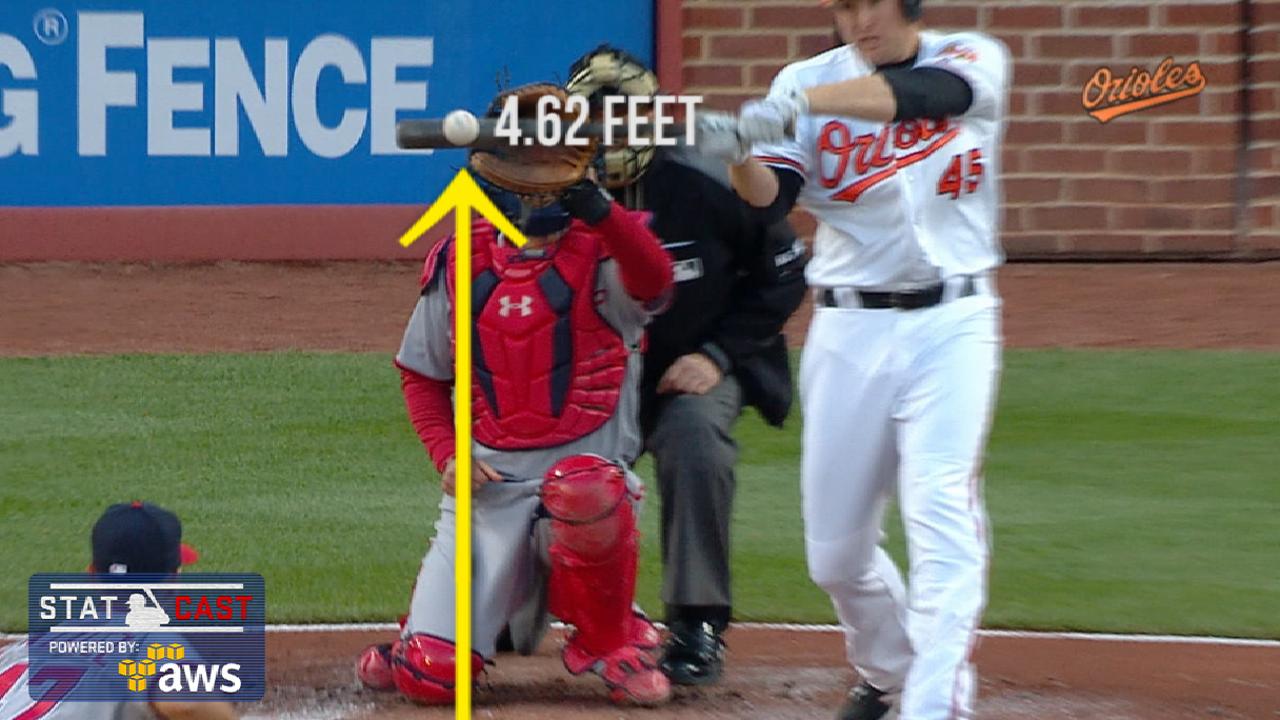 5. Indians (5 last week)
It's been a strange start to the season for the Tribe. Cleveland's starting pitching has the highest ERA in the AL at 4.86. The bullpen has the lowest mark in the AL at 1.79. Offensively, they're the definition of mediocre, ranking eighth of the 15 AL teams in average, ninth in slugging percentage and seventh in OPS. But they're three games above .500 and have pitched much better lately, even in losses.
The rest of the Top 20
6. Rockies (8)
7. Red Sox (7)
8. Cubs (3)
9. Dodgers (9)
10. D-backs (10)
11. Cardinals (11)
12. Tigers (12)
13. Reds (NR)
14. Angels (15)
15. Rays (16)
16. Marlins (14)
17. Mets (NR)
18. White Sox (18)
19. Twins (20)
20. Pirates (19)
Alyson Footer is a national correspondent for MLB.com. Follow her on Twitter @alysonfooter. This story was not subject to the approval of Major League Baseball or its clubs.