Schimpf reconnects his fly-ball swing
Padres' third baseman hits team-high ninth homer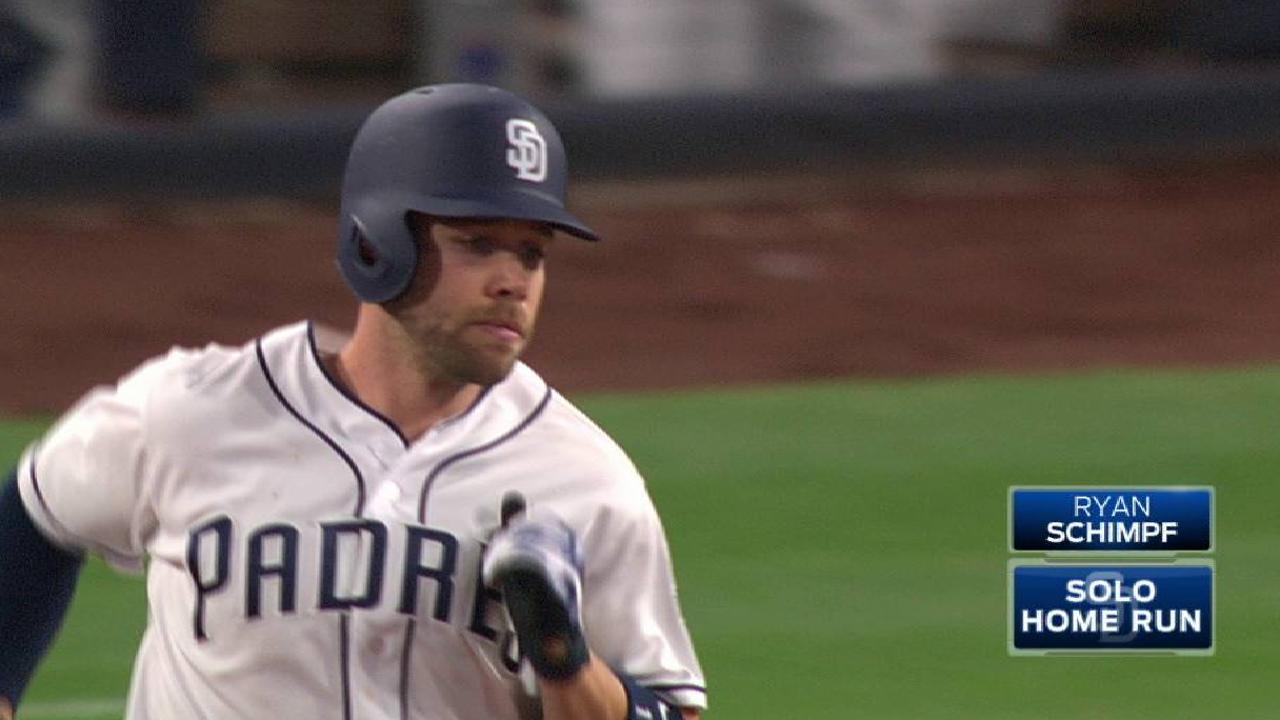 SAN DIEGO -- As far back as he can remember, Ryan Schimpf has hit the ball in the air.
"It's not something I try to do or ever tried to do," the Padres third baseman said after Monday's 5-1 victory over Texas. "I'm just up there trying to drive it. I guess that's how my swing works."
When things are going well, Schimpf hits the ball in the air with authority. He finds gaps and clears fences. When things aren't going well, Schimpf's contact is weak and produces lazy fly balls.
Suffice it to say things are going well right now for Schimpf. He went 2-for-3 with a double, a homer and a walk Monday. His offensive outburst came on the heels of a pinch-hit home run Saturday against Dodgers ace Clayton Kershaw.
"Any power guy, they go through stretches where it's just a little bit out of sync, a little bit out of sorts," said Padres manager Andy Green. "Home runs come in bunches."
No hitter in baseball has a higher fly-ball rate this season than Schimpf's 69 percent mark. In fact, the lefty slugger has only hit six ground balls this year.
Ryan Schmipf is the man... All he does is try to launch the ball. He's only hit 6 ground balls all season. pic.twitter.com/klctWvVEfR

— Daren Willman (@darenw) May 9, 2017
In an era when hitters are trying to put the ball in the air more than ever, Schimpf is doing so effortlessly.
"It's just his swing plane," Padres hitting coach Alan Zinter said. "He's got that slight uppercut swing. It's a natural swing, too. He doesn't try to do that. He just works on getting to and through the baseball. A lot of people are trying to improve their swing planes and trying to do what he does. But it's just natural for him."
Schimpf is batting .172/.319/.484 this season with a team-high nine home runs. Despite the low average, Schimpf has been a valuable offensive weapon recently, and he's reaching base at a league-average clip and slugging well above that.
"It takes a while for the average to climb because he still hasn't had a lot of luck," Green said. "But he drove the ball all day today, and he's had tremendous at-bats for us consistently now for a while. Today he was outstanding."
Green pointed to two games that Schimpf started on the bench last month as the turning point for his offensive success. On April, 24, his OPS was .531. It has since climbed to .737.
It's no coincidence, then, that Schimpf is hitting the ball harder now. Since April 24, Schimpf's batted balls have a 91 mph average exit velocity, up 11 mph from the season's first three weeks.
As a result, Schimpf's lazy fly balls have turned into doubles and home runs.
"He's strong, and he's able to drive the baseball," Zinter said. "That's just his swing."
AJ Cassavell covers the Padres for MLB.com. Follow him on Twitter @ajcassavell. This story was not subject to the approval of Major League Baseball or its clubs.