Tired and true: Yanks, Tanaka stay Red hot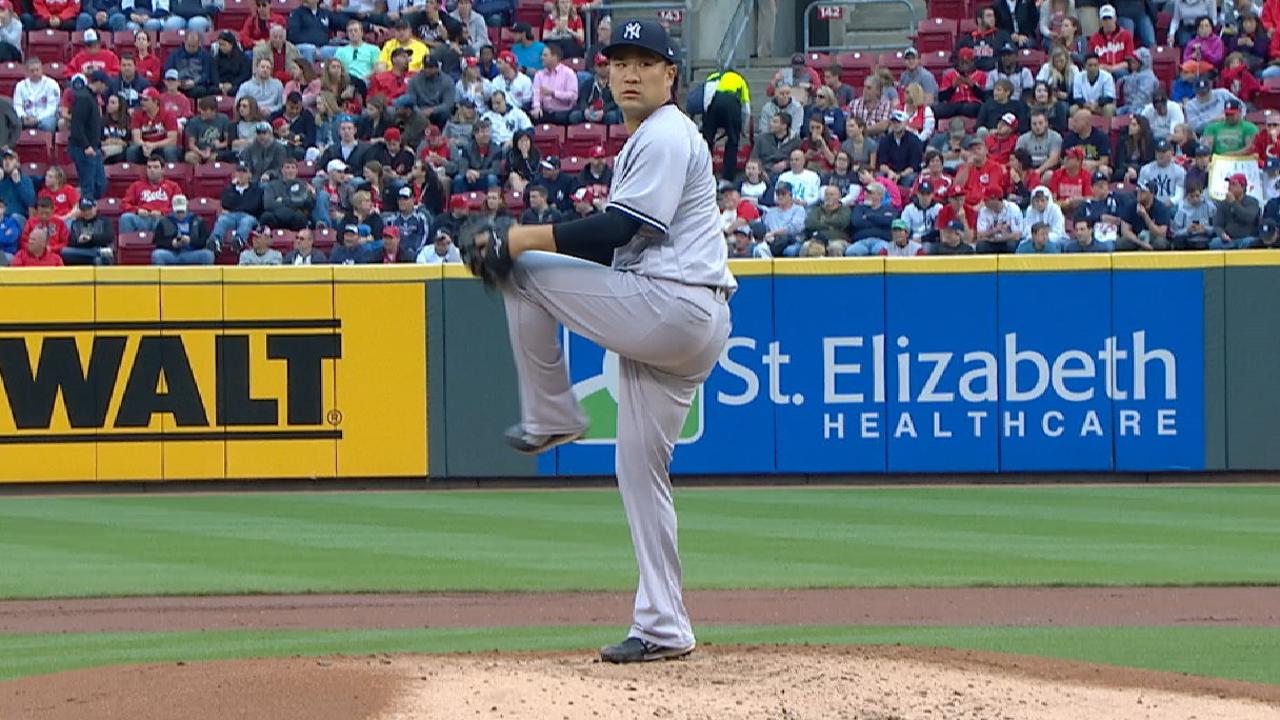 CINCINNATI -- Yankees right-hander Masahiro Tanaka took the ball on Monday night at Great American Ball Park knowing that working deep in the game was paramount.
The bullpen was down to four available arms after Sunday night's epic 18-inning win over the Cubs in Chicago. The Yankees took an early three-run lead over the Reds, but things got dicey in the fourth. Cincinnati loaded the bases with no outs before Tanaka escaped with a popout and a double-play grounder.
The Yankees went on to claim their sixth straight victory, 10-4, and Tanaka went on to spare the bullpen with a seven-inning outing.
"I think he knew it was big for him to go a long ways for us today," Yankees manager Joe Girardi said. "I think he knew he had to get through that [jam in the fourth]. Good performance by him. We created some extra outs. That's going to happen. He stepped up and got the big outs when he needed them."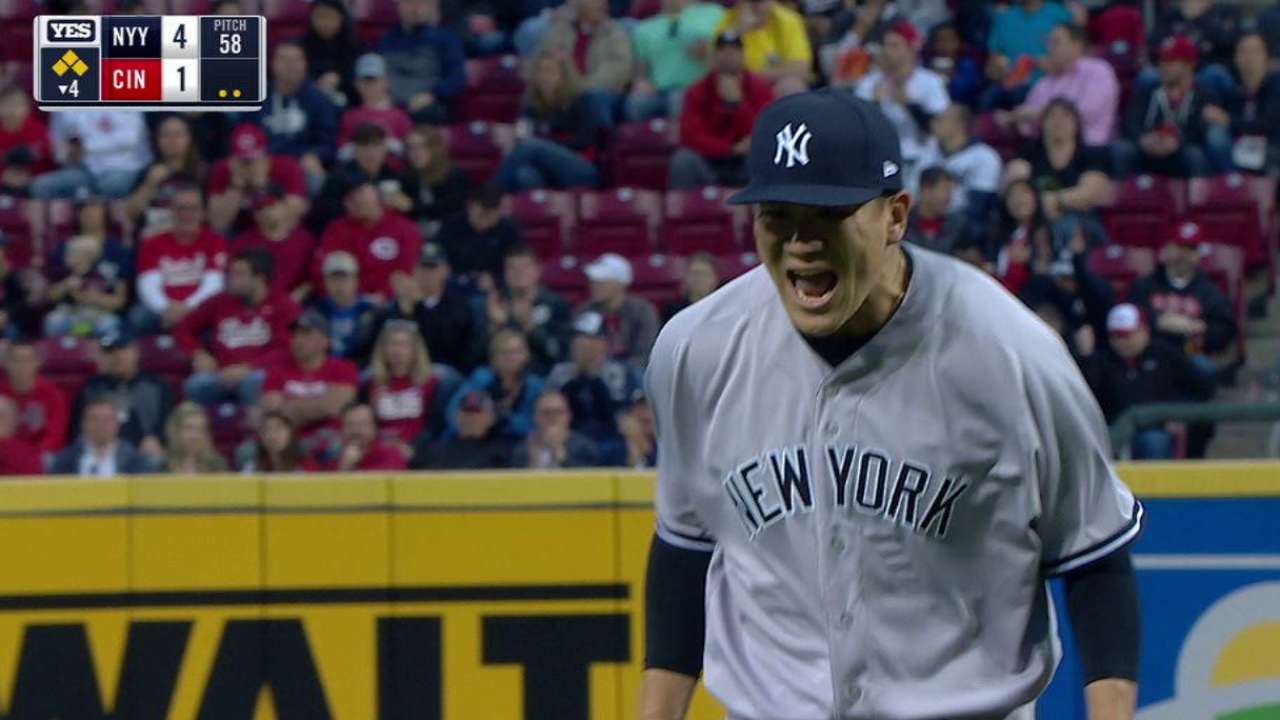 Tanaka (5-1) was not overpowering. He allowed four runs (three earned) on 10 hits. He walked one and struck out six. But he worked deep enough.
"That was a big boost for them after playing 18 innings, to get a starter to go out there and give you seven innings," Reds manager Bryan Price said after the game. "That puts them in a lot better shape for tomorrow. I imagine they're looking forward to the day off [Wednesday], though."
Tanaka was not thinking about a double play when catcher Tucker Barnhart came to the plate with one out in the fourth.
"No, I wasn't looking for a double play," Tanaka said through an interpreter. "But that was the best-case scenario, so I'll take that. I was looking more so for a strikeout."
Tanaka, normally stoic, showed some emotion after the double play.
"It was more so to kind of psych myself up," Tanaka said. "I felt like I was going up and down, up and down up to that point. I wanted to get myself back into the game."
Tanaka was determined to deliver the innings the Yankees needed.
"Obviously, I did have that in my mind," Tanaka said. "It was a long game last night, and I did have the thought that I really wanted to go deep so we could save the bullpen."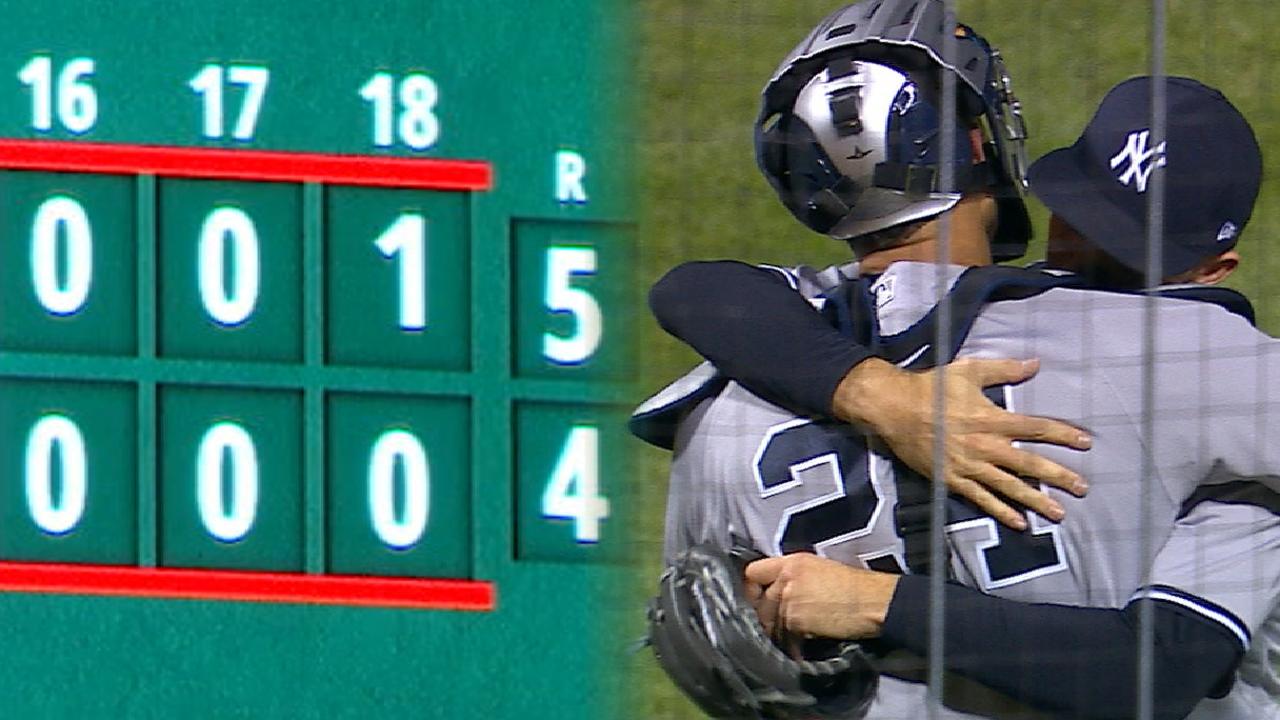 Tanaka did not see the Yankees' win over the Cubs from Wrigley Field. He flew back to Cincinnati before the game and watched in his hotel -- well, he watched most of it.
"I was watching all the way until the top of the 18th," Tanaka said. "I saw our team score that run -- [Aaron Hicks] score that run -- then we went into the bottom of the 18th and I fell asleep."
John Fay is a contributor to MLB.com based in Cincinnati and covered the Yankees on Monday. This story was not subject to the approval of Major League Baseball or its clubs.