Martinez takes matters into his own hands
MIAMI -- Cardinals starter Carlos Martinez pitched and hit his way to a 9-4 win over the Marlins on Monday in the opener of a three-game series at Marlins Park.
Making his team-leading seventh start of the season, Martinez worked six innings, striking out seven while giving up five hits and three runs to earn his second consecutive win, improving to 2-3 for the season and 2-1 lifetime against the Fish.
And although he went into the game 0-for-11 for the season and was hitting just .179 for his career, with eight RBIs, he went 2-for-3 and drove in four runs. His three-run double in the second and RBI single in the fourth staked the Cards to an early 4-0 lead.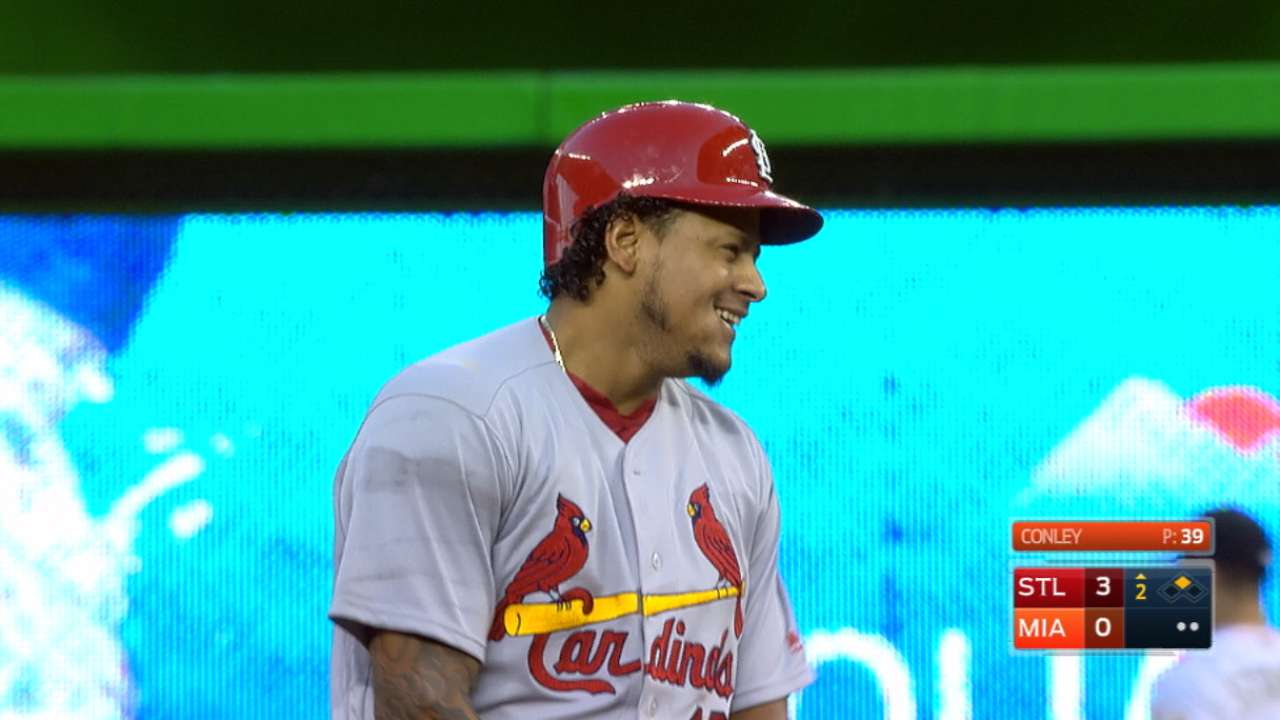 "His stuff was real good," manager Mike Matheny said. "At times his sinker had almost too much movement. It's a good problem to have. He found his rhythm. I thought his stuff was very sharp today.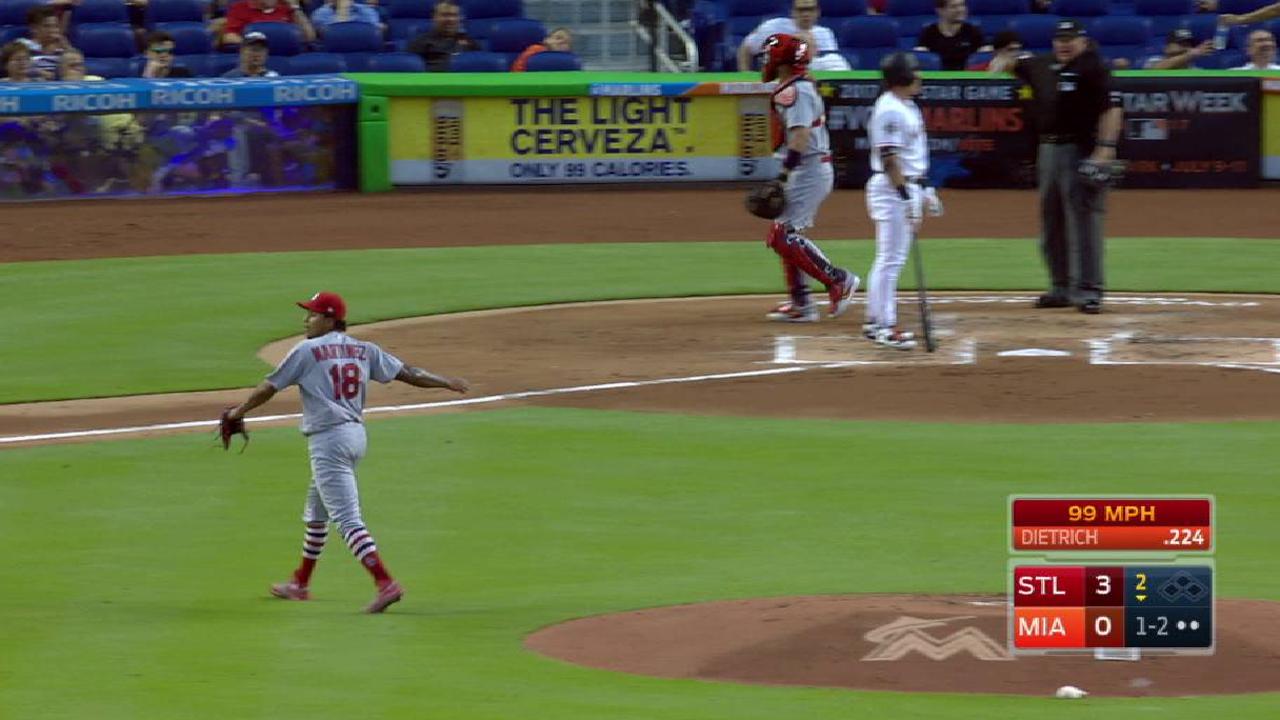 "I liked the way he didn't try to do too much. He's a good athlete. Pitchers aren't always the best offensive weapons we have, but there have been a few days here where they have been the biggest contributors. It just shows you how every spot is so important and not to give anything away."
Having received just seven runs of backing all season, with his 1.75 run support average the second lowest in the National League, Martinez took matters into his own hands.
"It's something we talk about amongst the pitchers. We really have to do our part when we get to the plate and help each other out," Martinez said. "That's really what I try to focus on, and that's what I did today."
"I have to be able to get him out there," Marlins starter Adam Conley said of Martinez's three-run double. "Twice I threw him fastballs away. Looking back now, of course, in hindsight it's probably the best shot he's got at hitting. So I've got to get in there on him or throw him a breaking ball or something different. I know he can swing it a little bit. He's a great athlete. The guy throws it 100. ... I just have to be better there. I have to be able to put that guy away."
Martinez's day at the plate sparked a 10-hit attack that included a single by leadoff hitter Kolten Wong, who extended his career-long hitting streak to 13 games. He is batting .353 during the streak.
Catcher Yadier Molina got into the act as well with a double in the second inning to extend his hitting streak against the Marlins to seven games. Molina is hitting .370 during the streak, with an extra-base hit in each of the last five games vs. Miami -- all doubles.
Miguel Socolovich picked up his first career save with three innings of two-hit relief work.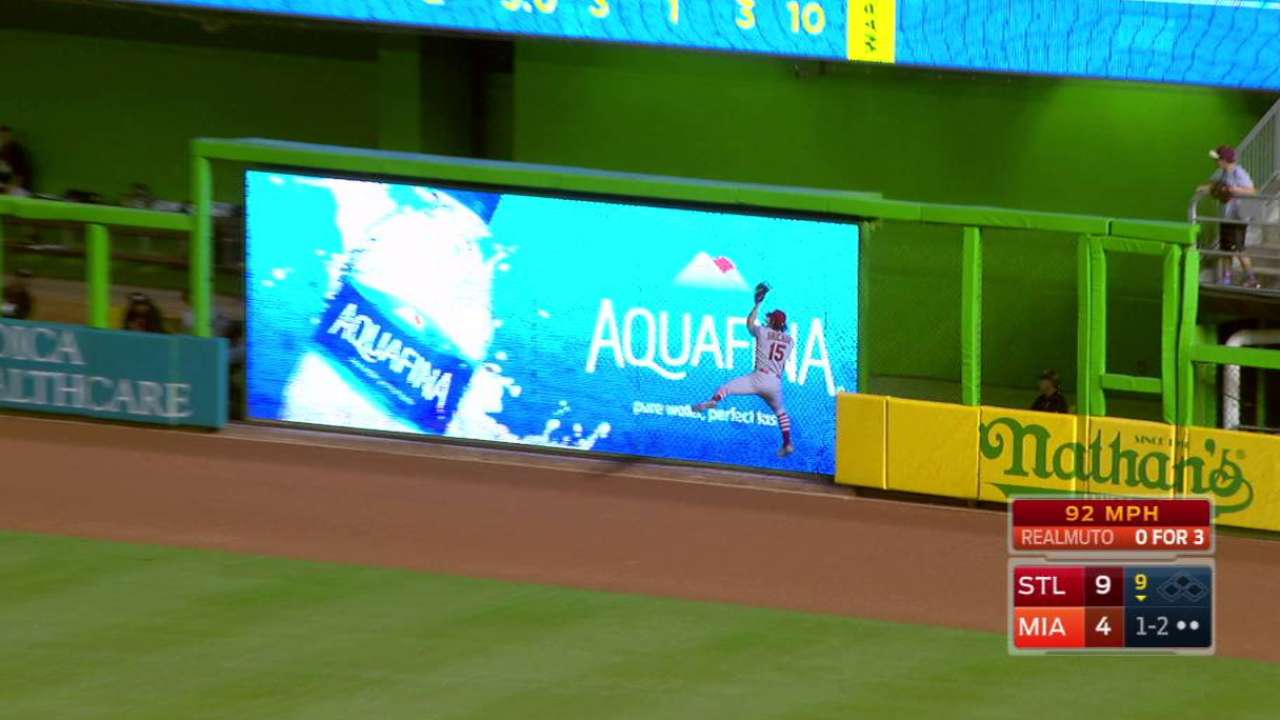 Glenn Sattell is a contributor to MLB.com based in Florida. This story was not subject to the approval of Major League Baseball or its clubs.