Ozuna provides power, and a scare
Left fielder crushes 2 HRs, suffers cramp running out a liner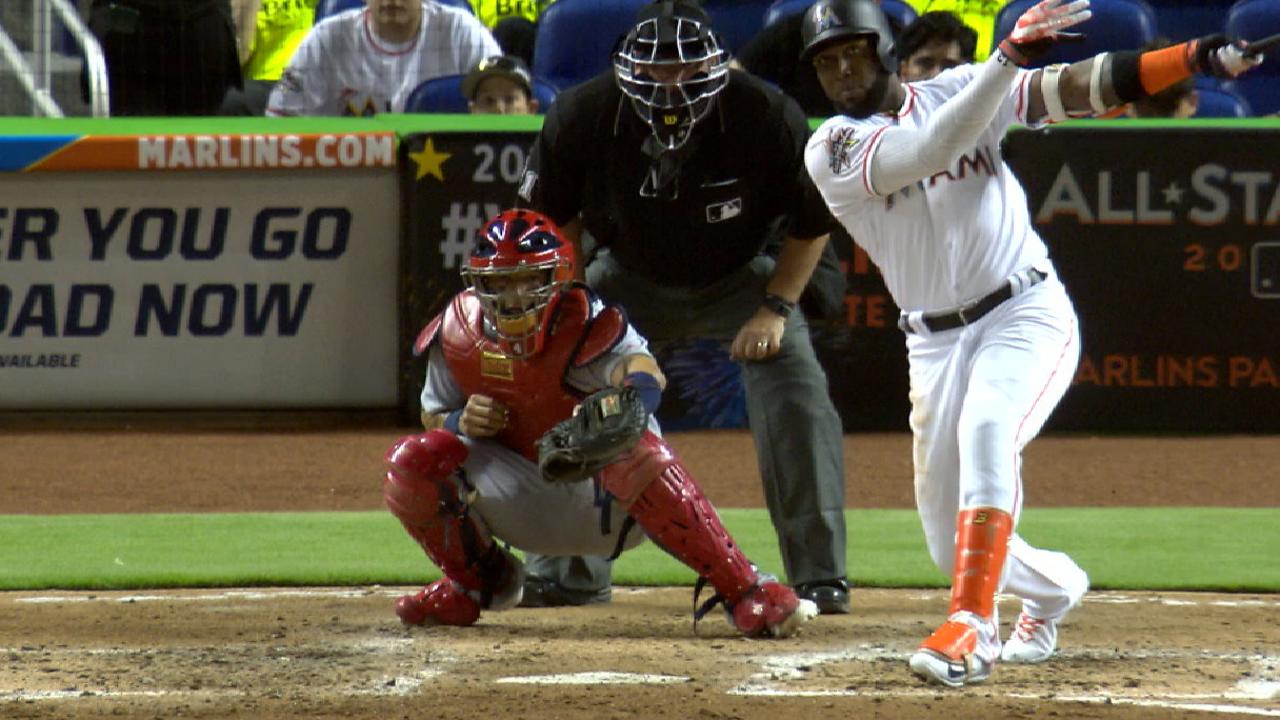 MIAMI -- Marlins left fielder Marcell Ozuna did a little bit of everything on Monday in a 9-4 loss to the Cardinals at Marlins Park.
The 26-year-old, who is building an All-Star case, crushed two home runs, and he scorched a lineout to right field to lead off the ninth inning. On that play he received a scare, pulling up and grabbing the back of his right leg as he ran toward first base.
On a day when the Marlins placed third baseman Martin Prado on the disabled list with a strained right hamstring and infielder Miguel Rojas learned he has a fractured right thumb, the last thing the team needed to hear was that the hot-hitting Ozuna also has a hamstring ailment.
• Prado placed on DL; Rojas to follow
"When I got out of the batter's box, it felt like it was getting tight," Ozuna said. "But I'm OK. That's happened many times. But at times it's a little harder, not like it's going to pull so bad, but a little bit."
• Cast your Esurance All-Star ballot for Ozuna and other #ASGWorthy players
Ozuna has a solution.
"Tomorrow, drink some more water and go play," he said.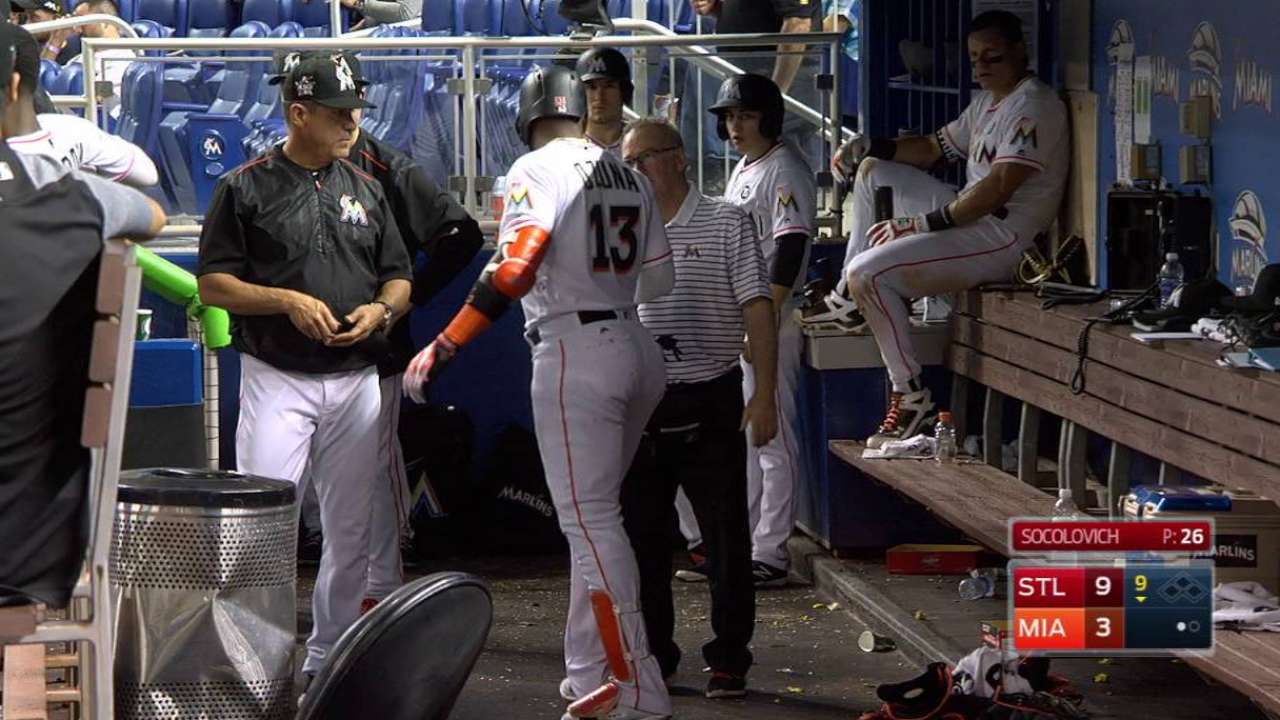 The way Ozuna is smashing the ball, he's eager to be on the field. He's now batting .325 with 11 home runs and 29 RBIs.
Monday was Ozuna's second multihomer game of the season, with the other coming on April 11, against the Braves.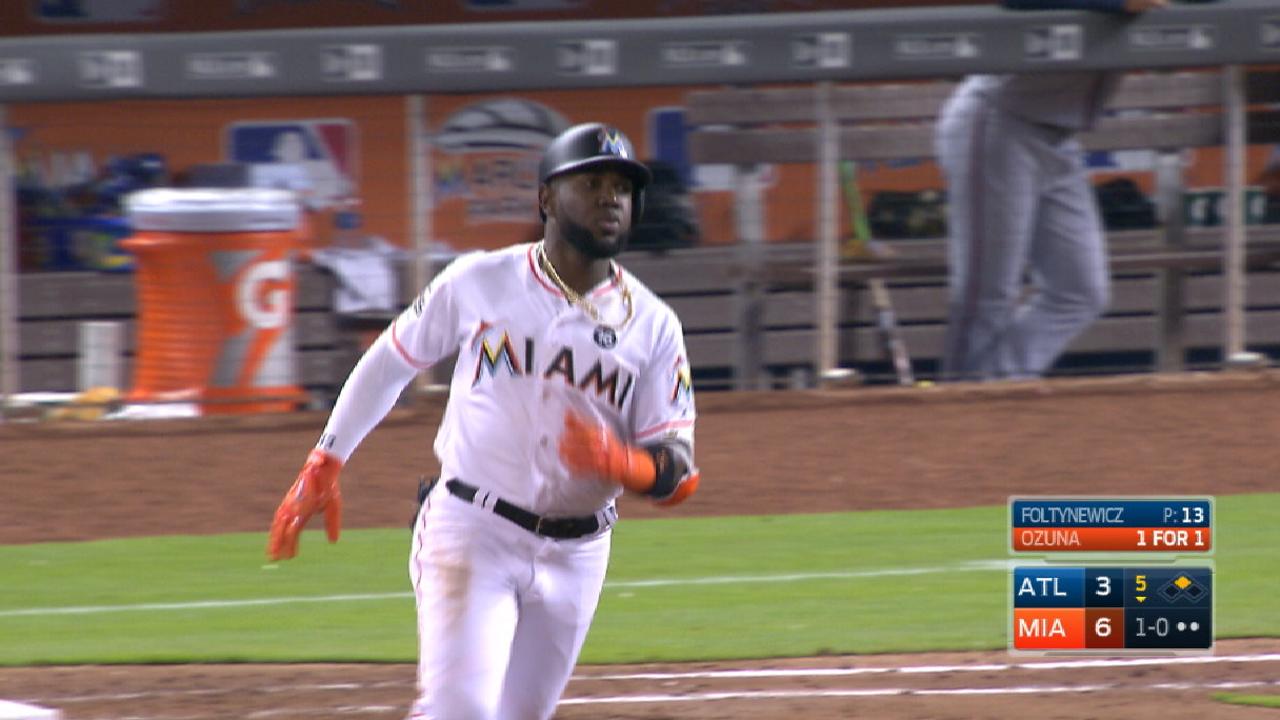 Ozuna's first home run off Cardinals starter Carlos Martinez, in the fourth inning, was a massive drive to center field, into the part of the park usually not reachable by players not named Giancarlo Stanton. Ozuna crushed the 87.2-mph slider from Martinez into the bushes beyond the 407-foot sign in center. Per Statcast™, the home run projected at 433 feet, with an exit velocity of 105.7 mph.
Said Ozuna: "He struck me out on the slider [in my first at-bat]. I just said, 'Let me focus a little bit more and swing the bat.'"
Ozuna added a more towering blast in the sixth, this one a solo shot off Martinez, again on an 87.2-mph slider. The distance this time was an estimated 378 feet, with a launch angle of 32 degrees. The ball nearly landed on top of the wall.
Per Statcast™, the hang times were 5.73 seconds for the first blast and 5.59 for the second.
Ozuna's lineout to right in his final at-bat had an exit velocity of 111.2 mph.
"I told him when he came in, I think I liked the last at-bat as good as any of them," manager Don Mattingly said. "Once [they hit] a couple of homers, guys have a tendency to be a little wild. He shoots that ball to right field, that tells us he is staying within his approach. When you continue to have good at-bats, you can stay hot."
Joe Frisaro has covered the Marlins for MLB.com since 2002. Follow him on Twitter @JoeFrisaro and listen to his podcast. This story was not subject to the approval of Major League Baseball or its clubs.