Bauer: Results not reflecting quality of pitches
Unlikely hits mar pitching line, but righty, Francona confident in starter's stuff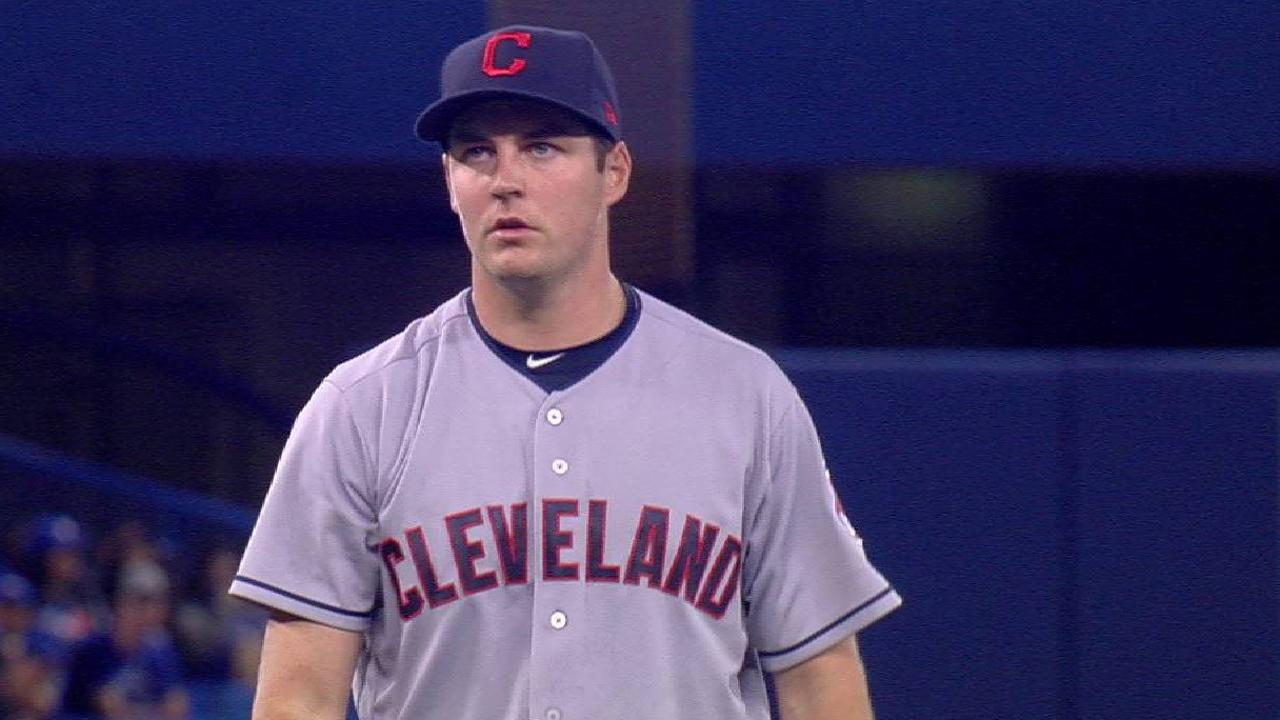 TORONTO -- Trevor Bauer does not plan on going back to the drawing board. When the Indians' pitcher examines his velocity, movement, location and gameplan execution, he sees success in the majority of his outings this season. In Bauer's view, the results simply have not followed suit.
On Monday night, the same held true in a 4-2 loss to the Blue Jays at Rogers Centre. Bauer gave his team six innings and logged a career-high 125 pitches, but Toronto did enough damage in a sequence between the second and third innings to send him to another frustrating defeat. Given the lack of run support, the pitcher's performance found its way back under the microscope.
Bauer plans on continuing to focus on his process, hoping positive results will soon follow.
"What's the alternative. Quit?" Bauer said. "I'm not going to do that."
This loss was not at the same level as the last one for Bauer, who allowed seven runs in a four-inning disaster in Detroit on May 1. After that defeat, even he was willing to admit that he missed his spots and pitched poorly. Bauer did not feel the same way in the wake of this loss to the Blue Jays, who scored all four runs on two hits that the pitcher felt were of the fluke variety.
The first blow came in the second inning, when Bauer fired a 2-2 two-seamer inside to Ryan Goins with two outs and a runner on second. The pitch was up and in, but Toronto's shortstop got the bat head to the ball in time. The result was a 102-mph line drive that cleared the wall in right for a two-run homer, which traveled a projected 439 feet, according to Statcast™.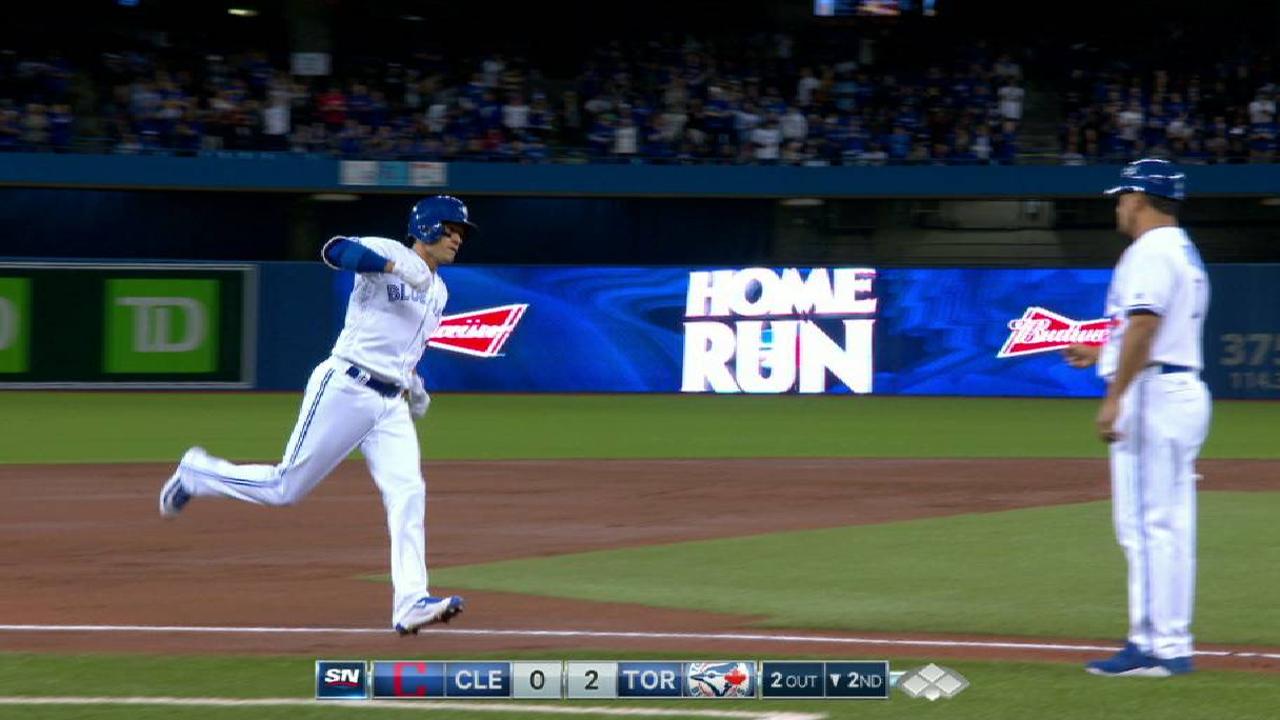 Over the 2015-17 seasons, Goins posted a .000 slugging percentage on two-seamers to that same area of the strike zone, per Statcast™.
"I think I've thrown real well five out of my six outings," said Bauer, who has a 7.36 ERA this season. "The results are what they are, but if you just look at the quality of the pitches and where I'm locating compared to what the reports say, and all that stuff, I'm executing really well. Shoot, Goins hits a homer on a pitch he never hits."
"It was a fastball up and in," Goins said. "I put a good swing on it. Got the [two-seamer] 2-2. He made a mistake, I put a good swing on it, and hit it into the seats. … I was looking for something hard. He had been going in to our lefties. A lot of heaters in. Kind of looking there in the back of your mind. Threw it there and I put a good swing on it."
The next two-run blow arrived in the third, when the Blue Jays had runners on second and third with one out. Justin Smoak shattered his bat on a high-and-tight 95-mph four-seamer, dropping the ball into shallow right field for a single that plated Kevin Pillar and Kendrys Morales.
"Smoak gets blown up and we happen to have the infield in," Bauer said. "The ball doesn't even make it to the outfield grass, and it's a two-run hit. I don't know what else I'm supposed to do."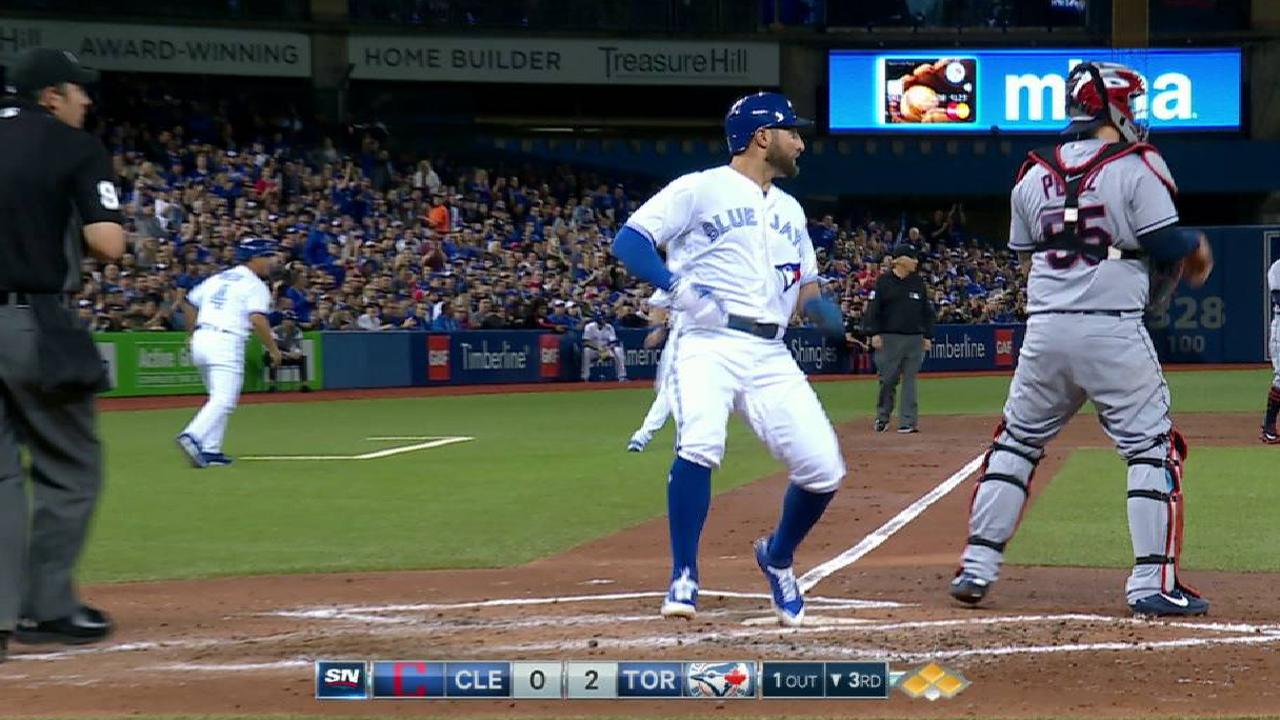 Following Smoak's hit, Bauer held Toronto to a 2-for-11 showing the rest of the way, ending his outing with consecutive strikeouts of Devon Travis and Darwin Barney in the sixth. The right-hander finished with six strikeouts and three walks, which manager Terry Francona felt was better than the pitching line would indicate.
"I thought his stuff was real good," Francona said. "I mean, the best all year. And I don't think his stuff's been bad, either. He had a little extra on his fastball. ... I hope in his mind this is something to build off of, because I thought he did a lot of good stuff."
Jordan Bastian has covered the Indians for MLB.com since 2011, and previously covered the Blue Jays from 2006-10. Read his blog, Major League Bastian, follow him on Twitter @MLBastian and listen to his podcast. This story was not subject to the approval of Major League Baseball or its clubs.